Dark Tales: Edgar Allan Poe's The Gold Bug
Exclusive
Edgar Allan Poe's classic tale gets a reboot in this fourth game in the well-loved Dark Tales series. You and your detective companion Dupin have been summoned to the seashore to help William LeGrand discover the exact location of a treasure lost hundreds of years ago. But LeGrand isn't the only one with designs on the pirate booty… A masked villain tries to make off with the code, and a mysterious woman in a veil seems to be connected.
Amazing art and animation
Creative puzzles and hidden object scenes
For a more in depth experience, check out the Collector's Edition
Game System Requirements:
OS:

Windows XP/Windows Vista/Windows 7/Windows 8

CPU:

1.4 GHz

RAM:

1024 MB

DirectX:

9.0

Hard Drive:

512 MB
Game Manager System Requirements:
Browser:

Internet Explorer 7 or later
Alcohol Reference
Mild Blood
Mild Violence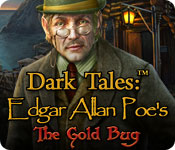 Catch of the Week
$ 2.99 USD for a limited time!
The Big Fish Guarantee:
Quality tested and virus free.
No ads, no adware, no spyware.

Reviews at a Glance

Dark Tales: Edgar Allan Poe's The Gold Bug
0
out of
5 (
0
Reviews
Review
)
Customer Reviews
Dark Tales: Edgar Allan Poe's The Gold Bug
42
42
No Superlatives.
Waited for the SE and can't see how another chapter of the same would rate as a CE. Everything about this game was just OK. Artwork a little lifeless and drab for ERS; scenes were heavy on the pirates and everything was big and lacking in detail ; vos were bland, though able to click through character text dialog; music was uninspiring; story predictable; HOs were interactive silhouette type; puzzles fun, but not challenging; and the dog was not necessary to the play. This game is just OK, nothing more.
February 23, 2013
Very Short, Very Easy
I don't think I've ever rated an ERS game with only 3 stars, but I just couldn't go higher on this. It was extremely easy, even on "detective" mode. I think there may have been a technical problem because I chose the most difficult mode and the HOS's still showed sparkles and there were way too many hints. I tried changing the difficulty level several times but it never got rid of the sparkles and I kept getting hints when I didn't want them. Very disappointed. It's also extremely short, even for an SE. I honestly couldn't believe it when it was over. Very glad I bought this during a sale. I'm still recommending it for the players who don't like as much of a challenge.
May 14, 2014
Good hidden object game
A good game but I thought it was a bit longwinded to much going backwards and forward the graphics were very good the story line as well did get a bit bored with the game so plenty of rest stops were called for agood game of its type in all not bad Sirikite
March 3, 2013
Very disappointed with this one
Dark Tales: Edgar Allan Poe's... The Black Cat; Premature Burial... those were decent games, & i was looking for similar quality here, fully expecting to enjoy another jaunt with Dupin and solve another engrossing mystery. I gotta be honest: i couldn't make myself finish this game which, for me, just doesn't make the cut. Cartoonish, washed out graphics, over-simplistic and under-developed storyline, and gameplay that was so bloody boring i had to bid Adieu to Dupin, possibly forever, sigh. There was essentially no challenge to the play - move there, pick up that, put it there, over & over, without building on this extremely simplified storyline... the entire content seemed to be made to appeal to young first timers - which is fine i suppose, but I expected a better experience with the name of Poe attached to the game, after having so enjoyed previous installments in the series. This game just felt like a rush job, not well executed, and yeah, painfully boring. Maybe i expect some growth in a game series... progress, enhancements in art, story, gameplay, etc. But imo this dev doesn't deliver at all on this one, & even for gamers who are new to the venue, there are lots of games out there that are so much better than this. You can sniff 'em out. This one smells like failure. Sorry, but i would not recommend this game.
March 7, 2013
formulaic HOG
i played about 30 minutes of the demo, backed out and deleted. sorry, ERS, but this is a no-buy for me. i have played all of the puppetshow games, all of the redemption cemetery games as well as all the rest of your "series"-type games and i am now officially tired of the formula. many of these games have the same music, same artwork, even the same FONT! can't you change things up a little? actually, you can. make another game like "dark alleys: penumbra motel" and you might tempt me. might. my other complaint is the linear quality of the games. you can go to three scenes at a time, basically, and when you're done, you move onto the next group of three scenes. i like the non-linear games better because there is more challenge to remember where you need to use an inventory item. all in all, this game was just TOO EASY. i like some *challenge* to the games i buy! i played this one on the hardest mode of the three (no hints, no black bar tips... let alone the hated *sparkles*!) and STILL it was easy. the puzzles i encountered, i didn't even really have to think about how to do them because i've seen them so many times before. please, ERS, *challenge me*! when you do, i will start buying your games again! and yes, i WILL demo your games to see what you're offering, but if there's no challenge, even on the hardest mode, there's no buy from this fishie.
February 17, 2013
Disappointed!
Sorry about this review, but I was really looking forward to playing another of the Dark Tale games. Pros: Graphics-Cons: everything else. I only played the demo but I was bored to tears. Nothing new except a cute dog. I really feel let down by the developers of this game. Gamers are a little more savvy than you give them credit. There were expectations that just weren't met with this new game. Why bother spending more money just play one of the older games in the series. I gurantee you will enjoy it more and it won't cost you a penny. I definetly would not recommend buying this game.
February 9, 2013
so remedial
people, can we please demand more challenging games? these are no longer interactive puzzle games. They are like the daily word search puzzles to occupy the mundane waiting for a bus. Zero challenge and disheartening to see the masses drinking the mediocrity Kool-Aid. read a book.
February 9, 2013
Pass
This was one of the worst games I have played in a while. There was absolutely no challenge to anything. I am very happy I only played the demo.
March 2, 2013
Dark Tales
My game was full of errors. I didnt like this game a lot
February 22, 2013
Dirty trick! The old bait and switch.
The demo was very nice - had some neat puzzles, "use an item to get an item" H0's, a few clever inventory uses and the promise of hunting pirate treasure. I wasn't quite intrigued enough to buy the CE but looked forward to purchasing this SE. What a let down! Once the demo chapters are over, this game is nothing but back-to-back standard H0's, back-to-basics puzzles and tedious back-tracking. Speaking of back, that's how I want my money. The devs polished up the first chapters, promising a decent game, and then tossed the rest together with leftover bits from all of their last year's games. "Play the demo, see if you like it!" would be very, very bad advice. I tried to give it a chance, hoping that later chapters wold be better but after an hour I was just too bored to go any further. I'll be very careful to read all the reviews of an Ers game from now on.
February 8, 2013
The Apple logo is a trademark of Apple Computer, Inc.