Timeless: The Lost Castle
Exclusive
Every night you've been haunted by visions of a man in a red hood, pleading for you to save an innocent soul. You pack your bags for Europe, but soon you'll find yourself headed for a different destination, stranded aboard a flying ship. In the distance, an ancient castle among the snowy mountains holds the key to releasing a young girl's spirit, but it also contains an ancient evil sleeping just under its foundations. Follow in the footsteps of the Man in Red and uncover his secrets in Timeless: The Lost Castle, a mysterious Hidden-Object Puzzle Adventure game.
Three levels of difficulty
Explore a snow-covered castle
Unmask the Man in Red
A story of betrayal and redemption
Game System Requirements:
OS:

Windows XP/Windows Vista/Windows 7/Windows 8

CPU:

1.6 GHz

RAM:

1024 MB

DirectX:

9.0

Hard Drive:

237 MB
Game Manager System Requirements:
Browser:

Internet Explorer 7 or later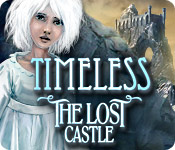 NEW299
The Big Fish Guarantee:
Quality tested and virus free.
No ads, no adware, no spyware.

Reviews at a Glance

Timeless: The Lost Castle
0
out of
5 (
0
Reviews
Review
)
Customer Reviews
Timeless: The Lost Castle
94
94
Hopa
Seems to be rather old fashioned in its graphics. Basic hog with some puzzles. It was ok. Didn't knock me out of my chair with excitement. Run of the Hopa/puzzle game.
February 9, 2013
Hmm..., only played the demo
Just an average game. There were a few new challenges, and a twist on a few old ones, but I'm not sure about this one. It seems like it's short. There have been a few I thought were short and they fooled me (love those), but this one really felt short. The story line is a child needs rescued from bad guys with magic powers. I have the feeling that it might be the child that's the bad guy. Might be wrong. Will I buy it? I'm not sure. Well, why not, I have to see if I'm right about the child. I think this is one where you need to try the demo and see for yourself.
February 9, 2013
This game doesn't make a whole lot of sense...
This game looked promising from the demo, so I used a free coupon on it since I had one. However, I'm rather sorry I did so. I kept waiting for this game to clear things up, and even after finishing the game I'm just as in the dark as I was in the first place. The visual quality for this game is okay, but sort of mixed. Some of the scenes are well done, some are meh. Unfortunately, it's frequently the hidden object scenes that are meh, occasionally making it a pain to find objects. I barely remember the sound, which means it wasn't great, but it wasn't awful. I will give this game points for not having it turned up ridiculously loud when you start it up, though. However, it's the storyline that's the worst part. It makes absolutely no sense, and none of it is ever cleared up. Basically, you board a plane based on some vague feeling and then are apparently sucked into some other universe or location entirely while on this plane, all by a somewhat threatening looking guy in a red robe. Why this guy in the red robe wants you there to save a little girl, I haven't a clue, given that he seems to spend most of the game commenting on what a pain you are. Now, perhaps these are two different guys in red robes, since you'll discover there seem to have been multiple guys running around in red robes, but if that's the case it's never made clear. One way or the other, the fact that he was dematerializing people on the plane probably should have been a hint that he was up to no good. Ultimately, not much is made any clearer as you go through the game, and the guys in red robes aren't really explained, nor is much explained about the little girl. The hidden object scenes are either fairly straightforward, or somewhat dark and a pain to deal with. The mini-games/puzzles aren't bad, though there are a few that after wading through stuff in the game you may not want to deal with at that point. This game has A LOT of back and forth, and will occasionally leave you wandering aimlessly about trying to figure out what to do next. Since there's no walkthrough, you're pretty much stuck wandering about or looking up help on the forum. And I found that a lot of it was either I had forgotten about something by the time it popped up again, or I was forgetting about the annoying magic lens thing that reveals unseen objects in rooms. Yes, it sort of lights up when it needs to be used, but it really needs to light up a lot more than it does, because it's not desperately noticeable. Plus, it just seems like a waste - the items it finds could have been found in a much less foolish way. Ultimately, given the pain this game is at times and its story that makes absolutely no sense, I'd have to suggest passing this one up. I know I'm sorry I wasted a free game coupon on it, though at least I didn't pay for it.
July 2, 2013
Glad I didn't use a credit.
This game had great potential but didn't live up to it. From the number of "where's this" and "how do you find that" in the pages and pages of comments on the Forum, one can guess that this game doesn't have much of a logical story or progression. One would be correct. It begins with some great graphics but such a specious story premise that I should have been warned. There wasn't enough story given as to why someone would grab a plane to dash across the ocean to save a worthy individual. Oh COME ON, you can do better than that! The artwork and graphics were lovely but not enough to overlook huge gaps in logic and story-telling. Then the HOGs were hazy and objects too tiny for middle-aged eyes to be anything but annoyed by. And having to run back and forth from room to room doesn't bother me but not having any logical progression did; having to stop play to consult a walk through that I had to Google to find also annoyed me. It was bad enough that my game play was interrupted so frequently that I didn't enjoy it. I won't be trying any of this series and probably not anything else by this game company. Certainly glad a had a nearly expired game code to waste on it.
March 3, 2013
Extremely Difficult Game
What is the point of making a Game so hard that you cannot finish it? The Hint Button is useless and just says "move on nothing to do here ..." but doesn't tell you what to do next. I'm sorry I bought this Game. It was a complete waste of Money!
February 24, 2013
not for me
Too many great games out there to play this one. No voice at all and the graphics are ok. You are looking for items all the time with no help from the hint button. The HOS are ok but you need to look good for some of them. Not much of a real flow to the game.
February 9, 2013
Not so fun
Great graphics and storyline. However, things don't work and the hint button is useless. Too many good games available to waste your time on this one.
February 16, 2013
I could not get through the Demo
It is a personal frustration, but small muddy artwork ruins a game for me. I am sure the storyboards are beautiful but they do not translate to my 27" screen. How do they fair on a tablet? I was bored and uninspired by the story and tried multiple times to play to no avail. I will not even get it for a free game coupon.
February 10, 2013
i must be spoiled
played it for 5 minutes,the sound had to be turned way up too much reading..i must be spoiled with the people talking to me,seemed kind of lame to me.click,click everytime they say something never got to the mini games or hogs,sorry
February 9, 2013
Just another run around game
Beautiful graphics...but that was about all this game had going for it! This was another game I can't imagine wanting to play more than once. No music to speak of, just the wind blowing mostly.
February 10, 2013