Timeless: The Lost Castle
Exclusive
Every night you've been haunted by visions of a man in a red hood, pleading for you to save an innocent soul. You pack your bags for Europe, but soon you'll find yourself headed for a different destination, stranded aboard a flying ship. In the distance, an ancient castle among the snowy mountains holds the key to releasing a young girl's spirit, but it also contains an ancient evil sleeping just under its foundations. Follow in the footsteps of the Man in Red and uncover his secrets in Timeless: The Lost Castle, a mysterious Hidden-Object Puzzle Adventure game.
Three levels of difficulty
Explore a snow-covered castle
Unmask the Man in Red
A story of betrayal and redemption
Game System Requirements:
OS:

10.8/10.7/10.6

CPU:

1.6 GHz (INTEL ONLY)

RAM:

1024 MB

Hard Drive:

227 MB
Game Manager System Requirements:
Browser:

Safari 4.0 or later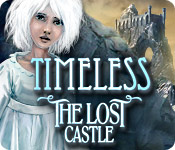 NEW299
The Big Fish Guarantee:
Quality tested and virus free.
No ads, no adware, no spyware.

Reviews at a Glance

Timeless: The Lost Castle
0
out of
5 (
0
Reviews
Review
)
Customer Reviews
Timeless: The Lost Castle
91
91
Fun, but more difficult then it should be at times
I enjoyed playing the game, though it was difficult to follow at times. Part of the time it was easy to figure out where to go and what to do next, but at other times it was incredibly hard to figure out where to go or what to do. I'm an experienced HO and adventure game player, so it was frusterating when I had to use the hint button.I found the game more interesting in the beginning and by the end I was ready to be done with it. There is a flaw at the end of the game that makes one task incredible difficult. I had to use the forum for help with it. Overall, the story line is interesting and the graphics are pretty good.
March 9, 2013
Great graphics and puzzles!
Fantasy storylines in made-up worlds irk my soul, but I put up with it for the sake of the puzzles and graphics. Both were excellent! The game play is long, very long, with such a tedious storyline I was starting to think I was never leaving that castle. But puzzles for the win.
September 7, 2013
Cool at first.
I was very hopeful for this game because in the trial it seemed kind of steam punky (light) - it just seemed different - so I bought it. Unfortunately it changes. Even though the graphics were still good, it seemed like a whole different game to me. There was a lot of running back and forth and of course runes and spells. Why does everything have to do with magic and spells and such? Isn't there any other kind of imagination out there? Really. The storyline went sour too. Bummer. The puzzles are a little different - make you think, but not too hard - so I liked that part.
April 21, 2013
Too tedious
I found this game too frustrating and tedious. I didn't enjoy it.
April 4, 2013
Didn't convince me....
This one is more an adventure hooked game than a traditional HOS game. Yes, there are HOS (list and shapes) but most of the time you keep running around, looking for the ?lost thread?? You?ll also find some new and interesting minigames, some of them quite hard. Graphics are quite good and detailed, concerning the different settings, not so the several characters you?ll meet? 3 modes to choose from. Hint refills slowly, at least in the 2nd mode, which I played. Outside the HOS it shows you through ?glints? the direction where to go next. We have a detailed journal, but no map. Interesting was a so-called combination-box, next to the inventory, which allows you to combine found items to get a new one. Later on you are able to create a special lense, which can be used to find hidden items. No, this time nothing for me...... :(
February 9, 2013
Puzzled..
I found that some of the puzzles where annoying and I had to skip a few. There is no strategy guide or walkthrough available which I found annoying. A CE may be better. I thought the characters where interesting and should have been vocalized. I was not aware that this was a sequel game till later. I liked the joining two items in the inventory in the box. This is a different twist. The castle was great and had many areas to explore. At first when I was on the Flying Ship level it seemed to go on a bit & I was thinking that you would get to the castle fight the villain and it would end, but I was wrong it actually went on for a good length for a standard game. I love games with a Snowy Winter theme so that sold me anyway! Try it!!
February 15, 2013
A "nothing better to do" game.
Morning, fellow pond pals. Not a bad little SE for today. Graphics nothing special, but nice and clear, game play nice. Music not bad, but this game definitely needs a little more FX sound or at least a voice here and there (I did hear the "bad guy" laugh a little at one point). A lot of games (okay, but not difficult), not much in the way of HOGs (needs to be a few more to keep things interesting). You just sort of start in the middle of something without knowing what is going on and you don't really pick up much info as you go either. The story line is a bit muddy to say the least. Hint button is okay, but you really need to be watching to see where it leads you. It takes way too long to reload. I have the first Timeless game and liked it, but this one falls short a bit. There is a lot of running back and forth, more than needed, but as I said, it was a nice game. This is a good one for a "nothing better to do" day, and we all have those. I will use a game credit for this one, simply because I need to use it or lose it. As always, try it for yourself and see what you think. We all have different tastes in games, and you may not care for it at all, or you may think it is the greatest thing since buttered popcorn. Thanks for the reviews.
February 9, 2013
Hopa
Seems to be rather old fashioned in its graphics. Basic hog with some puzzles. It was ok. Didn't knock me out of my chair with excitement. Run of the Hopa/puzzle game.
February 9, 2013
Hmm..., only played the demo
Just an average game. There were a few new challenges, and a twist on a few old ones, but I'm not sure about this one. It seems like it's short. There have been a few I thought were short and they fooled me (love those), but this one really felt short. The story line is a child needs rescued from bad guys with magic powers. I have the feeling that it might be the child that's the bad guy. Might be wrong. Will I buy it? I'm not sure. Well, why not, I have to see if I'm right about the child. I think this is one where you need to try the demo and see for yourself.
February 9, 2013
This game doesn't make a whole lot of sense...
This game looked promising from the demo, so I used a free coupon on it since I had one. However, I'm rather sorry I did so. I kept waiting for this game to clear things up, and even after finishing the game I'm just as in the dark as I was in the first place. The visual quality for this game is okay, but sort of mixed. Some of the scenes are well done, some are meh. Unfortunately, it's frequently the hidden object scenes that are meh, occasionally making it a pain to find objects. I barely remember the sound, which means it wasn't great, but it wasn't awful. I will give this game points for not having it turned up ridiculously loud when you start it up, though. However, it's the storyline that's the worst part. It makes absolutely no sense, and none of it is ever cleared up. Basically, you board a plane based on some vague feeling and then are apparently sucked into some other universe or location entirely while on this plane, all by a somewhat threatening looking guy in a red robe. Why this guy in the red robe wants you there to save a little girl, I haven't a clue, given that he seems to spend most of the game commenting on what a pain you are. Now, perhaps these are two different guys in red robes, since you'll discover there seem to have been multiple guys running around in red robes, but if that's the case it's never made clear. One way or the other, the fact that he was dematerializing people on the plane probably should have been a hint that he was up to no good. Ultimately, not much is made any clearer as you go through the game, and the guys in red robes aren't really explained, nor is much explained about the little girl. The hidden object scenes are either fairly straightforward, or somewhat dark and a pain to deal with. The mini-games/puzzles aren't bad, though there are a few that after wading through stuff in the game you may not want to deal with at that point. This game has A LOT of back and forth, and will occasionally leave you wandering aimlessly about trying to figure out what to do next. Since there's no walkthrough, you're pretty much stuck wandering about or looking up help on the forum. And I found that a lot of it was either I had forgotten about something by the time it popped up again, or I was forgetting about the annoying magic lens thing that reveals unseen objects in rooms. Yes, it sort of lights up when it needs to be used, but it really needs to light up a lot more than it does, because it's not desperately noticeable. Plus, it just seems like a waste - the items it finds could have been found in a much less foolish way. Ultimately, given the pain this game is at times and its story that makes absolutely no sense, I'd have to suggest passing this one up. I know I'm sorry I wasted a free game coupon on it, though at least I didn't pay for it.
July 2, 2013
The Apple logo is a trademark of Apple Computer, Inc.
The Windows logo is a trademark of Microsoft, Inc.