The Invisible Man
Griffin's quest for invisibility has left him labeled as a "crazy scientist," and he must leave his sweetheart behind as he flees to escape his persecutors. Unravel the mystery of Griffin's strange experiment in this suspenseful hidden object game! You will solve puzzles and meet a cast of devious characters in your quest to find the truth. Will you be able to find your beloved Griffin before he disappears forever?
Find your sweetheart!
Unique storyline!
Exciting puzzles!
Game System Requirements:
OS:

Windows XP/Windows Vista/Windows 7/Windows 8

CPU:

1.0 GHz

RAM:

512 MB

DirectX:

8.0

Hard Drive:

658 MB
Game Manager System Requirements:
Browser:

Internet Explorer 7 or later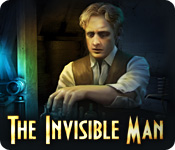 NEW299
The Big Fish Guarantee:
Quality tested and virus free.
No ads, no adware, no spyware.

Reviews at a Glance

The Invisible Man
0
out of
5 (
0
Reviews
Review
)
Customer Reviews
He'll Read Those Reviews and Stay Invisible...
I am about halfway through the game; used my monthly code on it after only 10 mins of demo. I'm actually quite enjoying it. There are a lot of HOS, very few puzzles, which this blonde won't complain about, lol, and it is a bit dark, but that fits the story. I think the dark, the rain, the graphics in general, make this immersive. The journal isn't very helpful, but you don't really need it. No map, but again, once you've finished a location, (which includes several places to visit) you don't return. Not too much backtracking, which I like. Give it a shot, I'm having fun with it. Make sure you click the ghosts that pop up during your HOS; once you do, you can get the shape for the items in the list.
February 11, 2013
Disappointed
Original story, for me, but the darkness was a turn off. The biggest thing for me is there was no walk-through available. I vowed never to buy a game without a walk-through.
February 12, 2013
Horrible!!!!
Not worth to buy. HO'S very dark. I hate that. I only played a few minutes or so, then exit for sure. Come on big fish so many great developers sure are super to play and worth the price. Just to many others not of quality.
February 11, 2013
The Invisible Man
Extremely poor game, Poor, if any indication for pickups and where collected items should go.
February 11, 2013
dark story, dark game... oh what a shame!
I played this game for 20 mins but gave up for two reasons. It was too slow and most of what I was looking at was a dark screen. I am all for atmosphere but trying to find objects in this one is impossible without using the hint button. I really wanted to like this storyline but it did not hold my attention and looking for things in dark corners is not my cup of tea. I can't say the graphics were bad because they were not. I can't say the mini games were deplorable because they were not. I can say it is an average game which some will like but if you don't like dark screens then this will not be for you. The game is average and some will like it, I just was not one of them.
February 11, 2013
the man is not the only thing invisable, so is everything else
too dark, could not see anything hardly., no walkthrough
February 11, 2013
The Invisible Mess!!
I played this game for 15 minutes and could not go any futher. This game would be good for beginners as it holds your hand every step of the way. It has 2 game modes to play. You have to change your cursor as the game one is very sluggish. The HOS are dark and hard to see. The music is awful and the grafics could have been better. you have to find your mad scientist boyfriend and unravel some strange experiment. I will not be buying this game. Its not interesting at all. Happy gaming fishies......
February 11, 2013
Don't Waste Your Money
Very poor game, well unless you want a game where you don't have to think. Mini games are so EASY it's unbelievable. In some instances when you've found an 'object' you presume will trigger a mini game, it just does it for you. The translations from Russian #I presume# to English are terrible, so that when you are looking for a watering can in one HOS it turns out to be a BELL. Also, again due to translation, even the 'hints' make the mini games even more confusing. All in all, stay away and spend your money elsewhere folks!! I wish I had....Doh
February 11, 2013
Almost a Great Game
I liked the story line and the characters. The critters here and there. The music was good. The graphics great, but way to dark for these old eyes. I might get this as a freebie, but yet I do not like the struggle to find things in such a dark HO.
March 13, 2013
Unusual game -- worth a try if not a buy
The Invisible Man is a scientist who created a potion to make people invisible but couldn't wait to sample it before creating the potion to reverse the process. He was interrupted by evil landlords before he could create the potion to change back. For some reason they preferred having their building destroyed to suffering a tenant who was a few months late with his rent. You play as the Invisible Man's girlfriend, who is trying to find out what happened to her guy and find a way to help him. The turn of the century environment was interesting (1899 going by a calendar in the game, though it might have been meant to be an old calendar). I thought the music was a big plus -- setting the mood and ambient enough not to have recognizable tunes when it repeated. The ending wasn't terribly rewarding. The developers seemed to go out of their way to make a cop arrive at the absolute worst time for the sake of putting a "twist" at the end. Also it was never explained whether the Invisible Man was responsible for any of the mischief he was blamed for. Though the game took me 4hr 22min to finish, an hour of this was because of my refusal to skip a 3x3 rotation puzzle (I'm not very good at them). And a lot of time was taken up by waiting for the Hint to recharge. Even though the Hint doesn't take all that long to recharge in "Easy," it doesn't work that well. It will (usually) point you in the right direction to go if there's nothing to do in the current screen, but half the time that exhausts the Hint (unlike other games I've played where using the Hint is "free" when it's pointing you toward another screen). And then there are those times when the Hint points you back and forth between screens, exhausting itself each time, without ever indicating what you were supposed to find in either screen. So besides being stingy with clues, the "Hint" is sometimes a liar and points you in the wrong direction. Unlike many of the newer HOPA's (hidden object puzzle adventures), there are a LOT of hidden object scenes in this game. Some of the hidden objects were dark and blurry and essentially "invisible" -- especially in the last part of the game. If I can't see something even after using the Hint, it's not a hidden object so much as an "invisible" object. If it weren't for the problems with the Hint and the occasionally invisible "hidden" objects, I'd have given it 4 stars for having an unusual plot and an interesting game environment.
March 5, 2013