9: The Dark Side Of Notre Dame Collector's Edition
Exclusive
The Festival of Fools is in full swing in Paris when the gargoyles of Notre Dame Cathedral abduct a festivalgoer in plain sight. What was assumed to be a festival stunt turns out to be something much more foul. You are hired by the Paris Police to work the arcane angle of the case in this fantastical reimagining of Victor Hugo's classic tale.

This is a special Collector's Edition release full of exclusive extras you won't find in the standard version. As a bonus, Collector's Edition purchases count toward three stamps on your Monthly Game Club Punch Card!

The Collector's Edition includes:
Bonus Chapter
Integrated Strategy Guide
Achievements
Beautiful Concept Art and Wallpapers
Musical Soundtrack
Game System Requirements:
OS:

Windows XP/Windows Vista/Windows 7/Windows 8

CPU:

2.0 GHz

RAM:

2048 MB

DirectX:

9.0

Hard Drive:

1095 MB
Game Manager System Requirements:
Browser:

Internet Explorer 7 or later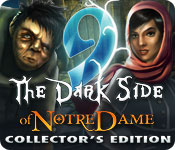 The Big Fish Guarantee:
Quality tested and virus free.
No ads, no adware, no spyware.

Reviews at a Glance

9: The Dark Side Of Notre Dame Collector's Edition
0
out of
5 (
0
Reviews
Review
)
Customer Reviews
9: The Dark Side Of Notre Dame Collector's Edition
60
60
GREAT! Entertaining version of Victor Hugo's tale.
Paris, Festival of Fools .... the gargoyles of Notre Dame came to life and kidnapped a girl. Help the Police Inspector Charmant to solve this case (Gladriel, the little gargoyle, will also help you). Outstanding Paris ambiance, great music, graphics extremely well made - you will feel walking around Paris, immersive atmosphere, interesting excerpts of history, like Holy Grail. Gorgeous Paris locations to explore. Good amount of interactive HOS - not really challenging. Some great new and different mini games - some challenging, others not. Three play modes Eight chapters plus bonus chapter SG integrated A first-class HOPA. I'll have an awesome Sunday!
February 10, 2013
Two thumbs up (if you don't count the bonus chapter)
If you enjoyed playing the first installment of 9: The Dark Side you will not be disappointed in this one - except for the bonus chapter - so if you can resist it, wait till the SE comes out. After playing 10 minutes I already knew that I'll buy it. Great story-line that is also connected to the first installment, yet a different story. Lovely locations (not only the Notre Dame), very good graphics with a few exceptions (some HOS were a bit too grainy to my taste), very good cut-scenes and good dialogues - nice iHOS that were sometimes a bit tricky and some rather on the easy side. Good mini puzzles, that are not entirely new, yet at least not only sliding blocks and turning wheels... some challenging, some rather easy. - Three modes to play - Useful map (usually I try to avoid it, but with this game I sometimes really needed it) - Good overall game play, logic and yet can be difficult at times - Nice length of standard game play (the bonus chapter is from my point of view a waste of money, finished it within about 30 minutes) - With the Amulett you will have to find symbols that will "restore" / activate gargoyles, scenes et.c AND LAST BUT NOT LEASTt: your helpful gargoyle friend Gladriel ... who will fly up high ... and is very very funny (well, he made me laugh various times during the game .. just place him in the wrong spot, and he will let you know what he thinks ..). If it were not for the bonus chapter, I would have given this game a 5 star - but the bonus chapter was very disappointing, the spark was missing ... and not worth to buy the CE. On top of the that Gladriel is also not present anymore. Despite, I can very much recommend the SE.
February 10, 2013
Beautiful Game!
I quite like this game! You're a detective out to solve the mystery of a missing girl. Sounds boring, but it wasn't too bad! I appreciate that the story is set somewhere besides a dreary castle, too. Pros: + Graphics are super sharp and crisp looking. There are bright colors! + HOs have interactive parts and places to zoom in and look. + Music is pretty good. Some of it fits the theme of the game very well. + It's nice to hear voiceovers that aren't bad English accents! + The game sticks with the French theme even throughout the black bar tips, which is kind of funny. + Achievements! + Map that lets you jump from scene to scene. Cons: - Achievements can't be collected in one go, as in (slight spoiler) you have to play the game multiple times, each in a different game mode, to possibly collect all achievements. - Character models are a little... lumpy? The faces of some of the characters are a little odd and stick out compared to the lovely graphics everywhere else, but it's not a big deal. All in all, this is a really nice game!
February 10, 2013
Live gargoyles kidnapping a girl in Paris !!!!
Played 45 minutes, casual - 3 modes, casual, advanced, hardcore - Interactive map that you get shortly after starting the game - After playing a while you get an amulet that fights evil glyphs - You will get too a cute little gargoyle, Gladriel, that will help you - Throughout the game you can get 30 achievements, H0 with no hint, no skip, sharp eye, etc.... - Voice overs (even for a French it's strange to hear our supposed "French" accent while speaking English ) - You'll have to find -in various locations- pieces to built an item - H0, you interact - Excellent, inventive mini games, like in the first one - Superb graphics - Good music (was quite relieved it wasn't accordion !!!) A young lady is kidnapped by gargoyles during Paris' festival of fools, up to you to free her.This looks like an excellent game, a straight buy for me.
February 10, 2013
At Last ... A Game That Gives You Puzzles to Make You THINK!
Have just completed the demo. BRILLIANT! Great story, lovely graphics. Puzzles are original. I encountered 4 in my hour. I skipped one to save time. The puzzles really made me think, which I like. The recent games have all had puzzles that have been on the "easy" side. Makes a nice change to have to think for a while! I purchased the first game in this series but have not played yet. Really enjoyed this demo. Will certainly be buying this one!!
February 10, 2013
Fantastic! Took my time & savored the experience
BASED ON COMPLETED GAME HARD CORE (3rd of 3 modes), no sparkles, no help in map, some black bar hints. Delightful surprise - This 2nd installment exceeded all expectations. The first "9 The Dark Side" was so fun, original, and challenging I doubted the sequel would get off the ground. To my delight I actually liked this one even more than the first installment. Notre Dame as a back drop and edgy storyline (no need to repeat here). The graphics & artwork are inspired. Each area was beautiful serving multiple functions giving the adventurer a lot to investigate. It was interesting and fun start to finish. This seemed like primarily an adventure game with well thought-out and clever mini-games that varied in difficulty, and a balance of iHOS, all very well done. Due to the adventure aspects it was not always obvious what to do next sending me to the strategy guide more than once which was great. I have a nit-picky pet peeve which also annoyed me in the first installment - Use something the wrong way or make a bad click and a black bar remark ending "...too bad there is no cavalry to call for help" popped up so repetitively it became grating. -I was hoping for new material. -------------------- GAME CONSTRUCT MAP=YES. Jump map. In hard core mode is shows only available locations which I appreciated. Don't know if other modes showed more detail. JOURNAL=NO. Not needed. All background material was available where found throughout game. COLLECTIBLES=NO. Fine by me. ACHIEVEMENTS=YES. To get all of them you must play in HARD CORE mode and play the tutorial. MUSIC=Original and enjoyable but not a lot of variety so it was turned down at mid-point. VOICE OVERS were good - Those who want lips and words in sync might be annoyed. SIDE-KICK=YES. There is a little Gargoyle who can fly and reach things while making sassy comments. iHOS=There are a reasonable amount. All well done and enjoyable. Some were "assemble the pieces" that required visits to more than one area to complete. MINI-GAMES=Plentiful and fun. Most easy others offered some challenge. Examples: Wiring a circuit, runes and codes, one involving photographs of a mime was completely original and fun, magnets, potions, baking, carving. This game has all the ingredients that intrigue me - gorgeous and historic location, well constructed scenes, lots to see and investigate, challenge in figuring out what to do next, well done balance of iHOS, plentiful interesting and clever mini-games, with a cohesive, non-hurried ending. Great game! Highly Recommend for those who like adventure and some challenge.
February 15, 2013
Another great sequel!!!! :))
Wow, couldn't stop playing... Breathtaking graphics, wonderful settings, thrilling story, gameplay is very fluently. 3 modes to choose from, a map, which allows you to "travel", hintsystem is very useful outside the HOS. No journal. Lots of minigames, some are new and some are really challenging.... Not so many HOS (approx. 70 % minigames, 30 % HOS) And what I already liked in the first game of this series: We have this guardian amulet, added to the taskbar, whith which we can reveal secret glyphs... Bonus content: Bonus-chapter, strategy guide, wallpapers, soundtrack, concept-art and 32 achievements to earn!! You have a lot to do and to explore and that's a lot of fun!!!!
February 10, 2013
It Is FANTASTIQUE!
I loved the first game of this series and am ecstatic that these developers have once again come up with a wonderful story based on Victor Hugo's Hunchback of Notre Dame. Playing the role of Detective, we are summoned to Paris and now must work in secret to solve the mystery of Fleur's abduction during the Festival of Fools. According to Captain Marchant, Supernatural forces are at work and it is up to us to find our vicitm and uncover the secret that surrounds the famous Cathedral of Paris. We have three game modes to choose from and several achievements to unlock. The only catch here is that in order to get all the achievments, you need to play all three modes which is does give meaning to REPLAY value. The graphics are sharp, not the best I have seen but still very well don. The artwork is colorful and voice-overs are good with french accents that are not over-exaggerated. Game features a map that not only outlines progress but also allows you to jump. The only thing missing is a journal, but you do collect bits of stories through-out the game. What really amused me at the very beginning, I thought we were in Paris during the early 1900s. First you are on a train, then you see a carriage, then there is a gramaphone and suddenly you find yourself in front of the museum and there is a car which needs to be unlocked. Gameplay is your standard HOPA with alot of actions and areas of interest to cover. The HO scenes are heavy on the interaction which makes them interesting. Mini games are interesting and some suprisingly challenging to play which will make many hard-core players happy. There is also the Guardian amulet that is added to your taskbar which you will need to locate the hidden symbols throughout the game. Having played the demo, it really is a no-brainer on wether this is a game to purchase. Great graphics, interesting story, challenging game play and achievemnts to collect. There is definitely fun to be had here and this game gets 5 stars from me. A great way to spend a cold and wet Sunday afternoon on the Dark Side of Notre Dame.
February 10, 2013
Superb.
Based on the demo. only. There are three game modes and I played on the middle one. The voice-overs are very good as are the graphics, There is so much to do in this game as well as the usual ho scenes and also a map is provided which has to be found. I found the puzzles were quite hard which I love as I can't see the point of doing something too easy, the story was also extremely gripping and all in all I cannot wait for the full game to download. The first game in the 9 series was excellent and this one is every bit as good if not better.
February 10, 2013
REVIEW OF COMPLETED GAME
I see I am definitely the only one here who found this game lacking. I quite liked this game but it could have been better. The cut scenes were very sticky. Another game where they just sat there after completion and would not go away till I hit skip. The iHOS were very well done and even though there were a lot of them, they were quick enough. After all, the genre is called Hidden Object Puzzle Adventure. The puzzles were nothing remarkable and many were to number-oriented for me, but some of them were quite interesting and I managed the majority of them. The wide screen graphics are very good and the jump map is great. Could not do without that, it would do my head in. I liked the story but I fail to see the correlation between the game and Victor Hugo's The Hunchback of Notre Dame. Maybe a courtesy to the author because they included the Hunchback and Esmerelda, even though he is long gone. The music was fine and the voice overs were well done. There is a little helper, a Gargoyle named Gladriel, who accompanies you and helps you out from time to time. Many games are including this feature lately and it is no longer a novelty but I did like it nevertheless. The game is not linear and moving backwards and forwards is quick and smooth but left and right had a time delay of about 8 to 10 seconds for some reason. This got on my nerves very fast. The hint and skip are real fast and the hint is directional, though the jump map is all I used. There are loads of achievements, but most of them are for doing what you have to do in a game anyway, so I did not really have any interest in them. No collectibles. The main game took me 3.15 hrs and the BC 45 mins. That is not really good enough at all for a CE. 4 hrs is what we expect from a SE. The BC is not relevant to the main game. Just a trip back over the centuries for an explanation of how the dark side of the Amulet got hidden. But we already know it did from the main game. A couple of new locations, but otherwise just how the Notre Dame looked back then. I feel rather short-changed. I cannot remember the first game but am going to replay it to see how it compares. Well, thanks Devs, you did a good job and it is interesting, but personally, I need a CE to be a little more polished and at least an hour longer, for my money.
February 11, 2013