Motor Town: Soul of the Machine
A young journalist, desperate for a big story, accepts an intriguing assignment: Hunt down an eccentric inventor who hasn't spoken to anyone in years and interview him about his latest gadget. The writer gets more than she bargained for when she arrives at her destination and finds the living have abandoned the town and she learns of the inventor's plans to create cars with souls! As her guide, you'll search vintage cars and rundown factories for clues, perform tasks for ghosts, and solve an array of ingenious puzzles. With the fate of many souls and the life of the inventor on the line, you must not delay!
34 eerie locations
21 mind-bending mini games
Unlimited hints and tips
Game System Requirements:
OS:

Windows XP/Windows Vista/Windows 7/Windows 8

CPU:

1.8 GHz

RAM:

1024 MB

DirectX:

9.0

Hard Drive:

535 MB
Game Manager System Requirements:
Browser:

Internet Explorer 7 or later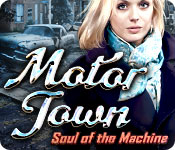 NEW299
The Big Fish Guarantee:
Quality tested and virus free.
No ads, no adware, no spyware.

Reviews at a Glance

Motor Town: Soul of the Machine
0
out of
5 (
0
Reviews
Review
)
Customer Reviews
Motor Town: Soul of the Machine
69
69
A Game With a Soul
From one of my favorite developers, Motor Town has an air of creepiness to it with murkey looking scenes and dark graphics. Our storyline begins with an over zealous journalist who is after a big story involving a recluse inventor of cars. Known to be an eccentric, he frequently referred to cars having souls. As we pursue the story, we find ourselves in an abandoned town and now look for clues as to where our missing inventor is. An intriguing story line with an edgy feel to it, passable graphics that could have been sharper, mediocre voice overs, great art-work and a good balance of over-crowded interactive HO scenes along with a variety of unique puzzles that offer some mild challenges; What's not to like? I enjoyed the demo and have already puched the buy button using my free game credit. A relatively good SE game that will no doubt occupy me this evening.
February 12, 2013
Average HOPA - Liked the premise of the game!
The storyline is interesting. Cars with souls! Based on the demo only, the game has strengths and weaknesses. The graphics were not perfect but they were colourful and the artwork was beautifully drawn. Liked the characters. The HOS were mostly lists with a degree of interactivity. The puzzles and minigames were fun and relatively easy, which made them entertaining rather than frustrating (to quote another reviewer). The journal records clues needed, but I didn't find a map. Since inventory is used quickly, this is probably not an issue for most players. Didn't play long enough to know for sure. The hint button recharged in about 30 second and provided directional help. If you like to explore, you might like this one. I like spooky, and the music enhances this aspect of the game. Two things bothered me. I enjoy the cutscenes in most games. They are often powerful and draw me into the story. In this game, the cutscenes played in a choppy manner. They made me dizzy. In some places, they were left hanging on the screen, moving slowly, with no music or sound effects. (Maybe it was my computer?) The second thing is the dilapidated and rundown house scenes, the beaten-up cars, the junky streets and the garbage. I definitely recommend that you give it a try. Most of my dislikes are based purely on personal taste. The storyline makes it worth checking out. See what you think!
February 13, 2013
Good SG
Graphics are good the storyline is good and the Hidden Objects scenes are good. I played for 30 minutes and did not want to leave. I expect this from the developers and am pleased to find a good game.
February 12, 2013
An Interesting Game (Just Wash your Hands Afterwards)
In this game you are Rachel, a journalist fed up with writing fluffy society page stories. Wanting a "meatier" story, you end up tracking down an eccentric inventor, who believes that cars have souls (well, of course they do!). It looks like there's been some foul play by what must be the most aptly named villain in the entire galaxy. Your job, I presume, is to track down the nefarious villain and save the day. It's true that the level of challenge in this game may not satisfy everyone. The puzzles made me stop and think for a couple of minutes, but once I figured out exactly what I was meant to do it became quite straightforward. However, I suspect there are just as many people like myself who don't want MENSA-grade puzzles, and although some were a *little* on the easy side, the ones I encountered in the demo kept me happy. I don't want brain-ache from my gaming! It looks like there are plenty Hidden Object Scenes in this game, and in the demo I visited each scene twice. Some items are interactive, and although the objects are quite clear, I didn't rattle through them as quickly as I thought I might. The artistry is fabulous, and these dev's must have some of the most talented artists in the industry. Agreed, the general scene is of decay and desertion, and believe me - it's *very* well depicted. In a couple of rooms in particular, I swear I could smell the dirt! This is the reason for the title - after getting down and dirty among all the rubbish, you may feel like washing your hands afterwards! This game won't be to everyone's liking - it is pretty gloomy, but the scenery is, after all, meant to convey a feeling of a 'ghost town'. Me, I love these types of game. I will be using a PCC to get this game. I want to know what happened, and I love the scenery. It's an SE, so don't expect collectibles/morphing objects, achievements etc. If you like ghosts and gloom, you'll probably like this. It won't make your brain hurt with its cleverness and tricky puzzles, but it's a nice way to spend an evening. Finally, credit to the dev's for issuing a game that's not immediately brought out as a CE - we need more of these!
February 13, 2013
Has Detroit seen this? ;)
I really enjoyed this game and for a Standard Edition it's terrific. Nice long game play with a good balance between Hidden Object and Puzzles. A little heavy on Hidden Object but tons of interactivity in the HOs eased that abundance for me, being not huge fan of HO. Great clear graphics with door puzzles that hearkened back (in style only) to the old Ravenhearst. Nothing too tough on any puzzle but engaging none the less. Nor were any puzzles anything new BUT often had a new twist on old standards. Great logical solutions to inventory puzzle items too, which is often not the case. I was pleased to see hints were directional only. I've hated recent trend of hints telling you exactly what to do. I played on Expert Difficulty and completed the game. I would like to give it a 4.5 but that's not an option and it doesn't quite make a 5, but very few games do in the opinion of this picky old bear. ;) Vrooom!
February 14, 2013
A Street Car named anybody but Desire
Review based upon completion of the game. You are a bored journalist looking for a big story. Your editor sends you to check up on an inventor, who soon turns up missing. From now on the story is a bit out there... The Good: + good game length (for me about 5 hours) + very well done videos and voice-overs + hint system works very good + usually clear what to do next + varied puzzles The Neutral: o as mentioned above, the story is a bit out there o no map, but for most areas it's clear that you have no more business there The Bad: - most puzzles are a bit trivial - sometimes area exits aren't too clear Bottom Line: I have seen much less quality in CE games. If you are into ghosts and science fiction, definitely give this game a try!
March 19, 2013
Spooky Grunge-Gaming, with a new storyline
The Big-A developer who has done some of my favorite games, includingTwisted Lands & The Gift, has offered up yet another oddly intriguing game/storyline that i think is gonna surprise a lot of players by it's uniqueness. Cars aren't my thing by a long shot so i was glad to find Motor Town isn't really so much about cars as the souls that are somehow bound to them, & enough said about that; i don't want to spoil anything. Graphics are excellent, & combined with the sound effects & spooky as heck music, the dev created the perfect atmosphere for this storyline. Voice overs are decent, & not abundant. Cutscenes are pretty good, & the ghosts are great. As noted by a few reviewers, as you travel thru over 30 different locations you'll move thru some pretty darn grungy looking places like old abandoned streets, warehouses, garages... this isn't pretty fairytale land, folks, but it is distinctively moody & imo a flawless set for the subject. There are lots of HOscenes that are fairly cluttered but pretty interactive & fun, while the adventure aspect keeps things moving nicely. Puzzles are easy. Hint button is plenty helpful should you need it. A journal gathers info you'll apply later. Gameplay was smooth & glitch-free, and you'll get a good amount of game time here. 2 modes of play, casual & expert - i played expert & would have appreciated a bit more challenge. Although It may be on the easier side, the game flows nicely & is easy to follow, tasks are clear, gameplay & storyline are merged really well... and it is a whole lot of fun regardless of your skill level. For an SE, this is a deal for real, & something different. I'm going 4 stars 'cause i think a little more challenge would have made it a little better. Still, I definitely recommend giving this one a go, 'specially on a sale weekend, right. Have fun gaming, folks!
February 16, 2013
over all a good game
interesting and a bit different, saving people and cars. a bit confusing at times form me and the finding was a bit too dark and frustrating at times but over all an interesting and different game. the hint button works great which in my mind is always a plus. no map but again the hint button works and tells you where to go so fine with out a map. I don't use sound so cant rate that but over all I recommend this game.
October 23, 2013
I HAD LOTS OF FUN
BASED ON COMPLETED GAME ON EXPERT LEVEL This game is just fun. It won't be the most challenging or intriguing game you've ever played, but you will really enjoy meeting all of the ghosts in this game. The story is unique, but sort of a fantasy (a scientist wants to make cars with souls,) and you get to visit many different scenes. The IHOS are easy but fun (NO JUNK PILES.) The puzzles are all suitable for a beginner, imo. Most of the objects you need to find are used relatively closely to where you find them. The music is benign and blends smoothly with the game neither intruding or boring. The cut scenes were blurry. I don't know if this was by design or accidental,, but the rest of the game is clear and well lit. I was able to complete the game without hints and in one sitting, so I guess it's not too long. Or maybe I was having so much fun with the characters that I moved faster. The "Elvis" and "hippy" characters were my favorites. I'm not rating this game based on technical specifics because my overall experience with it was a couple of hours of lighthearted fun. In fact, as I played along, I changed my rating from a 3 technically to a 4 for fun. The ring of fire towards the end won me over for sure. Bottom line: Fun, fast and easy enough for a beginner.
July 22, 2013
Good rainy day game
I completed this game in about 4 hours. The mini games were not very challenging, but interesting. There wasn't a whole lot of back tracking, everything you needed was usually within a few scenes of the needed location. The hidden object scenes were not challenging at all. The graphics were decent, with an eerrie feel throughout. The storyline was different but without any surprises. I completed the game without using the hint button once. Overall however, it kept my interest during a rainy afternoon.
March 5, 2013
The Apple logo is a trademark of Apple Computer, Inc.