Building the Great Wall of China
The Chinese Empire is in grave danger as the Nomads from the North threaten the wealth and prosperity of its lands. Kong Baotu, a smart and resourceful man, accepts the challenge to achieve the impossible. He commits himself to building the Great Wall that will protect China from the warlike barbarians. In return, he asks for permission to marry the Emperor's beautiful daughter, Fan Tanrui. Join Kong in his epic adventure! Help him save the Empire and marry Fan. Your journey will take you to the farthest reaches of China, through the emerald-green hills and treacherous rocky cliffs. In more than 40 levels, you will conquer the snowy mountain-peaks and cross the withering deserts. You will gather food and lumber, mine stone and iron, survive hurricanes and thunderstorms, all for the noble goal of completing the greatest building in the history of mankind – The Great Wall of China.
40 levels in 4 locations
Fast-paced gameplay
Exciting mini-games
Game System Requirements:
OS:

10.8/10.7/10.6

CPU:

1.6 GHz (INTEL ONLY)

RAM:

1024 MB

Hard Drive:

148 MB
Game Manager System Requirements:
Browser:

Safari 4.0 or later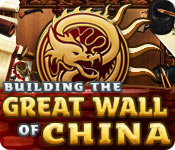 NEW299
The Big Fish Guarantee:
Quality tested and virus free.
No ads, no adware, no spyware.

Reviews at a Glance

Building the Great Wall of China
0
out of
5 (
0
Reviews
Review
)
Customer Reviews
Building the Great Wall of China
90
90
Almost loved it
Very pretty game, what put me off was not being able to queue tasks - you have to wait for a worker to get back to the house.
December 4, 2013
Another almost great game
This is another game that with two small changes would be a great game. 1. Lack of a timer on resources makes it difficult to use workers efficiently. Not a problem on lower levels but as the grame progresses so does the frustration at not knowing if that ore source is going to renew next or if you have plenty of time to go grab other stuff. 2. Not being able to queue up worker actions. I love it when a TMG has this and when they don't it makes me sad. I also like the number of workers to be included in the resource boxes - but that's not a deal breaker, just a surprise that's it's missing. But with so few TMG's out there I'll buy this one anyway. The story line is really well done, and liberally interspersed with historical tidbits. The graphics are great and I like the Oriental flavor. The gameplay is also pretty good, not overly challenging, but not too simple as it progresses. And the spelling, grammar and punctuation are error free (so far). I know that's not a big deal but it is worth noting, especially with the large amount of text present in the story line. No technical issues either. Overall I'd recommend it to TMG players.
March 3, 2013
Great Wall Of China
Great game concept but not enough levels. They should remake this and make the "journey" longer. Also on the levels where you build a fort, they could make it more challenging or have to build the fort in stages.
February 22, 2013
Not sure!
Having played 30 minutes of the 1 hour trial, I don't think this is going to be a 'keeper' for me. I have heard others say that this is akin to the Royal Envoy series and to a certain extent they are correct (and possibly also the 'build-a-lot' series of games as well), what kind of put me of this game though was that every level you had to build a wall, and complete other tasks (such as collecting statues etc). This is all well and good but to me there doesn't seem any point to it as with the Build-a-lot series you advanced houses and you had varying tasks the further on in the game you went. With this every level the main task was to build a wall, I didn't feel I was progressing or that there was any advantages to completing the levels, so in the end I didn't and quit out of the game. I thought it might have been akin to the 'Monument Buildings' series of games in that your task was to build the 'Great Wall of China' and you would get historical background as well, but alas this was not to be the case (though the graphics were a lot more rendered and professionally done than the 'Monument' series. If you like Royal Envoy and the Build-a-lot series of games then this is certainly worth trying, just bear in mind that the one recurrent goal in each of the levels is to build a wall.
December 28, 2012
Very 'Cutesy'
I only played the trial and it took me a minute to figure out what to do. I play the Build-a-lot series games so I put two and two together. First and second levels are simple as if walking you through gently for what's to come. I made it up to level 6 by the time the trial was over and by then it became pretty challenging. I had 3 workers by this time so I found myself all over the screen keeping them busy while watching the timer. My cons: the workers having to return to camp after every task instead of just going on to the next task. This waste a lot of time but that's why it's in the time management category. The stone quarries appear to be the last building to become available to construct. This is tricky because the Great Wall is made of stone and this resource is greatly needed. So I found myself having my workers gather berries and wood in between until the stone quarry was available so I could continue with the wall. Time bonus and speed boost helped A LOT! I'd recommend this game for someone whose looking for a decent time management game. It's fairly easy to understand and once you get going you'll discover your own flow to complete the levels. The graphics, although not eye-popping and glittery, more like a 90's version of N64 games, but hey, this isn't Red Dead Redemption or Black Ops 2. enjoy
December 27, 2012
Too Short
The game was fun to play, but it does not have enough levels. I didn't feel that I got enough play for the price.
December 24, 2012
Not an originial
It's not bad but it's similar to other games where you have to harvest food, gather wood and stone and build and collect things. The only thing original was the story line.
December 15, 2012
Too Short, Too Easy
I was able to complete all levels in a day or two, with three stars in all but a couple of levels. I much prefer the Royal Envoy model, where you start out in Regular mode and go through 60 or so levels before you have access to Expert mode. This one only has 39(?) levels and once you've done your best on each, you are done. Since new TM games are few and far between, I'd still recommend this one if you have a credit or are completely bored. It will keep you busy for a few hours.
December 14, 2012
Ok Game
I love time management games but not really anything new in this one! Sitill bought it but I would not buy anymore TM games until something different comes out. Just my two cents!
December 4, 2012
The good and the bad...
The good is that we lovers of the MKftP and Royal Envoy games are always waiting and hoping for a new version/title in this genre and this game fits right in. I liked the Asian flair to the game and thought the graphics were cute. The bad is the following: you can't queue up tasks, something I appreciate when given the production buildings don't show a timer bar. this is unusual and you don't know how close they are to producing the next batch in order to help you plan your strategy. you can't cancel actions once they are set. very frustrating. and one last thing, small but also unusual, is that when you clear a blockage (fallen tree or boulder in the way), you don't gain any materials. It just didn't grab me and I cannot recommend.
November 27, 2012
The Apple logo is a trademark of Apple Computer, Inc.
The Windows logo is a trademark of Microsoft, Inc.