Whispers: Revelation
Ten years after her parents died in a car accident, orphaned Lunna is experiencing strange visions. Although she looks like any other child her age, she was actually blessed with a very special gift: she can see and speak with spirits. Now 17-years-old and an outcast at Hawkins High, she finds it easier to make friends with the dead than the living. Alone in life, Lunna has nothing to remind her of the past other than a pendant gifted to her by her mother when she was just a child. One night, Lunna realizes that this special pendant has gone missing, and sneaks out to find it. As she is about to return to her dorm, Lunna is intrigued by a lovely voice singing a familiar song, and follows the sound to a mysterious girl asking for help. Suddenly, an evil shadow disagrees with this request and chases Lunna! Who is the mysterious girl and what does she want Lunna to do? Why is the shadow chasing Lunna? Find out in this mysterious and compelling adventure game!
Intriguing story
Challenging mini-games
Eerie atmosphere
Check out our Blog Walkthrough
Game System Requirements:
OS:

Windows XP/Windows Vista/Windows 7

CPU:

2.0 GHz

RAM:

1024 MB

DirectX:

9.0

Hard Drive:

637 MB
Game Manager System Requirements:
Browser:

Internet Explorer 7 or later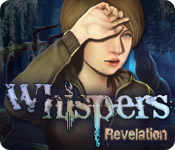 NEW299
The Big Fish Guarantee:
Quality tested and virus free.
No ads, no adware, no spyware.

Reviews at a Glance

Whispers: Revelation
0
out of
5 (
0
Reviews
Review
)
Customer Reviews
Whispers: Revelation
35
35
Agree to disagree
This IMHO is an underrated gem! Despite its shortcomings, the game presents itself very beautifully. Graphics-wise, almost comparable with those CE titles, and I'm totally happy with it. The setting is just right and it's really spooky. Some places might get too dark but combined together with its background noises, the game quickly brings up the scary atmosphere! I can sense that the developer is not 100% fluent with english. Also the characters' mouth did not sync correctly with what they speak. All in all, there's a mixed experience. As I said earlier, there were shortcomings, but I really like this game anyhow. I have just played through the end of the trial and feels intrigued already with the story. Might grab this on the weekend! Adventure game - Expect many clicks and quite a frustration, and be well rewarded Two difficulties: Casual (generally faster hint recharge) and Adventure (no apparent hint at the background) Scary environments - so far nothing makes me jump yet, but there's 1 or 2 cutscene that was pretty scary Meaningful story - it tells a nice story, thus the slow pace HOS - quite difficult to look for items Overall difficulty - Challenging!
February 13, 2013
Completed game review.
I thought this game was BRILLIANT! It is quite dark in some of the hogs which you get used to, but, i have given this game 5* because it was very well done. Originality and thought has gone into this game and it really draws you in. The graphics are gorgeous,the hint system is brilliant. Once you have the medallion and you need the hint , the ghostly girl will say to you "follow my lead" or "i'll show you the way". It is very spooky and the sound effects are part of the ghostly goings-on, which are very well done. There are loads of places to explore lots of interactive areas and lots of hogs.Sometimes you have to combine objects together(it will have a + sign next to it in your inventory.It has a good story-line and there is lots of hours of gameplay. It was well worth the money and it had me hooked throughout the whole game. The tension builds up in this game and you can feel it. Liked the music as well.Well done to the devs and I would purchase the next one with no hesitation. . BRILLIANT!
February 15, 2013
Epic!
I enjoyed this game very much! The storyline was intriguing even though there were some gaps. This game has good graphics and ambient audio. Hints worked well and would direct you to another screen if needed.The ending is very unexpected! Give this game a try and hope you'll like it :)
February 14, 2013
Huge upgrade from previous game
For the unaware, Whispers Revelation came as a sequel to a mini game called Whispers Room 6 released 2 years ago (found it on google after reading game description somewhere on BF). Have just played Room 6 and I'd vouch it's great for a free game. Not playing Room 6 will not let you miss anything since that there's only little relation between the two. Now you're playing the grown up Lunna, while in the former game, you play as her Dad. This is definitely a huge upgrade from the free game despite its weaknesses. One major weakness being its great difficulty as other people have already mentioned. If you can bear with it, you'll love this game. Going back and forth without clear clues are basically what you will do in adventure games. And clearly this is more to Adventure than HOG. Having already played Room 6, I can see that the developer wants to bring in another Point & Click experience. They intentionally did not give many clues in this title but end up making a quite frustrating game. Nevertheless, I was up for the challenge and already went through halfway. Either you love or hate this game. It can't be both. I choose to see the bright side of this game and love every effort that the developer did right.
February 15, 2013
It's all about the Storyline!
I normally don't post off the D&E thread so my reviews usually are only seen there; however, I decided to post my review of this completed game here as well, to catch the attention of those who might be casually considering it. OK, D&E friends...this is going to be a strange post but... I just finished an amazing game. It's Whispers: Revelations. Don't get me wrong; it's horribly made. So much back-and-forth that you'll get a migraine. No logic whatsoever in the gameflow. The mouse is glitchy as heck; even after you find the hidden objects (which are junkpiles, btw...) you have to beat them to death sometimes to get them to register. It took me hours. Several times I had to stop because I just couldn't stand any more. So why am I here to rave? THE STORYLINE!!! This thing had one of the best, most amazing (and ultimately beautiful) D&E stories I've seen. I kept following it because I had to know what happened. And it didn't disappoint me at all; the ending somehow managed to tie together several seemingly unrelated threads in a logical way. And it wasn't all negative; the artwork was beautiful and the music was lovely. All I can hope is that these artists and writers get a chance to work with someone someday who knows how to do a good game. They have more creativity than 90% of the big-budget developers out there. They deserve a chance. Oh: and if you do decide to try this game, watch the entire final cut scene. Trust me: it's worth it to tie this epic story together. Whew! Rant over..
March 11, 2013
Wonderful story
This is one of my favorite HO games. Although it has a lot of back and forth for one item, I found that the story was more detail oriented than most. It is a sad story about an orphanage, death of children and a girl in a coma, whose spirit interacts with Lunna, the main character. At times, I had to use the hint to go to the next area because if you just run around, you'll be frustrated quickly. I enjoyed each cut scene movie, more so than most other HOGs. Kudos, guys and gals! I loved this one.
April 26, 2013
I won't 'whisper' my enthusiasm! : )
WOW!! ~~ "WHISPERS: REVELATION"!!!!!!!! Yep, here is another example of a fantastic, uniquely created, 'outside of the box' adventure that has not received the credit it deserves. As other reviewers agreeing with my viewpoint have pointed out... it's the STORYLINE that makes this and others like it... a fantastic, creative development. So, you won't find bells and whistles or hand holding with this type of game [it's not supposed to have it and, in fact, doesn't particularly NEED it!]; and for that reason, it should not be compared to the 'usual' gaming experience here on BFG. This is exceptional and very well thought out and stands on it's own merit as a true immersive and atmospheric game. Thank you BFG and devs!!! I wish I had noticed this when it first came out, but am just as happy now with DD price! :} Thumbs up.
February 20, 2014
More point-and-click adventure than HOG.
I played the whole demo and I really like that this is more of a point-and-click adventure with a few HOS thrown in here and there. You have to look everywhere - and then some - as some inventory items will not be available until you trigger them by playing a required scene or sequence. There are hints but they may not be very helpful always because the next move or solution to your task is not always spelled out. I like that you have to do some thinking at times. The map will not be especially helpful except to let you know what places are immediatley available. Map: no transport and doesn't show tasks. If you are impatient or feel you need more help, you probably won't like this much. Lots of cut scenes and dialogue. I liked it quite alot.
February 12, 2013
Good start!
This game seems like it's a really good game in the making. Needs more work but a very good start indeed. The graphics are very pretty. It didn't seem too dark to me. Maybe the game came off as too dark because the first corridor you enter you need to find a light for & if you don't take the time to read the subtitles when you go in there, you won't know that. You might just think the whole game is that dark. The rest of the rooms are just fine though, not exactly bright but not impossibly dark. I love these kinds of graphics, very soft edges without being blurry. Makes for a comfortable gaming experience, yet with a creepy atmosphere. I'm not sure if this is a new developer, but if it is, I think they just need some encouragement and support and I think they could end up being one of the better game developers out there. I hope people don't decide to skip over this game due to a less than spectacular release. I think a lot of people will really like it. Just don't give up after only 10 mins. Give it a chance & see for yourself about this one. I haven't played the entire game yet so I don't have any idea of how long it is. I just wanted to get my review on here ASAP to show that it is actually a pretty good game.
February 12, 2013
Under-rated!
I agree with snowpuppy.. give this game a chance. Although it isn't slick like Otherword and Chimeras, this is a fun and moderately challenging game; I will admit the pace does start slowly. Once I overcame my reluctance to use the hint feature, I actually enjoyed getting guidance from my spectral friend. Unless you really enjoy beating yourself over the head to solve these games, I suggest you'll want to make good use of that hint button. As is sometimes the case with game developers for whom English isn't their native language, the descriptions in a couple of the HOSs are misleading. Don't worry, the hint feature refills pretty quickly, so you can use it to find that ambiguous thing! It has an intriguing story line, and good voiceovers, if those are important to you. I initially found the "whispers" a little unsettling, and later vaguely annoying, but after a while I no longer noticed them that much. There is a map feature but it doesn't automatically move you from location to location. There is also a task list to help you remember what you were trying to do. I got this game with a game credit, but I wouldn't have felt gypped if I had paid the game club price for it.
February 14, 2013