Whispers: Revelation
Ten years after her parents died in a car accident, orphaned Lunna is experiencing strange visions. Although she looks like any other child her age, she was actually blessed with a very special gift: she can see and speak with spirits. Now 17-years-old and an outcast at Hawkins High, she finds it easier to make friends with the dead than the living. Alone in life, Lunna has nothing to remind her of the past other than a pendant gifted to her by her mother when she was just a child. One night, Lunna realizes that this special pendant has gone missing, and sneaks out to find it. As she is about to return to her dorm, Lunna is intrigued by a lovely voice singing a familiar song, and follows the sound to a mysterious girl asking for help. Suddenly, an evil shadow disagrees with this request and chases Lunna! Who is the mysterious girl and what does she want Lunna to do? Why is the shadow chasing Lunna? Find out in this mysterious and compelling adventure game!
Intriguing story
Challenging mini-games
Eerie atmosphere
Check out our Blog Walkthrough
Game System Requirements:
OS:

Windows XP/Windows Vista/Windows 7

CPU:

2.0 GHz

RAM:

1024 MB

DirectX:

9.0

Hard Drive:

637 MB
Game Manager System Requirements:
Browser:

Internet Explorer 7 or later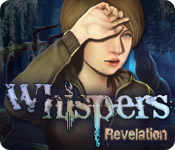 NEW299
The Big Fish Guarantee:
Quality tested and virus free.
No ads, no adware, no spyware.

Reviews at a Glance

Whispers: Revelation
0
out of
5 (
0
Reviews
Review
)
Customer Reviews
Whispers: Revelation
30
30
It's all about the Storyline!
I normally don't post off the D&E thread so my reviews usually are only seen there; however, I decided to post my review of this completed game here as well, to catch the attention of those who might be casually considering it. OK, D&E friends...this is going to be a strange post but... I just finished an amazing game. It's Whispers: Revelations. Don't get me wrong; it's horribly made. So much back-and-forth that you'll get a migraine. No logic whatsoever in the gameflow. The mouse is glitchy as heck; even after you find the hidden objects (which are junkpiles, btw...) you have to beat them to death sometimes to get them to register. It took me hours. Several times I had to stop because I just couldn't stand any more. So why am I here to rave? THE STORYLINE!!! This thing had one of the best, most amazing (and ultimately beautiful) D&E stories I've seen. I kept following it because I had to know what happened. And it didn't disappoint me at all; the ending somehow managed to tie together several seemingly unrelated threads in a logical way. And it wasn't all negative; the artwork was beautiful and the music was lovely. All I can hope is that these artists and writers get a chance to work with someone someday who knows how to do a good game. They have more creativity than 90% of the big-budget developers out there. They deserve a chance. Oh: and if you do decide to try this game, watch the entire final cut scene. Trust me: it's worth it to tie this epic story together. Whew! Rant over..
March 11, 2013
Wonderful story
This is one of my favorite HO games. Although it has a lot of back and forth for one item, I found that the story was more detail oriented than most. It is a sad story about an orphanage, death of children and a girl in a coma, whose spirit interacts with Lunna, the main character. At times, I had to use the hint to go to the next area because if you just run around, you'll be frustrated quickly. I enjoyed each cut scene movie, more so than most other HOGs. Kudos, guys and gals! I loved this one.
April 26, 2013
Won,t Trash it!!
I know the title sounds strange, but after my opinion on the game you will know why I titled it as I did. First off: I did try the demo and liked it and got hooked right at the start. I found the graphics very good, a little on the dark side. I liked the story line very much. At first it did not make much sense, but the further along you go the more things come together. Yep I do agree the devs need a little more coaching in game developing. When they do they will produce some awesome games. There was an over much of back and forth. The sounds gave the game an eerie feel. In my opinion the map was useless unless you can jump to your destination on in. There was several areas I was totally stuck at, and the hint button did not help very much, and some of the objects in the HOS were way to small. So for those who cannot see very well this might be a draw back. I know it sounds like I am giving a negative opinion on the game, but I really did like it. I know if the devs study other games with good ratings, they will also produce some awesome game. I was able to get to each area with out a problem. Some of the cut scenes took a while to show-up, but I never froze up in any part of the game. You do have to use the grey matter in this game, for it is quite a challenge, but if you like a challenge this game is for you. My review is based on the demo and I did purchase the game, but have gotten about two-thirds through the game. By the way I totally agree with jeanniemouse on her comments about the game.
March 29, 2013
I wanted to be in the minority...
Oh no. I really, really loved this game when I first played the trial, and even after playing the normal version I still did love it. But after a while the insane back & forth started, the "too many HOG's" started, and I couldn't take no more. I couldn't and I didn't wanted to finish this game. I got tired and impacient playing it! By the time I got to the swamp maze to get to the church again, I gave up. Here are the cons: - The mechanics of the game are slow (menu, cursor speed, the rain effects also made the game slow); - Way too many hidden objects by the end; - Useless map; - Something that ruined the story completely and the overall game, too: I made some significant and interesting discoveries and yet nothing would happen or change in the game; - The back and forth. OMG! Unbelievable. I never had to "back & forth" so much in a game ever before. This is mainly what made me so bored playing this game; - This game didn't advance fluidly at all. At all. - The hint wasn't very helpful; - This is no intuitive gaming experience; - Frustation. Desperation.The distance between the hidden objects scenes. One in the canteen. The next one in the swamp hut. The objects had to be used in the tunnel. 'Nuff said; The pros: - Great, memorable music; - Wonderful background noises, the whispers, specially!; - Pleasant graphics with interesting and diferent perspectives; - Lunna was nice, overall; - The atmosphere was really eerie. Amazing; - Nice development of the story in the first night and in about half of the second; - The "first night", "second night" and "third night" thing, was really nice since every night you had different areas to explore in places you had been before. - i loved the Hawkins school building. Very well achieved and very interesting to explore (but not so by the end of the game...); So much for the 4 stars I wanted to give it initially... I'm so disappointed since it was an amazing experience in the beginning, but not overall...
March 12, 2013
Really?!
This has been the most illogical game I've encountered here. The tasks do not help in figuring out where to go and what to do next. I have played here for several years now and have never had to use the hint button as much as I do here because there simply is no flow to it.
May 4, 2013
Not
Why I chose not to purchase: 1) The atrocious English was a real turn off. I don't mind a couple of mistakes, but some of it made no sense at all. 2# The map is useless, not that a map has to be interactive to be of use, but at least give some relevant info. 3) Whenever a box comes up, you have to hit the X to get it out of the way #as opposed to just clicking anywhere outside of the box). 4) After using a hint, you have to wait tooo long for it to recharge in casual mode 5) The skip takes entirely too long to recharge 6) In the hour trial, the two minigames I encountered were both math related. Many people like number puzzles, I don't. 7) Overall, the game was clunky and just did not flow.
March 8, 2013
Boring
This game doesn't really flow well. The actions don't make sense...you wander around trying to figure out what to do and the hints are horrible. Didn't even finish the demo.
February 21, 2013
10/10 vision required
Horrible visual. Why the map doesn't take you anywhere...??
February 20, 2013
Please...be quiet
I only have four words for this game, Dull, Boring, Unexciting, and Drab.
February 20, 2013
Whispers: Revelation
One of the worst, if not the worst game I have ever played.
March 11, 2013