Time Mysteries: The Final Enigma
Exclusive
When Esther Ambrose receives a letter from her uncle prompting her to attend a meeting with a mysterious man, she can't possibly understand what it will lead to. Her journey will take her across time and space, as she tries to right old wrongs and influence the past to change the future. Esther will meet powerful allies, but also dangerous foes, whose only goal is to challenge her and make her fail. Help her rise to the challenge and save the world from catastrophe in Time Mysteries: The Final Enigma!
Game System Requirements:
OS:

10.8/10.7/10.6/10.5

CPU:

1.0 GHz (INTEL ONLY)

RAM:

512 MB

Hard Drive:

588 MB
Game Manager System Requirements:
Browser:

Safari 4.0 or later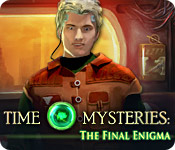 NEW299
The Big Fish Guarantee:
Quality tested and virus free.
No ads, no adware, no spyware.

Reviews at a Glance

Time Mysteries: The Final Enigma
0
out of
5 (
0
Reviews
Review
)
Customer Reviews
Time Mysteries: The Final Enigma
20
20
Very recommendable SE!! :)
Even though I first wanted to wait for this SE, I couldn't wait and purchased the CE. I loved the last ?Time Mysteries - The ancient Spectres?!! Great gameplay, fantastic graphics; similar to this one. We have two modes to choose from, a helpful diary with tasklist. Hint is also useful outside HOS; showing you the direction where to go. And what I love most is the Portable Time Device, which is also a map; allowing you to travel back in time to change history by solving several puzzles which finally will rescue our world? We find lots of HOS with interaction (can be switched into match-3) Very nice designed minigames, not too challenging. It took me about 4 hours for the maingame in the 2nd mode. But: Even though I love this game, I recommend this SE, as the bonus-content offered in the CE isn?t sufficient for me; There are no collectables/ achievements and the bonus-chapter is quite unnecessary!! Main game ends conclusively.
February 13, 2013
A Not-So-Final Finale
BASED ON COMPLETED GAME Story: We were left hanging at the end of ?The Ancient Spectres?, with Esther Ambrose fighting off the evil witch Viviana, Merlin?s main squeeze back in the 5th Century ? before he became a tree. Now she must help her uncle and a mysterious man from the future finally stop the threat of Viviana?s evil influence for good. This means going back to the original confrontation between Merlin and Viviana, and an adventure across time and space. Developer: Artifex Mundi Release Date: Feb 2013 Extras: Portable Time Device (PTD), Toggle to Match 3 game. Almost everything I said about ?The Ancient Spectres? remains true for this episode of the Time Mysteries series. The bright glary light still illuminates clear and beautiful objects. You have sonar and can toggle a Match 3 game in HOs, and the game leans towards HOs rather than PA. The action continues to centre round the PTD. Which remains addictive. And this game?s story is also as hard to follow and, though ending conclusively this time, ultimately as unsatisfying. Still, tripping across time and altering futures is irresistible fun, and it really is a beautiful game. And if I?m left feeling a bit ambivalent, I guess I was hoping for more out of this than it gave. To those who?ve not played the other games, this one can stand alone, but just barely. It?s a lot more interesting if you?ve played the backstory. And is Viviana Vivien? I?ll never tell!
February 24, 2013
Travelling Back in Time!!
I passed on the CE version as I didn't think it was worth the money. No achievements or collectables (pity) but lovely little game as an SE so downloaded it with a free coupon. Very colourful, hint button fills quickly, too many HOGs for me but can live with that, easy mini-games so perfect for a first-time buy. Not as good as the previous Time Mysteries games but worth playing. Recommended!!
February 13, 2013
Time travel to save the world!!!
Esther is a descendant of Merlin, whose uncle has invented time travel. Esther must travel back in time to prevent Vivianna, Merlin's love. from accepting an amulet that had turned her evil and is destroying the world. The graphics are good but the voiceovers, not so good. When the characters are talking the lips just move open and closed no where near in sync with the words. Esther's voice is annoying and she screams everytime she uncovers something. The game itself isn't that hard, your time machine shows you where you have tasks to do and you do have to travel back and forth between times to get items from one time to use in another time. There are HO scenes that are slightly interactive, pick up one item to use on another etc, but there are more puzzles than HO's. The puzzles aren't very hard, mostly switching tiles to complete picture. There are no achievements and no collectables or morphing objects. It is still entertaining and you won't become bored.
February 13, 2013
Game was Fun, but on the Short Side
Details after playing the completed game: -2 Difficulty Modes: Normal and Expert. -Diary can be found on the bottom left portion of the screen. *Diary contains both Notes and Objectives for the game. -The PTD (Portable Time Device) takes place of the map. -Inventory bar does not lock. -The game did fill my 19? monitor screen. -Hint button can be used for both HOS and game play. Hint button takes about 40 seconds to reload in Expert mode. Hints are also available through the PTD (Portable Time Device), where a red exclamation point shows the locations of points of interest. -Most of the HOS are interactive and in junkpile form. There are about 10 original HOS. Each HOS was visited twice and the objects are random per game (you don?t get the same objects to find over and over again even if the game is replayed). *There is no misclick penalty. *You have a choice of playing a HOS or a Match 3 style game and you are able to toggle back and forth if you want. -Puzzles can be skipped. It took about 1 minute 50 seconds to skip in Expert mode. *There are about 20 puzzles to complete. -There are many cut scenes throughout the game, but these can be skipped. Some of these can be startling (such as bats flying at you). Genre: Science Fiction/Mystical Game length: I consider myself a slow to medium paced player, so it took me almost 3 hours 40 minutes to complete the game. My opinions about the game: *I played in Expert mode and there were sparkles for the HOS *only*. *Graphics were about average. *Music was repetitive. *Good ratio between HOS/Adventure; about 50/50. *Most of the puzzles were pretty easy to play. *Game length is on the short side.
February 15, 2013
not great but good
The game has good voice over and music. The hint button works great. The HOS are not hard at all and the puzzles are pretty good. Some do not give good instructions at all. My only complaint is that the flow after a short while takes you all over the place and it get hard to keep up with what is going on. I like a good flow and not going all over the place looking for things.
February 13, 2013
Review of full game
I got totally involved in this game from the beginning and just didn't want to stop playing. I loved the time travel to different places...made it interesting. The scenes are beautiful and magic , mystery and Merlin are so up my street..lol. The puzzles and Hos were not difficult but you did have to think about where you needed to go next which added to the challenge. All in all I thoroughly enjoyed myself and would not hesitate to recommend.
February 15, 2013
Good game !
At first I was not sure, but then I remembered playing one of the sequels and that portal was very familiar....I loved it very much, Merlin, the puzzles and landscapes were fun...Portal is great, graphics beautiful, very relaxing.
February 15, 2013
Different Storyline + Unique Method of Gameplay = WIN
TITLE?Time Mysteries: The Final Enigma VERSION?Standard Edition (full game) DEVELOPER?Artifex Mundi GENRE?Hidden Object/Adventure (fantasy mixed with science fiction) STORYLINE?You're back in the role of Esther Ambrose, the time-traveling descendent of the Arthurian wizard Merlin. This time, you must save Viviana from being corrupted and restore the timeline. To accomplish all this, your uncle has created a new Portable Time Device (PTD) to whisk you through the continuum so you can uncover the mystery behind Viviana's transformation from Merlin's loving mate to his sworn enemy. GAMEPLAY?I found this one to have a nice mix of adventure, HOs, and puzzles. The adventure portions are fairly straightforward: move around each area looking for items to collect, areas of interest, puzzles to solve, and HOs. The HOs were beautifully rendered with some interactive items. The puzzles ranged from simple to medium difficulty. INTERFACE?The PTD functions as your transport map, as it will move you through space as well as time. Within each time period, the locations are small enough that back-and-forth traveling isn't onerous. Of course, you can't get to a particular era until you've found the appropriate crystal. You don't really need hints either, because the PTD shows you a large green exclamation point in the areas where you have active goals. TECHNICAL?I found no bugs or difficulties. GRAPHICS?Not photo-realistic, but well-rendered and accurate from a realism viewpoint as far as perspective and proportion. Painterly, with a mix of pastels and jeweltones. CUTSCENES?Not as stunning as the in-game graphics, and the lip movements were awkward. Animation was a bit jerky. MUSIC?Variations on a theme with the prevalent piece being orchestral and dramatic. In other scenes, the same theme was played on the piano and in a different tempo. Quite well done, although I wish there had been even more variations. SOUND?Appropriate ambient and game sounds. Nothing special. VOICEOVER?Quite well done, I thought. Each character's voice fit him or her, and no one was overly dramatic. SUMMARY?I recommend this game based on its unique method of gameplay (the PTD), out-of-the-box storyline, eye candy graphics, excellent voiceover acting, and, lastly, to give Artifex Mundi your support. They've been really stepping it up lately with games like Enigmatis: The Ghosts of Maple Creek. I think we hardcore gamers need more talented developers who reliably produce quality games.
February 19, 2013
Excellent game
Excellent game, played it all in one afternoon. Loved the storyline and all the mini games were enjoyable to play. May play it again sometime.
February 18, 2013
The Apple logo is a trademark of Apple Computer, Inc.
The Windows logo is a trademark of Microsoft, Inc.