Dark Canvas: A Brush With Death
Exclusive
Uncover the mystery behind an artist's deadly talent in Dark Canvas: A Brush With Death! Your daughter, Angie, was traveling through Europe when she vanished without a trace. Her last letter urged you to come to a remote island town in Italy, where she had stumbled upon a dark secret. When you arrive, you learn that there has been a series of tragic deaths in town, accompanied by sightings of a legendary spirit called the Silhouette. With no way of knowing who would be next, citizens turned to Virgil, a local artist who could famously predict the future through his paintings. Now you must seek out Virgil and his mysterious paintings before you and your daughter become the next victims of his deadly predictions!
Game System Requirements:
OS:

10.8/10.7/10.6/10.5

CPU:

1.0 GHz (INTEL ONLY)

RAM:

1024 MB

Hard Drive:

338 MB
Game Manager System Requirements:
Browser:

Safari 4.0 or later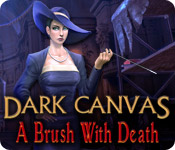 NEW299
The Big Fish Guarantee:
Quality tested and virus free.
No ads, no adware, no spyware.

Reviews at a Glance

Dark Canvas: A Brush With Death
0
out of
5 (
0
Reviews
Review
)
Customer Reviews
Dark Canvas: A Brush With Death
21
21
Magical paintings
Nice adventure, I had a lot of fun playing this one! You have 3 modes of gameplay ? casual, advanced and extreme No map, you only have journal with all the clues that you found along the way HOS are well done, clear and interactive, I enjoyed solving them Puzzles are challenging, refreshing, also you can always skip them if you get stuck Graphics are beautiful, crisp, many different locations very well designed Music is ok, I found it suitable for this adventure Story is developed nicely with elements of adventure, horror and mystery Verdict ? fun game to play, worth spending some time on it, entertainment guarantied
February 21, 2013
finally having some fun!
Was getting quite bored with HOG and then hit this one. The puzzles are different, there's action, fun simple HOG's and the overall quality was fabulous. The best thing was it FLOWED so my enjoyment didn't start,stop and start again. I only put up reveiws for games that are different and this is one of them for the better!
February 15, 2013
Beware of the Silloutte!
A father set sail for Italy to search for his daughter who has vanished while studying art. This painter is famous for his artwork depicting future disasters, is it the painters fault or the mysterious dark silloutte? The story is great and the artwork, scenery, characters and voiceovers are very well done. This is an enjoyable game to play with clever puzzles such as jumping marbles until only one remains. The HO's are well hidden objects and some are slightly interactive such as click on a book, the book opens up to reveal a flask etc. Some of the items are obvious where to place and others take a little imagination to figure out but there is a good hint system that recharges quickly in casual mode, but is a little more challenging in advanced mode. I liked playing both versions (CE/SE) and I don't think you will be dissapointed either.
February 15, 2013
Love This Game
OK....First...no acronyms-like HOS-HOG...I hate acronyms in a review! Say it like it is!!!!!! I love this HIDDEN OBJECT GAME.. Something different in every HIDDEN OBJECT SCENE. Hints refill quickly....gives enough to help but not give away what you have to do. So far not much wandering and backtracking a LONG way to retrieve something. That may change as you get farther in the game but I don't mind. Graphics are good...story line is a bit sinister but not SCARY sinister. I played for a full 40 minutes then decided to buy the game....Some of the objects you find to use are surprising in their way you use them. GREAT!!!!
February 15, 2013
Not Bad, Not Great Either
Based on the free trial. I could not decide whether I liked this game or not. The story is the same tired old 'go to such-and-such a place to meet so-and-so but of course when you get there the person is missing and you are threatened by dark shadow/apparition/evil entity' etc etc. and of course it is gloomy and raining and.there is a thunderstorm. In this case, you have gone to meet your daughter in Italy because she has met an artist who can paint the future. Predictable at best. Having said that, the graphics are well done and the music is quite unobtrusive. The voice overs are pretty good, although it annoyed me that the characters lips didn't move when they talked to you. 3 levels of play, no map, nothing to collect. There are lots of puzzles and HOS, with some of the HOS as mildly interactive lists, and some as silhouettes. No matter where you go, you must collect useful objects , either by HOS or puzzle or simply on the ground, because there are a ton of things to fix! If you love puzzles I would say you'd like this game, but if you're tired of the same old story, I would recommend playing the trial first. For that reason, I am neither giving it a negative nor a positive recommendation.
February 15, 2013
Good game and not that hard
not a bad game. Has voice over but still have lots of reading to do. Music and graphics are good. The puzzles are not hard but the HOS are really good. Hard to find them all without lots of looking. You do go back to the same ones which I do not like. Has a good flow but you do have to keep going back to find things to progress. You get 2 punches today so that is a good deal. The hint button works good and fast. Give it a try it is worth it.
February 15, 2013
Dark Canvas O.K.
I played the 1 hr of the CE version and quickly forgot it. It looks good but nothing new or special to make me feel like buying it. I tried again with the SE and it didn't change my opinion. It looks good and the HO scenes have blank shapes you find the object to place and find another object. Story seems slow and very vague, boring. Maybe when the game goes on sale I'll get it but there are many other games this month that are more enoyable.
February 15, 2013
Just completed - no waste of time!
What's it all about? Please look above! A nice little game. Nothing to write home about, but I had a good time. The game took me about 3 hours; usually that's a length to complain about but in this case it was okay - please have in mind that some games are longer just because they have a lot of backtracking and tons of HOS! I hardly used the interactive map because there wasn't too much running around. Dark Canvas: A Brush with Death offers a nice story, not too much "borrowing" from other HOPAs, and the plot is thoughtfully unfolded, keeping you interested. I must admit though that the end is, well, quite silly and offers no feeling of a final climax. But the game just did not impress me enough to buy the CE so I can't tell whether a bonus chapter may leave you more satisfied. Mini games are very easy but nicely done and with a neat variety. HOS are either lists or silhouettes, both interactive and sometimes challenging but not annoying. Sceneries and graphics are detailed and beautiful, sometimes a little dark since everything takes place at night. Note to developers: Why do I have to do pottery if there are several bowls ready to use? And do you really think a church needs a photo lab? Ok. Rant over. You're not the only ones with black logic holes...
February 20, 2013
Enjoyed it but nothing special.
Just finished the game and I enjoyed playing it but it's nothing special. I was disappointed in the length, it seemed quite short to me and it's pretty easy. The puzzles were nice though, really enjoyed those. As I did the hidden object scenes where you find something and use it to interact with other objects. The normal HOS I found hard going for some of them. Some of the objects were almost see-through and I couldn't see them! Mind you, I have old eyes!! On the whole I found it worth playing as I used a free coupon! Not the best from these devs.
February 15, 2013
I Had A Really Enjoyable Time
BASED ON COMPLETED GAME Sometimes the demos really can be very deceiving, and that was certainly true of this one. Although I loved the concept of this game, paintings that predict the future, I was not overly impressed with the trial. I went ahead and bought it on sale anyhow, because of the story. I have only just now got around to playing it, and what a wonderful surprise. I sailed right through it in one sitting, not noticing the time, until suddenly it was 3am! I loved every minute of this game. It had just the right mix of HO/Puzzle/Adventure for my liking . The HOs were varied and actually a genuine challenge (without ?cheating? by making the objects too small or the scene too dark). Puzzles varied in the degree of difficulty, but few were hard enough to force me to skip. The adventure aspect followed a logical progression without ever descending to linear. I was kept on the ball all the way, but never felt I was straining. The story was excellent, treated very cleverly and I was kept guessing till the very end. The graphics, while not over the top, were still top quality, and the sound track was appropriate. What was lacking was the WOW factor, but in this game I think that was a plus. Sometimes all that bling can detract from the experience by overloading the senses and overshadowing the story. This is a game for every mood and every player, but I?ll not rate it as five stars, because that spot is reserved for the bling.
March 23, 2013
The Apple logo is a trademark of Apple Computer, Inc.
The Windows logo is a trademark of Microsoft, Inc.