Dark Canvas: A Brush With Death
Uncover the mystery behind an artist's deadly talent in Dark Canvas: A Brush With Death! Your daughter, Angie, was traveling through Europe when she vanished without a trace. Her last letter urged you to come to a remote island town in Italy, where she had stumbled upon a dark secret. When you arrive, you learn that there has been a series of tragic deaths in town, accompanied by sightings of a legendary spirit called the Silhouette. With no way of knowing who would be next, citizens turned to Virgil, a local artist who could famously predict the future through his paintings. Now you must seek out Virgil and his mysterious paintings before you and your daughter become the next victims of his deadly predictions!
Game System Requirements:
OS:

Windows XP/Windows Vista/Windows 7/Windows 8

CPU:

1.0 GHz

RAM:

1024 MB

DirectX:

9.0

Hard Drive:

817 MB
Game Manager System Requirements:
Browser:

Internet Explorer 7 or later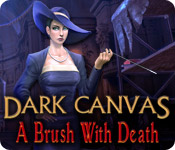 NEW299
The Big Fish Guarantee:
Quality tested and virus free.
No ads, no adware, no spyware.

Reviews at a Glance

Dark Canvas: A Brush With Death
0
out of
5 (
0
Reviews
Review
)
Customer Reviews
Dark Canvas: A Brush With Death
32
32
Magical paintings
Nice adventure, I had a lot of fun playing this one! You have 3 modes of gameplay ? casual, advanced and extreme No map, you only have journal with all the clues that you found along the way HOS are well done, clear and interactive, I enjoyed solving them Puzzles are challenging, refreshing, also you can always skip them if you get stuck Graphics are beautiful, crisp, many different locations very well designed Music is ok, I found it suitable for this adventure Story is developed nicely with elements of adventure, horror and mystery Verdict ? fun game to play, worth spending some time on it, entertainment guarantied
February 21, 2013
WHAT A THRILL! ORIGINAL PLOT, FUN GAMES, TWISTS, TURNS, ...
BASED ON COMPLETED GAME ON HARDEST LEVEL WITHOUT HINTS OR SKIPS ******LOVED IT****** PROS: SMART story (for a change) that moves quickly and builds in intensity all the way through the end TWISTS and turns in the story until the last moment Music that builds and builds until your heart races towards the finish Fantastic voice overs Interactive hidden object scenes with a few CLEVERLY hidden objects but you won't need a magnifying glass Easy thru challenging mini-games that BLEND beautifully into the plot At no time did the HOS (hidden object scenes) or mini-games interfere with the story Story unfolds a little at a time through papers from your daughter's diary Truly EXCITING ending to the game that left me wishing I could immediately buy its sequel No map, but the game play is kept between approximately 3 scenes at a time which minimizes backtracking and does not interrupt the story's flow or your train of thought Characters that are convincingly complex Everything...music, sounds, story, graphics, voice overs, games, hos, all combine flawlessly to take you on a heart pounding adventure....almost perfection in my view Good length to the game although I finished it in one sitting because I was having so much fun CONS: Just could have been a bit more challenging for experts, but I'm being overly picky on that one. BOTTOM LINE: A thrilling murder mystery with a complicated plot that will keep you running through the various scenes just to see what happens next. Wish all games were like this one!
November 12, 2013
Beware of the Silloutte!
A father set sail for Italy to search for his daughter who has vanished while studying art. This painter is famous for his artwork depicting future disasters, is it the painters fault or the mysterious dark silloutte? The story is great and the artwork, scenery, characters and voiceovers are very well done. This is an enjoyable game to play with clever puzzles such as jumping marbles until only one remains. The HO's are well hidden objects and some are slightly interactive such as click on a book, the book opens up to reveal a flask etc. Some of the items are obvious where to place and others take a little imagination to figure out but there is a good hint system that recharges quickly in casual mode, but is a little more challenging in advanced mode. I liked playing both versions (CE/SE) and I don't think you will be dissapointed either.
February 15, 2013
Great HOGs
I've played both the Dark Canvas games and loved them both. The HOGs (hidden object games# or if you prefer HOS #hidden object scenes) are very good. I really had to look for a long time and in many games I used hints more than once! I sort of pride myself in that I usually don't use the hints for HOGs, but these are really cleaver and some of the HOGs are played more than once and I still had trouble. The story line kept me wanting to play on. Most of the mini games are easy which I loved, but I did skip some of them but not as many as I have in other games. I liked the ability to use the hint which showed direction instead of telling me what to do as in some other games. There isn't a map but BF offers a handy walkthrough. The walkthroughs come in very handy when I've been away from a game -- it allows me to read what happened previously. I also keep it open and if I get stuck I just alt-tab and go right to it. I really wish there were more of these games as I think this is my favorite at this time.
December 2, 2013
Love This Game
OK....First...no acronyms-like HOS-HOG...I hate acronyms in a review! Say it like it is!!!!!! I love this HIDDEN OBJECT GAME.. Something different in every HIDDEN OBJECT SCENE. Hints refill quickly....gives enough to help but not give away what you have to do. So far not much wandering and backtracking a LONG way to retrieve something. That may change as you get farther in the game but I don't mind. Graphics are good...story line is a bit sinister but not SCARY sinister. I played for a full 40 minutes then decided to buy the game....Some of the objects you find to use are surprising in their way you use them. GREAT!!!!
February 15, 2013
Worth every penny
I played the demo and decided this game so far was very enjoyable. So I decided to purchase. Well worth it. Perfect amount of Hidden Object games, difficulty was great, kept me thinking without getting frustrated since there is no map. Also game was quite long for a standard edition. Graphics were awsome as well as storyline. I highly recommend this game.
February 28, 2013
A FUN GAME
Based on the demo. As soon as I finished it I bought it. This game is a lot of fun, there is a shadowy character in it, but not too much of the creepy factor. Visuals and music are right on the money. Minigames went from very easy to moderately hard to had to skip one because it was just too hard. The hidden object scenes were interactive and pretty challenging. I really enjoyed it and can't wait until it downloads and I can finish it.
November 25, 2013
Review Of Completed Game...
I really love this developer, VAST, so I can look beyond some of the imperfections of this game like the length. This game took me 2.5 hours. It was not a long game but it was a fun game. It had a different idea than most and it was a great game to play after a long CE or huge adventure game. The hidden object scenes were well done and there weren't too many. There were regular interactive lists but also silhouette type where you pick up an item and it helps you do another thing to get another item. Those were fun. I liked the puzzles too because they were doable but also unique. There is an actual ending in the SE that is satisfying however it leaves the player wondering if the bonus chapter completely ends it or if there will be a sequel however I do not feel this game is worth buying the CE for. Its very short and had I bought the CE I probably wouldn't have rated it so high BUT for a fun game with fun puzzles and a unique theme, I highly recommend this game.
June 7, 2013
Good game and not that hard
not a bad game. Has voice over but still have lots of reading to do. Music and graphics are good. The puzzles are not hard but the HOS are really good. Hard to find them all without lots of looking. You do go back to the same ones which I do not like. Has a good flow but you do have to keep going back to find things to progress. You get 2 punches today so that is a good deal. The hint button works good and fast. Give it a try it is worth it.
February 15, 2013
Just completed - no waste of time!
What's it all about? Please look above! A nice little game. Nothing to write home about, but I had a good time. The game took me about 3 hours; usually that's a length to complain about but in this case it was okay - please have in mind that some games are longer just because they have a lot of backtracking and tons of HOS! I hardly used the interactive map because there wasn't too much running around. Dark Canvas: A Brush with Death offers a nice story, not too much "borrowing" from other HOPAs, and the plot is thoughtfully unfolded, keeping you interested. I must admit though that the end is, well, quite silly and offers no feeling of a final climax. But the game just did not impress me enough to buy the CE so I can't tell whether a bonus chapter may leave you more satisfied. Mini games are very easy but nicely done and with a neat variety. HOS are either lists or silhouettes, both interactive and sometimes challenging but not annoying. Sceneries and graphics are detailed and beautiful, sometimes a little dark since everything takes place at night. Note to developers: Why do I have to do pottery if there are several bowls ready to use? And do you really think a church needs a photo lab? Ok. Rant over. You're not the only ones with black logic holes...
February 20, 2013
The Apple logo is a trademark of Apple Computer, Inc.