Dark Canvas: A Brush With Death
Uncover the mystery behind an artist's deadly talent in Dark Canvas: A Brush With Death! Your daughter, Angie, was traveling through Europe when she vanished without a trace. Her last letter urged you to come to a remote island town in Italy, where she had stumbled upon a dark secret. When you arrive, you learn that there has been a series of tragic deaths in town, accompanied by sightings of a legendary spirit called the Silhouette. With no way of knowing who would be next, citizens turned to Virgil, a local artist who could famously predict the future through his paintings. Now you must seek out Virgil and his mysterious paintings before you and your daughter become the next victims of his deadly predictions!
Game System Requirements:
OS:

Windows XP/Windows Vista/Windows 7/Windows 8

CPU:

1.0 GHz

RAM:

1024 MB

DirectX:

9.0

Hard Drive:

817 MB
Game Manager System Requirements:
Browser:

Internet Explorer 7 or later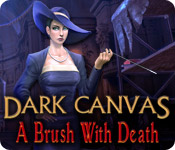 NEW299
The Big Fish Guarantee:
Quality tested and virus free.
No ads, no adware, no spyware.

Reviews at a Glance

Dark Canvas: A Brush With Death
0
out of
5 (
0
Reviews
Review
)
Customer Reviews
Dark Canvas: A Brush With Death
31
31
captivating
quiet intresting. good puzzles and different types of hog scenes, makes a change.
February 16, 2013
Enjoyable
I might purchase this game. Enjoyed it very much
February 16, 2013
Simple Fun
I just bought this little game and have been pleasantly surprised. While it isn't the most challenging game, it is fun and well made. The voice overs are amazingly well done, and the overall look of the game is great. The story is fun too - a painter who's paintings come true - in terrible ways. Not something you see much of. The puzzled are not very hard, but they are not so easy that you feel bored, and the HOS are the best kind - they are not just random junk piles for the most part, because you are finding things that you put together in order to make something happen. I am really enjoying myself. Give it a try. Big Fish - why did you delete my last review??
October 20, 2014
Dark Canvas O.K.
I played the 1 hr of the CE version and quickly forgot it. It looks good but nothing new or special to make me feel like buying it. I tried again with the SE and it didn't change my opinion. It looks good and the HO scenes have blank shapes you find the object to place and find another object. Story seems slow and very vague, boring. Maybe when the game goes on sale I'll get it but there are many other games this month that are more enoyable.
February 15, 2013
Not Bad, Not Great Either
Based on the free trial. I could not decide whether I liked this game or not. The story is the same tired old 'go to such-and-such a place to meet so-and-so but of course when you get there the person is missing and you are threatened by dark shadow/apparition/evil entity' etc etc. and of course it is gloomy and raining and.there is a thunderstorm. In this case, you have gone to meet your daughter in Italy because she has met an artist who can paint the future. Predictable at best. Having said that, the graphics are well done and the music is quite unobtrusive. The voice overs are pretty good, although it annoyed me that the characters lips didn't move when they talked to you. 3 levels of play, no map, nothing to collect. There are lots of puzzles and HOS, with some of the HOS as mildly interactive lists, and some as silhouettes. No matter where you go, you must collect useful objects , either by HOS or puzzle or simply on the ground, because there are a ton of things to fix! If you love puzzles I would say you'd like this game, but if you're tired of the same old story, I would recommend playing the trial first. For that reason, I am neither giving it a negative nor a positive recommendation.
February 15, 2013
Review of Finished Game
With a little tweaking this could have been a 5 Star game. I really liked all the game mechanics but I never got involved in the storyline, and that killed it for me. It has choice of difficulty and the hint button points in the direction you need to go. No map is needed. HO scenes. Not many. I don't care for them, and I never felt overwhelmed by them. Regular scenes had 12 objects, some with multiples. 3 or 4 objects in each scene were interactive. Some scenes were repeated. It also has a good amount of the new type HO scenes with the silhouettes where you use one thing to find another to find another. I enjoy those and there were at least 4 of them, I think. Puzzles were pretty easy, with the instructions appearing for you right away. I wish they would have been a little harder although I did skip the last part of one and had my husband do another. This game is pretty short because it wasn't padded out with a lot of backtracking and HO scenes. That's alright with me, but I felt it was lacking in story. I never cared if the father found his daughter and it didn't seem like he cared much, either. If the game would have been a little longer, the puzzles a little harder, and the storyline more intense I would have given it 4 or 5 stars. The SE version ends satisfactorily, I am glad I didn't get the CE version. I will recommend this game only if you already have a lot of games, if you only get one game a month you will be disappointed with this game.
February 20, 2013
Pleasant game
but nothing to really write home about...Interesting and original the storyline, nice the setting in the mediterranean island.. as an Italian i can say then you can feel quite well my native Country's ambience during the gameplay. The graphics, even if not bad, could have been better..the music is a bit repetitive but not annoying. It's a linear game, easy to follow, not so difficult to figure out what to do or where to go, funny interactives HOS and easy puzzles..The whole game took me round about 4 hours, playing hard mode and slowly, reading the diary and listening to the characters. A good game, not really challenging but ok for some relaxing hours.
February 15, 2013
Recycled Game
Why is this considered a new game...I played this game a month ago and they are throwing it up there like it is a new game. Seems to me Big Fish is doing a lot of recycling. Don't package it as a new game. This game is an old game being thrown into a new game spot. They are doing a lot of this.
February 16, 2013
Okay game
This game was okay but I'm glad I had a bonus coupon and did not buy it. I was glad that I could quickly read the dialogue and move on because the voices became irritating to me. I played this in the casual mode. I found that the hint charged pretty slowly. There were a good many impossible to find HOs and one thing that irritated me was if I clicked too much, the screen got those dark streaks in it. I hate those. I don't like maze puzzles and this game had several of those which I skipped. It was pretty enjoyable though.
November 3, 2013
Not A Masterpiece
I can't say too many bad things about this game because my issue with it isn't that it was bad. It's more that it was just okay at just about everything without really standing out in any one area. The game is fun. It's got a decent concept (you're a father looking for your art student daughter) and the pace is good, moving along without dragging and picking up excitement at the appropriate times. The look of the game is decent, if not spectacular. There were nice touches like falling leaves, but not enough of them to really make an impact. Characters are well drawn. Hidden object scenes have the usual degree of difficulty, and you will repeat. Sometimes you have to use one object to get another, which breaks it up slightly, but not a lot of variety here. Challenge is marginal. The minigames are the usual suspects. I did like the final one, which had some originality, but you end up doing it more than once. Seemed like a copout from coming up with something else. Also, I found the waiting time to be more than normal for your character to perform actions. As an example, when using a shovel on dirt, you wait 30 seconds for each bit of it to be removed. Not sure what required all that load time. The story started strong and fizzled out at the end. One drawback of a couple of characters in a mystery is that it's generally pretty obvious where the twist will come in. Overall, I thought the game was worth playing but not memorable enough to warrant an endorsement.
September 24, 2013
The Apple logo is a trademark of Apple Computer, Inc.