The Golden Path of Plumeboom
Plumeboom the Peacock of Orniland found an ancient map of treasures that are kept in caves stored by hundreds of magnetic locks, and of course it's the players' task to help Plumeboom open all the locks. Shoot colored orbs and be thrilled by the advanced physics system in the game. When there are three orbs of the same color aligned, they will burst. The more orbs you burst in one blow, the higher the score. The lock is opened, when there are no orbs left.
More than 100 unique levels.
Various entertaining bonuses.
Fun and familiar game play.
Game System Requirements:
OS:

Windows 2000/XP/VISTA/7/8

CPU:

600MHz or faster Processor

RAM:

128 MB
Game Manager System Requirements:
Browser:

Internet Explorer 7 or later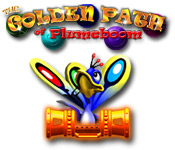 NEW299
The Big Fish Guarantee:
Quality tested and virus free.
No ads, no adware, no spyware.

Reviews at a Glance

The Golden Path of Plumeboom
0
out of
5 (
0
Reviews
Review
)
Customer Reviews
The Golden Path of Plumeboom
9
9
Fun
This is a simple and fun game for wasting a bit of time. The boards are quick and make it easy to get addicted. I never take this one off my computer.
February 29, 2012
A Total Relaxer
I really enjoyed the easy pace and larger size game pieces , easier on the eyes .. they have it set up really cool and neat looking .. just sit back and enjoy , diamonds and jewel's will fall when you made a good hit shooting at least 3 balls of the same color , it is really pretty cool .. It is like other games , though different at the same time .. If you want a rough shooting game , this will not work and if you just want to kick back and relax while keeping your mind going at a much smaller pace , then this is for you .. Rated from 1 - 10 ... I would give it a 7 1/2 .. Always play before you buy , I'm older and enjoy the slower pace and kids are sure to enjoy this game as well
September 19, 2013
Has Become One of My Favorites
I've seen many negative reviews on this one, but from my viewpoint, it offers excellent and relaxing play, and becomes more challenging as you move through each level. Top notch. Very colorful and sparkly, with falling jewels that you can catch with your pointer on multi-match plays. Can't comment on the music, as I had it turned down, but sound effects are energetic and fun. The premise is a magnetized central hub, with lots of colorful bouncy orbs clustered around the middle hub. Your job is to shoot various colorful bouncy balls towards the mass of colorful bouncy balls in the center, matching three or more to make them disappear. Hit groups of four or more, and falling jewels will appear, shooting upward, which you then catch for more points. To keep things interesting, the central magnetized hub changes shape from level to level. Sometimes circular, or triangular, or fork shaped, or shaped like a fish hook or trident, or any number of a variety of shapes. The only way to advance is to use shots that you bounce off the edges of the screen - think in terms of billiards, where bank shots are frequently used. You can also earn special power-up shots by hitting diamond-colored crystals, which provide various versions of power-ups, such as demagnitizing the central hub, or exploding a large area of bouncy balls all at once, or turning adjacent bouncy balls all to the same color. I agree with the reviewers that say it is repetitive, but I would call it mesmerizing and captivating, versus just plain repetitive. Very relaxing and addictive, and I disagree that it is geared towards children, although children would likely find it interesting and fun. I'm a great-granny, and this game has a permanent place on my desktop, for many reasons. The colorful shapes, the fun sound effects, the short-term commitment because you can play for a few minutes or a few hours, depending on your mood, and most especially, because it offers just enough challenge to keep it interesting, without it becoming impossible to play. There is no story line at all, and I'm okay with that. I rarely pay attention to story lines anyway. Also, the points you accumulate have no real value, other than to allow you to advance to the next level, and then the next, or to allow you to try to beat your own score at the end of the game. It is also timed, but you'll likely find that you don't even know there is a time limit at all, because the game play allows plenty of time to complete each level. I did run out of time on some of the later levels - there are 99 levels in all - but after a bit of adjusting, I eventually managed to complete all the levels fairly easily. I've been through the entire game multiple times, and still find it addicting and fun. I recommend you test it out on the free trial, and decide for yourself. For me, it's a surefire winner, and one that has earned one of my top recommendations. Other games sometimes require too much of a time commitment, but this game allows for as little or as much time as you prefer. Totally up to you, and still fun. If you like this game, you would probably also like Fishdom Frosty Splash, Bejeweled Deluxe, Butterfly Escape, Deep Blue Sea 2, Dynomite Deluxe, or Peggle Nights. Enjoy!
January 22, 2015
A Gentle Marble Popper Type of Game
That's what came to my mind. A very gentle, flowing sort of game. Very easy to play, being able to go through the levels while not fast clicking at all. I went through 4 levels in an hour. There are 12 games to a level. I think there are 12 levels. It's like a previous reviewer said "if you just want to totally relax, having a few or so minutes to just sit and let the mind go with the flow" this will certainly do it. I found myself nodding off because it was so relaxing and flowey (if that's even a word) LOL. I don't know about the music as I had the sound off but it was visually pretty. I will buy this so I hope you will try it at least and Enjoy!
March 31, 2012
Probably more for the kids!
A simple marble popper game where rather than having the balls moving in lines, they are attracted to a 'central magnet', so become a balloon shape in the centre of the playing area. The game itself was very easy to play. Almost no challenge whatsoever, but was still fun to play if you had "5 mins to kill" and wanted to do something that didn't involve much thought. I suspect the game itself was probably designed with the kiddies in mind, rather than adults.
February 7, 2012
OK but not great
I loved 'Plumebloom the First Chapter' and have played it many, many times. So when I tried this one I thought it would get better as the game went on. I was dissapointed - it's the same thing over and over. It is a good game if you have only limited time but if you compare it to the first one it is very lacking. If you really like the First Chapter, save your money because this one is nothing like it. My grandaughter might like it but I'm sure she would get bored with it in short time too.
March 18, 2013
Pleasing to the eye
My reaction to this game keeps changing. During the free play I kept getting interrupted so it took me three sessions to use up my hour. I loved the bright colors and bursting bubbles that spun around the center so I bought it. And it was fun...in 20-30 minute chunks, after which it became tedious. I was determined to finish it so I did. There's no scoring of rounds, no mini-games to break up the monotony, and the screens change so little when you get to a new level that, unless you look at which level and set you're on, you really can't tell you've made any progress. You can't play 'beat your last score' because the only score kept is the final one which requires you to play 99 rounds. I was thoroughly disgusted with my choice. BUT, I find myself going back to this game when I have a short time to play and just want something simple that's pleasing to the eye. I play a level or two and then I might go back a week later and play the next level. It is relaxing yet not totally mindless. It's not a great game, but it's not all bad either. I suggest playing the entire demo in one sitting and see what you think. I hope the developers come up with something more challenging because the plumebloom characters are bright and appealing.
November 22, 2012
Ok but easy
I had hoped it was more to it than it was. If you are looking for a challenge, you will not get it in this game. I kinda regret using a gameclub credit. Visuals is ok, but the music was annoying. I also had some lagging issues, which is rare.
March 15, 2012
No Golden Path for me.
There is an orb surrounded by various colored orbs. Shoot YOUR colored orb at a group of the same color as you have to destroy them. The center orb causes the entire group of orbs to move in a circular fashion, making your shots better or worse, depending on how well you play. I think there are bonuses you earn but, quite frankly, didn't see any that were worthwhile. There is no storyline and I don't see the point of racking up a gazillion points (getting extra by catching falling crystals) other than .... gee, I've got a lot of points. This game was incredibly boring to me. If there is no "point" to the outcome of the game other than accruing points, it's a loser in my opinion. It is definitely not a purchase for me and I can't recommend a mindless game that will waste a person's good time to try.
July 11, 2014