The Keepers: The Order's Last Secret Collector's Edition
Exclusive
The Order of the Keepers has been like your second family, ever since you discovered it tied to your own past. But when you're summoned to Spain to investigate a dead archaeologist, you're swept into a confrontation with ancient evil forces that have been waiting five-hundred years for revenge. Explore the colorful streets of Seville, Spain, gathering clues that span across the eras of history. Who killed Pedro Alvarez? What's inside the box he unearthed? Uncover the truth in The Keepers: The Order's Last Secret, an exciting Hidden-Object Puzzle Adventure game.

This is a special Collector's Edition release full of exclusive extras you won't find in the standard version. As a bonus, Collector's Edition purchases count toward three stamps on your Monthly Game Club Punch Card!

The Collector's Edition includes:
Bonus Chapter!
Replay mini-games and videos
Download Wallpapers and Music
Browse the Concept Art gallery
Game System Requirements:
OS:

Windows XP/Windows Vista/Windows 7/Windows 8

CPU:

1.6 GHz

RAM:

512 MB

DirectX:

8.0

Hard Drive:

1284 MB
Game Manager System Requirements:
Browser:

Internet Explorer 7 or later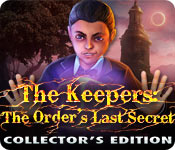 The Big Fish Guarantee:
Quality tested and virus free.
No ads, no adware, no spyware.

Reviews at a Glance

The Keepers: The Order's Last Secret Collector's Edition
0
out of
5 (
0
Reviews
Review
)
Customer Reviews
The Keepers: The Order's Last Secret Collector's Edition
52
52
A hidden secret
I havn't played the first game so no idea how it compares ! I really enjoyed my hour There was enough challenge to keep me occupied the ho's were varied not too cluttered but enough if thats what you love without being too much if you don't .As a member of the keepers you find yourself in spain with an eclipse about to happen with limited time to discover the secret a box holds , some nasty surprises to defeat and lots of mini games The CE has a strategy guide morphing objects and the usual awards The overall look of the game is excellent I think there is enough to keep you attention to the end For me I am going to buy now but thats because if I enjoy a game enough I don't want to wait for the S.E
February 24, 2013
Good HOPA ? Help stop the end of the world!
The storyline taps into the current focus on apocalyptic prophecies. A solar eclipse is about to begin. A mystical artifact must be protected to prevent the end of days. Usual HOPA gameplay. Find objects and use them in other locations. Familiar puzzles with skip button. Slightly interactive HOS. Transporter map. Journal records instructions and clues. No task list. Inventory used quickly. Hint is directional outside of HOS but offers no further help. Recharges quickly in casual mode. Graphics not perfect but colourful. Artwork is nicely drawn. Music is a little repetitive. Cutscenes and voiceovers add a bit of drama, but the Spanish accents need some work. Love those morphing objects! Based on the demo, I will buy the game but not until the next sale. Definitely worth an hour of your time!
February 24, 2013
Ancient Evil Forces to be Battled!!!!!!! Only played demo.
As games go, this one is very good. Better, I think, than the first (Progeny). Like the slightly faded graphics and must say the charging bull in the demo is excellantly done in my opinion. There are achievements and 35 morphing objects to be collected. The achievements seem to be standard ones which are easy to get (wish they had made them tougher). Mini-games are easy, up to now but could get harder, HOS's which I am not keen on anyway, are well spaced out in the game and have a few items in them that you have to search for, at least I do!!!! Nevertheless, a good CE which I will be purchasing.
February 24, 2013
Will the last of the keepers save the world from darkness ?
Played 30 minutes, casual - 3 modes, casual, advanced, hardcore - Integrated SG which only sows 2 chapters in the sample - Voice overs - Notebook - Interactive map, doesn't show areas of interest, you can only jump with it - By pressing on the skull above your inventory you can lock it - You get achievements, i.e. H0 without hint, no skip in mini games, etc - Throughout the game you must find 35 morphing objects, not easy to spot not indicated on the map - Hint is useful outside H0, shows the way, refills quickly casual - Skip button - H0, very clear, you interact - Good mini games - Excellent, clear graphics Your brother dies after discovering a strange artifact. You're now the last of the keepers and must protect this artifact otherwise evil sisters will plunge the world into darkness. Help the girl !! This looks like a good game, don't know why but it didn't "grab" me straight away. Still, most probably a buy especially with the credits bought in the sale ;)
February 24, 2013
Immediate Buy! It's a Keeper!
Every perk a gamer would want in a HOPA game by BLAM Devs--intriguing story line with intricate and colorful 3D graphics, ladies and gentlemen! I played Advanced and enjoyed aspects such as achievements, 35 morphing objects, (haven't gotten them all yet), mini-games and being entrusted, yet again, to save the world from Evil. You are "the Keeper"--one who is entrusted to safeguard ancients artifacts from evil. Your journey begins in Sevilla, Spain with a trusty map and journal. Congratulations to Devs the Tyganovs and your very talented Artists, Sound and 3D Team. Bravo BLAM. Has been a few months that I purchased a game on BFG release date. Enjoy! -Mama Mia-
February 24, 2013
Save the world...but take your time!
TITLE?The Keepers: The Order's Last Secret VERSION?Collector's Edition (demo) DEVELOPER?Blam! GENRE?Hidden Object Puzzle Adventure (mystical adventure) STORYLINE?You're off to Seville to find out who murdered Pedro Alvarez and to help his sister Carmen, the last Keeper, keep the mysterious box Pedro discovered from the hands of evil. OVERVIEW?For a good versus evil, world hanging in the balance, mystical order of self-dubbed saviors type of game, I felt the storyline moved rather slowly, at least during the demo. Other than Carmen's obvious paranoia and the impending eclipse, there was no sense of urgency?no credible threat. The HOs served to slow down the action even more, rather than furthering it. The overall rhythm of this game just seemed off. GAMEPLAY?Standard point 'n' click to move from location to location, examine areas of interest, and pick up items. There are, of course, a myriad of locked rooms, closets, wardrobes, and the like, for which you'll need to find keys, medallions, etc. The HOs are extremely dark with very little contrast in color and tone, making distinguishing the objects on the list from the background somewhat difficult. There are both achievements and morphing objects to find (35 in total). INTERFACE?You have a journal which collects Pedro's notes as well as clues, and a jump map. I didn't use the hint system or the SG during the demo, so that gives you an idea of the relative difficulty of the game. TECHNICAL?No issues. GRAPHICS?While there was color used, the overwhelming impression was brown, as if each scene had been steeped in tea. The backgrounds were sharp, but the lack of contrast and tone detracted, in my opinion. CUTSCENES?Sort of painterly cartoons. MUSIC?Honestly, I didn't notice it. SOUND?All I can say is that it didn't annoy me. VOICEOVER?Fairly well done, although the English with stereotypical Spanish accent was a bit Inigo Montoya. SUMMARY?I have a difficult time getting past the darkness and lack of contrast in the HOs, as well as the disconnect between the storyline and the game itself. Like I said, there was no sense of urgency created by the rhythm of the game, the music, or anything. Clearly, there should have been. If Carmen is the last Keeper, and she's guarding an artifact so precious that it must be kept from the hands of evil at all costs, lest the world be lost?this game certainly doesn't convey that. For those reasons, I can't recommend it.
February 24, 2013
Had everything I expect with a CE
Really would prefer to give this 4 1/2 stars... Beautiful graphics, voice-overs and cut-scenes. Catered for widescreen. Had all the things I find essential for a CE game. Achievements to earn. Hidden bonus items [I somehow missed one!]. Journal. And map. Hidden object games were only slightly interactive, and mostly very easy. There was a click penalty, that was a pause, but only after quite a few wrong clicks. The puzzles were mostly very easy, although there were a few that made you think. The only place the game fell short was the storyline, which was a bit weak, and didn't seem to flow well. The topic was Pandora's Box, yet I never felt as if the box had been opened and things were in dire straits. It just didn't sit well with me. Was also fairly predictable. The bonus chapter was a bit of a disappointment. It was more of a mini prequel - but even then it didn't really match with the plot in the main story. It also wasn't very long. But the bonus chapter playing and scenes were on the same calibre as the rest of the story. If you aren't one for strategy guides, then maybe wait for the SE version. However, I still think the game was worth the CE label, and definitely recommend!
February 26, 2013
Save the World
The Keepers -The Order?s Last Secret is the tale of the last keeper working to prevent the unthinkable, the unleashing of unspeakable horror and the end of the world. And, you must work quickly to accomplish all of this before the eclipse that will occur this very day. Sounds like you have quite a task. I only wish the game was as exciting as it sounds. The graphics seem a bit grainy and old school. Although there is some interaction required in the HOS, it?s fairly simple and doesn?t take a lot of thought to figure out what to do. During the game we also get to find 35 morphing objects so that is a bit of an extra. I like voice-overs in a game but I have to say that I don?t really care for the Spanish accents in this game as they seem a bit over-done. What makes the game worthwhile for me are the puzzles. Although they are familiar, they do present a bit of a challenge and that is something I like in a game. Admittedly, I haven?t played the entire game and am hoping that it gets better and not so ho-hum as I move forward. Although The Keepers isn?t a ?knock your socks off? stellar game, it is okay. If you are like me and love HOPA games, you will probably find this enough of a story and game to hold your interest. As always, I would suggest that you download the demo and give it a try. You might just find that you really like this second game in The Keepers series. I can say without hesitation that the game is far better than the first and that is an improvement.
February 24, 2013
Fast paced adventure
This is a great game and a must buy! There are morphing objects, lots of places to explore, nice scenery and not too many puzzles where you get overwhelmed and miss the story. I just hated the demo to end because it kept my interest as I moved around from place to place and room to room. So far I have only encountered two people but I would assume that would pick up. There is a map to help you get around, a diary, a strategy guide and a hint button which will lead you to where you need to go next. This is a great game and also different from the norm.
February 24, 2013
A SE would be a keeper
I just played the trial and enjoyed it very much. It was fun, not too hard, nice voice quality, and good story line. I liked the HOS and the fact that interactive parts were included, Also, it had a transporter map! For me that is a "biggie". I gave it an overall rating of 4 stars because I reserve 5 for games that I feel the SG just might be needed. I plan to buy this game when it is released as a standard version. Please, do play the trial because it is really a nice game.
February 24, 2013
The Apple logo is a trademark of Apple Computer, Inc.