The Keepers: The Order's Last Secret Collector's Edition
Exclusive
The Order of the Keepers has been like your second family, ever since you discovered it tied to your own past. But when you're summoned to Spain to investigate a dead archaeologist, you're swept into a confrontation with ancient evil forces that have been waiting five-hundred years for revenge. Explore the colorful streets of Seville, Spain, gathering clues that span across the eras of history. Who killed Pedro Alvarez? What's inside the box he unearthed? Uncover the truth in The Keepers: The Order's Last Secret, an exciting Hidden-Object Puzzle Adventure game.

This is a special Collector's Edition release full of exclusive extras you won't find in the standard version. As a bonus, Collector's Edition purchases count toward three stamps on your Monthly Game Club Punch Card!

The Collector's Edition includes:
Bonus Chapter!
Replay mini-games and videos
Download Wallpapers and Music
Browse the Concept Art gallery
Game System Requirements:
OS:

Windows XP/Windows Vista/Windows 7/Windows 8

CPU:

1.6 GHz

RAM:

512 MB

DirectX:

8.0

Hard Drive:

1284 MB
Game Manager System Requirements:
Browser:

Internet Explorer 7 or later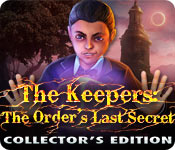 The Big Fish Guarantee:
Quality tested and virus free.
No ads, no adware, no spyware.

Reviews at a Glance

The Keepers: The Order's Last Secret Collector's Edition
0
out of
5 (
0
Reviews
Review
)
Customer Reviews
The Keepers: The Order's Last Secret Collector's Edition
57
57
BING BAM BLAM!!!!
IS BLAM ELEPHANTS SON???? I DIDNT THINK ANYONE COULD EQUAL ELEPHANTS BEAUY IN COLOR OR MUSIC OR SPECIAL EFFECTS OR STORY OR INTERACTIVE HIDDEN OBJECT SCENES OR LENGTH I WAS WRONG!!! PLAYED BOTH KEEPERS GAMES THIS ONE IS BETTER HOLDING MY BREATH TILL THE NEXT THANK YOU FOR A TRULLY AWESOME GENIUS GAME!!!
March 11, 2013
FUN!!!
I LIKE GAME THAT KEEPS YOU ENTERTAINED.THIS GAME DOES THAT.FIRST IT HAD MORPHS AND ACHIEVEMENTS WHICH ARE 2 OF MY FAVE. HAS MAP AND S G .PLAYED 20 MINS BEFORE I BOUGHT IT.
February 24, 2013
THE KEEPER IS HERE TO STAY!!!
Love everything about this games...after playing the demo to buy it was just common sense to me!!! Buy it!!..You'll be amazed
February 25, 2013
the keepers orders secret
some of them were dark and hard to find, but the hint recharged quickly
February 24, 2013
TORO TORO TORA
Fun easy to read and see. Like more of.
February 24, 2013
The Keepers: The Order's Last Secret
Fun Adventure Hidden Object Game
February 24, 2013
Very good...
The visual quality is just perfect. The game is long and fun to play, and definately worth it to buy a CE. The extra play is long and challenging, so I would recommend this game
May 2, 2013
Very enjoyable game - bonus review at bottom
Blam games brings us a good plot and gameplay, beautiful scenery over the city, mostly not easy puzzles and it was well done. Although it?s one of those games that again I just wasn?t wowed at, but it had some of those moments. For a CE it sort of ticks the right boxes with achievements, 35 morphs and some other extras but the achievements apart from no hints in 10 hos and no skips in 10 puzzles and get all morphs was all auto given if you play the game, which a lot of achievements are but it would be good to see some good ones and not just playing the game ones. Morphs were mostly noticeable, some very slow to morph and I often picked them before I saw them morphing but there were some that were hard to see. You need to get them as you go along especially in the beginning. But I love morphs so it did make this game for me. Plot was well told through letters and cutscenes and you don?t need to read all the information but I thought it was interesting so read everything. There is a transporter map and no map tips on the hardest mode which you can change during play. The transporter map you had to hover to bring up the picture, I?d prefer if it was there and also sometimes even after you discover a place it was taken away from you and you had to rediscover it again, which was annoying. There are black bar tips on hardest mode but I replayed part of this game and noticed that it was less than what you get on easy mode although it would be good if that kind was on middle mode and hardest mode didn?t have any. Also there are auto tips on puzzles. I play hardest mode not for locked skip and hint button (can easily restrain myself from using them) but in hopes there is no auto tips given or hints. There is random click penalty on middle and hardest mode, which I hate and would have played on middle mode if that didn?t have it. After the first chapter I was excited as I thought it would be completely new areas and map for each chapter, but it wasn?t. Although near the beginning it mostly was in a new area in each chapter at the end there was a lot of backtracking through places. 14 list HOS Random click penalty but nice and defined, mostly nice to look at ? quite colourful. After the first game in the series I was disappointed as there was a lot more junk pile or very cluttered scenes, although there were a few that weren?t like that. I thought some interactions in them took me a while so that made it harder. I can?t remember any tiny items or so well blended you couldn?t see them. You repeated one hos, which I?ve noticed a few devs are doing and it makes no sense to me, why? But at least all the rest were new. 19 puzzles They had automatic tips on them. I wish that was put in a ??? button so if I needed it I could use it, as I like to work things out in hard mode! I did like that they weren?t insulting easy and quite a few took me a while to do them. I don?t think I?d class any as hard but as so many were medium the game felt bit a harder which was good. CE EXTRAS Wallpaper, music, concept art, SG Achievements morphs 9 cutscenes in game unlocked 9 puzzles unlocked (and for once the good ones or ones that make sense to replay like dominoes and match 3) Bonus play About 50% or more was in new area. 4 morphs are in the bonus. It was a prequel (bonus plot) about pandora?s box. The plot was completely tied up in main game. I thought the plot was interesting, gameplay good, I just was disappointed in the length of it after the very long bonus plot in the first ?the keepers?. It wasn?t much over an hour for me and although enjoyable and the same qualtity as the main game, I just wasn?t blown away with it but it is good. 5 list hos 7 puzzle I really enjoyed the first half of the game, but all the backtracking over the place made it for me, fall a bit and that?s a lot of the reason why I wasn?t loving it and just enjoying it (although it was about the same amount as most other games) Also the achievements weren?t very good so I?m not all jumping up and down about the game although it is very good and I do recommend the CE due to having an hour in bonus, and the extras. I played this over a couple of days and times, so my time is out but I think it was along the lines of 4-5hrs for main game another 1hr (over it) for bonus. I did think the main game seemed quite long, especially staring at all those scenes for morphs. I know it seems I just put 4 out of 5 for all of them, it actually was 4 out of 5 for each component.
February 27, 2013
Liked it more than 1st- Beautiful & Quality Game Play to End
REVIEW BASED ON COMPLETED GAME PLAY IN HARD CORE (3rd of 3 modes), no sparkles, twinks, blinks, hints. -achievements, morphing objects, SUMMARY ------------- This is a well constructed game with a lot to recommend it including an engaging story that builds through to the end. Some games seem to be "front loaded" with all the good stuff occurring in the 1st hour or "trial play period", then things just go bland. Not so here at all. This is a polished, well designed, beautiful game, that delivers on iHOS, Adventure, Mini-Game, and all the other bells and whistles people have come to expect. DETAILS ------------ MORPHING OBJECTS - Normally I am not a fan. I never manage to find them all and the first thing I do in each scene is look for them, which just distracts. This game is the EXCEPTION. I busted out laughing at some of the morphing objects. Some were very well placed and others were just funny. I really got a kick out of them and no, I didn't find them all. ACHIEVEMENTS- Something else I'm not a fan of but I know others will be happy. There are plenty. When those "achievement" boxes spring up constantly I sometimes feel like a trained Seal getting my e-Fish treat for doing the trick right. iHOS- These were very interactive, fun, and creative right until the end. There were enough to be interesting and fun and some sites were visited more than once, but they were not tedious. MINI-GAMES- Doors, Boxes, etc. were opened through puzzles or just keys. There was no schlepping back and forth finding random shapes to open random devices to eventually find a key. The puzzles seemed more challenging, but that may be only in hard core mode. There was a wide variety with some new to me, including astronomy, dominoes, connecting circuits, arranging pictures from scraps, etc. TOOLS- There was a jump map, but I didn't reference it after the first couple of times because it seemed easier just to "walk" where I wanted. The journal was kept up to date, detailed, and held useful game info. GRAPHICS/VOICE OVERS & ALL SUCH- All beautiful and well done. I am fine with just text, but the VOs were professional and added to atmosphere as did the music. The music was very unobtrusive and suitable so it stayed on. AMBIANCE- As others have commented, the setting and scenery are beautiful. The scenes for the most part are not dark. The overall theme is serious without gags or too many laughs other than the iHOS & morphing objects. This is just a great game that I hope others enjoy playing as much as I did. Folks who like a lot of iHOS might feel a little deprived, as mentioned there are a good number but not too many for my taste. Folks who like mini-games should get their fill in number, variety, and challenge. For adventure lovers there is plenty to explore and plenty to do.
March 2, 2013
"Cursed Box, Where For Art Thou?"
This sequel to The Keeper's: Lost Progeny" is really "Killer" No seriously. I love what I have played so far. We start off with an opening narration where Seville, Spain's museum Director is on an archeological excavation when he discovers a long lost box/artifact. After briefly having it in his possession he realizes the capabilities of it's evil and passes it on to the only person he trusts- his sister, Carmen. He tells her to guard it with her life- that it must not get in the wrong hands or evil will prevail and be released. So Carmen is now the Keeper of the Box/ Artifact, hence the title. I really liked all aspects of this game. You are given 3 game play modes, a fast filling hint button, integrated strategy guide, map, a journal to keep your clues#some are retrieved in puzzles#. The strategy guide says there are only 2 chapters. So seeing that I just bought the game, I hope they are lengthy chapters! The music and graphics are ominous, creepy and mood setting. Also, since this takes place in Spain you get a little "poco" Spanish, which I like since I hail originally from Texas- the Spanish speaking American state- or at least one of them! Ha!Ha! The HOS games are interactive, creepy and fun. The objects are fairly easy to find , this coming from Mrs. Magoo, the wife of an antiquated cartoon character, Mr. Magoo!! The whole game has a dark feel to it- to add to the creepy and sinister ambience! The mini games aren't too easy, so the hardcore fishy players will love this! There are also acievements, bonus game play and mini games. To wrap this up, at the beginning of the game you find a note that has been put on the museum's marquis, that says that tonight is a solar eclipse and all the dark evil will be out!! So, since Big Fish has this credit sale I can still purchase this CE at a discount, which of course justifies my spending more money on yet another great HOS game. I'll let ya'll be the judge.
February 24, 2013
The Apple logo is a trademark of Apple Computer, Inc.