Shadows: Price for Our Sins
It's Halloween night, and Dylan and her fellow students have decided to throw a Halloween party at abandoned Stone Farm. Little do they know, their decorations aren't the only things hanging around this spooky house. When the friends stumble upon an ancient artifact, they unwittingly open a portal to the underworld and release the souls of the Stone family, which were being held captive by Lord of Darkness Samhain! The enraged demon steals the souls of the students in revenge, but Dylan narrowly escapes his clutches. Can Dylan earn the help of the escaped spirits and save her friends? Play the game and find out for yourself – if you've got the guts.
Thrilling mystical atmosphere
35 quest scenes
18 HO scenes
30 mini games
Game System Requirements:
OS:

Windows XP/Windows Vista/Windows 7/Windows 8

CPU:

3.0 GHz

RAM:

512 MB

DirectX:

9.0

Hard Drive:

750 MB
Game Manager System Requirements:
Browser:

Internet Explorer 7 or later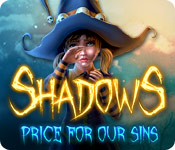 NEW299
The Big Fish Guarantee:
Quality tested and virus free.
No ads, no adware, no spyware.

Reviews at a Glance

Shadows: Price for Our Sins
0
out of
5 (
0
Reviews
Review
)
Customer Reviews
Shadows: Price for Our Sins
82
82
I've got the guts.... ;)
This game is really worth a buy! Thrilling story, creepy atmosphere, clear graphics and a lot to do and explore... 2 modes to choose from: casual (hint refills in 1 min., active areas are highlighted) and expert (hint refills in 30 sec., active areas are not highlighted). In the options you can choose between fullscreen/ widescreen and system- or game-curser. It has a detailed journal and a map, which allows you to travel. Lots of interactive hidden object scenes, some with integrated puzzles, are quite dark: Some items are hard to find. And a good amount of not too challenging minigames, which (as usual) can only be activated after finding 1 or 2 missing parts... Yes, this game provides a lot of fun and "guts" are not really required.....
February 16, 2013
Halloween party goes wrong !!!
Played 30 minutes, casual - 2 modes, casual, expert - Shortly after starting the game you get a notebook - Same for an interactive map - Voice over - Loud spooky music - Hint refills in 30 seconds casual, 1 minute expert mode, useful outside H0 - H0, you interact a lot, some objects are not too easy to spot, i.e brown on brown background - Sparkles in casual mode, they do appear in H0 which is a shame - Skip button - Interesting mini games - Good graphics You're going to an Halloween party and it gets really scary... Strange that this game appears at this time of the year, still it looks like a good SE, well worth spending a punch card credit on.
February 16, 2013
Good Game - Fun and challenging
I played the "try me" and really enjoyed this game. The only thing is the list of things in the HOS are written in very small letters and I found that distracting. There is a lot to do in this game and puzzles to solve and ghosts to help. Remembering everything can be a challenge. The help button is exactly that - it helps you with where to go or what to do. Just the way I like it. This game will give hours of fun.
February 16, 2013
You might have to pay the price for this one!
Turn out the lights! It?s Halloween again, and it?s time to be scared! This game is deceptively simple. Before you realize it, you are drawn into the eerie atmosphere and find yourself wrapped up in a frightening pursuit. What on earth (or not?) has happened to the partygoers? Played the demo and will buy the game. I have to find out! The opening cutscene begins with an ordinary car ride. (Insert yawn now, or so I thought.) A girl goes to a party on Halloween at a creepy old house. To enter she needs an invitation and a jack-o-lantern. She has to find the former and create the latter. Task completed, she enters the party. Suddenly, her host is enveloped in a cloud of black mist and disappears, along with everyone else. Fun turns to fear and the adventure begins! The gameplay is standard HOPA, with decent graphics, moving cutscenes and haunting music. Sound effects add a touch of realism ? the laughter of party guests, the sound of a crying child, the anxious barking of a dog. Sympathetic characters appeal for help. A sense of desperation and urgency steadily grows. There?s a transporter map and task markers for each location. A diary records clues, the hint recharges quickly, and the puzzles are fun and frustration free. (The first one actually has a solution available with the click of a question mark.) The IHOS include lists with a twist. Find a code, put together a broken picture, complete a puzzle. Nothing innovative here . . . and yet . . . . Just another typical SE? A filler for BFG?s release calendar? I started the game expecting nothing and finished the demo wanting more. See what you think. You might be surprised!
February 16, 2013
Shadows, Price for our sins
I have only played a small part of this game, You arrive at an old barn for the Halloween party, the aim is to find your fellow students who's souls have been captured by the evil Samhain, also the souls of the of the old Stone family, the graphics are ok a bit grainy inplaces , the vo is ok but sometimes I have found it annoying, but not off putting as there is plenty to do to get into the game, I don't think it will be a bad game, the puzzles so far have been easy the ho's are not to hard to find, you also have interactive objects , these are not hard to do either, I think it will be a suitable game for beginners as well as intermediate players. give it a go make up your own mind, I don't think you will be disappointed.
February 16, 2013
Interesting & Engaging
FROM GAME JUST COMPLETED A HALLOWEEN party goes horribly wrong, and you are left to pick up the pieces. It is a BOARDGAME that releases the EVIL SHADOWS that have kidnapped your friends, but there is much more to discover. Find out why the farm has been CURSED, help the ghosts of the people who once lived here to move on, and SAVE YOUR FRIENDS. There?s a lot to learn and a lot to do in this adventure, and I found it a very long game to play. There is a LOT OF (OPTIONAL) STORY, presented mostly in diary pages, with some conversations with the several ghosts you help. There are also a lot of HO SCENES with LISTS where about half the items require EXTRA STEPS. The locations for each segment of the game, and therefore the HO SCENES, vary tremendously from each other, giving the game a lot of VISUAL VARIETY. The PUZZLES were mostly fairly EASY, some of them quite unusual. The game is well put together, with CLEAR GRAPHICS, a INTERACTIVE JUMP MAP, HELPFUL HINT, and JOURNAL. The SOUNDTRACK includes FORGETTABLE MUSIC and INESCAPABLE CRYING & MOANING. This was interspersed with dogs barking and other farm related sounds, but it was the child crying that drove me nuts. She kept it up even when we found and rescued her doggie! VOICEOVERS were not used for all the conversations ? usually it was dialogue boxes ? but when it was it was very well done. The boardgame at the centre of all this is an interesting and fun approach, and is great at helping to structure the game. I can?t give you a logical explanation, but the feel of this game was quite different from other games, and worth a trial just to check that out. I found it a very entertaining game.
May 18, 2013
I REALLY ENJOYED THIS ADVENTURE
Review of completed game. I honestly didn't expect too much from this game and was really pleasantly surprised. Its a long game as well. You have: * Voiceovers; * Casual or Expert modes of play; * Journal; * Interactive map; and * A board where you have to assemble pieces. I played on Expert mode and found this to be a good challenge - great for experts. The graphics are good and all the scenes are very well done. I enjoyed roving around and having a look at everything. Sound and music was also good - orchestral which played softly in the background. There are lots of hidden object games to play and I found these quite challenging - yee haa its been a while. They can take a while to do as there are lots of items hidden within objects - like a vase or a bucket, etc. The pointer changes when you hover over these items which you click on it and grab the items you need. I thoroughly enjoyed doing these. Most of the mini-games were easy to medium, with a couple that took me a while. However, if you get stuck then look in Info and it will show you the answer or how to do a task correctly. There is a box at the bottom of the screen where you locate and place pieces into it. As you complete each character, you get items to help you carry on. I loved this. The interactive map worked well and also let you know if there were any tasks to be performed at each scene. Very handy if you get stuck where to go. The game took me a good 7 hours to complete. Its a long game, with plenty of places to investigate, and a lot of tasks to perform. You really do get your money's worth here. So overall, this is a very good game and I am really impressed by the developers who could be big contenders against the major developers. A diamond in the rough but if they carry on like this, then we are in for a treat. Well done. Definitely recommended. Have fun playing. Its a very long game, so get comfortable.
November 25, 2014
What a great game
I was unsure whether to try this game or not, but so glad I did. The storyline immediately captured my attention and the glimpse that we had of the game board in the intro reminded me of Jumanjii. The hos scenes were a little bit difficult because some of the items were hard to find because of the the color matching what it was up against. The music was decent and the voice over was well done. It was a little jumpy and didn't flow as smoothly as most of the other games I've played but it was enjoyable and will be purchasing shortly.
February 16, 2013
Very Good Game. Little 'Buggy'.
I loved playing this game. The story line was great. I enjoyed most of the puzzles and how the HOGs were set up. I would have given this a 5 star rating down the row except for a few bugs in the game. During some of the cut scenes, the screen went completely dark. Not on all the cut scenes, just a few, but while I could hear and read what was happening, I couldn't see anything. Also had a hard time with some of the puzzles in the technical sense. Example: Trying to put a small mirror in it's place. Even though the cursor would start spinning it's wheel to show the item could be place, it wouldn't let you put it in there. After much trial and error, I finally found that you had to click just on the inside the frame beside the knob. Very frustrating. But other than that, I enjoyed the game and found it fascinating to play. It was hard to put down because I wanted to see what was going to happen next in the story. Wish this had been a collectors game, I would have looked forward to bonus play with this one. I hope there is a follow up to this game. Minus the bugs of course.
February 19, 2013
Spreads some halloween fun in the cold gloomy winter nights.
Who wrote why Halloween inFebruary. Why not? February is a pretty depressing & cold month, why not spice it up with some spooky Halloween fun. Judging by the hour trial this looks like a very intesting game. Nice scenery and characters and an interesting story. I think I'll be picking this one up during the bogo sale before it ends today. Can't beat 1/2 price for a fun game to forget the winter blahs.
February 18, 2013