Sacra Terra: Kiss of Death Collector's Edition
Exclusive
Set out to rescue your fiance from a supernatural force that feeds on human suffering in Sacra Terra: Kiss of Death! As you explore visually stunning mystical dimensions in a bid to reunite other lovers and weaken the grip of the entity, you'll find useful items, solve puzzles and enjoy a richly layered and compelling hidden object experience! Can you save your fiance before the maw of wickedness consumes him?

This is a special Collector's Edition release full of exclusive extras you won't find in the standard version. As a bonus, Collector's Edition purchases count toward three stamps on your Monthly Game Club Punch Card!

The Collector's Edition includes:
Bonus chapter
Strategy guide
Concept art
Wallpapers
Morphing objects
Game System Requirements:
OS:

Windows XP/Windows Vista/Windows 7/Windows 8

CPU:

1.6 GHz

RAM:

512 MB

DirectX:

9.0

Hard Drive:

759 MB
Game Manager System Requirements:
Browser:

Internet Explorer 7 or later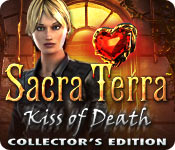 The Big Fish Guarantee:
Quality tested and virus free.
No ads, no adware, no spyware.

Reviews at a Glance

Sacra Terra: Kiss of Death Collector's Edition
0
out of
5 (
0
Reviews
Review
)
Customer Reviews
Sacra Terra: Kiss of Death Collector's Edition
96
96
Not a CE Game!
I probably will be the most unpopular reviewer here by saying that I personally think the game is good, not great, not worth 5 stars and I for one will wait for the SE A story that is also too familiar: Girl loses fiance, girl goes after fiance, girl battles with supernatural forces and rescues fiance. Game menu offers two play modes to choose from. Graphics are good, clean with 3D animation. Personally I found graphics slightly dated and voice-overs a tad stilted. I actually liked the music but needless to say, the game does look so very familiar which is why I only gave it three stars. Game features a journal, a map that will transport you along with 35 morphing objects that are too easy to spot. Gameplay is your standard find objects, solve puzzles and play Hidden Object scenes. I liked the HO scenes; they were interactive and clever. Mini-games were far too easy alos very familiar. The game lacked any form of challenge. I suppose I still year for games that have that WOW factor, like the MCF games that first came out. Games that offered you not only great storylines but game mechanics that had you glued to the computor for hours and sometimes even days. Sacra Terra , while still relatively a good good game, is is unfortuantely highly forgettable. I would rather go back and play my favorite oldies than spend double the money. Like I said, I will propbably be very unpopular with this review, but in all honesty, I cannot just recommend a game as a CE when I have played better Standard Edition games that were well worth the time and money.
February 17, 2013
REVIEWS OF COMPLETED GAME
There are four different stories in this game, in four different locations. These are accessed through portals and I thought it a nice inclusion. The cut scenes did not play well. The dialogue was out of sync with the text. The music was good, eerie and sometimes sinister. Good for atmosphere. The mechanics were slow and clumsy. The main game took me 5.30 hours, which is really long and the BC 2 hours. So, you are definitely getting a long game. While this is a good thing, the game itself is not riveting. The main game ends conclusively. There are morphying/beyond objects to find, if you can be bothered or can remember. I liked the stone hearts in the tree aspect. The wide screen graphics are excellent. There is a great jump map. The hint button is directional and quick, as is skip. The iHOS are cluttered and the puzzles are all old and rather dull. I think they could have done a lot better with this. It has so much going for it and the potential to make it go wow is definitely there, but it was rather humdrum. Nothing about the game play was particularly exciting or interesting It is good, but there are much, much better games on offer, so I was somewhat disappointed.
February 19, 2013
what might have been
This review is based on the full one-hour trial period. PROS: 1. Well drawn, many scenes, good sound effects, not much music. 2. Mini-games are not too difficult. 3. Morphing objects to collect. 4. Interactive map with active areas, jump to scene. 5. Hidden object scenes are interactive. CONS: 1. Opening scene begins with the wrong perspective. Based on the cutscene, the woman should have been inside, not on the patio. 2. There are a large number of times that objects are used strangely. For example you use a (spoiler alert) machete to clear cobwebs. 3. I have never seen sparkles so overdone in any other game. It appears to be a mini-snowstorm at times (and normally I don't mind them). 4. Like Enchantia, the storyline appeals more to the XX population, not so much for the guys. I thought it kind of silly. The "succubus" was a little over-the-top. 5. I did not play the first Sacra Terra, so I have no idea why she has a spell book lying around. Still, seems like a good game. Too bad there were so many hiccups, it could have been a lot better. Three stars out of five
February 17, 2013
Not my cup of tea
The demo tempted me enough to buy the game but I unfortunately found it to be boring. Sorry peeps but this just wasnt my cup of tea. I dont mind the occasional hidden object scene but there were too many and not enough puzzles. The few that were there werent challenging. I got to the pyramid stage of the game and decided id had enough and uninstalled it.
February 19, 2013
It's OK, But . . .
There is nothing new here, and not very much challenge, which is real shame, considering we have in the past seen some pretty good gaming. I'm giving it a generous 3 stars because the graphics are excellent, and the sound is appropriate to the theme. It doesn't merit CE status because it's the same old thing. What happened to imagination and creativity? This is stock stuff and a snoozer. Buy it at a lower price.
February 17, 2013
just a good game, based on demo
I think some of you will think me mad, I didn't find this game to be anything special. All of the challenges were easy to do. The map made getting from one place to another so easy I didn't even have to think about where I had to go. And just a bit too many cut scenes, just a bit. Still it is a good game. The only problem I have with this game, is, should I buy the CE or the SE.
February 17, 2013
Sacra Terra or House of 1000 doors????
Play time about 4hrs in relaxing mode Warning if you dont like occult evil this game is not for you Sacra Terra started out great. Voice over was really good. very nice music and the first part of game held my interest. In order to save your fiancee you have "to reunite" and free souls of lovers that are being captive by Evil Lilith. First story of the lovers you have to save was good and detailed and after that it became so and so . It reminded me of house of the 1000 doors after awhile cause it felt I did the same thing in those games and the stories was really similar. That could be a good thing for some players and bad for some like me. No wow factor just same old same old. Its not a difficult game and not scary. If you have an extra coupon get standard version .
April 28, 2013
And I was really looking forward to this one
Review based on Complete Playthrough of Game and Bonus Chapter. As always, first off the CE stuff (why should I pay double for this game?): - the bonus chapter wraps up some questions you'll still have after the main story. Personally, I hate it when games do this. I want the SE portion to be a complete game. I had to split playing the bonus chapter over two days, and unlike the main game, I had completely forgotten a lot of what stuff was for and what I was doing. The story just wasn't there for me. Other than that , not much reason I can think of to get the CE on this one (glad I got it on sale). You have 'beyond objects' you can find, but you get absolutely nothing for finding them all - and since the map tells you where they are and the cursor changes when you mouse over them... let's just say it isn't hard to complete the collection. There are no achievements, no 'personal space' to decorate, no replayable minigames (not that any were memorable enough to want to replay). None of the stuff we've come to expect from top end CE's. You also won't "get" quite a bit of what's happening, especially in the bonus chapter, if you didn't play the first Sacra Terra game or don't somehow catch on to the theme (why I am getting a ham?). Now for the 'normal' game: The Good: Graphics were top notch. Cutscenes were well done - not live action, but still very nice. I read reviews where they didn't sync up - could be a GPU issue, mine played flawlessly. Sound was nice - not too obtrusive and pretty much kept to the theme. It did get a little too monotonous over time though. There were places they could have gone with a change of music, and I really wish they had. The length - main game was a good five or six hours. I split up playing over three days, playing a couple hours or so each day. I had no problem remembering what was going on in the story or what I was supposed to do. The story has been done enough times: Evil witch steals fiancee; Hey! let's go get him back; No, ghosts and demons don't bother me; wrapup. You've got an intro, four complete 'scenes' and then the game just ends. I can't even call it a proper outro. It's like realizing there's only sixty seconds left to finish a TV show so they wrap everything up as best they can all at once. Each of the scenes/chapters is a mini "ghost story" in it's own right. You solve the ghost's problems, and you get one step closer to solving your own. For vignettes, they did very well story wise here. The map: it teleports you - which is very helpful as there's a lot of back and forth, and it shows you where there is still Stuff to Do(tm) - some may consider that a bad thing. Personally, that was pretty much all the 'help' system I needed, especially in the main game. The Bonus Chapter I needed to use hints a few more times. The Bad: Hidden object scenes get repeated. At least most of them aren't random junkpiles. None of the minigames were really memorable. I skipped one in the BC (I had the orientation of the puzzle wrong in my head), and one in the main game (I still have no idea what I needed to do to 'solve' that one that I hadn't already tried). The Ugly: I said it at the top, I'll say it again here: I hate stories where you need the bonus content to understand what happened. I think it's a bad road for companies to go down - one we, as players, shouldn't accept. Pretty much no extras to make it CE worthy, other than the bonus chapter (which wasn't enough on its own IMHO). A few times the game stretched the 'suspension of disbelief' for me. Ok, you're in a story about demons and such, but (to take one example): you activate an auto-inflating lifeboat. Then you cut a gash in the side so it deflates. So far, so good. Then you slap some glue on the cut and it's a fully inflated, working lifeboat again... Probably won't bother most people, pet peeve of mine when it happens too often. Bottom line - it's close, but it didn't make it. Maybe it's because I'm measuring it up to the first game, but I don't think that's it. I'd say maybe as a SE, but the story leaves too many questions for me to even recommend that.
November 22, 2013
Not quite as good as the first.
Sacra Terra: Kiss of Death is a nice game, similar to the first Sacra Terra in play style, sound, and graphics quality. Everything was quite beautiful. However, it seems to just fall short of Angelic Night in playability; the main plot came across as slightly dull and flat, the characters just this side of annoying, and the typical backtracking game mechanics seemed more repetitive than I'd noticed before (and I've played upwards of 50 HOGs.) I simply didn't feel any sense of urgency to defeat the succubus, especially as I don't recall the heart-tree being explained. Was it an elaborate lock for her lair? As always, I enjoyed the morphing objects, the smooth cutscenes, and the map was a new feature that worked really well. I couldn't get past the mediocre voice acting and other issues to truly enjoy this game, but I'll still get the next Sacra Terra, because I loved the original. This sequel was not my cup of tea, but it may be better suited for beginner-intermediate gamers or those who love the style more than anything.
June 26, 2013
It was Ok, not worth CE Price
Nothing special about the game to make it CE worth....I played the 60 minutes....I may buy it when it becomes SE, although it was kindof boring, has you running in circles to get stuff, and the storyline wasn't anthing outstanding....
March 2, 2013
The Apple logo is a trademark of Apple Computer, Inc.