Pet Store Panic
Help Polly build a nationwide success story from a failing pet store chain, using the amazing machines invented by current owner Professor Egbert van Alstein in Pet Store Panic! What the Professor has in scientific wizardry he lacks in business acumen, and that's where you come in!
More than 40 levels of play
Play through four unique locations
Six different pet species
Game System Requirements:
OS:

Windows XP/Windows Vista/Windows 7/Windows 8

CPU:

1.6 GHz

RAM:

512 MB

DirectX:

9.0

Hard Drive:

203 MB
Game Manager System Requirements:
Browser:

Internet Explorer 7 or later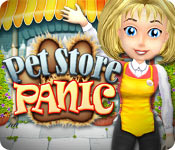 NEW299
The Big Fish Guarantee:
Quality tested and virus free.
No ads, no adware, no spyware.

Reviews at a Glance

Pet Store Panic
0
out of
5 (
0
Reviews
Review
)
Customer Reviews
too many HO and bad TM
Way too many adventure and HO games. Would love some decent new TM games. I canceled my account last year because of this.
February 23, 2013
Don't look at the 2 stars : give it a try !
I was waiting for a real TM game for so long (not a strategy game like "a kingdom for a princess" and so) ! I agree with the other players, I love adventure/puzzle/HOS games, I buy all the Collector's Editions but I love also TM games and where are they ??? I play TM games since the beginning of BFG when the french site does'nt exist, there were plenty of TM games at this time ! So, for this game, it is not the best TM game I played but it is a good TM game. I recommend to keep the window cursor to have no problems to click on the custumers or machines or pets. At the beginning of the game, you have maximum 4 customers in line, you must serve all the four and after, you take quickly all the money, so you can make a bonus chain and earn more money. After you can have 5 customers. You make the same thing if you have only 2 customers because new customers arrive only when there is no more money on the counter. You must serve impatient customers before the others. You can have a cookie machine, you can give the same cookie to 3 customers when they lose patience : you must click on the 3 customers with the same cookie. If you give the wrong color or pattern to a pet, it is not a problem, you click again on the good color or pattern and it's OK. You have a pet station in the middle of your shop to put the wrong pet, a rabbit with a bow for example, you can use this pet for another customer. When the customers order, their orders appear on the right bottom of the screen and the kind of pet they want is written in full : "cat", "rabbit" or "dog". When they want patterns, it's written "spotted dog" or "striped cat". If they want a collar, you have a little yellow icon and for a bow, you have a rose icon on their order. At the beginning, you must buy machines of course and after you can upgrade them 3 times, you can also upgrade the speed of the seller. The goal of each level is easy to reach but, after a while, the expert goal is impossible to reach but it is'nt a problem : I played the entire game with a few reached expert goals and I bought all the machines and upgrades. You can always retry a level to earn more money if you are lost in this level... So, I played all the game and I am going to play it again because I know exactly how to play ! The tutorial was good for me and yet I am french : it is'nt always easy to understand what to do when it is'nt your native language but I had no problems. I don't think that it is a game for real beginners in TM games, you know what to do when you used to play this kind of game. So, for players by lack of TM games, a great time to spend !
February 23, 2013
So many simple time management flaws, where do I begin?
1. You can never wait on more than 4 customers at a time, though that's not a problem until you have someone in the 4th seat. Seat 1, 2 and 3 could be empty but as long as someone is in that 4th seat NO CUSTOMERS will come through that door. They have no passing abilities. This severely limits so many things. 2. Because you are so limited on the amount of customers you can get, upgrading becomes useless. The more things a customer wants you to do for their pet the even less customers you get because there just isn't enough time. Which makes achieving the expert goals impossible as you progress to the higher levels. 3. It is so easy to mix up customers pets when they look alike and it's to hard to pay total attention to which pet you have when so many things are going on. The customer should light up when you have their pet in your hands. 4. There needs to be some recalibration with the mouse. I loose so much time alone missing when I'm trying to click on things. 5. The game constantly reminding me to pick up my money drove me crazy. I know it's there I'm trying to make a chain bonus! 6 . Even if you do want to upgrade it takes forever cause the money you make compared to the costs of the upgrades is unrealistic for what the game allows you to do. I love time management games, I've been playing them for years. I own every Dash game created. If those few things could be changed this game would actually be fun.
February 22, 2013
Not so bad
As long as you don't expect to get expert scores, this game is ok. I am so desperate for time management games that I bought it. It has a lot of levels and a lot of upgrades. You have to be exact with your clicking and really have a plan to keep things from getting confusing but after a while you get used to the animals, colors and patterns. I liked that it was challenging.
February 22, 2013
Not my fave
I didn't really like this game. It's a classic time management game but it just doesn't flow right. You have to specifically click in a very specific area to get the machines to work or to pick up your pet - as opposed to just clicking the machine. You can't pre-schedule certain things that you should be able to do. For example - if I click on the paint machine to place the pet there, I should then be able to choose the color immediately and not have to wait till I actually get to the machine and place the pet there. The graphics used to let you know what the pets want/need are not easily seen - both because of location and because they are hard to see at times. I did not enjoy this game at all.
February 22, 2013
Pet Store Panic
I love time management games, this is a good one, however I was hoping for alot more since there are far and too few TM games in between the constant HO games and strategy games. It's almost impossible after the first few levels to get expert, but with that, this is a fun game, I wouldn't say addicting but fun. The storyline typical and the graphics, in this day and age could have been so much better. If you enjoy TM games this one is for you and worth a credit, but if there should be a part 2 I do hope it's a bit better.
February 22, 2013
Pet Store Panic
Why can the developers of TM games use their imaginations like the HOG developers do? I can understand the programming is totally different but come on people even the storyline from the HOG games is better and the graphics. Sweet Kingdom is trying to do that with the graphics and I will give them credit for doing it. But Pet Store having pets coming out of a machine and in top of that in a bubble? Give me a break!!! That itself turned me off. Not only that, I didn?t know if it was a dog, cat or a rabbit. They look the same to me only the difference is the color. Well, that may give some people problems if they are color blind. Black and grey looks almost alike if you look it fast. People who are identical? There are some TM games that I can recommended. Like Bistro Blvd (like that game because I can decorate the restaurants the way I like it and making my own menu?s). Or Jo?s Dream: Organic Coffee, Burger Bustle: Ellie?s Organics and Ranch Rush. Or what about Road of Rome? These are only a few, but what I am trying to say is there can be excellent TM games! I do know that people have different taste and maybe Pet Store Panic maybe to their liking but I don?t. I wished that TM games be a little (not a lot) like some HOG games. Even the fairy tale ones are good. I just getting tired with HOG games.
February 22, 2013
Disappointing
I have been waiting for so long to get a new time management game and this is just such a poor showing. There has got to be something that isn't hidden object and isn't horrible.
February 20, 2013
Not enjoyable
This game is simply not fun. I play a lot of time management games and this one is just not as good as the ones I go back to over and over again. I hit a wall at level 7 or 8 and could not get expert no matter what strategy I took doing chain bonus or serving impatient customers first. The equipment takes too long to process and the upgrades are super expensive so you can't help the problem by upgrading.
February 20, 2013
Terrible Time management game
This game lacks the ability to complete several tasks at once. You have to constantly click to repeat actions that should have been done with a simple click....not one that I would pay money for.
February 20, 2013
The Apple logo is a trademark of Apple Computer, Inc.