Sweet Kingdom: Enchanted Princess
Once upon a time, Sweet Kingdom was ruled by a kind, wise princess who was adored by all throughout the land. One day, an ominous cloud gathered over the kingdom and a dark spell was cast upon the princess, turning her into stone. Without the careful hands of the princess, the kingdom quickly fell into decay and ruin. Now it is up to you, the princess's faithful friend Molky, to find a way to save the princess from the evil spell! Can you find all of the magical artifacts scattered throughout the kingdom and bring the princess back to life?
40+ unique buildings
Improve the throne room as you play
Meet fun and hilarious characters
Game System Requirements:
OS:

Windows XP/Windows Vista/Windows 7/Windows 8

CPU:

1.8 GHz

RAM:

1024 MB

DirectX:

9.0

Hard Drive:

256 MB
Game Manager System Requirements:
Browser:

Internet Explorer 7 or later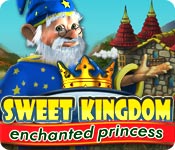 NEW299
The Big Fish Guarantee:
Quality tested and virus free.
No ads, no adware, no spyware.

Reviews at a Glance

Sweet Kingdom: Enchanted Princess
0
out of
5 (
0
Reviews
Review
)
Customer Reviews
Sweet Kingdom: Enchanted Princess
54
54
Reminds Me of Northern Tale
I'm halfway through the demo and about 70% sure I will buy. This game reminds me of Northern Tale. Though the buildings are the same, there is different configuration with each level. You are also doing things like clearing roads, upgrading buildings, and producing products like flour or crusts. You can then sell these items at the market on the level. Here are other things worth noting: 1. You can buy workers or donkeys. Donkeys do the building and clearing, upgrading the buildings and taking things to market. Workers collect products from the buildings. Each level starts with a different amount of donkeys and workers. 2. There is no untimed option. However, you can continue once the timer is up until you complete the level. Your reward for completing the level within the alloted time is that you get to upgrade the throne room. These upgrades are done for you and you do not choose them. 3. Music is on the dull and boring side. Not too many voice overs so far. The only ones I have encountered are muffled chipmunk style voices at the market. 4. You can choose how many of what item you want to sell at the market, much like TV Farm. 5. If you are looking to complete the level in the allotted time get ready for a lot of frantic clicking. 6. Bar on top is easy to figure out which tells you how much gold and product you have as well as workers and donkeys. 7. Like Northern Tale there are obstacles to "pay off" in order to get past some roads. I think these were goblins. 8. There are stars that you collect which occasionally drop from the buildings and collect for upgrades. The two I have encountered so far were an upgrade to increase productivity and one to speed up the workers. If you liked Northern Tale you might enjoy this one. Also if you enjoyed TV Farm some of the elements in this game are similar.
February 18, 2013
Sweet Kingdom is a Sweet Game
Right away I noticed it looked alot like Royal Envoy so since I really liked both of those games I was definitely intrigued about this one. I wasn't disappointed. In fact, there were some very cute surprises in it that made me laugh throughout. Love the donkeys! :) The graphics are very well done; There are no voice overs but there is dialogue to read through the cutscenes so no big deal on that one for me; The storyline is fairly typical as far as fairytale princess stories go but that makes it fun for all ages; There are lots of incentives to get things done quickly and some helpful bonuses along the way; You have your helpful court astrologer (wizard type guy) who hangs around for a few minutes each level to give you some pointers if you need it but if you don't like him you can shut him up quickly enough. Overall, a really cute and enjoyable game that I purchased before the demo time was even over. If you liked the Royal Envoys then you will certainly be pleased with this game. Happy gaming my fellow fishies :)
February 18, 2013
Finally an excellent building game!!
Similar to Royal Envoy this game allows you to continue even if you don't get gold on every level. I absolutely love strategy/building games that give you an excellent replay value. This is one of them and was an immediate buy for me. Unlike some recent TM/strategy games that I could not play at all, I did not have any technical issues so far. Thank you BF and please keep these types of games coming. You can count on me to buy them!
February 18, 2013
Cheerful building game
This is one I liked right away, only played demo for about 10 minutes then bought it. :) It reminds me of the first Royal Envoy. But this one has some unique variations that give it a personality of its own - such as donkey workers. The buildings produce things like wheat or cream instead of gold. And building towers for defense rather then flowers for happiness. One thing that is really nice is the sound effects - nothing jaring or annoying. The sawmill sounds like a hand saw not the buzz saw sound may games use. And the market person just shows up without calling out anything. The music is nice too. Graphics are well done with lots of detail even in the background of the screens. I haven't played too far yet but it is getting more complex with each level. New features are introduced which keeps it interesting. I expect later levels will get harder. One level already has me stumped as far as finishing in the day ("getting gold"). But it lets you complete the level anyway and then I did fine on the next one. That's what I like - variety! And the game allows you to go back and try to do better if you want. If you like games where you are building things you will like this one.
February 18, 2013
Sweet game
This game is an awful lot like Royal Envoy, where you have to build dwellings, harvest the items they produce, and try to do it all within a specific amount of time. I've only played a few of the levels, but will get it. It's better than yet another dark, dreary HOG.
February 18, 2013
Fun without stress
Games that raise a smile are always winners - the donkey workers are excellent. and the crowd sounds at the market create atmosphere. The clear instructions mean instant playability - nice game.
February 18, 2013
Different
Finally a good game. Thought this game was going to be easy until I got too level 10 . Really good game highly recommend if you like a challenge.
February 18, 2013
Great!
This was a definite buy for me after only a few minutes of the trial. The graphics are beautiful, characters original, sound effects enjoyable. Building and upgrading, selling and buying resources. I always test to see if a game will let me continue on with a level after the "time" is up before buying - this one will. Highly recommended.
February 18, 2013
Excellent Fun Game
this game is great! even if you dont beat the time you still get all the fun and the artifact that your after you get that too! (when its there to get) I have played time management games on my IPad but never on the computer but now after finding this game I will look for others like it to be played on the computer. Then I can manage my time on IPAD and computer....lots of time to waste LOL just kidding but it is fun and passes the time thats free in any given day
February 19, 2013
Sweet Kingdom
Very cute little game! Takes a bit getting used to because it is very different than the normal TM game. Level challenge is great! Storyline is great! Finally came out with another TM game that keeps you on your toes and waiting for the next level to see whats going to happen! VERY HAPPY with this game. I added this one definitely to my collection of TM games!
February 20, 2013