Sweet Kingdom: Enchanted Princess
Once upon a time, Sweet Kingdom was ruled by a kind, wise princess who was adored by all throughout the land. One day, an ominous cloud gathered over the kingdom and a dark spell was cast upon the princess, turning her into stone. Without the careful hands of the princess, the kingdom quickly fell into decay and ruin. Now it is up to you, the princess's faithful friend Molky, to find a way to save the princess from the evil spell! Can you find all of the magical artifacts scattered throughout the kingdom and bring the princess back to life?
40+ unique buildings
Improve the throne room as you play
Meet fun and hilarious characters
Game System Requirements:
OS:

Windows XP/Windows Vista/Windows 7/Windows 8

CPU:

1.8 GHz

RAM:

1024 MB

DirectX:

9.0

Hard Drive:

256 MB
Game Manager System Requirements:
Browser:

Internet Explorer 7 or later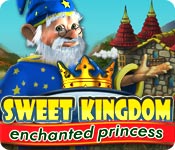 NEW299
The Big Fish Guarantee:
Quality tested and virus free.
No ads, no adware, no spyware.

Reviews at a Glance

Sweet Kingdom: Enchanted Princess
0
out of
5 (
0
Reviews
Review
)
Customer Reviews
Sweet Kingdom: Enchanted Princess
58
58
My Kind of Time Management Game
I really like this game alot.Entertaining and challenging at the same time.Have to figure out what you're going to build first in order to get the "gold star'.I think the donkey workers are great fun and having to tickle the dragon to wear it down is a novel idea to say the least.To me it's as entertaining as garden rescue and my kingdom for the princess series.
March 12, 2013
amazing game
Boy I thought this would be a so so easy game and cute boy did I get fooled this is as good as roads to rome etc. great game lots of stratgy and not easy to get the gold. want a real challenge play it.
March 8, 2013
LOVE IT!!
Finally a great game that can compare with Royal Envoy and the likes. when I first started it I was unsure because I hold Royal envoy on such a high pedestal, but this game was fun, quirky and the donkeys are beyond cute! The levels were fairly easy to achieve gold until the last few where i had to redo them a few times. Some more challenges on the earlier levels would have been good, but overall the game was interesting and good quality.
March 6, 2013
Somebody call the donkey sanctuary!!!
This is a really really cute game. I bought this 'off piste' in that I didn't trial it before I bought it, for once my judgement was sound (this is a one off a rarity (not exactly known for my sound judgement)), anyway back to the game. The game is of the the 'sweep the paths', 'harvest the crops', 'solves the tasks' type of game (Royal Envoy, Northern Tale esque), I knew this and had a few of these type of games (I even bemoaned in my Northern Tale review that they were all samey (though I did end up purchasing that game), this game though is very whimsical. I say this in that the 'donkey work' is done by err donkeys, which makes the game slightly 'off the wall' but good, as at least the 'pecking order of life' is being adhered to :). The music and graphics are good for this type of game (you don't expect epic Oscar winning for either), but I have a feeling the game may not have been programmed in English as some of the dialogue does not flow grammatically,I am not a massive stickler, and know that 'poetic licence' can come into play,(much like this review (though I am British (does that count as being English)) but this was so I was struggling to understand exactly what was being said. That said, again in these types of games, this is not the 'overriding factor' of the game. If you manage to complete a game before 'sunset' then you get an addition to the 'throne room' thus the more you complete the nicer the throne room. I will give a word of warning though as with most of these style of games on later levels (well past level 8 or so), you will need to start planning your 'game-plan' as I had to restart a couple of times because I started building without the gains to make money (i.e. building a market), also read the task list as I was building the wrong type of building and wondering why I was not completing the level :)). I think overall this is a good game, and one which I think most who like this genre would enjoy (unless they have got a 'beef' against 'horses' doing the work (sorry a bit of a UK news joke), many apologies), but no overall this is a fun whimsical game that flows along just nicely.
February 26, 2013
Cute little game......
I really enjoyed this game. The graphics are lovely and the characters are really cute. It didn't matter if you went into nightfall to complete the level....of which I have done on several levels. If you like TM/Strategy games then give this a go....
February 25, 2013
A cheerful game
I?m hoping that BF will be making more of TM games in the future. Even though I like hidden games, I am getting tired of games that has horror stories. They are good for Halloween but not now. This game came in the right moment. Spring is here and I was waiting for something cheerful. I liked the visual, the houses, sawmill, market place. The donkeys and the men goes faster and the bars is easy to read. The developers did a good job with the job. Especially, when you can sell the products. The main problem that I have with this is again the mode. I do wish that there was two different modes: relax and challenge. There are people who either has an old computer, arthritis, or just want a game to relax with. People should have that option to do that. Either has the game be timed or not. That is the only problem that I can see. The storyline is right for this time of year. I know some people may not like fairy tales (I also am tired with fairy tales) but if this game can in the right time. Another time, I would agree with others that this game is OK. This game is also good for people who is new in TM. A good beginner game. All in all, I can say ?Spring is here?. This game puts a smile on your face. One more thing, I do like the donkeys.
February 21, 2013
More Like This PLEASE & THANK YOU!
This is my favorite of all the TM games I have played & trialed on BFG. It's challenging & you have to replay some of the harder levels more than once if you want all 3 stars, but you are not required to do so. I love the donkeys doing the work. I love the different buildings & the products you must produce. I like that different characters want different things, so it's not all the same. I have bought new TM games since buying this one, but I keep on coming back to it. I can't think of anything that I don't like about it (except maybe that annoying dragon...). I really hope the game devs come up with sequels to this or more with the same idea.
March 29, 2013
This one has it all!
Although I've played many many TM games from this site (favorites are games like ranch rush, my farm life & hobby farm#, I recently tried gardens inc, rakes to riches (a game in the strategy dept) and fell in love with it but much to my dismay, it turned out to be unplayable about half way through due to problems with the game. So, I went back to strategy and found this game. I loved it right away and now i'm hooked on the strategy games. I love the fact that this game is so much more than simply "fast clicking". I loved the challenge. I've just now completed the entire game and achieved "gold" on every level. There was only one level that I truly thought was impossible but after countless tries.....victory was mine :). And of course the last level #34 mins# was challenging to say the least but in the really good sort of way where you just want to keep trying! I'm sad i've completed it in a way but it's def one you could go back to and love it all over again. I feel much more than usual that I got my moneys worth out of this one already as it took a long time to get through all levels w/gold status. Another big plus is that even though the game is complex, the instructions are clear and quick so anyone can play almost right off the bat. I think some people might dislike the fact that on some boards you don't learn about a needed item until the "gold" time is almost up so if you really want the gold #like me# you have to go back and play it again in a new way but that didn't bug me much because I felt like I had some great secret the 2nd time around lol. The story is basic but I liked it and I also wish you could have some choice as to what is earned. #they just give you whatever# but these things really don't matter because the gameplay was so fun! Other reviewers have already described the gameplay accurately so I won't go into that. This is just my opinion. I hope it helps you. I truly hope there are more games like this one because I will certainly buy them. Have fun with this one. If your into these kind of games like i am, it's pretty much a sure thing!
May 3, 2013
Brilliant Time Management
Totally good value for money and not the usual "finish in a flash" game. The levels became harder to do as you went along and as a consequence took longer to complete. I found it really challenging and twice looked at the forum for a guide. I also left some help topics there as well. Enjoyed It immensely and hope there will be a 2nd one. Well done BFG
March 6, 2013
strategy games
We need more strategy games, like this one and Island Tribe games!!! please
February 28, 2013