Sweet Kingdom: Enchanted Princess
Once upon a time, Sweet Kingdom was ruled by a kind, wise princess who was adored by all throughout the land. One day, an ominous cloud gathered over the kingdom and a dark spell was cast upon the princess, turning her into stone. Without the careful hands of the princess, the kingdom quickly fell into decay and ruin. Now it is up to you, the princess's faithful friend Molky, to find a way to save the princess from the evil spell! Can you find all of the magical artifacts scattered throughout the kingdom and bring the princess back to life?
40+ unique buildings
Improve the throne room as you play
Meet fun and hilarious characters
Game System Requirements:
OS:

Windows XP/Windows Vista/Windows 7/Windows 8

CPU:

1.8 GHz

RAM:

1024 MB

DirectX:

9.0

Hard Drive:

256 MB
Game Manager System Requirements:
Browser:

Internet Explorer 7 or later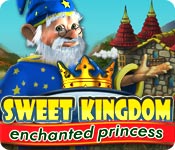 NEW299
The Big Fish Guarantee:
Quality tested and virus free.
No ads, no adware, no spyware.

Reviews at a Glance

Sweet Kingdom: Enchanted Princess
0
out of
5 (
0
Reviews
Review
)
Customer Reviews
Sweet Kingdom: Enchanted Princess
58
58
Shrek?
I can not add more to what others said , I like it because 1.It is another TMG 2. you can keep playing after time runs out. What I do not like is the Disney characters of Shrek, like Donkey building houses. When did that happen? When pigs fly? LOL
February 19, 2013
Fun Time Management game
The graphics were great. Same concept as other time management games.
February 19, 2013
Got my money's worth!
I love TM games, so I bought this awhile back with another game. I completely forgot I had it but so glad I remembered. This is not an easy game to beat the clock, so if you have no patience or determination, this game is not for you. Quite a few of the levels are very difficult, and had it not been for y o u t u b e, I wouldn't have been able to beat the clock. Even after watching the correct way to win the level, it would take me several more tries. I love a challenge, so I was determined to beat every level. After many hours and days, I finally beat them all (Level 41 took me several days to finally win). I absolutely got my money's worth on this game and wouldn't mind a sequel.
October 15, 2013
It was OK
This Game is very similar to Royal Envoy, except that Royal Envoy is better. I was hoping it would be similar to "My Kingdom for the Princess" but no such luck. Unfortunately, it does not have a "No Timer Option." Surely Game Developers can give us the Option of playing without a Timer, especially for people with Arthritis in their hands like me. If it had a "No Timer Option" I would have purchased it but without it NO BUY from me.
February 18, 2013
Same as Royal Envoy
I have found that this game is pretty much the same as Royal Envoy but Royal Envoy is better. You have a lot of clicking to do and there is not the same feeling of organisation where you can plan your tactics to win gold time. It seems far more haphazard and not nearly as well thought out. I do not know if I will finish the game, I have bought it, but maybe when there is nothing better to do I will go back to it and try again
March 1, 2013
Not for me
Obviously a lot of people like this but I found it irritating. I love MKFTP and Royal Envoy type games but this was just too saccharine with the donkeys and everything - for me it passed the boundary from being amusing to being annoying. Disliked the fussy graphics too. So I am unlikely to buy it. Much prefer Green City which I have recently bought.
March 14, 2013
Not the best time management game
The graphics are well-done, but compared to other TM games, I found the gameplay dull. There are too many possible symbols at each building, and it's not obvious what they mean. It felt like a lot of random clicking and waiting. TM games are my favorite, but I won't be buying this one.
March 17, 2013
Cute, not the greatest, but cute...
I keep hoping for a great time management game. Loved the Royal Envoy games, the My Kingdom for the Princess games, the Roads of Rome games, etc. However, Northern Tale seems to be the only one that's come out recently that I've enjoyed much. Most of the games coming out these days seem to be hidden object/adventure ones. Sure, those are good too, but we need more good time management ones! This one is cute, and has some potential, though it's not quite up there with the ones I mentioned above. The graphics are okay, though not great. They're not quite as good as some other games, but they're not bad either. There's no voiceovers to comment on, and the music is okay, though again, nothing to write home about. It didn't annoy me, but it didn't stand out either. The storyline isn't fabulous, but it's not awful either. Basically, it's overall an okay game, but again, not on par with some of the really good ones. The gameplay is really similar to the Royal Envoy games, and the graphics sort of remind me of a poorer version of the graphics from that game. Your builders, however, are donkeys that look remarkably like Shrek's friend. It otherwise plays in basically more or less the same fashion, though it's not quite as challenging, and doesn't have some of the variety that the Royal Envoy games do. There are some slight differences compared to the Royal Envoy games, such as how the market works, but it's otherwise very similar. If you've played Royal Envoy or Royal Envoy 2, this is sort of like a cheap version of those - okay, but not nearly as good. Rather than earning a gold like in other games along the lines of this one, you want to try and complete levels before the sun goes down so you can earn sunlight to improve the throne room. You can't choose the improvements, however, they're automatic. There is no option to play it untimed, though it's generally not too horribly hard to finish it before time is up. Since I've always finished it before time is up, I can't comment much on what happens afterwards. And your upgrades/bonus help/whatever you want to call them (such as speeding up how fast the workers/builders walk, that sort of thing) are earned not by just filling up on their own over time, but by clicking on stars that pop out of the buildings every now and then. Ultimately, since I had a coupon I'd earned for a free game, I went ahead and bought it. I'm not sure I would have gotten it without that, though. It's enjoyable, but since it feels like a cheap version of Royal Envoy (with bits from a few other games thrown in), I can't say I would have paid for it. So if you've got a coupon to use up, or just really want a time management game to get a bit of fun out of (and then have around for your kids to enjoy), go for it. I'd recommend it with the caveat that I'm not sure it's actually worth paying for, but it's cute.
February 23, 2013
It's a "Royal Envoy" game type
Nice game. Cute characters. Strange storyline. It's ok.
April 12, 2013
Sweet game.
It's was nice, sweet game. Good for beginners Wouldn't buy it myself but it's cute.
February 18, 2013