Death Pages: Ghost Library
Exclusive
You come to the city library to investigate the case of three teenagers gone missing. It turns out that the former owner of the library, the Alchemist, kidnapped the souls of three readers and planted them in the book "Romeo and Juliet". They are to live the lives of the main heroes but you can stop the tragic ending! Wander the gloomy halls of the library, travel to the medieval streets of Verona, discover the Alchemist's insidious plan and save the children!
Engaging storyline
Wander Shakespearean Verona
For a more in depth experience, check out the Collector's Edition
Game System Requirements:
OS:

10.8/10.7/10.6

CPU:

2.5 GHz (INTEL ONLY)

RAM:

1024 MB

Hard Drive:

619 MB
Game Manager System Requirements:
Browser:

Safari 4.0 or later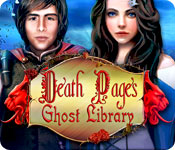 NEW299
The Big Fish Guarantee:
Quality tested and virus free.
No ads, no adware, no spyware.

Reviews at a Glance

Death Pages: Ghost Library
0
out of
5 (
0
Reviews
Review
)
Customer Reviews
Death Pages: Ghost Library
36
36
fun and entertaining but?.
I played the standard version and not the collectors edition so I am not sure how the two games differ but the standard was entertaining to a point. The plot was a unique one and I had high hopes but it sort of fell apart at the end. What exactly did the puppet and the scary man have to do with the game? The hidden objects were not your ordinary HOS they were replacing items in scenes. While I did enjoy the game the mini games were easy, some so very simple a two year old could play them. If you have a free game to spare then consider this game but play the trial first.
April 2, 2014
IGNORE my Review of the CE version. PLEASE
I played and reviewed the CE version of this game (very positively). But in reality, while I purchased the CE, I played the SE because I didn't play the Bonus Content and that, along with strategy guide are the only significant differences I detect (unless you really like wallpaper). I must have had a cocktail or two too many when I wrote the CE review. Clearly I was in a good mood. Here's the real deal: This game is poor. And it's a huge surprise coming from Elephant Games IMO. There are good examples of "time travel" with games taking place in two different time continuums. Angelica Weaver: Catch Me When You Can is an example of excellence in this genre. Ghost Library is not. Where did this fail? This game is divided between Shakespearean times and an undefined "present day." I think you have to be faithful to the realities of the time period you're in. Here's something that happened in Ghost Library: while in the Shakespearean portion of the game the player has to "create" an ultra-violet lamp. Well, that's completely anachronistic. When I reviewed the CE, I suggested that the whole game was greater than the sum of its parts. I've completed the story now (less the bonus chapter) and I can tell you I'm wrong. The individual parts told the whole story: a. Poorly lit, unexciting HOG. Yes they tried something NOT THAT DIFFERENT anymore: you place an item where it belongs in the scene rather than finding an item. The problem is that many times in this game you could place an item almost anywhere and it would have been at least as appropriate as the "right" place. The concept was good, the execution not so much. b. The back and forth, back and forth, back and forth, back and forth. Tired of me writing "back and forth?" Try doing it in the game CONSTANTLY. It got old. c. It is humorous to me that there is a sliding scale in the options section to determine the volume of music. There is hardly any music so your decision is moot. This is too bad. I just completed a game, Shiver: Poltergeist, where the music is absolutely brilliant to the point where I thought it really contributed to the storyline, the feel of the game and importantly, my enjoyment. d. The puzzles were facile and uninteresting. This little vignette was referred to as a puzzle: in the normal course of game play you find a series of numbers and choose them, exactly as written, on number reels to open a lock. Puzzle??? In its favor I will say that every puzzle had a reset opportunity and every puzzle gave the goal. Not all the the directions were great, but at least an effort was made. e. Two things were meant to represent the storyline and hold it together: a) saving kids in the current day from a creepy-evil clown-like character whom you had to defeat by b) changing the unhappy endings of Shakespearean stories to happy endings. The premise has promise. They just didn't bring it home. Not even close. I recall one reviewer who said the clown-like character scared her so much she nearly "wet herself every time he appeared." If this character scares you, you cover your eyes during episodes of I Love Lucy. There was nothing scary about him or about the game. AT ALL. Nothing exciting. NOTHING. f. Finally, I have to write this because wrong is just wrong: there are many instances where the textual parts of the game are incorrect grammatically. They betrayed a lack of understanding of English idioms...or, they were just typos and absolutely should have been caught in editing and review. That these errors were not caught and fixed is an insult to the English-speaking audience which pays a lot of money to support the developers, retailers (BFG), etc. Get it right. While everything else here graded out as a two by me, I gave challenge a three. I know this is going to sound mean, but so what, I wasted my time playing this game...the extra point is because it was a real challenge to stick with this game to the end of the regular section. As I said, I won't even try the bonus gameplay. Having to play this game one second longer is NOT a bonus. Do NOT buy the CE. Do NOT buy the SE. Don't waste your time, your money or even a free coupon on any version of this game. And finally, please, please forgive me for the stunning review I gave this five days ago. Sometimes I recommend games which I don't personally like but I can see that others may love. For instance, I don't enjoy an overabundance of HOS. Others LOVE them. If they are well-designed HOS I'll still recommend the game because the HOS Lover will love the game even if I don't. I'm sorry to say that nothing in this game has earned a recommendation of any sort. It has earned the distinction of, perhaps, being the worst game I've played in the last year. Let me apologize in advance. It seems like negative reviews are frowned upon here. Negative reviews are almost always voted on overwhelmingly as "unhelpful." I have tried to tell you why I don't favor this game and I'm just being honest.
June 8, 2013
I've played better
I just played the demo, not the full game. I had three problems. First, lot's of running around. Seems to be the new trend. Back and forth between two worlds. Time consuming and annoying. Second, on casual setting, mini games way too easy. Here is a bookshelf with 8 books with Roman numerals and one book missing. When you put the missing book in, all you have to do is arrange them numerically. The other "tough" one was a jigsaw puzzle. Maybe the games play different on more advanced settings, but these were way too easy. Third, I just could not engage myself in the story or related to the characters. Once you got the story setup in the opening, little plot advancement during the time I played. The HO scenes were take an item in inventory and place it in the appropriate place in the picture. I find I do better with a list of words of items to find, but maybe that's just me. I knew early on I wasn't going to buy, but wasn't even impressed by the "free" part.
February 20, 2013
Not for me
I couldn't finish the demo; this game is boring. The music is real dramatic at times and then dead silence. It had me going back and forth, to the point that I forgot what my goal was. It's kind of silly. I won't be buying this one.
February 20, 2013
Must Be an Old Game. Inventory Section Doesn't Lock
Wow, what's with the Inventory section that won't lock down?? After several minutes of playing this game, I had to stop. The constant moving up and down of the inventory was actually making me dizzy. Plus, I couldn't concentrate on the game. This must not bother many people because I see lots of 5 star ratings. But as for myself, I just couldn't put up with the constant movement of the inventory.
October 22, 2014
Awful
Such a disappointment...it could have been a great game. It was easier on Hardcore mode than some games I've seen on easy. Story did not flow...actually left me bumfuzzled at times. I hate to not finish a game, but I'm afraid I have to ditch this one. IMO, it's that bad.
February 27, 2013
The Apple logo is a trademark of Apple Computer, Inc.
The Windows logo is a trademark of Microsoft, Inc.