Surface: The Soaring City
Exclusive
Search for your brother, Jeremy, in a beautiful world where the sky is as wide as your imagination in the Hidden Object Puzzle Adventure game, Surface: The Soaring City! Jeremy was a great inventor who discovered a magnificent land soaring in the sky. He created wings for the people, making them free. The new citizens were happy...until one day Jeremy was kidnapped and blamed for conducting inhumane experiments. It's up to you to save your brother from imprisonment and redeem his good name.
Game System Requirements:
OS:

10.8/10.7/10.6/10.5

CPU:

2.5 GHz (INTEL ONLY)

RAM:

1024 MB

Hard Drive:

751 MB
Game Manager System Requirements:
Browser:

Safari 4.0 or later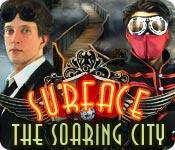 NEW299
The Big Fish Guarantee:
Quality tested and virus free.
No ads, no adware, no spyware.

Reviews at a Glance

Surface: The Soaring City
0
out of
5 (
0
Reviews
Review
)
Customer Reviews
Surface: The Soaring City
55
55
Great addition to the series
Review as usual of finished game - here the CE - the plot is 100% tied up here in the SE version, if it wasn?t I wouldn?t recommend it to you. See below all the extras they have in the CE (that IS NOT in this SE version ? to help you make up your mind SE vs CE) Elephant is back at the flagship of the series ? surface ? their stand alone series (you don?t need to have played any of the other games in the series to understand this one.) I say that over their Mystery trackers series as they always seem to have put more effort into surface ? never repeating old areas, new transporter maps. Although for the first time in surface history you do go back for a short while to an area, you were in previously. I know I?m nitpicking but I wish they didn?t. I did love this game, surface has a different feel than their other games and even from each other. Although the first one IMO is the best and the second one was close - this for me didn?t beat them but as the first surface (mystery of another world) is in my all time top 3 HOPAs and the second is a close favourite, it?s hard to top! When Elephant games is at their best, it clearly shows ? you can take any scene of a game and know immediately it?s an Elephant game and you are never reminded of any other game (even their own) as it?s so different and unique. That for me makes the difference between a VG good game and a truly great game, which this one is. It doesn?t at any time feel formulaic, it felt fresh and different and for a jaded (seen it all before HOPA player) that?s hard to accomplish. They put the effort into this game. I replayed this game and thought about if I was a SE player with all the trappings stripped away would I still love this game? And even though all the many trappings in the CE was the cherry on top, I still did, so it?s not like I?m seeing the SE game through the rose tinted glasses of the CE game. After the many fairy tale games, this may seem more male driven with elements of steam punk but it?s very clever as there is a more feminine thread of a storyline throughout so again it appeals to both sexes. I?m not at all mechanical and I don?t think there is much of that at all in it as I don?t like that and I as a woman loved it. I will say it is a bit slow going at the beginning of the game, although frequently I find elephant games get much better after the demo. There are no witches, demon possession or anything like that in this game. The transporter map is a bit different as it?s not entirely new ones, but more a scrolling one with old areas locked and then hidden. As usual with elephant they still give black bar tips and map tips on hardcore which I wish they didn't. You can always change the mode of play during game. The live actors which I love they still need to work on the lip synch. If the game is going out in English can?t the lip synch be in English? The voiceover is in English. 25 PUZZLES (all the ones that had a skip button on them) I nearly despaired at the puzzles at the beginning of the game as they were so easy and so mundane and also at the small screen most of the puzzles seem to be in. I like full screen puzzles. But then I noticed that one of the extras (in the CE) was all 15 puzzles unlocked and I realised a lot of those puzzles, although they have a skip button on them aren?t technically puzzles but more interactions that they put a skip button to, in case people who hate puzzles want to skip them. So if you view them instead of just using a key, or putting an item on a box to open it, it is more interesting than that. It wasn?t till a fair bit through it, I found a couple of fun not that hard puzzles. I loved the hamster one. Most of them though were just OK only a few I thought was really fun. I do wish most of them were either a bit harder as the first surface had more puzzles that were about a medium in them or more that were different. At least there were a few that were different later. Challenging game seems to be dying out as more devs are catering for a wider range of people. So those of us who like that have now nowhere to go to although later on the gameplay did get more challenging as it went on but that was more memory. So I did think the puzzles could be more challenging like some of the other surface games. I gave the CE 4/5 on hardness scale for a HOPA because of getting all the collectables was hard - so that's why this gets 3/5. 12 HOS As usual, no repeats, no random click penalty, no sparkles on HOS on advanced and here it?s all list type and you need inventory items on them. If you are a stuck at one come back later when you have more inventory items. I?d say all of them were junk pile but at least colourful. Most were well defined but I have noticed of late that some items don?t have as sharp edges to them which is a shame. GRAPHICS Cutscenes were mostly pixalated or a bit blurry (some weren?t). I don?t know if that is because they are trying to get the game into the smallest download but I do wish they would then offer two different games ? one uncompressed for us who have unlimited broadband. They haven?t had that in previous MT or surface games so don?t know why that is. Below is what IS NOT in this version (so skip it if you don?t want to read it, sorry can?t do spoilers here) CE extras Achievements Collectables ?Philanthropy? (area you can spend your collectables on ? great addition) Screensavers Wallpaper Concept art 15 unlockable all mini-games 4 music 4 bonus video Bonus chapter SG main game was over 5 hrs (on hardcore so no hints, skips etc) I did think the others were a bit longer. I loved it all - I really recommend the CE as for once it?s really worth it but if not, SE should please and plot is all finished in this version.
February 22, 2013
Fantastic HOPA! Soar to new heights with this one!
Captivating and creative! Your attention will be engaged from the first moment. Another amazing addition to Elephant's Surface series. The storyline is fresh and appealing! A pleasant change from fairy tale scenarios and supernatural darkness. When your scientist brother is kidnapped at an airshow while unveiling his greatest invention, your quest begins. Find him and save his floating city. A strong sense of urgency develops as the game moves along at a fast pace. The suspense is almost tangible. Vivid cutscenes, live actors, realistic voice overs and dramatic music contribute to an energetic and compelling adventure experience. The colourful graphics and ambient sound effects enrich a story that plays out against a brilliant blue sky. A feast for the senses! There's a transporter map with task markers and a journal. The hint feature recharges in 45 seconds and indicates the next action required, so you won't miss the SG. There is plenty to do in each location and, with three modes of play, the level of challenge is entirely in the hands of the player. The interactive HOS use items from inventory, and the puzzles are simple but fun to solve. This game is pure entertainment. Give it a try and find yourself immersed in an imaginative and fascinating adventure. Enjoy!
February 22, 2013
Finally!
I had been waiting for this one after the CE came out. I'm a big fan of the Surface series. Mystery of Another World CE was the first BF game I ever bought. actually it was the only CE I'v ever been able to afford, with the "New Customer" discount, lol. This, the 3rd game in the series, is just as good as the first two. The puzzles are new and surprising, They had some really great ideas for those puzzles. The best puzzles I'v ever played in a game. I didn't have to skip any and some of them took some tricky thinking. One in particular that wasn't really challenging but very fun was the labyrinth puzzle. That was neat. The HO scenes were few and interactive. I don't like too many HOs in a game so that's a big plus for me. The story kept my interest and it lasted for quite awhile. Took me 6 hours. The voice overs were well acted and skip-able. I don't think that it should get negative reviews for not having the lips sync to the words since its originally in a different language. They shouldn't be expected to film 2 versions of the actors speaking in both languages. I also don't know how people can guess the length of a game based on its demo. They don't always have the same percentage of the game in each demo. I feel bad that some people are missing out on a great game based on a guess. I'm so happy with this series. I think I'll go back and play the first again. I HIGHLY recommend!
February 22, 2013
Another great Surface!
This game has a lot of activities throughout, although collectables and achievements are only available in the collecters edition. There are a ton of puzzles and most of them are simple, such as placing tokens where they belong beginning with man on the ground, a kite in the sky all the way up to the moon. There aren't a lot of HO's but they are interactive and some of the items will be used from your inventory to complete the HO scene such as there will be a vase in the HO scene and you will have to click on your inventory list to retrieve the rose you collected elsewhere in the game then place the rose in the vase. There is an excellent hint system that tells you what and where to use items or where to go to find that item. You will also have a map with tasks. There are many things to do and almost everything you find will be easy to figure out what to do with it and most items are used fairly quickly and within one or two areas. If you like the collectables:flowers in this game, or achievements go for the CE if not this SE is an excellent choice.
February 22, 2013
Finally it's here!!!
I have been waiting for this game to come off Collector's and it is finally here!! It is one of the most beautiful games (if not the most beautiful) that I have played. Elephant Games comes through yet again. The music, voice overs are really good. The game itself is so much fun to play from the strategies, games, locations, etc. Everything about this game is well worth buying. It is a game you will play over and over and learn something new every time. Enjoy it, I certainly will!!
February 22, 2013
Best Game Ever!!! Loved it!!! Highly recommend it!
This is by far the best game I've ever played! Great story line and the whole game ties in with the story, a true adventure! Even the HO scenes are actually part of the story line which is rarely seen in other adventure games. The game flows logically and smoothly except on 2 or 3 occasions when it gets a bit over creative, hahaa. Another good thing about it is that it doesn't make you run back and forth in a complicated and large map like a chicken with it's head chopped off. Graphic is great! I played on a 27" monitor and it is still clear and sharp and no distortion on widescreen. The bonus game is nice but it's a bit hard to follow either because I was totally brain dead by then or it is genuinely hard to work out what to do next. I practically had to use the Strategy Guide to guide me through the entire bonus game. Overall, this game sets a very high standard for the others to follow! This is what an adventure game should be - takes you on a journey rather than filling it up with meaningless tasks and loads of HO scenes.
February 23, 2013
Another good ERS game
Just like the others this one is fun and not that hard to play. The graphics and voice over are good and has good music. Has a good flow and the HOS are different. The puzzles are good also. The hint button is very helpful if needed and has a map. Good game. There is some going back and forth but they all do now. The HOS are not bad and the puzzles to me can be some hard and some not. Good game.
February 22, 2013
The developers at Elephant Games have done it again! This game is a keeper!
Based on the SE version, this one of the most creative and intriguing games I've played in a long time. A multitude of things to do--tricky in some places, but pretty much a breeze. Well-written story, fun and adventuresome. Awesome cut scenes, real people-great acting. Graphics and special effects are terrific! This game flows and grabbed my attention from the get-go. I'm only sorry I didn't buy the CE. You have everything you need in this game and then some. If you want details of the story, read some of the other reviewers' great comments or read the synopsis from BigFish Games. I highly recommend it!
July 5, 2013
Loved it! I want wings!
This one is really good! 3 game modes, great story. The graphics are crisp, the objects in the HOS are easy to find. The mini-games are on the easy side, but interesting. The hint system is good, telling you what to do. There is a journal and an interactive map, allowing you to jump to a location. It's not the longest game, about 4 hours without skipping, but it's really worth the money. I hope, there will be another "Surface"... I just can't get enough....!!!
March 1, 2013
unique and creative
This is more adventure than HOS but that's what I enjoy most. I loved the interaction between the on screen characters and the narrator character. Can't wait to buy this one and get to the end of the intriguing story. HOS were average, not too hard and the challenge level of the demo was fairly easy when played in casual mode.
March 4, 2013
The Apple logo is a trademark of Apple Computer, Inc.
The Windows logo is a trademark of Microsoft, Inc.