Pirateville
Take on the role of Jack the Sharpshooter, a handsome pirate with a penchant for gold. When Jack stumbles upon an ancient casket, his curiosity is piqued and he sets out on an adventure full of magic, love, gold, weapons and a Cursed Ghost. Unravel the secrets of the ancient casket by finding Hidden Objects and get ready for the most astonishing ending!
161 levels to play!
Gorgeous graphics.
Intriguing pirate story.
Game System Requirements:
OS:

Windows 2000/XP/Vista/7/8

CPU:

600 Mhz

RAM:

128 MB

DirectX:

8.1

Hard Drive:

59 MB
Game Manager System Requirements:
Browser:

Internet Explorer 7 or later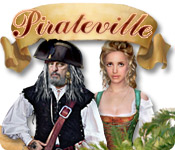 NEW299
The Big Fish Guarantee:
Quality tested and virus free.
No ads, no adware, no spyware.

Reviews at a Glance

Pirateville
0
out of
5 (
0
Reviews
Review
)
Customer Reviews
An Oldie but a Goodie
Don't let this game's age and file size fool you! It's fun, fun, fun! It's one I go back to repeatedly. It is straight hidden object, but has a story line that will keep you giggling. It's campy from beginning to end. The hidden object scenes aren't a cake walk - and this pre-dates the rechareable hint days; so use your hints wisely and enjoy!
November 16, 2011
Long lasting, straight hidden object game
I love that this is purely a hidden object game. No puzzles or collecting items to solve a puzzle. The game seems rather old so the graphics are not very good, making the hidden objects sometimes challenging. Overall good game to add to your collection.
December 19, 2011
Its good looks can't make up for poor quality
For some strange reason, I have an odd affection for this straight hidden object game. Maybe it's because it's been trashed so much in the forums (and for good reason) that I had to see for myself just what was wrong with it. And I wasn't disappointed. This game may be old but it's not THAT old that modern technology couldn't have been utilized better. Pirateville is an earlier effort from a developer whose games have, fortunately, gotten better over time. The mechanics of Pirateville are awkward at best, which make for annoying gameplay since the game itself is quite long. Instead of using voiceovers with printed dialog in paragraphs which we could have easily listened to and read quickly, we have to click after every individual phrase or sentence that's being said. This goes on whether the character is thinking to himself or talking to another person within a conversation! You're constantly clicking through each conversation and it's because of this that the game seems to take so long. Why was it done this way? If you can include the written word in the game at all, why didn't you design the conversations better? They don't flow when you have to click each sentence back and forth between characters. Another thing is that there are five levels within each chapter (called "stage" here) that gets boring real fast. You have to do a variety of minigames to proceed with the story. The puzzles themselves are fun and varied but you just have to do them SO MANY times over the course of the entire game that it becomes redundant. You also get a snapshot of all the stages that you've completed on the right side of the map, but if you accidentally click a stage that you've already done, you have to do it all over again! This is a major design flaw and is unexcusable, in my opinion. Why show your completed stages at all if you can make a mistake like this only to have to repeat your actions? Not only that, there are numerous spelling and grammatical errors throughout the printed dialog, which take away credibility of what quality control there was in this game, as well as mislabeled items in the HO scenes. This is probably the worst of the errors since you'll be looking for something that's not there because it's not what they have listed. Like someone already said in the forums, they'll list teapot when they mean kettle in one scene, then list kettle when they mean pitcher in another. Another kind of error is when they list elephant when they mean hedgehog. And so it goes. Yeah, this adds to the long game length too but in a bad way. The developer is a foreign one but that means they need to work harder to sell their games to an English speaking audience. Their translator is poor when too many words are used interchangably or when it's so obvious when one kind of animal is not another. Scenes are also timed but you get more than enough time to complete your tasks, and the limited hints are not the refillable kind. Still with all its many flaws, there were some things that I actually liked about Pirateville. Since the game has a pirate theme, all the items are appropriate to the time period, which I appreciated. There are many characters who are all very well drawn and have their own quirky personalities. This developer is known for their snarky sense of humor and it's represented well in each character's relationship to the main character, especially the one between the main character and the fortune teller. Each of these relationships are well developed and moves the story along. It's just too bad that no voiceovers are included as this would have leant so much more appeal to the game overall. The game is story driven and is its strongest feature. The two women characters are very attractive. Unfortunately, the same can't be said for ANY of the men, but all the characters look like photographs of real people. The scenes are all very colorful and pretty overall, which is always appealing to me and a big selling point for me as well. I loved the artwork, story, and music overall and the music sounds appropriately seafaring. I didn't think the HO scenes were junkpiles at all as the items were usually right there albeit mislabeled at times. The minigames are fun and varied overall, but some show up too frequently for my taste, like the "spot the differences" one. You get that one a lot and it becomes tedious when you've just completed it a few minutes ago. The other games you play are jigsaws where you swap or rotate the pieces, finding the pairs (to increase intuition), changing letters around to decipher a message, and collecting multiples of a single item. Other games are a memory game where you find matching pairs, a card clearing game where you fix broken things, and looking for silhouettes which are frequently of a different proportion or in a different orientation than that pictured. The three screenshots shown on this page are reflective of what you'll see in the game overall. And if you're even remotely interested in checking out Pirateville, you'll know for sure within the first few minutes of the trial whether you'll like it or not. I knew about this game's flaws before trying it but I'm a sucker for lost causes and felt I "owed" it something so I played it. I played the entire thing for free on another site but would like to have it for my own someday since I like it just "enough". I'm just in no hurry to get it yet so I'll wait to use a coupon or one of those $2.99 sales if possible. In no way should anyone spend more than that on it. This game would have been better received had voiceovers been included and not so much clicking required but since it doesn't, it'll have to stay in the clearance bin. With all that said, there are just too many flaws in the game for me to recommend it to the great majority of gamers out there who want quality with their fun. Pirateville doesn't provide enough of either for the majority. There are better games out there.
June 9, 2013
an ok game
it's not like the awakening moonfell or other games. the difference being there isn't much of a story. I can't pin point what it is that makes the game not as good as others. it still was fun to play just because I like those kind of games.
May 16, 2012