Silent Scream II: The Bride
Exclusive
Jessica would never imagine that her big day would turn out to be a nightmare; they had an accident and Jonathan McNealy, her husband, is missing. Things just got more and more bizarre when she encountered a mysterious girl who seemed to be leading her to Jonathan. Jessica had a feeling that the girl was connected to Jonathan. Did she cause the car accident in the first place? Return to the abandoned mansion and search for clues in Silent Scream II : The Bride.
Re-playable cut scenes
Engaging Mini-Games
Interactive tutorial
Hints/tips for every puzzle
Twisted storyline
Game System Requirements:
OS:

Windows XP/Windows Vista/Windows 7/Windows 8

CPU:

2.0 GHz

RAM:

512 MB

DirectX:

9.0

Hard Drive:

608 MB
Game Manager System Requirements:
Browser:

Internet Explorer 7 or later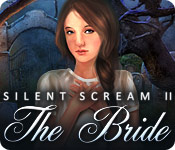 NEW299
The Big Fish Guarantee:
Quality tested and virus free.
No ads, no adware, no spyware.

Reviews at a Glance

Silent Scream II: The Bride
0
out of
5 (
0
Reviews
Review
)
Customer Reviews
Silent Scream II: The Bride
62
62
Same story, different day...
Well, I don't remember the first game and since I don't have it in my "collection," I must not have cared for it. This game isn't bad, not exceptional, but not bad. Graphics were a bit fuzzy and very choppy, cartoon like movements. Game play was nice, but could have moved a little faster. Music was very annoying very quickly (this is why I turn down the music in the beginning, so I only hear it as a light background sound). Voice overs nice, but very few and far between. Hint button not bad and fills fairly quickly. HOGs very simple and a bit messy, but easy to find items (who puts dog food and seashells in their bathroom cabinet?). Games typical, but skip button is extremely slow to fill (can't stand the "move this from this side to that side" game). There is a lot of unnecessary running back and forth for one item. Saw what others were talking about with the rat, but you don't know that it was killed. I choose to think he got away...even though I hate rats! This game is not challenging at all for a seasoned gamer, but would be nice for a beginner, or someone who just wants a "ho-hum" game for a change, which I do occasionally, and this is the only reason I am recommending this game. For what it is, this is not a bad game and since I have a pile of credits to get rid of, I will use one for this game. As always, try it for yourself and see what you think. We all have different tastes in games and you may find it completely to your liking. Thanks for the reviews.
February 23, 2013
Interesting
Much better graphics than Silent Scream: The Dancer, which I really did not care for. This one has a better story line and a few twists and turns. The transactions in action are too slow, but overall an enjoyable game. A bit "film Noir", but nice HOGs and not too challenging games.
February 23, 2013
I love this game.
I found it hard to win the catching mouse minigame. It's a smart mouse. Haha.. But, i do really love this game. I recommended this game for Hidden Game Object Game Lover. I wanna test to play the nightmare mode. Hope that i could catch that mouse.
February 25, 2013
its fun game
its fun. best hidden object game.
February 24, 2013
MUST PLAY..!! The Storyline is Unpredictable..!!
It took me several hours to complete the game. It has quite challenging minigames. I love the storyline. Recommended for HOG Lovers..!!
February 25, 2013
Way too short
First, the good: Lovely scenes and HOS's. Pretty okay puzzles, and a good storyline. Good effects. Sadly, the scenes were not fully used, and other than HO's and a very few places where you get to use something to complete a scene, most of it was wasted. Very short game. I would NOT have spent my money on this had I known how little enjoyment I would get from it.
March 4, 2013
Wow! Didn't see that coming.
I totally enjoyed this game. The graphics were great and the cut scenes were good. Most of all I liked the story and totally did not see the surprise at the end coming. It does not have the polish and all the bells & whistles that many newer games have but the story kept me engrossed. The HOG's were somewhat difficult but not because the objects were too small. The mansion was a nice change from the creepy falling apart wrecks that are the norm. I don't recommend for younger players.
February 27, 2013
Another Suprisingly Good SE HOPA Game
Silent Scream II ? The Bride is a very nice surprise. I read some of the early reviews in the forum and I have to disagree with many of the negative reviews. I decided to download the game and try the demo and after about 40 minutes decided that I will buy the game. Although it is not a spectacular game it is very enjoyable and a good HOPA game. I found myself being pulled into the story. Yes, it is mostly a HO game but I love the genre. In 40 minutes I encountered 1 puzzle and hope to find more. The HOS are slightly interactive and very nicely done. I found most of the hidden objects of respectable size and not too much trouble to find, although I did have to use the hint button a couple of times. The game has voice-overs in the beginning but am not sure about later in the game. The graphics are excellent and crisp on my laptop. The game automatically opened to fit my widescreen so no adjustments were necessary. The game is a bit spooky and I like the music. All in all, a very nice SE game that I think you should at least demo before making a decision. As for me, it is very entertaining and I can?t wait to find out more.
February 23, 2013
Didn't Enjoy As Much As First Silent Scream Review Of Completed Game
Well I'll start by saying: If you haven't played the first Silent Scream game well there is no need to do so before playing this one as this stands alone on it's own. This has absolutely nothing to do with the first game so why it's called Silent Scream II is beyond me. There is a journal. Also tells you objectives that need to be completed. There is no map. 2 play modes: Thrill and Nightmare mode. The Thrill mode is what I played. Does have sparkles and black bar tips. The Nightmare mode states no help at all no sparkles, black bar tips, hints or skips. What kept me from playing the Nightmare mode was no hint or skip as I do like that available if needed. Hint is also helpful outside of HOS as it will direct you were to go. Charge up pretty quick. Skip is slow in my opinion taking about a couple of minutes. HOS: Lots of scenes here. More than 20. Sorry I didn't count this time. Usually I do. I did 10 during the hour demo time. There is some interaction here. Also a find so many tomatoes and carrots scene. You also revisit the same scenes at least twice though there are quite a few different locations to go to. You also find different items however some are the same as you found before on the list. Inventory: You do have to combine some items to use them and some are pretty much used right away some not. At times I had quite a few in inventory. Puzzles: Not a whole lot of puzzles to this game and nothing I would call really new from other games. Game length: Just about 4 hours. May be more or less for you. My overall impression: I thought the graphics were quite nice, crisp and clear however I wish the developer would of stuck with the hand painted cartoon/hand drawn like in the first game. I really liked those. Voice overs not bad but not great. Jessica I found a little annoying. I'll also say the game play was much more user friendly I guess you'd call it than the first Silent Scream as you're able to pick up items and not have to wait until they are needed like in the first game. I did find the sparkles a bit overkill in this game. I just wish all developers would give a hint/skip button and let the game player decide when/if they need it. This game also could of used a map in my opinion as I did get hung up a couple of times where to go/do next. The HOS no problem here as I located most of them pretty easily and this part of the game moved right along. Only a couple of hints cause the items were towards the edge of the screen. Some may consider this Sanford & Son junkyard pile however I don't. The puzzles I did them all but 2. I could of did without the "trap the rat" and the bug puzzle. I found these downright annoying especially the rat since I do have a rat/mice phobia. I couldn't skip this one fast enough. The story line itself I had no problem with though yes it's been done before however as I moved along just didn't make much sense to me. Also no where near as eerie as the first Silent Scream. I honestly couldn't wait for it to be over and 4 hours was definitely long enough for me. I kept hoping it would get better but for me no it didn't. I would only recommend it at the Daily Deal/Catch of the Week $2.99 or if you have a punch card coupon code that is about ready to expire is how I purchased this game - a punch card coupon. Thanks Big Fish and Developer. Overall 3 stars from me. Not a horrible game but not great in my opinion. I enjoyed the first Silent Scream game much more than this one. As always, definitely give it a whirl and decide for yourself.
February 23, 2013
SUSPENSEFUL STORY
Unbelievably good story to the game. Thoroughly enjoyed playing this game. It kept me on the edge of my seat wondering what was going to happen next. Quite a surprise ending.
February 24, 2013
The Apple logo is a trademark of Apple Computer, Inc.