Heroes from the Past: Joan of Arc
Exclusive
Help Joan of Arc to build a new Kingdom and change the fate of the people. Journey through beautiful scenery, relaxing music and the thrilling process of building a city in this engaging Match 3 game. Dive into an epic story of honor and courage and save the day in Heroes from the Past: Joan of Arc!
Build a medieval city
Three game play modes: swap, pop, chain
Exciting adventure
Game System Requirements:
OS:

10.8/10.7/10.6/10.5

CPU:

1.0 GHz (INTEL ONLY)

RAM:

512 MB

Hard Drive:

62 MB
Game Manager System Requirements:
Browser:

Safari 4.0 or later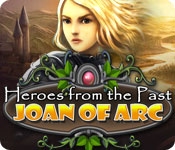 NEW299
The Big Fish Guarantee:
Quality tested and virus free.
No ads, no adware, no spyware.

Reviews at a Glance

Heroes from the Past: Joan of Arc
0
out of
5 (
0
Reviews
Review
)
Customer Reviews
Heroes from the Past: Joan of Arc
61
61
addictive 3 match game
As my title says this game is really addictive. All you want from a 3-Match is included in this game. Very entertaining. The one hour demo was gone in a second!
April 24, 2013
Nice Matching Game
Love the background music. There's 3 modes of matching you can pick from. Overall, nice game.
March 13, 2013
Fun Game
I really liked this game, it took several days for me to complete and it has 3 different ways to play the game. Its a lot of fun.
April 12, 2013
Fun game.
Not much of a story, but the levels are good. Wish it was longer.
April 8, 2013
Entertaining match 3.
Help Joan of Arc to build a city for the people who are suffering, bring shelter, food and work. You can play timed or relaxed. Story is well done, with good sound and VO. You can choose to swap, pop and chain mode. On each board has a goal, and as you earn money, you will buying houses etc. for the city. Not really challenging, but is relaxing. A game that provides hours of enjoyment.
February 26, 2013
Rebuild Joan's Village
This review is only on the demo -- I haven't decided to buy yet or not. It is based on the same premise as the Cradle of Rome and Cradle of Persia, but not nearly as much fun. You basically make matches to get money to improve the village with houses, farms, sawmill, etc. But the improvements are only based on money, and it takes a while to gather enough $$$ to make the next improvement. It does have a timed and a relaxed mode, which I like, and allows three types of matches (swap, group or chain). It has the challenges of ice squares and boxes to break, as well as powerups of axe, bomb and more. I like this game -- I just wish it were more exciting!
February 26, 2013
This game has as much to do with Joan of Arc as the man in the moon has with a nice ice cream.
I hope every one has read the real history and dosn't take a vehicle to drive a game as the real thing. Don't mind me, I love history, and I get a bit cranky when films and telly change the facts. The only thing the film Braveheart had with William Wallice is that it all took place in Scotland. Sorry, I'll put away my soapbox now. The only difference between todays game, and yesterdays is the music is much nicer today. It's an easy game to play. I think a better childrens game than for adults. When my gold standard is the fishdom games, heroes from the past pails quite a bit. Still, for what it was, it's an okay game. Oh, there's the soapbox again. Check out the music, it won't be what you expect. Found a piece by Richard the lion heart. Most depressing music Iv'e ever heard.
February 26, 2013
Player's choice of challenge
Oh, of course I bought it -- it's a Match 3, my fave kinda game! And it has some decent features? Initial findings: Timed and Untimed Modes -- can switch between boards Swap. group and chain modes -- can switch between boards Some interesting game mechanics Hidden sections you must unlock Power ups Achievements Earn coins to build the town as you play Not so great features? Not exactly Widescreen -- side bars are filled with stone walls Graphics are colorful -- not as sharp as I would like Music is repetitive Game play feels repetitive So far I am doing all the work -- not sure when Joan will show up. Follow up upon completion: The town built itself with the help of my financial support. Joan showed up periodically to laud the progress and finally to proclaim the town safe and prosperous. This match 3 was much too easy if you play it in swap mode. One of the achievements is 'Use each mode (swap, group, chain) to complete at least one board.' I tried the other two modes -- even in the beginning they were challenging; toward the end, near impossible. Does practice make perfect? Go through the entire game once and you can "Free Play" any of the 100 levels in any mode. So I guess trying to play most of the game in only group and or chain would make the game extremely hard. Maybe someday I will try that?maybe not. (3.5 stars)
March 1, 2013
Good in so many ways ... except one major thing
This game has so many good points, it's a shame that I cannot recommend it. The music is calming and lovely, the icons are attractive, the various challenges (ice blocks, chains etc) are good. You can switch between match 3, pop, and chainlink styles. You can switch between timed and relaxed. It "ticked all the boxes" or so I thought. I bought it and played for a few more hours. Sadly, after the first few levels, there is no incentive to keep moving forward. The first 4 buildings (maybe 15 levels or so) give true rewards ... a better bonus, each time you save enough gold to buy a building. Great! But the next 8 buildings do nothing but give you more gold. Each building you buy means that another type of icon gives you 2 gold per match. So you can earn more gold so that you can buy the next building so you can earn more gold so that you can buy the next building ... rinse and repeat, rinse and repeat. If there is no 'reward' for buying the buildings, there's no point ... after the first 15 levels or so, it's just a game of "can you beat the next 85 levels". Yawn. I am so disappointed. Not even finishing the game (so rare for me) let alone replaying - ever. Waste of money - I do not recommend this one. Which, as I say, is such a shame, because so many of the attributes were wonderful.
June 30, 2013
Needs a more upbeat score
Heroes from the Past: Joan of Arc has the typical match 3 set-up, but like the Azkend games, you can choose your gameplat mode of swap, chain, or block base to remove pieces. While learning about Jeanne d'Arc's endeavors to free her country from English rule during the early 15th century, but we are also popping out icon, and when we rach a certain number of icon and meet the requirement of each puzzle quest, then we are reward with a gold allotment to spend on rebuilding our medieval town. While the game can be addictive, and having the various different modes to play in makes it more challenging, especially in timed mode, I found the repetitive historical riff to be droning on, and this caused me to get sleepy. If you all want us to not quit playing your games, you need to have more upbeat music, like the fun drums in Jungo. There are many match 3 games to play out there, and I was glad I didn't go much further with this one. Keep on searching, because there are many great matching casual games out there. Even though this one has a historical lesson to be learned along the way, keeping one's interest will be a challenge with the sounds lofty recorder and lute midi-files buzzing around in your brain. Maybe the next Hero from the Past might be Shaka Zulu, even better, Shaka Kahn, and then we'll have a game worth playing!
February 27, 2013
The Apple logo is a trademark of Apple Computer, Inc.
The Windows logo is a trademark of Microsoft, Inc.