Strangestone
While researching your family archives, you discover that you've inherited a mansion! Now you and your brother are meeting your real estate agent there for an appraisal. However, something's not right about this old house. Soon you will discover that inheritance never comes easy in this thrilling hidden-object puzzle adventure game! Can you survive the night and uncover your ancestor's secret?
Incremental puzzle difficulty
Beautifully-detailed locations
Thrilling atmosphere
Game System Requirements:
OS:

Windows XP/Windows Vista/Windows 7/Windows 8

CPU:

2.0 GHz

RAM:

1024 MB

DirectX:

9.0

Hard Drive:

503 MB
Game Manager System Requirements:
Browser:

Internet Explorer 7 or later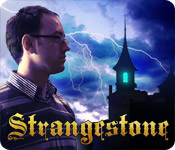 NEW299
The Big Fish Guarantee:
Quality tested and virus free.
No ads, no adware, no spyware.

Reviews at a Glance

Strangestone
0
out of
5 (
0
Reviews
Review
)
Customer Reviews
5 stars!!!
Wow, fantastic adventure, with challenging puzzles! The good: Story well developed, mix of adventure and mystery-horror, you inherited an old mansion with a spooky secret.. Music is well chosen Graphics are top notch, cut scenes are with real actors Tasks are shown, there is a map( indicated locations with HOS and available action) journal HOS are with lots of interaction, clear, sharp, it?s been a while since I?ve played so good HOS Puzzles are amazing, lots of challenging ones, some are new and refreshing some are well known but fun to solve Hint us really helpful The bad: no remarks
March 15, 2013
I really Like This Game!
So we have inherited this really strange mansion, hence the name of the place. My brother is trapped in a cage and its up to me to rescue him while solving the mystery behind the house. What we have here is a Hidden Object Adventure game with a variety of puzzles and HO scenes to play. The graphics are good, with stop-motion used duringthe cut-scene, Live actor is used and so far I have only heard him speak. I have yet to meet anyone else during the first hour of gameplay. There are interesting details that I enjoyed like clicking on the gramophone and having it play. The music is very subtel, almost difficult to make out and you have an eerie ambient sound that really allows for a spooky atmosphere. There are two play modes to choose from and unfortunately you do have sparkles for HO scenes. The one thing that I did find extremely annoying was that the task list popped up continuously and there were too many helpful hints given asto what action was required. There should have been an option to turn this off. I absolutely love the hidden object scenes; they are very interactive and fun to play. Some items were a bit miniscule and difficult to spot but I did enjoy having to put together some items within the scenes. Puzzles are interesting and some even posed a slight challenge. Instructions were a bit vague but nothing that made me pull my hair out. Overall, a very good standard edition game with an interesting story, clear graphics, interesting puzzles and adventurous hidden object scenes. What's not to like. After the first hour, I was so caught up inthe game that I hadn't noticed how fast the time went by. This tells me that the game is engaging and has definitely got my vote. Strangstone is a winner!
February 27, 2013
STRANGE
I wasn't prepared for anything spectacular in this game. and then the intro finished and the spooky gates of the profile page showed up and I thought maybe I was wrong, this could be decent. It was just okay for me, it wasn't a waste of time, but I don't want to buy it either. There are 2 modes: casual and expert the only difference is the time that the hint and skip buttons recharge. That brings me to the hint button, or lack thereof, you are on your own on that one. No stratagy guide, no map. There are a lot of HO's just about in every room slightly interactive, that brings me to another part of the game. I always try to use all features in the game to give my review and I selected to use the feature that shows you how to play the game. It's a good thing I know how to play because it only told me a couple of things to do, then I was on my own. The story itself was the same, brother and sister inheiret a mansion, they get there and a crazed lunatic nabs one of them. manical machines that need repaired etc, The puzzles were the usual turn the pipes to connect. Everything was typical and you pretty much know what everything will be used for.
February 27, 2013
SURPRISE! ITS GOOD!
Review based on trial. This game is really well done. I was expecting something that was kinda lacking in content and filled with HO scenes to make up for it. Turns out it has substance and the puzzles are fun and not too hard or too easy. The HO scenes have some space inbetween them so you don't get sick of them & they are really challenging. I don't know why, I just know it took me quite awhile to find everything. They are slightly interactive. The story is our typical "creepy mansion inheritance" story but I don't feel like I'v played this one before so its not boring. The atmosphere is kinda creepy. What I like most is that I started feeling like I was actually going through this myself. For me, atmosphere is everything in a game. You can adjust the ambient background sounds, music, sound effects and overall volume. I like to turn up the background sounds, so I can hear crickets or floorboards creaking, it adds to the creepiness. I I'm going to buy it right now. I'm actually excited. :)
February 27, 2013
Use those little grey cells
Review based on completed game Story...Brother and sister inherit a run-down house and go to meet the Estate Agent who is going to sell it for them. Estate Agent disappears and brother is abducted, so it's up to Sis to find out what's going on. This is a HOPA (hidden object puzzle adventure) Game opened in small screen [black bars at the side] but in the 'Options' I was offered 'Full Screen' which doesn't normally work for me, but did this time...looked slightly stretched but not disproportionally so on my 15 inch lappy 2 modes of play...Normal, Advanced [hint and skip button take about 4 mins to refill in Advanced mode] I started in 'Casual mode' and tried to change while playing, but couldn't...swapped to new profile to see if anything different, only thing seemed to be the Hint and Skip times Note Book and Task Journal Hidden Object scenes are cleverly done, a little bit different to the norm Puzzles [for me] were med - hard Advanced players might not like the idea of being told what to do each time they enter a room...example...on entering I was told what I had to do [ I thought thats what the 'Task Journal' was for, although I did discover later in the game you weren't told how to get there, which was a plus] or to fix something even before I had a chance to look around....clicked on a T.V. monitor and this littl box appears on the side which says 'Knob missing'...quite annoying. Sparkles indicating HOS [Hidden Object Scenes] Hint button gives you a hint but not a solution [tells you what to do but not how to do it] something which I love...when pressed I was given a 'hand print' of places to go, if you wait the 'handprints' will disappear except the one you need at the time Opinion : I liked the game, different from the run of the mill Hidden Object Games. I liked the attention to detail...example....you could replay the record on the grammaphone or you had to use 2 tools sometimes to remove or undo something...this may annoy some but I like it . Little grey cells will get a workout with this game as direction of where to go is limited....love it I came across no Technical difficulties at all. Clear ,colourful graphics Game took me about 8 hours, but I'm a slow player Recommend
March 18, 2013
Oh no! Must we pay for the sins of our ancestors again!
Inherit a mansion, and inherit your family's sins! This seems to be happening to Tom and his sister. As they approach their new property, a brief cutscene shows a doctor and a whimpering patient. An insane relative? Cruel experiments? Mad scientist sort of thing? How many games start with a journey in a car or train, a thunderstorm, and a spooky old building to investigate? While not an innovative storyline, I found myself wanting to find out what is behind it all. The game mechanics are standard HOPA. Search for items, use inventory, fix things. Journal records clues and important information. Task list shows action required for current location only. More importantly, the map does not allow jumping. Depending on the size of the game and number of sites to visit, this could make travelling around a chore. Don't know yet as I haven't finished the game. The graphics are not perfect. The HOS are interactive, with some items difficult to see. (Perhaps just my eyesight?) There are two modes of play. Hint in casual takes almost a full minute to recharge and is directional only. Not much music to comment on, but environmental sounds are appropriate. Outside, you can practically feel yourself getting soaked in the pounding rain. Entering the manor, you soon encounter a crackling fire. An unexpectedly appealing atmosphere. The game description on the BF site says the "puzzles are incrementally difficult" and I find that intriguing. It also mentions achievements but, since I had to use the hint button so often, I don't seem to qualify for any. One thing that really bothered me. In the first scene, your brother Tom is unconscious on the ground. You administer his meds and note that an ambulance must be called to make sure he is okay. Then you enter the manor and leave him outside lying on the steps in the rain while you continue your search. Going back outside to fill up your watering can, it would appear that you have to step over poor Tom to do so. Didn't like this at all. This is a game that could have been better. I don't know the developer but will hope their next offering holds more promise. As always, give it a try and see what you think!
February 27, 2013
More of the same
Dull-to-average hidden object and puzzle game. As usual, the search is focused on an old, dark, falling-to-pieces house that the player character has a connection with but knows very little about; as usual, you have to explore this falling-to-pieces house at night. The storyline is thin and rather rushed, as if the designers were in a hurry to get to the game portion. As happens all too often in such games, the art is cursed with a muddy palette and too much shadowing; the music and voices are all right but, again, are nothing special. As for gameplay, the hints counter isn't very fast; it's not the most sluggish I've ever seen, but it is on the slow side. The hidden objects can be VERY small if you have to pick up them up and place them in or on a specific object. And there's no way to magnify the objects or to increase brightness in HO scenes. It's not a horrible game. it just isn't especially good. Bottom line--if you really, really love this sort of game, it might be for you. But if you're looking for something special to spend your money on, save it for something that IS special. Believe me, this isn't it.
February 27, 2013
You inherit a cursed manor
Played 30 minutes, casual - 2 modes, casual, expert - Notebook - Tasks bottom right side of your screen, clicking on them will show you as well a map (not interactive) which shows areas of interest - Real live characters - Voice overs - Hint useful outside H0 - H0, you interact - Usual, good mini games - Very good, clear graphics - Good music and sound effects You inherit a manor, obviously there are serious problems before you can settle in... ! Up to you to solve them. This looks like a good SE, well worth demoing and spending a punch card credit on.
February 27, 2013
Strangely terrific!
Don't know why this got such bad reviews. I thought it was great. Takes some time to get into, and altho the hint system is not great, it is efficient. This game is more seek and find that anything else: you really have to look for the clues. Good story: you inherit an old house, and you and your brother go to take a look. Your brother is abducted (and taken out of the rain) but put into a cage. You need to find the key to the cage and to the mystery of the house. Lots of levels to the game, and each chapter closes out. VOS Diary Excellent graphics Puzzles were good, medium skip HOS interactive, easy on the eyes, and a pleasure to do Very good length: 5 hours casual I want to thank the Developer, Bicycle, for bringing us a nice adventure that exercised these old gray cells. More, please!
March 2, 2013
Worth Looking At
Some non CE's are just better than their more expensive and hyped-up CE games. This is one of them. In the demo there are no great surprises, but at least this game is well put together. Good graphics, not too much intrusive noise or dialogue, good sound, and story. These are always worth looking at because they can be surprisingly entertaining -- without all the fuss.
February 27, 2013