Strangestone
While researching your family archives, you discover that you've inherited a mansion! Now you and your brother are meeting your real estate agent there for an appraisal. However, something's not right about this old house. Soon you will discover that inheritance never comes easy in this thrilling hidden-object puzzle adventure game! Can you survive the night and uncover your ancestor's secret?
Incremental puzzle difficulty
Beautifully-detailed locations
Thrilling atmosphere
Game System Requirements:
OS:

Windows XP/Windows Vista/Windows 7/Windows 8

CPU:

2.0 GHz

RAM:

1024 MB

DirectX:

9.0

Hard Drive:

503 MB
Game Manager System Requirements:
Browser:

Internet Explorer 7 or later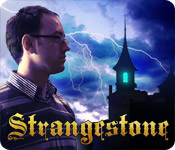 NEW299
The Big Fish Guarantee:
Quality tested and virus free.
No ads, no adware, no spyware.

Reviews at a Glance

Strangestone
0
out of
5 (
0
Reviews
Review
)
Customer Reviews
5 stars!!!
Wow, fantastic adventure, with challenging puzzles! The good: Story well developed, mix of adventure and mystery-horror, you inherited an old mansion with a spooky secret.. Music is well chosen Graphics are top notch, cut scenes are with real actors Tasks are shown, there is a map( indicated locations with HOS and available action) journal HOS are with lots of interaction, clear, sharp, it?s been a while since I?ve played so good HOS Puzzles are amazing, lots of challenging ones, some are new and refreshing some are well known but fun to solve Hint us really helpful The bad: no remarks
March 15, 2013
Use those little grey cells
Review based on completed game Story...Brother and sister inherit a run-down house and go to meet the Estate Agent who is going to sell it for them. Estate Agent disappears and brother is abducted, so it's up to Sis to find out what's going on. This is a HOPA (hidden object puzzle adventure) Game opened in small screen [black bars at the side] but in the 'Options' I was offered 'Full Screen' which doesn't normally work for me, but did this time...looked slightly stretched but not disproportionally so on my 15 inch lappy 2 modes of play...Normal, Advanced [hint and skip button take about 4 mins to refill in Advanced mode] I started in 'Casual mode' and tried to change while playing, but couldn't...swapped to new profile to see if anything different, only thing seemed to be the Hint and Skip times Note Book and Task Journal Hidden Object scenes are cleverly done, a little bit different to the norm Puzzles [for me] were med - hard Advanced players might not like the idea of being told what to do each time they enter a room...example...on entering I was told what I had to do [ I thought thats what the 'Task Journal' was for, although I did discover later in the game you weren't told how to get there, which was a plus] or to fix something even before I had a chance to look around....clicked on a T.V. monitor and this littl box appears on the side which says 'Knob missing'...quite annoying. Sparkles indicating HOS [Hidden Object Scenes] Hint button gives you a hint but not a solution [tells you what to do but not how to do it] something which I love...when pressed I was given a 'hand print' of places to go, if you wait the 'handprints' will disappear except the one you need at the time Opinion : I liked the game, different from the run of the mill Hidden Object Games. I liked the attention to detail...example....you could replay the record on the grammaphone or you had to use 2 tools sometimes to remove or undo something...this may annoy some but I like it . Little grey cells will get a workout with this game as direction of where to go is limited....love it I came across no Technical difficulties at all. Clear ,colourful graphics Game took me about 8 hours, but I'm a slow player Recommend
March 18, 2013
SURPRISE! ITS GOOD!
Review based on trial. This game is really well done. I was expecting something that was kinda lacking in content and filled with HO scenes to make up for it. Turns out it has substance and the puzzles are fun and not too hard or too easy. The HO scenes have some space inbetween them so you don't get sick of them & they are really challenging. I don't know why, I just know it took me quite awhile to find everything. They are slightly interactive. The story is our typical "creepy mansion inheritance" story but I don't feel like I'v played this one before so its not boring. The atmosphere is kinda creepy. What I like most is that I started feeling like I was actually going through this myself. For me, atmosphere is everything in a game. You can adjust the ambient background sounds, music, sound effects and overall volume. I like to turn up the background sounds, so I can hear crickets or floorboards creaking, it adds to the creepiness. I I'm going to buy it right now. I'm actually excited. :)
February 27, 2013
Strangely terrific!
Don't know why this got such bad reviews. I thought it was great. Takes some time to get into, and altho the hint system is not great, it is efficient. This game is more seek and find that anything else: you really have to look for the clues. Good story: you inherit an old house, and you and your brother go to take a look. Your brother is abducted (and taken out of the rain) but put into a cage. You need to find the key to the cage and to the mystery of the house. Lots of levels to the game, and each chapter closes out. VOS Diary Excellent graphics Puzzles were good, medium skip HOS interactive, easy on the eyes, and a pleasure to do Very good length: 5 hours casual I want to thank the Developer, Bicycle, for bringing us a nice adventure that exercised these old gray cells. More, please!
March 2, 2013
Strangestone is something else !
At last a hidden object game wich does not need extraterrestrial creatures or violence to obtain a thrilling atmostphere. I want to congratulate the whole team for the beautiful graphics. This is almost better than reality ! I have seen great scenery before, but this is something else. This game takes you through rich detailed interiors and well organized situations. The puzzles are not to difficult nor to easy. The sound and music are to the point. Subtil movements of objects and visual effects create a rich environment. This is really a joyful game ! O yeah, there's one thing: please put on somewhat more interesting clothing when featuring in a game like this...
April 2, 2013
One fantastic game!
This to me is a 10/10 game. I am truly loving it and it's a definite buy! Story: My story so far is that this brother and sister inherited a mansion and they were suppose to meet the real estate agent but do to the weather they were late and the agent was nowhere to be seen. Graphics: This team has a top notched art team. Beautiful graphics. Mini Games: Fun not frustrating. Music: Very well done and fits the game beautifully. Hidden Object Scenes: I have an Acer monitor and my H0S was clear as a bell. I could even see a needle in a semi darkened spot. Also I loved how they used on object to uncover another object. Truly loved these H0S's. Hint System: Not sure. Didn't use it outside of the H0S or for the H0S. This to me is a new developer and Kudos to them. If they ever made a CE I would definitely buy it. I think the Bicycle team are going to roll themselves into something big.
February 27, 2013
VERY GOOD ADVENTURE
Good logical gameplay, so even if you have to figure out what to do, you can eliminate anything illogical. Hint system is very helpful in pointing out activities outstanding. Current objectives are given. Items needed for puzzles are found nearby, so no long travel to use something. Like the graphics - the mansion is not dreary like many of the unoccupied buildings are in other games. Good production values. One thing that is personally bothersome is why the pills did not make the guy well enough to seek shelter in the mansion. Interactive HOS. A buy after 15 minutes and it continues to be as good.
March 4, 2014
Clear, Fun, Challenging
Entered in the Expert Mode; The hint table almost makes this easier than I believe it should be. It shows what room you are in, nothing to do there, then shows the room to play with. I will wait until I hear from others before I purchase this game. But, so far, it is quite nice. HOS clear, but not hard.
February 27, 2013
Loved it!!!
No music to speak of. Missed it especially if it soothing. Good HO's clear and just. the way I love them. Had a free game glad I just it, on this one. Enjoy. Still waiting for another great CE. In the time joining Big Fish have played a lot. Keep them coming. Waiting patiently. Thank you tons.
March 27, 2013
Loved It
Not too impressed at first, but as I got into the game, loved it. I like a more challenging aspect and as no actual hints were included, the game suited me.
March 2, 2013