Strangestone
While researching your family archives, you discover that you've inherited a mansion! Now you and your brother are meeting your real estate agent there for an appraisal. However, something's not right about this old house. Soon you will discover that inheritance never comes easy in this thrilling hidden-object puzzle adventure game! Can you survive the night and uncover your ancestor's secret?
Incremental puzzle difficulty
Beautifully-detailed locations
Thrilling atmosphere
Game System Requirements:
OS:

Windows XP/Windows Vista/Windows 7/Windows 8

CPU:

2.0 GHz

RAM:

1024 MB

DirectX:

9.0

Hard Drive:

503 MB
Game Manager System Requirements:
Browser:

Internet Explorer 7 or later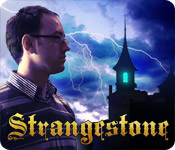 NEW299
The Big Fish Guarantee:
Quality tested and virus free.
No ads, no adware, no spyware.

Reviews at a Glance

Strangestone
0
out of
5 (
0
Reviews
Review
)
Customer Reviews
Not bad !!
I am a beginner to HOPA games, thus my review is based on a beginner to these types of stories. 2 kids inherit the family mansion. When they get there to meet the realtor, the realtor is gone (gasp). You must save your brother who was knocked unconscious while ringing the doorbell. There are 2 modes, regular and challenging. I played in regular. There are sparkles indicating hidden object scenes and scenes worth taking a look. The hidden object scenes are fairly straightforward and interactive. There is a useful journal and a task list which tells you what you should be doing next. Puzzles were fairly straightforward. The game was fairly linear in that I actually figured out what I was supposed to be doing (and that is a challenge in some of these games). I'm not sure yet if this is a buy for me, but I would definitely consider it.
March 19, 2013
Very Interactive but really nothing new.
Based on 1 hr demo play.... You've inherited a mansion and strange things start to happen once you get there...surprise! (at least you don't have a car crash...lol#. This is by Bicycle games. Never heard of that developer but I'm always up for something new. -2 Modes...Casual & Expert #I played on expert# -There is a map that shows active areas #that was helpful# but no auto-transport to other locations, although not needed. -There is a task list that tells you what you need to do #helpful at times, but I don't really like having my hand held#. This is where you'll find the map. -There is also a "diary" that gives some helpful hints. -I used the hint button in regular gameplay and it lights up areas showing which way you can go and puts lit up hands on areas that you need to investigate. There are no written clues....only glowing hands and arrows. The 2 times I used it though, I figured out what to do with no problem. -The HO scenes are very interactive, which I love! Ex: If you need to find a glass of wine.... you have to find a corkscrew to open the wine bottle to pour in the glass. The scenes are a bit cluttered, but it's not too hard to find things. I think there were 5 HO scenes in the demo & I used one hint. -The items to find in the HO scenes are pretty well known #except who knows what a "blunderbuss" is??# and look like you'd think they should. -There is a penalty in the HO scenes for clicking too much, too quickly, but penalty doesn't last long. -I think there were about 5 to 6 puzzles in the demo as well. A couple were really easy and a couple were interesting and fairly challenging. The game is pretty linear and makes sense so you can figure out what you need to do. -Music is pretty mild and not annoying. -The character #I've only seen one so far# is a real person but my only complaint is the voice actor is a horrible actor! This isn't too bad though, b/c there's not that much dialogue. The plot is interesting, albeit the usual haunted mansion, save someone type of storyline. I haven't decided whether I want to buy or not, but I really like how interactive it is, so I'll probably use a free credit to continue.
February 27, 2013
What Lurks Within the Walls of Strangestone Manor?
Strangestone is one of those surprising little games that BFG has been presenting lately as original standard editions. In this story, you and your brother are the only heirs to the estate of Dr. Strangestone and your adventure begins when you show up to meet with a realtor to sell the property. From the beginning cutscene, we can assume that the realtor has met a gruesome fate. Although I am not familiar with this developer, we have been presented with a very good game complete with great graphics, voice-overs and live actors. The music is nice but not in your face, which is something I also like in a game. At this point I have only encountered a couple of puzzles and I believe that the developer could certainly have provided more information on what we need to do to complete their puzzles. One of them was such a mess, I had no clue and had to hit the skip button after trying for 10 minutes to figure out what on earth I was doing, and that was after I read the description and knew what was expected. As is becoming very popular in the HO genre, the developer has included the almost now requisite interaction when locating some objects. I must admit that some of the items in the IHOS are almost invisible and I was surprised when I would accidentally find something by clicking around for a different object. Aside from the issues of weak puzzle descriptions and some almost invisible hidden objects, I think we have been presented with a very nice game. One of the things that I noticed with this game is that the transition from room to room is seamless and almost instantaneous, so there is no lag time when moving from one location to the next. In Strangestone there are various tasks that need to be accomplished in each area that will have dialogue pop up on the screen when we click a certain item or area. These tasks are also catalogued in the task button, which when opened also provides a map with highlighted areas where something needs to be done. For me this is a very nice game with an interesting, eerie storyline that is holding my attention and presenting a fair challenge as I uncover the mystery of Strangestone.
February 27, 2013
A game that lets you think (mostly)
This review is based on the demo. Real actors (or at least one I've seen) are used. Didn't need any walkthrough, as things needing to be done were pretty obvious. Not a lot of HOS and are interactive, although sometimes items are a little hard to find. Seems there is a lot to do. I did use the hint button when didn't know where to go next. I don't know if I'll buy this or not, but thought it was a lot of fun. And, contrary to other reviews, I thought it was different than usual HOGs.
February 27, 2013
Loved It
Not too impressed at first, but as I got into the game, loved it. I like a more challenging aspect and as no actual hints were included, the game suited me.
March 2, 2013
Strangestone is a strange and well (ho-hum) Game
Well fellow fishies, I can't wait to start this review - not! Guess What? You and your Brother (Tom# have inherited a wonderfully dilapidated mansion. If I really had a mansion for all the ones I have inherited in Gameland, I'ld have one strange Park Avenue in Weird Man's land!! You and your brother go to your mansion and Tom is immediately cold cocked, leaving you to do the searching around -alone, of course! You are given 4 volume controls and 2 game play modes. I could barely hear the music, could be my age-Ha! Cutscenes have live snaps of people that don't have any real movement. It's like edited stills. You do have a helpful task list and map. Also, a journal to keep important clues in, some of which are illegible. Everything seems rather dark and small. In the HOS games the words in the word list are sometimes larger than then objects themselves. Also they are pretty darn cluttered. The hint button is somewhat handy but slow filling. The mini games are small#really?# and usual. So far this is turning into an appropriate rainy day filler#which guess what? Your sound effects is rain!!- that I would only get as a daily or weekly special, promotional special or with a promo code. But if you have the $ to throw around- go for it !O.K., what am I forgetting? Oh yes, there are no off the chain special effects or graphics and of course the mansion is falling apart and I have spent most my game play thus far trying to maneuver my way around- alone, of course and for what I do not know yet. So, inn conclusion, it is totally up to you to see if you would like to join me in the groping around your inherited mansion. Have Fun!!
February 27, 2013
Strangestone is something else !
At last a hidden object game wich does not need extraterrestrial creatures or violence to obtain a thrilling atmostphere. I want to congratulate the whole team for the beautiful graphics. This is almost better than reality ! I have seen great scenery before, but this is something else. This game takes you through rich detailed interiors and well organized situations. The puzzles are not to difficult nor to easy. The sound and music are to the point. Subtil movements of objects and visual effects create a rich environment. This is really a joyful game ! O yeah, there's one thing: please put on somewhat more interesting clothing when featuring in a game like this...
April 2, 2013
something different
Not your cookie-cutter horror clone. Weird and interesting atmosphere drew me in. Good variety of mini-games and hidden object puzzle scenes.
March 20, 2013
They named it correctly..it's strange!
I almost really enjoyed this game. I honestly cannot say why I didn't. I got bogged down several times and that may have had something to do with it. The game, overall, isn't that bad. It just wandered around a lot and I never quite knew what I was supposed to be doing. I don't want the game to lead me around by the nose, but I also don't enjoy the level of frustration I found myself at from time to time. The music was appropriate, but I always turn music down, so you'll have to judge that for yourself. The hidden object scenes were okay, but some things were very, very small and almost impossible to see. I only used the hint button three times within hidden object scenes, and only because I absolutely could not find what I was being asked to find. The hint system was a little pokey about refilling, but it wasn't too bad. It was both helpful and not helpful. When you click on the hint button when you aren't sure where to go or what to do, it will highlight all the places you can go within a scene..so you have to just choose one and hope it's right..lol...for me, it usually wasn't. If you were in a scene and had an inventory item that could be used, the hint button would show you that. The mini-games/puzzles were interesting for the most part and, when the directions weren't really clear, there was a question mark to click on for more info and there was usually some info in your journal to help with the game. Some of them were quite inovative and others were the run-of-the-mill type - swap tiles to complete an image, put numbers in order, that sort of thing. The length of play was very good. I was amazed at how much there was to do. Each time I thought I might be getting close to the end, it just kept going, and I appreciate that. I don't want a game I can finish in an evening..I got three evenings out of this game..around 6-7 hours, but I'm a slow player, and the puzzles stymied me a bit now and then. There is a skip button that fills fairly quickly. In the story, you play a girl who has to rescue her helpless brother from a fiend of a fellow who is trying to get young again. The game has you doing that in a very round-about fashion, but you get there, eventually. Try the game..it's not horrid..it's not fantastic. It's somewhere in the middle of those two..I think it will be loved by some and hated by some, but try it..if for no other reason than lots of interesting puzzles and good hidden object scenes.
February 28, 2013
Interesting HOG
This review is based on the demo. Although this is a relatively standard HOG, I quite liked the challenges in the hidden object scenes. Some of the objects require a number of steps to pick up, and some are only visible after others have been found. If you want easy hidden objects, you might find this game a bit frustrating. The only downside I found was the somewhat jerky transition from one scene to another.
February 27, 2013