Strangestone
While researching your family archives, you discover that you've inherited a mansion! Now you and your brother are meeting your real estate agent there for an appraisal. However, something's not right about this old house. Soon you will discover that inheritance never comes easy in this thrilling hidden-object puzzle adventure game! Can you survive the night and uncover your ancestor's secret?
Incremental puzzle difficulty
Beautifully-detailed locations
Thrilling atmosphere
Game System Requirements:
OS:

Windows XP/Windows Vista/Windows 7/Windows 8

CPU:

2.0 GHz

RAM:

1024 MB

DirectX:

9.0

Hard Drive:

503 MB
Game Manager System Requirements:
Browser:

Internet Explorer 7 or later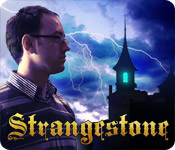 NEW299
The Big Fish Guarantee:
Quality tested and virus free.
No ads, no adware, no spyware.

Reviews at a Glance

Strangestone
0
out of
5 (
0
Reviews
Review
)
Customer Reviews
I liked it
I completed the demo and liked what I saw but not enough to buy,,,the biggest thing that irked me was when I came to the brother in the cage and when you click on him again he does the "brother" thing,,,"What are you waiting for hand me the key"--I should'a left him there. Great graphics and I did like the story line,,,I may get this with my next game credit.
March 3, 2013
Its really not that bad
This is one of those games that is more puzzle based rather than just HO's .The storyline has been done before but most of the story is about the journey through the mansion ,which is the inheritance for a brother and sister Yes there were some strange moments why leave your brother on the floor in the rain but when did logic come into game playing . The look of the interiors was quite impressive they managed to make it look creepy without being too dark The ho's are different you have to get used to moving some objects to allow you to get other objects in that respect it plays a bit like a large file game. Overall I can't decide if I like it enough to buy I will probably wait till its on a sale . If you like a bit of a challenge give it a go its one of those games you will know after 10 minutes if its for you
March 1, 2013
Cute Hidden Objects Game
Cute game, graphics were good, story line interesting, game puzzles fun, thinking of buying.
February 27, 2013
STRANGE
I wasn't prepared for anything spectacular in this game. and then the intro finished and the spooky gates of the profile page showed up and I thought maybe I was wrong, this could be decent. It was just okay for me, it wasn't a waste of time, but I don't want to buy it either. There are 2 modes: casual and expert the only difference is the time that the hint and skip buttons recharge. That brings me to the hint button, or lack thereof, you are on your own on that one. No stratagy guide, no map. There are a lot of HO's just about in every room slightly interactive, that brings me to another part of the game. I always try to use all features in the game to give my review and I selected to use the feature that shows you how to play the game. It's a good thing I know how to play because it only told me a couple of things to do, then I was on my own. The story itself was the same, brother and sister inheiret a mansion, they get there and a crazed lunatic nabs one of them. manical machines that need repaired etc, The puzzles were the usual turn the pipes to connect. Everything was typical and you pretty much know what everything will be used for.
February 27, 2013
Oh no! Must we pay for the sins of our ancestors again!
Inherit a mansion, and inherit your family's sins! This seems to be happening to Tom and his sister. As they approach their new property, a brief cutscene shows a doctor and a whimpering patient. An insane relative? Cruel experiments? Mad scientist sort of thing? How many games start with a journey in a car or train, a thunderstorm, and a spooky old building to investigate? While not an innovative storyline, I found myself wanting to find out what is behind it all. The game mechanics are standard HOPA. Search for items, use inventory, fix things. Journal records clues and important information. Task list shows action required for current location only. More importantly, the map does not allow jumping. Depending on the size of the game and number of sites to visit, this could make travelling around a chore. Don't know yet as I haven't finished the game. The graphics are not perfect. The HOS are interactive, with some items difficult to see. (Perhaps just my eyesight?) There are two modes of play. Hint in casual takes almost a full minute to recharge and is directional only. Not much music to comment on, but environmental sounds are appropriate. Outside, you can practically feel yourself getting soaked in the pounding rain. Entering the manor, you soon encounter a crackling fire. An unexpectedly appealing atmosphere. The game description on the BF site says the "puzzles are incrementally difficult" and I find that intriguing. It also mentions achievements but, since I had to use the hint button so often, I don't seem to qualify for any. One thing that really bothered me. In the first scene, your brother Tom is unconscious on the ground. You administer his meds and note that an ambulance must be called to make sure he is okay. Then you enter the manor and leave him outside lying on the steps in the rain while you continue your search. Going back outside to fill up your watering can, it would appear that you have to step over poor Tom to do so. Didn't like this at all. This is a game that could have been better. I don't know the developer but will hope their next offering holds more promise. As always, give it a try and see what you think!
February 27, 2013
They named it correctly..it's strange!
I almost really enjoyed this game. I honestly cannot say why I didn't. I got bogged down several times and that may have had something to do with it. The game, overall, isn't that bad. It just wandered around a lot and I never quite knew what I was supposed to be doing. I don't want the game to lead me around by the nose, but I also don't enjoy the level of frustration I found myself at from time to time. The music was appropriate, but I always turn music down, so you'll have to judge that for yourself. The hidden object scenes were okay, but some things were very, very small and almost impossible to see. I only used the hint button three times within hidden object scenes, and only because I absolutely could not find what I was being asked to find. The hint system was a little pokey about refilling, but it wasn't too bad. It was both helpful and not helpful. When you click on the hint button when you aren't sure where to go or what to do, it will highlight all the places you can go within a scene..so you have to just choose one and hope it's right..lol...for me, it usually wasn't. If you were in a scene and had an inventory item that could be used, the hint button would show you that. The mini-games/puzzles were interesting for the most part and, when the directions weren't really clear, there was a question mark to click on for more info and there was usually some info in your journal to help with the game. Some of them were quite inovative and others were the run-of-the-mill type - swap tiles to complete an image, put numbers in order, that sort of thing. The length of play was very good. I was amazed at how much there was to do. Each time I thought I might be getting close to the end, it just kept going, and I appreciate that. I don't want a game I can finish in an evening..I got three evenings out of this game..around 6-7 hours, but I'm a slow player, and the puzzles stymied me a bit now and then. There is a skip button that fills fairly quickly. In the story, you play a girl who has to rescue her helpless brother from a fiend of a fellow who is trying to get young again. The game has you doing that in a very round-about fashion, but you get there, eventually. Try the game..it's not horrid..it's not fantastic. It's somewhere in the middle of those two..I think it will be loved by some and hated by some, but try it..if for no other reason than lots of interesting puzzles and good hidden object scenes.
February 28, 2013
Strangestone is a strange and well (ho-hum) Game
Well fellow fishies, I can't wait to start this review - not! Guess What? You and your Brother (Tom# have inherited a wonderfully dilapidated mansion. If I really had a mansion for all the ones I have inherited in Gameland, I'ld have one strange Park Avenue in Weird Man's land!! You and your brother go to your mansion and Tom is immediately cold cocked, leaving you to do the searching around -alone, of course! You are given 4 volume controls and 2 game play modes. I could barely hear the music, could be my age-Ha! Cutscenes have live snaps of people that don't have any real movement. It's like edited stills. You do have a helpful task list and map. Also, a journal to keep important clues in, some of which are illegible. Everything seems rather dark and small. In the HOS games the words in the word list are sometimes larger than then objects themselves. Also they are pretty darn cluttered. The hint button is somewhat handy but slow filling. The mini games are small#really?# and usual. So far this is turning into an appropriate rainy day filler#which guess what? Your sound effects is rain!!- that I would only get as a daily or weekly special, promotional special or with a promo code. But if you have the $ to throw around- go for it !O.K., what am I forgetting? Oh yes, there are no off the chain special effects or graphics and of course the mansion is falling apart and I have spent most my game play thus far trying to maneuver my way around- alone, of course and for what I do not know yet. So, inn conclusion, it is totally up to you to see if you would like to join me in the groping around your inherited mansion. Have Fun!!
February 27, 2013
LadyHawk
Color and VO were great, sadly I found the whole game rather boring. And I am not one to use that word often when it comes to gaming. I also found it odd that even after rescued by his sister, the brother stood around doing nothing. Is that very realistic? NO, most men would jump in to fix the car or help find a way out. There were too many HOS and with little reward. I found myself walking away from this game more and coming back to finish it because it just couldn't hold my attention. Some of the mini games were great, others were rather frustrating although challenging I would get board and move on using the skip button just so I could find out what happens next. I don't like giving negetive reviews but to me this game was just passable and only if you have a lot of patience with the HOS and running aorund all over without a map.
March 2, 2013
It was okay.... But...
And there certainly was a 'but' there. I am sure it was my brother too. Let me go through the good and the bad aspects of the game. When it started the scenery was lovely, the house was vibrant, and it was breathtaking. Even the dark scenes were full of color. The few phonographs also played beautiful music that seemed to lull and lighten the mood. However, there was something amiss, and I soon realized that it was either the 'out of sight, out of mind' antagonist or my clueless brother who seemed to constantly got himself into something that he needed my help to escape from. The game also became tedious once I started to get into it. The story didn't exactly progress, frankly there was barely a story at all, and I started doing repeated hashes of puzzles and such. There wasn't ever an easy solution either. Such as, when getting through a glass door, you must find something to remove the glass. However, they won't let you use the hammer you still have in your inventory. Common sense verses common courtesy. Seriously, though, would you care to be careful of the furniture when somewhat put your brother in a cage? That just seemed to bother me. In the end, fine for someone new to Hidden object games, but a more experienced player might find the gameplay tedious.
February 28, 2013
A solid 3!
Interesting SE game. Not exceptionally difficult, but does take some thought. This is a nice game for beginners and for seasoned gamers who want something to do on a "nothing better to do" day. HOGs simple, games not too difficult (did skip a couple out of frustration). Music okay, game play nice, graphics were not bad. Room to room movement was a bit odd, fading in and out and overlapping. Sort of makes you dizzy. Story line is a little fuzzy as well. Maybe it's just me, but there didn't seem to be a reason for a lot of movements. The one thing I did not care for was the hint system. [b]POSSIBLE SPOILER ALERT [/b] When clicking on the hint, you frequently got arrows or hands to numerous locations. There was no real hint involved. It was quite annoying. I don't like using the WT to figure out what I am suppose to do and this hint was not really helpful. [b]END OF SPOILER ALERT[/b] Not a bad game and I may use a credit to get this one, only because I have so many to use before I lose them. This one will go in my puddle until the 1st. Not going to lose any more bids at the end of the month. As always, try it for yourself and see what you think. We all have different tastes in games and you may thoroughly enjoy this one. Thanks for the reviews.
February 27, 2013