Strangestone
While researching your family archives, you discover that you've inherited a mansion! Now you and your brother are meeting your real estate agent there for an appraisal. However, something's not right about this old house. Soon you will discover that inheritance never comes easy in this thrilling hidden-object puzzle adventure game! Can you survive the night and uncover your ancestor's secret?
Incremental puzzle difficulty
Beautifully-detailed locations
Thrilling atmosphere
Game System Requirements:
OS:

Windows XP/Windows Vista/Windows 7/Windows 8

CPU:

2.0 GHz

RAM:

1024 MB

DirectX:

9.0

Hard Drive:

503 MB
Game Manager System Requirements:
Browser:

Internet Explorer 7 or later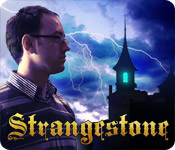 NEW299
The Big Fish Guarantee:
Quality tested and virus free.
No ads, no adware, no spyware.

Reviews at a Glance

Strangestone
0
out of
5 (
0
Reviews
Review
)
Customer Reviews
Strangestone - A Strange Game
The jury's out on this game for me - did I like it enough to buy? I don't know yet. Certainly the storyline appears interesting - you and your brother have discovered they are the heirs to a mysterious old mansion, but of course nothing is as it seems..... The game plays out in 'segments', perhaps 2-3 scenes at a time, and once you've finished everything you need to do in one area, it's closed off and you don't need to go back. This saves a lot of unnecessary back and forth. There is also a very basic map, which shows where you are, areas where there is something to do, and where the Hidden Object scenes are. It's not interactive, but the areas you're exploring at any one time are so well-contained it's not necessary. There are a fair few HOGs, at least in the demo #I think I did about 6 or 7 in the hour I played#. They are very interactive, with about 50% of objects requiring something else to be done #i.e., put the candies back in the box, candles into the candlestick etc.#. The puzzles are.... well, puzzling! It does say that the games are "incremental in difficulty", and I'm sorry to say that I found even some of the early ones a bit head-scratching so if, like me, you're not a puzzle-fiend you might need to apply quite a few of the little grey cells here...... It's true that in certain ways the game feels a little dated #although there are live actors in it#. However, it wasn't really off-putting, at least for me. If you like the story, and the level of challenge holds your interest, then that won't matter too much. Summary: Interactive HOGs, challenging #and sometimes refreshingly unique# puzzles, nice scenery, no running shoes needed. Yup, I think I've talked myself into using a PCC ;)
February 27, 2013
Just not impressed
I have done many reviews of many games and this one well...just was boring. I can always find some redeeming quality in a game and have never really given a negative review but this is the one. Slow play, not exciting at all, dumb story line that you just didn't care to follow. I played it through and still am unsure what the villain really did or who he was and then he is still alive at the end?? No confrontation with the villain at all...no map so a lot of back tracking. It was not terrible but if you are going to try it use a game credit. Sorry but average or below is about all I can give it.
March 7, 2013
StrangeSTONED.
The HOS that I encountered were challenging...lots of things to put together and manipulate in some way. The map was helpful with notations for Hidden Objects - You Are Here and Action Available. I also appreciated the pop-up task message and check mark that appeared. I was not, however, impressed with the HINT button. I got stuck and could not for the life of me figure out what to do next. Pushing HINT merely indicated both available exits(where there were NO tasks available) and a handprint over an object that I was supposed to be opening,but lacked the tool. When I have to use HINT, I prefer for it to be pretty straightforward.
February 27, 2013
Strangestone???
Well, it started out pretty good, but I didn't like the hint button. Hands & arrows just don't get it. The graphics were real good, as was the music. I never heard of the creators, but that doesn't make for a bad game. I can make my way around without too much trouble, but once in awhile I'd like a little more help from the hint button. I will not be buying this game.
February 27, 2013
Kinda sorta like it
I didn't mind the hint button. Even though I was frustrated a few times, I liked being made to think. With most hint buttons I have a tendancy to be lazy and coast. Besides, having the hint button this way makes the game last longer than it would if I were lead by the nose. I feel more of a sence of acomplishment. One part I really hated was leaving the brother lying in the rain. Only a complete, unfeeling, cold hearted, ahem... would leave him out in the weather! Not much of a sister. She even gets mad at him for dropping the key when the ground is shaking. Poor guy, knocked out by electricity, and left in the rain. I know I'm taking this point a bit far, but, sheesh, I thought only the bad guys did this. Anywho, the game is average. I gave storyline so low for the reasons stated above. I doubt if I will buy it, but do as it pleases you
February 27, 2013
Not a Buy!!!!!! Demo review only!
Graphics a bit blurry but playable. Some items in the HOS's I found to be hard to see and mini-games pretty easy. There are 6 chapters and according to the write-up on BF page, there are achievements but not found any. Played casual and hint button is slow and too much handholding. Not much backtracking as the way is blocked when you have finished one section. Some people might like it but I can't recommend this game. Sorry!!
February 27, 2013
Would be wonderful game
It would be a wonderful game, at least I think so from what I played. but things in the hidden object parts are just tiny. Example of weights for a scale or a bullet for a gun are kind of real sized for the size of the picture. That is just too tiny for me to find. The game play was smooth and looked like it would be great.
February 27, 2013
IT'S OK !
PLAYED BETTER.HINT BUTTON WAS NO HELP,WHEN U PUSH IT IT SHOWS ARROWS TO GO. IT WAS OK,SAME OLD SAME OLD
February 27, 2013
More of the same
Dull-to-average hidden object and puzzle game. As usual, the search is focused on an old, dark, falling-to-pieces house that the player character has a connection with but knows very little about; as usual, you have to explore this falling-to-pieces house at night. The storyline is thin and rather rushed, as if the designers were in a hurry to get to the game portion. As happens all too often in such games, the art is cursed with a muddy palette and too much shadowing; the music and voices are all right but, again, are nothing special. As for gameplay, the hints counter isn't very fast; it's not the most sluggish I've ever seen, but it is on the slow side. The hidden objects can be VERY small if you have to pick up them up and place them in or on a specific object. And there's no way to magnify the objects or to increase brightness in HO scenes. It's not a horrible game. it just isn't especially good. Bottom line--if you really, really love this sort of game, it might be for you. But if you're looking for something special to spend your money on, save it for something that IS special. Believe me, this isn't it.
February 27, 2013
TIRESOME
Review based on two hours of casual gameplay. Live Actor - Only saw one VOS - For the one live actor only, not for player. Must read a great deal of dialogue. IHOS - Usual fare of small to large objects, junk piles, grayish. A great deal of items to find outside of IHOS in every location so scene must be scanned carefully. Misclick Penalty - None Puzzles/Mini-Games - Varied levels of difficulty and some unusual. Fast skip. Hint - Fast charge. Works outside of IHOS giving clues and directions. Shows handprints and directional arrows. Pick one. :-D Map - Does not transport. Shows player's location only. Task list attached. New tasks added as you progress through game. Inventory - Items used quickly in other areas. Each scene, to me, appeared as grayish junk piles in addition to the IHOS. I grew weary of running from one location to another. I couldn't make up my mind whether to follow the handprints or the arrows. :-D This game was not my cup of tea.
March 25, 2013