Strangestone
While researching your family archives, you discover that you've inherited a mansion! Now you and your brother are meeting your real estate agent there for an appraisal. However, something's not right about this old house. Soon you will discover that inheritance never comes easy in this thrilling hidden-object puzzle adventure game! Can you survive the night and uncover your ancestor's secret?
Incremental puzzle difficulty
Beautifully-detailed locations
Thrilling atmosphere
Game System Requirements:
OS:

Windows XP/Windows Vista/Windows 7/Windows 8

CPU:

2.0 GHz

RAM:

1024 MB

DirectX:

9.0

Hard Drive:

503 MB
Game Manager System Requirements:
Browser:

Internet Explorer 7 or later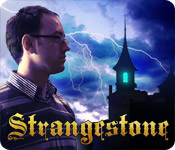 NEW299
The Big Fish Guarantee:
Quality tested and virus free.
No ads, no adware, no spyware.

Reviews at a Glance

Strangestone
0
out of
5 (
0
Reviews
Review
)
Customer Reviews
Strangestone is a strange and well (ho-hum) Game
Well fellow fishies, I can't wait to start this review - not! Guess What? You and your Brother (Tom# have inherited a wonderfully dilapidated mansion. If I really had a mansion for all the ones I have inherited in Gameland, I'ld have one strange Park Avenue in Weird Man's land!! You and your brother go to your mansion and Tom is immediately cold cocked, leaving you to do the searching around -alone, of course! You are given 4 volume controls and 2 game play modes. I could barely hear the music, could be my age-Ha! Cutscenes have live snaps of people that don't have any real movement. It's like edited stills. You do have a helpful task list and map. Also, a journal to keep important clues in, some of which are illegible. Everything seems rather dark and small. In the HOS games the words in the word list are sometimes larger than then objects themselves. Also they are pretty darn cluttered. The hint button is somewhat handy but slow filling. The mini games are small#really?# and usual. So far this is turning into an appropriate rainy day filler#which guess what? Your sound effects is rain!!- that I would only get as a daily or weekly special, promotional special or with a promo code. But if you have the $ to throw around- go for it !O.K., what am I forgetting? Oh yes, there are no off the chain special effects or graphics and of course the mansion is falling apart and I have spent most my game play thus far trying to maneuver my way around- alone, of course and for what I do not know yet. So, inn conclusion, it is totally up to you to see if you would like to join me in the groping around your inherited mansion. Have Fun!!
February 27, 2013
Strangestone - A Strange Game
The jury's out on this game for me - did I like it enough to buy? I don't know yet. Certainly the storyline appears interesting - you and your brother have discovered they are the heirs to a mysterious old mansion, but of course nothing is as it seems..... The game plays out in 'segments', perhaps 2-3 scenes at a time, and once you've finished everything you need to do in one area, it's closed off and you don't need to go back. This saves a lot of unnecessary back and forth. There is also a very basic map, which shows where you are, areas where there is something to do, and where the Hidden Object scenes are. It's not interactive, but the areas you're exploring at any one time are so well-contained it's not necessary. There are a fair few HOGs, at least in the demo #I think I did about 6 or 7 in the hour I played#. They are very interactive, with about 50% of objects requiring something else to be done #i.e., put the candies back in the box, candles into the candlestick etc.#. The puzzles are.... well, puzzling! It does say that the games are "incremental in difficulty", and I'm sorry to say that I found even some of the early ones a bit head-scratching so if, like me, you're not a puzzle-fiend you might need to apply quite a few of the little grey cells here...... It's true that in certain ways the game feels a little dated #although there are live actors in it#. However, it wasn't really off-putting, at least for me. If you like the story, and the level of challenge holds your interest, then that won't matter too much. Summary: Interactive HOGs, challenging #and sometimes refreshingly unique# puzzles, nice scenery, no running shoes needed. Yup, I think I've talked myself into using a PCC ;)
February 27, 2013
LadyHawk
Color and VO were great, sadly I found the whole game rather boring. And I am not one to use that word often when it comes to gaming. I also found it odd that even after rescued by his sister, the brother stood around doing nothing. Is that very realistic? NO, most men would jump in to fix the car or help find a way out. There were too many HOS and with little reward. I found myself walking away from this game more and coming back to finish it because it just couldn't hold my attention. Some of the mini games were great, others were rather frustrating although challenging I would get board and move on using the skip button just so I could find out what happens next. I don't like giving negetive reviews but to me this game was just passable and only if you have a lot of patience with the HOS and running aorund all over without a map.
March 2, 2013
A solid 3!
Interesting SE game. Not exceptionally difficult, but does take some thought. This is a nice game for beginners and for seasoned gamers who want something to do on a "nothing better to do" day. HOGs simple, games not too difficult (did skip a couple out of frustration). Music okay, game play nice, graphics were not bad. Room to room movement was a bit odd, fading in and out and overlapping. Sort of makes you dizzy. Story line is a little fuzzy as well. Maybe it's just me, but there didn't seem to be a reason for a lot of movements. The one thing I did not care for was the hint system. [b]POSSIBLE SPOILER ALERT [/b] When clicking on the hint, you frequently got arrows or hands to numerous locations. There was no real hint involved. It was quite annoying. I don't like using the WT to figure out what I am suppose to do and this hint was not really helpful. [b]END OF SPOILER ALERT[/b] Not a bad game and I may use a credit to get this one, only because I have so many to use before I lose them. This one will go in my puddle until the 1st. Not going to lose any more bids at the end of the month. As always, try it for yourself and see what you think. We all have different tastes in games and you may thoroughly enjoy this one. Thanks for the reviews.
February 27, 2013
StrangeSTONED.
The HOS that I encountered were challenging...lots of things to put together and manipulate in some way. The map was helpful with notations for Hidden Objects - You Are Here and Action Available. I also appreciated the pop-up task message and check mark that appeared. I was not, however, impressed with the HINT button. I got stuck and could not for the life of me figure out what to do next. Pushing HINT merely indicated both available exits(where there were NO tasks available) and a handprint over an object that I was supposed to be opening,but lacked the tool. When I have to use HINT, I prefer for it to be pretty straightforward.
February 27, 2013
Strangestone???
Well, it started out pretty good, but I didn't like the hint button. Hands & arrows just don't get it. The graphics were real good, as was the music. I never heard of the creators, but that doesn't make for a bad game. I can make my way around without too much trouble, but once in awhile I'd like a little more help from the hint button. I will not be buying this game.
February 27, 2013
Not a Buy!!!!!! Demo review only!
Graphics a bit blurry but playable. Some items in the HOS's I found to be hard to see and mini-games pretty easy. There are 6 chapters and according to the write-up on BF page, there are achievements but not found any. Played casual and hint button is slow and too much handholding. Not much backtracking as the way is blocked when you have finished one section. Some people might like it but I can't recommend this game. Sorry!!
February 27, 2013
Just not impressed
I have done many reviews of many games and this one well...just was boring. I can always find some redeeming quality in a game and have never really given a negative review but this is the one. Slow play, not exciting at all, dumb story line that you just didn't care to follow. I played it through and still am unsure what the villain really did or who he was and then he is still alive at the end?? No confrontation with the villain at all...no map so a lot of back tracking. It was not terrible but if you are going to try it use a game credit. Sorry but average or below is about all I can give it.
March 7, 2013
Kinda sorta like it
I didn't mind the hint button. Even though I was frustrated a few times, I liked being made to think. With most hint buttons I have a tendancy to be lazy and coast. Besides, having the hint button this way makes the game last longer than it would if I were lead by the nose. I feel more of a sence of acomplishment. One part I really hated was leaving the brother lying in the rain. Only a complete, unfeeling, cold hearted, ahem... would leave him out in the weather! Not much of a sister. She even gets mad at him for dropping the key when the ground is shaking. Poor guy, knocked out by electricity, and left in the rain. I know I'm taking this point a bit far, but, sheesh, I thought only the bad guys did this. Anywho, the game is average. I gave storyline so low for the reasons stated above. I doubt if I will buy it, but do as it pleases you
February 27, 2013
Would be wonderful game
It would be a wonderful game, at least I think so from what I played. but things in the hidden object parts are just tiny. Example of weights for a scale or a bullet for a gun are kind of real sized for the size of the picture. That is just too tiny for me to find. The game play was smooth and looked like it would be great.
February 27, 2013