Strangestone
While researching your family archives, you discover that you've inherited a mansion! Now you and your brother are meeting your real estate agent there for an appraisal. However, something's not right about this old house. Soon you will discover that inheritance never comes easy in this thrilling hidden-object puzzle adventure game! Can you survive the night and uncover your ancestor's secret?
Incremental puzzle difficulty
Beautifully-detailed locations
Thrilling atmosphere
Game System Requirements:
OS:

Windows XP/Windows Vista/Windows 7/Windows 8

CPU:

2.0 GHz

RAM:

1024 MB

DirectX:

9.0

Hard Drive:

503 MB
Game Manager System Requirements:
Browser:

Internet Explorer 7 or later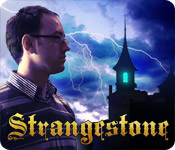 NEW299
The Big Fish Guarantee:
Quality tested and virus free.
No ads, no adware, no spyware.

Reviews at a Glance

Strangestone
0
out of
5 (
0
Reviews
Review
)
Customer Reviews
Would be wonderful game
It would be a wonderful game, at least I think so from what I played. but things in the hidden object parts are just tiny. Example of weights for a scale or a bullet for a gun are kind of real sized for the size of the picture. That is just too tiny for me to find. The game play was smooth and looked like it would be great.
February 27, 2013
IT'S OK !
PLAYED BETTER.HINT BUTTON WAS NO HELP,WHEN U PUSH IT IT SHOWS ARROWS TO GO. IT WAS OK,SAME OLD SAME OLD
February 27, 2013
More of the same
Dull-to-average hidden object and puzzle game. As usual, the search is focused on an old, dark, falling-to-pieces house that the player character has a connection with but knows very little about; as usual, you have to explore this falling-to-pieces house at night. The storyline is thin and rather rushed, as if the designers were in a hurry to get to the game portion. As happens all too often in such games, the art is cursed with a muddy palette and too much shadowing; the music and voices are all right but, again, are nothing special. As for gameplay, the hints counter isn't very fast; it's not the most sluggish I've ever seen, but it is on the slow side. The hidden objects can be VERY small if you have to pick up them up and place them in or on a specific object. And there's no way to magnify the objects or to increase brightness in HO scenes. It's not a horrible game. it just isn't especially good. Bottom line--if you really, really love this sort of game, it might be for you. But if you're looking for something special to spend your money on, save it for something that IS special. Believe me, this isn't it.
February 27, 2013
TIRESOME
Review based on two hours of casual gameplay. Live Actor - Only saw one VOS - For the one live actor only, not for player. Must read a great deal of dialogue. IHOS - Usual fare of small to large objects, junk piles, grayish. A great deal of items to find outside of IHOS in every location so scene must be scanned carefully. Misclick Penalty - None Puzzles/Mini-Games - Varied levels of difficulty and some unusual. Fast skip. Hint - Fast charge. Works outside of IHOS giving clues and directions. Shows handprints and directional arrows. Pick one. :-D Map - Does not transport. Shows player's location only. Task list attached. New tasks added as you progress through game. Inventory - Items used quickly in other areas. Each scene, to me, appeared as grayish junk piles in addition to the IHOS. I grew weary of running from one location to another. I couldn't make up my mind whether to follow the handprints or the arrows. :-D This game was not my cup of tea.
March 25, 2013
I don't like these games which tell me what to do all the time.
It looked like a good game in the beginning. Maybe it is a good game but not for me. I don't like being told what to do next at every step. I want to play by my own and get help only when I really need it and ask for it. In this game you are told what you have to do even in the HOS. There is no pleasure in playing such a game, the game plays by itself anyway and you are not required. Another thing, the software cursor is very small. Is it so difficult to distinguish different difficulty levels so that each player can choose the one suitable to his/her skill level? Many games do that. I don't buy this game.
February 27, 2013
Just in case your sleeping pills run out... :(
.... play this game! Wow, what a boring morning!!!! On the german BF site they offered us "Secrets of the Titanic 1912-2012) and I nearly felt asleep and now this one.... zzzzzzz Graphics were OK: a mixture of drawn and real settings. Real actors. 2 modes to choose from. In the options you may adjust master-, music-, effects- and environment volume. And you are able to choose the appearance: fullscreen or windowed (who wants to play in a windowed mode?), cursortype, fit to screen (y/n) and high quality (y/n). A lot of messed up interactive hidden object scenes. Some items are really hard to find; Be sure to wear your glasses! And some non challenging minigames. We have a journal together with a tasklist. I can't tell you anything about the promised achievements, as I couldn't even finish the demo... sorry:(
February 27, 2013
Not very good
This does look like a beginners effort, as another reviewer said. Given that, it could have been a lot better even for a first effort. The HO items are sometimes not visible although the print of the list is enormous. The graphics are dark and fuzzy and the whole game's actions are not smooth. You kind of jerk from one scene to another. The story is not well told and it looks as if you will be trapped in the rotten house the whole time, so I think it will get to be quite tedious in short order. The sound effects are good enough but the voice over is terrible...sounds like someone reading a bed time story. The mini games were trying as the logic was totally missing and the instructions were bad...perhaps English is not the first language of the devs. You also have to click around a lot in each scene for things you might not know you need...I've always hated that; it messes up the story. After a while, I started to wish longingly for the end of the demo. I think they need to go back to the drawing board.
February 27, 2013
Don't Waste Your Time or Credits
This review is based on the completed game. I wanted to like this, kept waiting for the story to pick up,but it never did. Slow action, weak story line and an ending that .....well let's just say it was a disappointment to say the least !
March 5, 2013
Not for me.
Couldn't follow it. The hints didn't help. No fun.
June 10, 2013
Why Did I Buy This Game???????????
I'm not sure when I purchased this game or even why because I really hate it. It's very dark and gloomy and the HOS are just huge junk piles where everything is the same color. It has one puzzles after another with clues which aren't clear. After skipping my sixth puzzle I closed the game and deleted it. I will never play it again. Please play the entire demo and read some reviews to make a better decision than I did.
June 24, 2014