Age of Mahjong
Tile-matching gets an epic makeover in Age of Mahjong, a story-based adventure in which you build a magnificent Chinese city even as you tear down cleverly designed stacks of game pieces. Follow the story of an ancient Emperor and his wife as they struggle to undo a spell that cast their son in a deep sleep and labor to build a city that will stand as a shining beacon of Chinese culture. Learn the benefits of peace and harmony over war and violence as you match tiles, unlock bonus items by completing the corresponding layouts, and gather the resources you need to build your metropolis. With 56 levels in Story mode, a bonus game to unlock, and visuals and sounds that will sweep you away to an exotic land of ages ago, Age of Mahjong will captivate you for hours on end!
56 Story mode levels
Unlockable bonus game
Build your metropolis!
Game System Requirements:
OS:

Windows XP/Windows Vista/Windows 7/Windows 8

CPU:

1.0 GHz

RAM:

512 MB

DirectX:

9.0

Hard Drive:

140 MB
Game Manager System Requirements:
Browser:

Internet Explorer 7 or later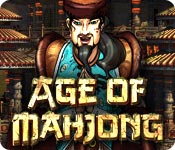 NEW299
The Big Fish Guarantee:
Quality tested and virus free.
No ads, no adware, no spyware.

Reviews at a Glance

Age of Mahjong
0
out of
5 (
0
Reviews
Review
)
Customer Reviews
Wonderful!
I am new to playing Mahjong. This game is the best in every way. graphics,sound and story. Beautifully done! Love the building aspect as well. For all who love Mahjong ,this is a must buy.
July 30, 2014
What a great game!
The different tile sets were beautiful, the scenery was beautiful as well. The music was very relaxing. I found the tiles easy to see and discern. I loved how you built a city. I thought the bonus game was a real novel way to play mahjong. I was hooked on this game for days...weeks...months!!! I had a great time! One of the best Mahjong games!
July 1, 2014
One of the Best
Super graphics - good story line - each level was interesting Highly recommend
March 11, 2014
Timing is Everything with These Tiles!
I enjoy mahjong games and have played quite a variety of them. This brightly colored interestingly illustrated game has clear tiles, appropriate music and really helpful "help". But for me it also had a major downer wi\hich will keep it off my computer. It uses a timer and your success with the town building aspect of the game is closely directed by how quickly you match the tiles. You don't just get points but correct matches and short play time gives you vital resources such as wood, bricks etc. That for me, lessens the enjoyment ofthe game and adds pressure that I don't enjoy. But if you're a mahjong fan and/or a construction fan you might want to give this game a try.
February 27, 2013
ADDICTION NOTICE!
Who dosen't like mahjong? This is a game that is fun and addicting! There is a story to go along with the game, the Emperors only son becomes sick and there is no cure, all the doctors have tried to make him well without success, until a strange looking man comes along with powers to make him well. This man accepts no payment in return so whats the catch??? The gameplay itself is pretty simple, the usual match two alike tiles until you reach the two golden tiles to win the hand. You will be rewarded to allow you to build your city with sawmills, wells etc. earning more for matching or beating the alloted time per game. There is a golden buddah for hints that must recharge after each use, a shuffle feature for when you have exhausted all moves and different earned features such as a tile for going back one move. There are a couple of annoying features, the music is aweful so I turned it off, and the characters bombard you one after the other in dialog boxes that just keep going and going when you just want to play the game not read an entire manuscript!
February 27, 2013
OK
This game is not too bad. The puzzles are a little to simple but overall its easily paced. Something you can do when you have a few minutes to fill. The story is ok although there are some spelling mistakes, for example 'grotesque site' instead of sight. 4/5
February 27, 2013
They tried some new twists.
Let's be honest, it's hard to do something new with Mahjong: you match tiles, they disappear. Different tilesets, different layouts, but the same game. First, the timer - yes your games are timed, but it's a count up, not a count down. You still get credit for the level no matter how long you take, you just miss out on some stars and some bonus resources if you take longer. The storyline is meh, but you play for the tiles, not the dialog. The building does give you a nice break between sets, and gives you a 'reason' to complete the next one. THE BONUS GAME: This is where the fun is (IMHO) - you choose a layout, but instead of matching tiles from that, a row of tiles starts forming on the bottom. You've got to pick one from that row and match it to one on the layout. Take too long (or have no matches), the row fills up, *poofs*, and a new row forms. Same deal with the count up timer. I took a while on some and still got credit. There's four pages of them, about the first half a page is unlocked to start. I don't play a lot of mahjong games, so maybe this is normal, but its the first time I've seen it. GRAPHICS: The tiles are clear, but some of the markings are small, so people with a smaller monitor may have issues. In the bonus game you can choose from two tilesets (and different backgrounds) one with higher 'contrast' than the other. I bought it as the daily deal and I'm sure I'll enjoy it. I'm usually an adventure/puzzle gamer, but sometimes I like to kick back with a solitaire game to just unwind and not have to think too hard while I'm playing. I dinged a star for the tiny markings one one 'group' and the meh story - but it's mahjong at it's heart, and the bonus game alone (build the pagoda) makes this one a solid buy for me.
March 5, 2014
Darn it!
I really would have loved this game if only the tiles had been drawn better. The story is cute with cartoon pages to tell the story, the music is very soothing as are the other sounds. The timing is relaxed and you have accomplishments to get as well as buildings to erect. Everything would have been charming, except that the tiles are so small and the patterns are so detailed that you cannot tell one from the other easily....very frustrating. The patterns for the layouts are excellent and there seems to be a lot to play...a different one for each building or upgrade you make....so close but not quite! It's always been hard to find a good mahjong...nothing ever seems to beat Liong, the Lost Amulet.
February 27, 2013
Entertaining, but too short
This was an entertaining game, but I had expected it to last a lot longer than it did. I don't mind paying for a game, but I expect it to last long enough to be worth the money. I was extremely disappointed with it. For what I spent, I wish I would have know the time on it.
April 27, 2013
Powerups????
Some people do like powerups, and more power to them. As for myself I do not appreciate powerups in what is basically a logical game. You have to plan ahead, and try to guess the pattern. If you can destroy tiles or change them, what is the fun? And if you ever stop to think it trhough you get the annoying "Do you need a hint?" Aslo, when you cannot make any more matches, instead of losing and starting again, you can reshuffle. Where is the challenge in this?
April 14, 2014