Azada: Elementa Collector's Edition
Exclusive
Journey to amazing worlds as the whimsical saga continues in Azada: Elementa! After its precious elements are stolen, Azada chooses you to find the elemental mages who can save this special world. But bad-guy Panoptes is waiting around every corner to stop you at any cost – or is he? Nothing in Azada is as it seems…

During this trip to Azada, you'll also get your very own cuddly sidekick. Earn critter coins you can use to dress him in a variety of fun outfits!

This is a special Collector's Edition release full of exclusive extras you won't find in the standard version. As a bonus, Collector's Edition purchases count toward three stamps on your Monthly Game Club Punch Card!

The Collector's Edition includes:
An exciting bonus saga where you must travel to the very heart of Azada
Downloadable soundtracks
Fantastic wallpapers, screensavers and concept art
An integrated Strategy Guide
Game System Requirements:
OS:

10.8/10.7/10.6/10.5

CPU:

1.4 GHz (INTEL ONLY)

RAM:

1024 MB

Hard Drive:

1022 MB
Game Manager System Requirements:
Browser:

Safari 4.0 or later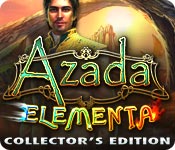 The Big Fish Guarantee:
Quality tested and virus free.
No ads, no adware, no spyware.

Reviews at a Glance

Azada: Elementa Collector's Edition
0
out of
5 (
0
Reviews
Review
)
Customer Reviews
Azada: Elementa Collector's Edition
103
103
Disappointing Sequel
The first two Azada games were wonderful - the 3rd, not so much. But this one goes off in a different direction. This is just another run of the mill HOS adventure. The mini games are a little different, but some are ridiculously easy. The graphics are very pretty and the creatures nicely done. The Azada stories have always seemed a bit thin to me, this one is no different. I found the 'pet' to be highly annoying - popping up and squeaking and begging me to buy him clothes. I would have liked to be able to turn him off. I read one review that said the Strategy Guide would be needed and not to get the SE version. I found the hint provided plenty of help. Has anyone noticed that games seem to be getting easier? In any case - if you are hoping for another real Azada experience, pass this one by or use a coupon. I would have given this a 2.5 rating if I could.
September 2, 2013
ERS! What did you do?! Go to your room!
TITLE?Azada: Elementa (a.k.a. Azada: Requiescat in Pace) VERSION?Collector's Edition (demo) DEVELOPER?ERS GENRE?Hidden Object Puzzle Adventure (fantasy) STORYLINE?Once upon a time, there was a magical library. And in this library there was a mystical book called Azada. But it was riddled with evil that could only be overcome by one strong of mind and pure of spirit?and good at puzzles. Then a well-meaning but blundering force called ERS came along and Azada was irrevocably changed for the worse. Suddenly, the evil began new tactic. Instead of the mind-boggling enigmas which had chained Azada in the past, there were wretched junkpiles of cast-off objects. Worse, a bizarre, twittering beastie of some type pestered our hero incessantly with unwanted advice and demands for new clothes. OVERVIEW?Dear ERS, This is an intervention. We've watched you go downhill and we can't stand idly by and let it go on any longer. Sweetie, you've become the Nickelback of game developers: formulaic, prosaic, predictable. It has to stop. Can't you see what you're doing to yourself? To us? *tears* Please, honey, for all of us... GAMEPLAY?It's hard to comment on gameplay, as I was interrupted a bazillion times during the demo by the hand-holding tutorial (which I kept insisting I wanted to skip, but was ignored), the irritating flying squirrel (who seemed to serve no purpose other than to annoy), and pop-ups telling me I'd found another "special" animal (they can't be all that special when they're all over the place). INTERFACE?Journal: Yep. Map: Yes, and it's a jump map that asks you if you're sure you want to go to that location. Um?I'm not reformatting my hard drive here; just playing a game. Hints: Yep. Specials: OMG?too many. Strategy Guide: Didn't even look at it. Other: That annoying and useless furry beastie? Yeah. You can collect coins and dress it up. And change its body parts. So, if you're a 7-year-old girl, you might like that part. TECHNICAL?There were an awful lot of poor translations in the HOs. When I finally found "angel," it was a fairy. Because angels aren't generally nude. "Whirligig" turned out to be a spinning top. "Lily" was a fleur-de-lis. And those were all in the first HO scene. GRAPHICS?It's an ERS game, so you already know what the graphics look like. CUTSCENES?Rather well done, actually, since they were clearly rendered by a different artist than the in-game graphics. MUSIC?It's an ERS game, so you already know what the music sounds like. Yep. That same music. SOUND?It's an ERS? Look, do I have to keep saying this? VOICEOVER?Meh, meh, meh, Melodrama. SUMMARY?There was probably an actual game in here somewhere. Possibly. I'm not certain. If you paid me, I might allow it to take up room on my hard drive. For a week or so. Depends on how much you paid me, mind you. Now, if you'll excuse me, I need the services of a grief counselor. Azada is no more.
March 7, 2013
A Great Puzzle Classic Has Become Just Another HOPA
i played the hour trial to the end. i'm glad i did because i found out that i had to click "skip the tutorial" SIX times. why isn't *once* enough?? worse, there were CONSTANTLY things jumping out at me on the screen, interrupting the gameplay. i loved the original azada games because they were PUZZLE games with some adventure, too. i don't know *why* this was called "azada" because it's *nothing* like the original games! i don't understand why those of us who love straight puzzle games can't be made happy, too? we had our azada and now even that has been transformed into a run-of-the-mill HOPA. i'm deeply saddened. so, *the artwork was OK (standard ERS) *the music got annoying after 15 minutes (again, standard ERS) *cursor worked fine *the "cute" little creature annoyed me to no end, always popping up with gibberish, which added zero to the game play (and we're supposed to name him? dress him? what? are we 10 years old, playing with our barbies? dumb, really dumb) *a transporter map that makes you VERIFY that you REALLY want to jump to the location you have chosen? how annoying! perhaps there should be a button that says "no, i just clicked on this location for something to do" *"puzzles" are ridiculously easy, which is sad. i hate seeing these games dumbed down to the point of "click a few times, "puzzle" solved. *finally, i am hearing in the forums that once again, ERS has put the true end of the game into the bonus chapter in an effort to "force" us to buy the CE version. well, it's a NO BUY for me, not CE, not SE. if this game had another name, i might have given it more stars, but when you take a beloved classic and change it *completely* so that it's like every other HOPA out there, i'm not happy. so, one star for the decent graphics. those who worship ERS will probably love this game. i have left the altar.
March 7, 2013
Completely Misses the Mark
I enjoyed the first 3 Azada games, but can't say the same for this one. This is completely unlike any of them. The colors, the visual quality, the logic... all different and not in a good way. The first HOS I encountered was a blurry jumble. I believe I asked for 2 hints which is uncommon for me. Some items were nearly impossible to see, and I have to agree with other reviews; the list was difficult to make out, too. The puzzle to open a door (I think it was the first) was one I thought would be rather easy, but again, no logic to it and lots of frustration. I only played 26 minutes and was so frustrated by the lack of logic in the game. I was lost from the get-go. I rarely have to ask for a hint on the first task but could not determine how to accomplish it! The magic bottle was silly, as was the creature. I really had no interest in the creature, naming it, giving it an age and hometown, puleeeze! This felt more like a child's game than a grown-up's adventure. There was a lot of distraction... the endless dialog and tutorial. I said I didn't want interactive help and got it anyway. I am not hung up on who the developer is for any of the games offered, but if this is the best that can be done, I'd say it's time to give up the day job. What a ridiculous piece of nonsense! I most emphatically would not recommend this game!
March 7, 2013
HOS everyone now ....! :(
Azada was one of my favourite adventure game until this last episode. We used to know azada as a great challenging adventure-puzzle game which is never included a single Ho scene. We never needed a closet full of unneccary things and never had much time to click such uncessary weird objects to continue the adventure.. It would be just waste of time because we needed a quality time to understand the real challenging puzzles. We adventure lovers were only own 10-15 types of such pure adventure (puzzle) games but now they are ruining those all one by one:( Sadly I cant recommend this game to any of the real Azada fans but other HOPA lovers might like it (even if there is nothing different than other HOPAS) P.S : Wish to see more puzzle adventure games without HO scenes... Kinda tired of waiting one...
March 14, 2013
Another step downhill in the series
The first Azada I loved. The second was fairly decent and still enjoyable. The third I barely recognised as from the same series but I bought, played and finished it, though it is far from being one of my favourites. But this I have not been able to tolerate for more than 15 minutes. It is awful. There are too many 'helpful' interruptions, too many overly dramatic cut scenes, too many places where you can click on something only to find nothing useful there at all, and using the 'magic bottle' thing was irritating, not to mention the strange pet you are given at the beginning whose only purpose seems to be one of increasing the irritation of the player even more. 15 minutes! That is all I could stand of it. It took me longer to download the trial than I have been able to tolerate playing the game. Not only would I definitely not recommend it, I would suggest that no-one even wastes bandwidth by downloading the trial version. The developers have taken what was originally a really good game and turned it into a load of rubbish. Shame.
March 19, 2013
Not an AZADA
Change the name of this game and give me back my AZADA's games. Please...
March 11, 2013
Way off the mark
Why don't they just retire the Azada line of games rather than produce another cookie cutter Ers thing? The problem with Ers games (and others) is that they use a lot of flashy graphics to lead you by the nose through the game. Azada 1 & 2 were imaginative frameworks for puzzles with the purpose of exercising your brain. This thing sucks.
March 10, 2013
Should *not* bear the name Azada.
I never buy games without playing the trial first, but when I saw "Azada" I jumped in with both feet (and credits) without checking out the trial. What a huge mistake that was. This is absolutely NOTHING like the other Azada games. I find it quite misleading that they used the name Azada for this game. Perhaps it's a good HOG, I don't know because I don't play those.
March 9, 2013
A sad disappointment - Azada's fall from grace
I used to LOVE the Azada games for their incredible graphics, fabulous puzzles and exciting stories. They were head and shoulders above most Big Fish games. What a fall from grace! Now, this Azada version looks like one of the worst clones of many of the substandard adventure games on this site. The graphics are muddy and cheap looking. Please do not use this artist for any more Big Fish games. I HATE the graphics on this one. For some reason, this artist seems to get most of the Big Fish game art assignments to the detriment of the players.The budget on this game must have come out of someone's pocket change. Please bring back quality art to adventure games.
March 8, 2013
The Apple logo is a trademark of Apple Computer, Inc.
The Windows logo is a trademark of Microsoft, Inc.