European Mystery: Scent of Desire Collector's Edition
Exclusive
Stop a maniac's murderous trail of fragrance and deception in European Mystery: Scent of Desire! You've barely settled into your retirement in the peaceful French countryside, when you receive an urgent request from Paris. Young women are disappearing in broad daylight, the authorities are baffled, and the person responsible is still on the loose! How could any able-bodied detective refuse such a case? Stay on scent of the murderer in this intriguing Hidden-Object Puzzle Adventure game.

This is a special Collector's Edition release full of exclusive extras you won't find in the standard version. As a bonus, Collector's Edition purchases count toward three stamps on your Monthly Game Club Punch Card!

The Collector's Edition includes:
A bonus game that takes you to London!
Gorgeous wallpapers, screensavers, and concept art
Downloadable music tracks
An integrated Strategy Guide
Game System Requirements:
OS:

Windows XP/Windows Vista/Windows 7/Windows 8

CPU:

1.6 GHz

RAM:

1024 MB

DirectX:

8.0

Hard Drive:

1130 MB
Game Manager System Requirements:
Browser:

Internet Explorer 7 or later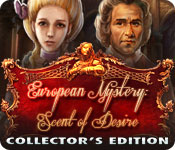 The Big Fish Guarantee:
Quality tested and virus free.
No ads, no adware, no spyware.

Reviews at a Glance

European Mystery: Scent of Desire Collector's Edition
0
out of
5 (
0
Reviews
Review
)
Customer Reviews
European Mystery: Scent of Desire Collector?s Edition
104
104
AWESOME GAME!!
This game has it all, folks! The story was good, the HO's were VERY well done, and the mini-games were thought provoking - w/o being hair pulling! There are achievements to earn, and different elixers to make along the way! In today's tough economy, it was WELL worth the money! Will play it again!
March 21, 2013
smells good
This was a fun game. I loved the collection of scents in the game. This was a unusual added factor to the game that added fun. Visuals and art were crisp and well done. I really enjoyed this game.
March 20, 2013
WONDERFUL GAME!!
WOW!!!...AWESOME GAME!!!...BEAUTIFUL GRAPHICS..LOVE THE TALKING RATHER THEN JUST READING IT...HOS SCENES ARE BEAUTIFUL!!!...EXTREMELY LONG GAME ...VERY MUCH WORTH BUYING....THANKS DEVS...HOPING THERE WILL BE A PART 2...HAPPY GAMING FISHIES!!
March 18, 2013
So Good, But Not Comfortable With The Look Of This One
BASED ON DEMO ONLY This game, despite its very many good points just sits wrong with me. There is something in the way the graphics are done that harks back to an older style of game. One where the artists go for realism, but it doesn?t quite come off. Visuals are very important to me, so I won?t be buying the CE. I expect I?ll get around to the SE eventually. Which is a shame, because the one thing I like more than good graphics in a game is a good story. And I think this has that. Heading into a plague-infected Paris in search of a serial killer is interesting enough, but then add the way the victims died. In broad daylight, and with every last sip of moisture drained from their bodies. Intriguing. Then, who is that guy who keeps trying to kill me? And even that?s not all the unique offerings from this game. As well, we get to track down scents and combine them using unique tools. The other good points have all been mentioned by other reviewers. The demo took me exactly 58 minutes, and I?m guessing this game is of a reasonable length. The difficulty level and HO/Puzzle mix were about right. I found the achievements fun and the collectibles just the right amount of hidden. (I liked the x idea too). But..., as a CE,
March 17, 2013
REVIEW OF COMPLETED GAME
Although this is a well executed game, I have had better from Blam. It is an extremely easy game. So much so that I completely forgot to check out the SG. I just never got lost or stuck. The graphics are easy on the eye in wide screen. There is a very good jump map with pictures and location names. It plays like a well oiled machine. There are a lot of iHOS, but they are quick and easy. The puzzles are simple, some new, some old. The story is straightforward - young women are being kidnapped in Paris - it is the "why" part that is the crux of the matter and that only gets revealed later. It is basically a tale of grief, anger and the desire for revenge, which when given free reign, defeat the object of the villain's purpose. I felt rather sorry for him in the end actually. You get a exilir box and a collection bottle early on and you have to find and collect different scents and smells in the bottle. These go into the box and once you find a recipe you have to created various potions for use on items throughout the game. There are collectibles and achievements. Hint and skip are super fast in easy mode. Once finished in Paris, you get to move on to Grasse. There is a high level of enjoyment in playing this game, unless you are someone who really requires big challenges and much to-ing and fro-ing and does not like a lot of iHOS. Then you will not like this. In advanced mode there are no sparkles and hint and skip take quite a long time to charge. In hardcore mode, no sparkles, no hint button and no skip button. The main game will end satisfyingly enough. But that is only 75% of the task. In the BC you go to London to continue and complete your detective work. I took 4.30 hrs for the main game and 1.45 hrs for the BC. I compliment Blam on a job well done.
March 14, 2013
"Hey, Something Smells Fishy Around Here!"
In "Scent", you are a detective(of course), ready to retire in France when lo and behold, your services are needed to help solve a murderous who-done-it. So of course you can't resist! This game is a time piece, so we just know that we didn't really want to lay back on the French Riviera in our knickers and sip champagne! LOL! Young women of all socioeconomic classes are disappearing and the curiosity of it all gets you on the trail of discovering why. The people in the town have cholera , so there's some annoying coughing in the beginning, blending in with some rather daunting music with a slight lilt from a flute. Strong orchestration- very well produced. You are offered 3 game play modes and an interactive map that shows you where there is activity to be done. You also have a diary to keep your notes in and an integrated strategy guide. The cut scenes are well put together- talking and all. Just one thing, I thought this game took place in France, not somewhere like Louisiana. You just have to hear the accents to see what I mean. Come on game producers, technology has come a lot further than that! I do want to say that the graphics are bright, succinct and believable. The mini games are -at least the ones I've played so far- a little different- not real challenging, but thank goodness no connecting pipes, gears to place or weights to balance. The HOS games are crisp and bright and interactive- my favorite part- that's why I play Hidden Object games! This is a CE, so since there are no real Extras such as Achievements, Morphing Objects, Collections, etc. I might just have to wait for the SE to come out. So I'll just have to 'sniff' a little further and make up my mind what to do.
March 14, 2013
Different & good storyline......Except.....
Based on Demo: I'm not going to repeat what everyone else has said...good graphics, interactive ho scenes & interesting puzzles. What I really liked..... You get to find & collect scents & recipes to create perfumes (since the bad guys killing women with a "perfume bomb" that dehydrates her body#. What I didn't like.............. --I know others are saying there are collectibles to find, but I'm a pretty experienced player & I haven't found any yet. --Everytime you click on something, it doesn't say "i need a key" or "I'll have to find the pieces to complete this"...it only says something like "what can I use here" and sometimes i found myself trying everything in my inventory to figure out what I needed #it may be something I don't even have yet#. I found this extremely frustrating #as did another reviewer#! --Hint just points you in a certain direction, but there's a strategy guide if you get the CE. I really enjoy the fact that you get to find scents & create perfumes as that's really different, but since I can't find any collectibles....I can't see spending $13.99 for it. I'll wait for the SE.
March 14, 2013
Kudos for story and bonus
I don't write reviews because others are so much better at it, but I had to add my two cents' worth for this terrific game. I don't particularly care about a game's storyline, but this inventive plot held together, and it grabbed and held me all the way through, as well. The device of collecting scents and making elixirs with specific purposes was very clever and a lot of fun. But what I liked best was that the bonus chapter was so much more than an afterthought: Although the purpose of the main game was accomplished, there was the hint of more, which I thought was the teaser for a later game. But no? it was for the bonus, a follow-on adventure, complete in itself, with ALL the features of the primary game, and with the perfect touch at the very end. This was a smooth and satisfying gaming experience. The folks at Blam! Games should be very proud of their accomplishment.
March 29, 2013
Review of Completed Game...
I enjoyed this game although I wish I had gotten the standard edition. I buy collector's for the collectibles and these ones are extremely hard to find so it kind of took the fun out of it and the reason why I gave it 4 instead of 5 stars. There are little x's in the scenes and behind them are little objects (collectibles). There are 35 and it goes into the bonus level. I was able to find 21 and that was lucky in my opinion. Supposedly there is an x in every scene. Im young but apparently my eyes aren't too sharp because I couldn't find them. The actual game itself is great. I loved making potions and the whole collect the scents idea was really fun. It almost felt like that was part of the collectibles. The achievements were fun but most of them were for doing things you would have to do like visiting certain characters or collecting all the fragrances. They weren't hard to earn because you had to do them to progress. However there were the do 10 hidden object scenes without a hint or mini games without a hint etc The hidden object scenes are all interactive and I don't remember playing each one more than once. There are lots of people you interact with, lots of nicely done voiceovers. The music fit the time period and I liked all the locations. The overall story was kind of silly especially when you figure out what its about but the scent thing was new and I like originality hence the high rating. The standard game has an actual ending so kudos to that but it implies there will be a sequel. However, that supposed sequel is the bonus chapter. The bonus chapter was ok, nothing that special. You get to keep looking for the collectibles and new scents so I liked that but other than the setting of London, there is not a lot to really do and the things you are doing don't really make a lot of sense. This is why I felt I would have been better with just the standard ending. I usually really enjoy BLAM! games and always give them 5 stars but the bonus chapter was kind of boring and short not to mention with the almost invisible collectibles, it just wasn't as great as some of the others they offer. However, I do recommend this game because if you have sharp eyes and love a challenge finding collectibles, this will be for you. The overall game took me about 5-6 hours to play. There is a jumpable map and you can choose if you want the map to be interactive or not in case you do want a harder challenge. I like having customizable options so kudos to that! I welcome more from this developer =) Oh I do want to say that I left this game for a couple days and still knew what to do when I returned. Although there are a lot of locations, after awhile some of the locations you cannot return to so if you are hunting for the collectibles make sure you prepare yourself for these changes in the strategy guide. Thats part of why I didn't get them all. Blindness and not knowing there were going to be parts of the game you were unable to get to later on. I did like that though because there was less back tracking and I could always figure out what direction I needed to go!
October 6, 2013
Create your own scents
The storyline was interesting with a perfume maker disappearing along with a number of other young women all around the same age. The achievements were normal ones except to create all the scents. Finding the fleur de lis' was difficult, being located under tiny little "x" throughout. The can be used for jumping and lets you know where you have stuff to do. The journal replays some of the cut scenes to remind you what was said and done. It was different and needs to be tried to decide whether you will like it or not.
March 15, 2013