Amaranthine Voyage: The Tree of Life
Exclusive
During your career as an archaeologist, you firmly believed that the Tree of Life was simply a myth. However, once you uncover a magical artifact, you open brand new worlds of possibility. You're whisked away to a lush world that is slowly being poisoned by a mysterious dark force. Your artifact is the key to restoring this beautiful world, but dark forces stand in your way. Protect the artifact and save this dying world in Amaranthine Voyage: The Tree of Life, a thrilling Hidden-Object Puzzle Adventure game.
Game System Requirements:
OS:

Windows XP/Windows Vista/Windows 7/Windows 8

CPU:

1.4 GHz

RAM:

1024 MB

DirectX:

8.0

Hard Drive:

842 MB
Game Manager System Requirements:
Browser:

Internet Explorer 7 or later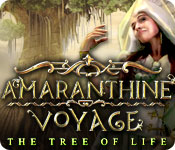 NEW299
The Big Fish Guarantee:
Quality tested and virus free.
No ads, no adware, no spyware.

Reviews at a Glance

Amaranthine Voyage: The Tree of Life
0
out of
5 (
0
Reviews
Review
)
Customer Reviews
Amaranthine Voyage: The Tree of Life
36
36
A+ For Originality
Story: You uncover an artefact that confirms the possibility of the myth of the Tree Of Life is real. You are attacked on your way to verifying the evidence by red black-shot clouds, and are hijacked into another world. What can you do to protect the artefact and get back home? Developer: EIPIX Release Date: Jan 2013 Extras: Archery Skills, Interactive Map I have just finished playing this game for the second time in three days. It?s been a while since we?ve had a truly distinctive game, and much as we love our favourite developers, it?s refreshing to see something so original. Needless to say, graphics are great, and the ambient sounds are extremely well done. I like that there was such a variety of music. A small touch that added enormously to this game?s appeal was a different tone for each item you picked up in the HOs. Speaking of, the HOs are fun. If you need a wrench, you may get a HOs and collect 12 of them, other items you may get a standard item list, which you must complete before you qualify for the final riddle, which will identify the inventory item. And a large number of the puzzles were original!! As a package this game gets an A+ for creativity, sophistication and fun.
March 6, 2013
2.5 - Bit below average
As I do out of 5, it's not that I think this game is really bad but I give 3 stars to games I quite like and if 3 is average for a HOPA feel this is a bit below. Plot is NOT 100% tied up in this game ? you needed the bonus to finish the personal quest ? your character side of it. If you?re not that fussy about this then you?ll be glad to hear that there isn?t a cliff hanger and they tried to make a sort of ending to the game ? with the main quest (what was going on with the people you encountered.) I only bought the CE game in sale because of all the many extras in it as the game isn?t my taste, and I wouldn?t have bought this SE as it?s one of those games that without the extras (which this doesn?t have and they seem to have taken them away so you don?t even see them in this version which is good) I would never play it. This game is from the DEVs who brought us final scene death on the silver screen (it's nothing like that.) In the ship at the beginning I thought it could be good despite the cons and the graphics were quite good in ship and I liked the ship area but it ended up for reasons below not being my taste and fell apart later, but it wasn?t bad. I just felt more like a daily deal game, an older game ? nothing really bad but just old and a bit stale. I think it will appeal to those who hate puzzles or love simple ones and like quite a few HOS, here it?s two different types. Let?s get the negative (for me) out of the way and the following is on the hardest level (choice of 2 which you can change during game) - constant big on screen notifications of ?objective? and objective complete (what?s the point of the diary?) -black bar tips - map but it isn?t a transporter map - mega sparkles for HOS on hard - such simple puzzles -backtracking -random click penalty on both levels -I didn?t like the graphics especially at the middle to end ? not crisp and sharp kind and a lot of stone coloured as there was a lot of outside stone buildings but could have used at least some more differences in colour if not more sharp Pros -no auto tips on puzzles - no map tips on hard but as it wasn?t a transporter map anyway, wasn?t using it so didn?t see the point of it on hard mode. -live actors, they tried to minimise the lip synch by making them small and at least it was just language barrier and not off timing like some games. I thought they were well blended and it looked right, didn?t stick out, acting was OK (bit melodramatic at times) -credits were well done ? humour and making it more personal Plot was nothing special (I've seen it before) but it was well told and the strongest feature of the game. There are a lot of cutscenes which I didn't mind as it made gameplay more interesting telling the plot. Hint button is not a spoiler kind but a ?there is something in this location to do or back arrow?. 21 simple puzzle (17 I think official ones) but I counted 21 that either had a ??? beside it or I felt was one. Most of them (apart from maybe 2 that you could class as medium, one took me a while) were very simple, and even boring. There was one kind that was repeated that was good (the one at the very end) and at least that although not hard was fun. Most of the others felt stale ? no facelift, just straightforward, even the graphics weren?t nice. 29 Hidden object scenes 17 list mild interactive type, at end of each one was a simple riddle which I thought was different. You repeat one as a list type. Random click penalty on both modes of play. I did find them easy to recognise the item is which is good (I don?t mean that some weren?t blended), and quite a few were not junk pile and they weren?t dark or depressing to look at. Some of them are quite sharp like the first one (which was well done) others not so much. 12 find the same items type (ie find 12 screws) of these most of them were repeats from the list kind. I?m glad there was that kind as I prefer them and it did break them up, especially as I don?t like that many HOS and it did feel on the heavier side on HOS. -EXTRAS (what was in CE that is NOT in the SE) and they were good extras. 3 Collectables (spoiler on one) Achievements ? They were mostly good achievements (apart from gameplay ones) All puzzles and HOS and cutscenes are replayable Making of video and before amaranthine ? if you ever wanted a behind the scenes the look this is excellent (although couldn?t hear anything) plus the usual. I can?t recommend it due to a few things (one of which is the bonus plot isn?t a bonus although if everything else was wonderful and to my taste, I wouldn?t have put an active I don?t recommend on it, as it?s not that bad or cliffhanger situation. But coupled with ?clunky? graphics from middle to end and just a bit boring gameplay, along with all the other cons I can?t recommend it. But for a DD or a coupon if you like playing a lot of HOPAs and don't mind the above then do look at it. 4hrs (roughly) for main game
March 3, 2013
Still a solid adventure! :)
... But I recommend to play the collector's edition as there are achievements and collectables (40 zeppelins, 14 butterflies) One thing, I didn't like was the acting of the real characters: It somehow annoyed me? But the scenes are beautiful drawn! Gameplay is fluently. Good mixture of interactive HOS and not very challenging minigames/ puzzles. Found items are used soon. We have a map (no transport-function) together with a tasklist. 2 modes to choose. Nice: There is a control panel attached to the inventory, which contains helpful tools you will find during the game, like bow and arrow, spear? Hint is direction indicating and refills quite fast. It took me about 4 hours to finish all 6 chapters. This game is not bad, but it's not my first choice..... :)
March 3, 2013
I really liked this game
This is not the most challenging game I have played but it sure is fun. There are all kinds of new games and things to do inside of it. The sound/music and voices are pretty good and the game itself is very pretty. I enjoyed at the end of a hidden object game there was a written clue of what you should find next. There are lots of things to do and places to go. The story line is pretty interesting too. When I finish this, I am buying this game. I really enjoyed it that much. Hope you do too!!
March 3, 2013
IT WAS ABOUT TIME FOR A BIT OF INDIANA JONES!!!
I've seen it all... The haunted houses, the ghosts, the dead wives, the ravens... I am very grateful to finally be driven out of the darkness and mysterious graveyards and into the wild! The game starts in a blimp, which is always a beautiful sight, and continuous on to a world far away through the magical portal. HOS scenes are beautiful drawn, although the rest of the scenes could maybe be a bit different one from another, but that is just a minor thought. I liked the cut scenes that showed the back story, I've never skipped a single one. This game is great for everyone who feels like a true explorer and I certainly recommend it!
March 3, 2013
VOYAGE TO ANOTHER WORLD
I thought the CE was a good game because you got to find butterflies and golden blimps as well as achievements, this SE doesn't have any of those features. There is still a lot to do in this game, with the same storyline as seen before, an artifact found, good vs. evil, both sides fighting for the artifact and you going around an ancient city crumbling apart trying to restore all the complicated mechanical secret enterances! There are many HO's the first time you visit it is a list of items to find, then you are given a riddle to figure out and choose the correct item. The second time you revisit the HO's are find 12 items of the same such as find 12 hammers. None of the mini games were to difficult such as jump frogs over each other until only one remains. There is a map that shows you where a task is available, but you must travel to that area on your own and towards the end of the game there are many rooms making it somewhat difficult to remember how to get to some areas. The hint button does take a little while to recharge and there are two modes casual and hard to play. This is worth a credit at the very least because it is a long game with a lot of activity. I also want to tell jquick that I hope all went well and a speedy recovery!
March 3, 2013
doesn't live up to the hype
after reading the reviews for the Collectors Edition, I was eagerly anticipating playing the SE. unfortunately, it really missed the mark. two levels of challenge, the harder says no sparkles but every hidden object scene was lit up like a Christmas tree. there was nothing difficult about the hidden object scenes, the graphics weren't that great either. the only thing I saw about this game that offered the slightest glimmer of interest was the riddle at the end of each HO scene to obtain your inventory item, but you didn't even have to read past the first line of the riddle to determine the item and find it. the puzzles weren't challenging either. I'd like to comment on the storyline, but I'm still not sure what the story is other than a bunch of red blobs (bad guys# and a blue blob #potential helper/good guy). but with only one objective to complete at a time, and everything within a few steps of where you need it, there was no thought necessary to play this one. try it, you might like it. it's just a bit too rudimentary for my tastes.
March 3, 2013
Very enjoyable!
I almost didn't play the demo for this game, let alone buy it, because the download took so long for me. I'm so glad I was patient though and got it downloaded in the end as I really enjoyed the game. The graphics are great and the hidden object scenes are lovely and I liked the riddle at the end of those too. The map is very useful and the length of the game is just right. Maybe not the most challenging but very nice to play and it's always nice not to have to cause to use the hint button. Good puzzles too, a bit different. Thanks devs and BF :)
March 5, 2013
Different (again)
As with the CE of this game, I have to say that I find it different to most other games. It might not be everybody's cup of tee, but If you want to explore a different, fantasy, world I would recommend this game. All of the extras are gone from this standard release, but still the epic world is present.
March 3, 2013
Not stunning
Based on free trial 2 levels; regular and expert 2 types of HOS (as far as I played); list style and collect 12 of something. List style HOS are easy and only mildly interactive Non-interactive map Journal, which is redundant since objectives are flashed on screen during gameplay Story; after finding an ancient artifact, you set off in search of the Tree of Life. Of course there are 'bad guys'. In this case, they want your artifact. Nothing really new or exciting, but I did like the voiceovers. There are also 5 things to collect.that you use throughout the game. All in all, not a bad game; a bit choppy between scenes which I found disturbing considering the standards being set with today's games. I might get this game using a free coupon, but don't think I would purchase it.
March 3, 2013
The Apple logo is a trademark of Apple Computer, Inc.