Amaranthine Voyage: The Tree of Life
Exclusive
During your career as an archaeologist, you firmly believed that the Tree of Life was simply a myth. However, once you uncover a magical artifact, you open brand new worlds of possibility. You're whisked away to a lush world that is slowly being poisoned by a mysterious dark force. Your artifact is the key to restoring this beautiful world, but dark forces stand in your way. Protect the artifact and save this dying world in Amaranthine Voyage: The Tree of Life, a thrilling Hidden-Object Puzzle Adventure game.
Game System Requirements:
OS:

Windows XP/Windows Vista/Windows 7/Windows 8

CPU:

1.4 GHz

RAM:

1024 MB

DirectX:

8.0

Hard Drive:

842 MB
Game Manager System Requirements:
Browser:

Internet Explorer 7 or later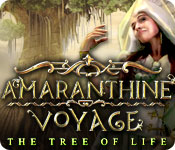 NEW299
The Big Fish Guarantee:
Quality tested and virus free.
No ads, no adware, no spyware.

Reviews at a Glance

Amaranthine Voyage: The Tree of Life
0
out of
5 (
0
Reviews
Review
)
Customer Reviews
Amaranthine Voyage: The Tree of Life
52
52
I Was Not Impressed
Okay so at first I actually thought the game was gonna be just terrible, but it ended up being okay. I just COULD NOT believe that you couldn't teleport on the map. There was SOOOO much backtracking it was unbelievable. I also got really upset that I had to open the map just to find my way back to a room I needed to go to to use an item in and was tipped off that I had something I could use in other rooms that I wanted to figure out myself. Story line was pretty bland/boring. VERY unbelievable how the bad guy ends up.
July 30, 2013
2.5 - Bit below average
As I do out of 5, it's not that I think this game is really bad but I give 3 stars to games I quite like and if 3 is average for a HOPA feel this is a bit below. Plot is NOT 100% tied up in this game ? you needed the bonus to finish the personal quest ? your character side of it. If you?re not that fussy about this then you?ll be glad to hear that there isn?t a cliff hanger and they tried to make a sort of ending to the game ? with the main quest (what was going on with the people you encountered.) I only bought the CE game in sale because of all the many extras in it as the game isn?t my taste, and I wouldn?t have bought this SE as it?s one of those games that without the extras (which this doesn?t have and they seem to have taken them away so you don?t even see them in this version which is good) I would never play it. This game is from the DEVs who brought us final scene death on the silver screen (it's nothing like that.) In the ship at the beginning I thought it could be good despite the cons and the graphics were quite good in ship and I liked the ship area but it ended up for reasons below not being my taste and fell apart later, but it wasn?t bad. I just felt more like a daily deal game, an older game ? nothing really bad but just old and a bit stale. I think it will appeal to those who hate puzzles or love simple ones and like quite a few HOS, here it?s two different types. Let?s get the negative (for me) out of the way and the following is on the hardest level (choice of 2 which you can change during game) - constant big on screen notifications of ?objective? and objective complete (what?s the point of the diary?) -black bar tips - map but it isn?t a transporter map - mega sparkles for HOS on hard - such simple puzzles -backtracking -random click penalty on both levels -I didn?t like the graphics especially at the middle to end ? not crisp and sharp kind and a lot of stone coloured as there was a lot of outside stone buildings but could have used at least some more differences in colour if not more sharp Pros -no auto tips on puzzles - no map tips on hard but as it wasn?t a transporter map anyway, wasn?t using it so didn?t see the point of it on hard mode. -live actors, they tried to minimise the lip synch by making them small and at least it was just language barrier and not off timing like some games. I thought they were well blended and it looked right, didn?t stick out, acting was OK (bit melodramatic at times) -credits were well done ? humour and making it more personal Plot was nothing special (I've seen it before) but it was well told and the strongest feature of the game. There are a lot of cutscenes which I didn't mind as it made gameplay more interesting telling the plot. Hint button is not a spoiler kind but a ?there is something in this location to do or back arrow?. 21 simple puzzle (17 I think official ones) but I counted 21 that either had a ??? beside it or I felt was one. Most of them (apart from maybe 2 that you could class as medium, one took me a while) were very simple, and even boring. There was one kind that was repeated that was good (the one at the very end) and at least that although not hard was fun. Most of the others felt stale ? no facelift, just straightforward, even the graphics weren?t nice. 29 Hidden object scenes 17 list mild interactive type, at end of each one was a simple riddle which I thought was different. You repeat one as a list type. Random click penalty on both modes of play. I did find them easy to recognise the item is which is good (I don?t mean that some weren?t blended), and quite a few were not junk pile and they weren?t dark or depressing to look at. Some of them are quite sharp like the first one (which was well done) others not so much. 12 find the same items type (ie find 12 screws) of these most of them were repeats from the list kind. I?m glad there was that kind as I prefer them and it did break them up, especially as I don?t like that many HOS and it did feel on the heavier side on HOS. -EXTRAS (what was in CE that is NOT in the SE) and they were good extras. 3 Collectables (spoiler on one) Achievements ? They were mostly good achievements (apart from gameplay ones) All puzzles and HOS and cutscenes are replayable Making of video and before amaranthine ? if you ever wanted a behind the scenes the look this is excellent (although couldn?t hear anything) plus the usual. I can?t recommend it due to a few things (one of which is the bonus plot isn?t a bonus although if everything else was wonderful and to my taste, I wouldn?t have put an active I don?t recommend on it, as it?s not that bad or cliffhanger situation. But coupled with ?clunky? graphics from middle to end and just a bit boring gameplay, along with all the other cons I can?t recommend it. But for a DD or a coupon if you like playing a lot of HOPAs and don't mind the above then do look at it. 4hrs (roughly) for main game
March 3, 2013
doesn't live up to the hype
after reading the reviews for the Collectors Edition, I was eagerly anticipating playing the SE. unfortunately, it really missed the mark. two levels of challenge, the harder says no sparkles but every hidden object scene was lit up like a Christmas tree. there was nothing difficult about the hidden object scenes, the graphics weren't that great either. the only thing I saw about this game that offered the slightest glimmer of interest was the riddle at the end of each HO scene to obtain your inventory item, but you didn't even have to read past the first line of the riddle to determine the item and find it. the puzzles weren't challenging either. I'd like to comment on the storyline, but I'm still not sure what the story is other than a bunch of red blobs (bad guys# and a blue blob #potential helper/good guy). but with only one objective to complete at a time, and everything within a few steps of where you need it, there was no thought necessary to play this one. try it, you might like it. it's just a bit too rudimentary for my tastes.
March 3, 2013
Not Challenging--Dislike the "Real Actor" inserted into the game
This game could have been great. The premise and graphics were very well done. But the Real People inserted into the game is very crudely done. The movements, the script, and the fact that the voices are not synced with the movement is very "B movie". This is the second of these type of games I've played. The first was Surface: The soaring city. They are so much alike they have to be by the same creators. From the credits, I think they are from eastern Europe. The music score was very tasteful, the artwork very stunning. If the games had been a bit more challenging, the "real people gone" this could have easily been a 4 or 5 star. I do not give poor reviews very often. This is purely personal taste. This would probably appeal more to a younger group of gamers. I was able to play through the game in just a few days. I just wanted to be done with it and detested the scenes with the actors--fortunately they were few.
July 6, 2013
Not too enthusiastic about this game
In spite of some critical reviews, I bought this game (with a coupon code, luckily). It starts out quite well, with a trip on a zeppelin which crashes . Then the rest of the game takes place in an old and overgrown temple area. Every new scene is just another part of the temple. The graphics are not superb, not "crisp", there is a lot of running back and forth, and the story is not thrilling enough for me. An important person in the story, the former ruler of this clan of people, is very poorly acted. He pops up, tells you a few things and then only stays in that room, looking around and stepping from one foot on the other, like someone who doesn't know at all what he is doing there. So... I quit this game and removed it, even before finishing it. That very rarely happens.
October 11, 2013
Not Very Appealing
This game did not appeal to me. There was no real excitement, no sense of urgency. Gosh, wouldn't you think there might be when your blimp crashes? The graphics were poorly drawn, not especially attractive. The audio was okay until the blue wisp spoke. It had such a mechanical sound to it. I only played 30 minutes of the demo and couldn't take any more. I think in that time I played 3 HOS and there were a couple puzzles, which were extremely easy. To sum it up, I did not enjoy the game. Everyone is different, though, so check it out. Might just be the one for you.
March 4, 2013
Not impressed, and really bad actors detracts from experience
The plot is fun but the gameplay is tedious and not intuitive with weary backtracking for partial chores rather than doing all of what you needed when you were in the scene, really annoying after the first few times. Map is not interactive so you run around like a hamster on a wheel. The"actors" are horrible, the Queen keeps waving her hands around when talking in a ridiculous attempt to be mysterious? or whatever her dramatic mannerisms are supposed to convey, her costume/makeup is also weird and not fitting the story. Then the actor who plays the son reminds me of Ted from Teds excellent adventure movie, he can't deliver a good monologue and keeps rocking back and forth from foot to foot like a total doofus and he also has a hand control issue (they should get real actors cause these two are laughable then just irritating),voices also are not in sync with video. HOS are not challenging, boring even, and puzzles are easy to lame. The ending and final scene and battle was the clincher, it was horrible and disappointed greatly (for the SE edition). Shame as this had potential to be so much more, but instead it was "meh". I rarely dislike a game, but this one was a let down, probably good for 8-10 year olds.
January 19, 2014
Horrible voice acting
The voice acting in this game is horrible compared to all of the other hidden objects games I've played. It also seemed too challenging and illogical at times. I didn't play the whole game so my review is a little skewed. I just didn't find this game very fun.
June 30, 2013
Kind of cumbersome
I thought this would be an entertaining game due to the high production value. But it turns out to be tiresome. The game begins in a scene on a zeppelin. This part was fun. But after you crash land in a jungle, things start to go downhill. The first problem is that scenery are repetitive. Stone ruins with a slot for a mysterious artifact is a motif repeated again and again. Since there are many artifacts to find. after a while it becomes frustrating as you try to remember where to put what artifact. The latter part of the game is mostly backtracking, and wandering aimlessly to try and trigger events. There are also too many cut scenes. The story of the Tree of Life is actually pretty basic. I'm surprised they reduced what could have been a grand premise into a story of sibling rivalry, and jealous step mother. In my opinion this storyline does not warrant all the cut scenes that are in the game. I ended up skipping the cut scenes after a while. In the end, I only finished the game by relying on the hint button, because the backtracking just grew too tiring.
May 13, 2013
Boring
I can't believe I wasted a game credit on this! Felt like it was never ending. I would NOT recommend this to anyone.
January 2, 2014
The Apple logo is a trademark of Apple Computer, Inc.