Scarytales: All Hail King Mongo
Exclusive
The evil sorcerer Zarrar has returned to take vengeance upon your family and the kingdom from which he was banished years ago. After possessing your brother's mind through his dark magic, Zarrar is now unstoppable. As the princess, you are the only remaining member of the royal family who is safe from Zarrar's evil scheme. Stop Zarrar and rescue your family and your kingdom in Scarytales: All Hail King Mogo!
Save your magical kingdom
Play lots of unique puzzles
Fight a dark necromancer
Game System Requirements:
OS:

Windows XP/Windows Vista/Windows 7/Windows 8

CPU:

1.6 GHz

RAM:

512 MB

DirectX:

9.0

Hard Drive:

637 MB
Game Manager System Requirements:
Browser:

Internet Explorer 7 or later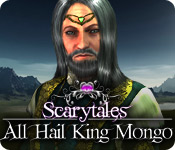 NEW299
The Big Fish Guarantee:
Quality tested and virus free.
No ads, no adware, no spyware.

Reviews at a Glance

Scarytales: All Hail King Mongo
0
out of
5 (
0
Reviews
Review
)
Customer Reviews
Scarytales: All Hail King Mongo
37
37
Fun Game
Thought this was a fun game and will use a free game coupon to purchase. The demo didn't last a full hour, so the game may be short. The graphics, sound and voice overs were good. In the time played, there were no horrible monsters or terrible dark scenes. The hidden object games weren't interactive. Used the hint twice, as a couple items were hard to find. Mini games were fairly easy. Skipped one because I don't know how to play chess. All in all, the game was a bit of a relaxing play.
March 2, 2013
good storey line okay game
I have mixed feelings about this one. the story line was interesting and I enjoyed saving everyone but there were frustrations also, finding things was often difficult and if you click too much you get a rude comment which I hate. the hint worked okay since knowing where to go was never easy but there is no map or guide, so you really have to remember where everything is and there were times when even the hint button was not really helpful since it suggested things that made no sense to me. part of me wants to recommend this game but in the end I just cant.. I finished it just because I needed to get to the end but overall it was not really fun.
December 23, 2013
PRINCESS MUST SAVE THE KINGDOM FROM BROTHER
HOS are list-based and very crowded. Not too detailed. Hint system within the HOS gives you a picture of the object as it sits in the HOS. I couldn't find it a couple times after using the hint; the 2nd hint gives a closer view. I'd rather it show where the object is since some of the HOS is a little dark and, as I said, objects are not very crisply detailed all the time. Good thing there's no penalty for misclicks. Hint outside the HOS is very good. It tells you where and what you can find something to help you on your quest. There is a long hint recharge time. Graphics outside the HOS are very nice but not what I would call crisp. It may be because of the color palettes used in the scenes. Music must have been unintrusive since I don't remember it. Nice story as the princess must be considered inconsequential by her brother and therefore is in a position to save the kingdom from Mongo. Pleasant afternoon of play.
March 10, 2014
Too simple compared to the currently games.
Reko, the dwarf, worried about the disappearance of King Mongo, writes to the princess asking her to return to the kingdom, because the prince who is reigning does not seem interested in looking for his father. In the kingdom is also an evil sorcerer who seems to be involved in this mystery. Good graphics as well as sound VO. Ordinary storyline. The game is not bad, it just does not bring anything new: HOS easy, non-interactive, and always has one object almost impossible to be seen, like the moon or the matchstick. Mini games not challenging and very well known: find pairs, rotating circles to connect, swap tiles to form an image ... The game seems to be short because the free trial, which is less than an hour, I got almost to the end of the second of five chapters. Two play modes. Hint can only be used in HOS and mini games. Many back and forth. Nothing to collect, not very interactive - soon you use found objects. You do not have many options ... you have to follow a sequence of tasks making the game a bit obvious Well, it's not a game that held my attention and interest. Free trial was enough for me. Try it and decide for yourself.
March 2, 2013
Scarytales? Not So Scary
A fantasy Fiction that takes place in a kingdom ruled by an evil sorcerer, Zarar who has taken possession of Prince Mongo. The King is missing and it is up to our heroic princess to save the day. I actually liked the story and although the game lacks sophistication, the graphics are sharp and there is minimal use of voice-overs with hardly any music in the backgroun expcept for some ambient sounds.. Game features only two play modes to choose from. There is no journal and no map. Tasks are outlined and the hint button will offer directions or when used inside the HO scenes, you have images. A simple Hidden Object with puzzles and adventure game that has an appeal to it. I found the HO scenes easy to do, no interaction and some of the items were very cleverly hidden. This game will definitely appeal to fans of puzzles, some very easy while others required painstaking patience. There is alot of items to pick up and use and alot of mini-games to play. Overall, I found the game charming and enjoyable. I actually found myself immersed in the gameplay. No fuss but does definitely offer entertainment. Dont be fooled by the simplicity, there is a certain amount of challenge involved which is why I found myself enjoying the gameplay as I played on. A nice Standard Edition game that actually has an interesting story line that I found amusing. A simple game, somewhat awkward at times but does have its moments. I myself will be spending one of my Free Game credits on this one.
March 2, 2013
Only so so...
This game leaves me slightly cold. It was ok for play value, but the artwork was very one dimensional, and now I look for good graphics as a basic for all new games. I did like the sounds..the background noises were quite cute...crows, crickets, etc, and I did like the noises made when you located something. The VOs were fairly good too, but the volume on the narrator's voice was way louder than the rest of the sounds, and eventually I had to turn the whole thing down. The HO scenes were not interactive, nor were they very well drawn...a bit boring, really. The puzzles were old familiars although some of them were frustrating...why can you only move the squares up and down in a rearrange the tiles scenario...and I HATE that darn old 'rotating the rings' thing! There is no map and the objectives keep coming onto the screen in an intrusive way...also there is a lot of hand holding when working on something such as making a potion; you have to look at the directions in a diary, but when you click on the apparatus to make the thing, it will tell you each step..I mean, what is the point? I would recommend trying this game for yourself as it is a simple old HO game, and that may satisfy some....mostly though, I didn't like the name..."King Mongo"?? What kind of a king has a name from an old Mel Brooks movie??
March 2, 2013
Average HOPA ? A ?scarytale? that is not very scary.
Bright, clear and colourful graphics. That?s about it. A game for a grey winter day when you just need to relax. The storyline is familiar. Evil wizard, black magic, missing king, bewitched prince. Your task as princess is to defeat the wizard, free your brother from his influence, and restore your father to the throne. Usual gameplay. Find objects and use inventory in multiple locations. HOS (lists only) are not interactive. Puzzles are easy. No map or journal. No task list. Only current objective is available. Short cutscenes with good voice overs but little animation. Not much music, just sound effects like baying of wolf, occasional thunderclap, cawing of a crow, hooting of an owl, likely intended to create spooky atmosphere but fails to do so. Hint does not recharge quickly, but provide instructions for what to do next. Two modes of play. Can?t change during gameplay, which I desperately wanted to do. Too much handholding. One item that suggested promise was a teleportation device in Hamoon?s laboratory. Unfortunately, I wasn?t able to activate it during the demo. I played the whole hour hoping for improvement. Alas, there wasn?t any. A very pretty game, with little challenge. Play it with your kids! They might just love it!
March 2, 2013
Not too impressed
This is a very average game. I can carry on happly with the rest of my life never having gone past doing the demo. Some of the HO scenes are junk piles, others okay. The visuals could have been a bit sharper. But this didn't seem to be a problem with the HOS. I didn't turn the music down, so it was nonobtrusive. It's been a while since we had this story line so that's good. Over all, I'm not buying it, but you might like it. I say, give it a go and deside for your self. PS Did anyone else notice the Harry Potter sorting hat?
March 2, 2013
Fun Game but not worth the money.
I purchased this game with a free credit so I don't feel that bad. It was a nice easy play, fun, but it was very short, like 2 hours tops short! Had they added a bit more and had you in more then 4 of 5 scenes it would have been better. Not sure it's worth regular price.
March 2, 2013
Good, but really short
Loved everything about the game, except the length: 2 hours casual, and I am a slow player. Great visuals and characters No music, just sounds of birds and nature Good storyline HOS standard Puzzles good, medium skip Would recommend only for a daily splash, not as an SE
March 14, 2013