Amaranthine Voyage: The Tree of Life
Exclusive
During your career as an archaeologist, you firmly believed that the Tree of Life was simply a myth. However, once you uncover a magical artifact, you open brand new worlds of possibility. You're whisked away to a lush world that is slowly being poisoned by a mysterious dark force. Your artifact is the key to restoring this beautiful world, but dark forces stand in your way. Protect the artifact and save this dying world in Amaranthine Voyage: The Tree of Life, a thrilling Hidden-Object Puzzle Adventure game.
Game System Requirements:
OS:

10.8/10.7/10.6/10.5

CPU:

1.4 GHz (INTEL ONLY)

RAM:

1024 MB

Hard Drive:

843 MB
Game Manager System Requirements:
Browser:

Safari 4.0 or later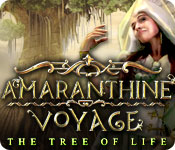 NEW299
The Big Fish Guarantee:
Quality tested and virus free.
No ads, no adware, no spyware.

Reviews at a Glance

Amaranthine Voyage: The Tree of Life
0
out of
5 (
0
Reviews
Review
)
Customer Reviews
Amaranthine Voyage: The Tree of Life
46
46
Amaranthine Voyage: The Tree of Life, another great game from these developers
I bought the SE version because it was on sale, but I have to say that I am very happy with it. I had thought about getting the CE, but this version is long and involved, so I'm not missing out on much. There is one strange thing, though; when Prospero first appears and speaks to the player, the text is completely different from the voice-over, so you really should play with the sound on. The mini-games were not too difficult and I like that. Something I enjoyed, as with the other games from these developers, were the credits at the end. These people have senses of humor. Try this game, and also "Final Cut, Death on the Silver Screen." You'll enjoy them.
April 6, 2013
I'm impressed! Adventure, HO, puzzle, involvement?
A voyage of discovery, adventure, and challenge awaits every player in this game. From the moment you get past the obligatory maker's and BFG screens, you are pulled into the story. At the outset, the imagery and voice acting involve the player in the tale?before you ever get to the opening screen to click "Play Game". Throughout the game/tale/challenge, that stellar quality of imagery, voice acting, sound effects, and music make it a pleasure to leave the sound on (as recommended at the top of the game). For HO fanatics, this game may seem a little sparse with them; you play the adventure for a bit before ever bumping into a HOS. The quality of the scenes, however, is excellent, and even more entertaining because one or two items in most HOS require you to move or combine things to create or identify the sought item. As a capper to completing a HOS, the player is presented with a mild riddle to figure out what extra object is sought, and that goes into player inventory. Two types of HOS occur, one the standard list of things to find; the other, find 12 of the sought item (wrench, key, honey,?). But HO is only one of the many game genres involved! Adventure is the name of the game, with discovery and creative adaptability a necessity. Objectives are useful reminders but not insanely detailed. Puzzles are encountered without tripping over them at every turn. Most of the puzzles require a little experimentation to discover how to work with them. I had to skip a few although I *think* I could have solved them eventually. If I had to put this game into a single game genre, I'd call it a classic adventure game. But that truly understates the quality of the fun, the involvement, and the voyage. The storyline is considerably more complex than just "how do I get home from Oz"? But the developers don't just dump it on you in long-winded cutscenes, they feed it to you in dribs and drabs as you activate bits and pieces in this otherworld's abandoned (well, mostly abandoned) capitol. Even as you work through the game and the tale comes to its conclusion, the storyline remains solid and true to itself; the acting quality and visuals keep up the standard set and maintained throughout the game. Twists and turns of game play, interaction with game characters, all these I'll leave for the player to discover. I'm sure someone will hate the music; I love it. It's not the point of the game, nor even a major element, but when you're hunting around in a HOS, it's attractively pleasant and clearly composed to just *be* background music. The map and diary are particularly useful because the capitol complex is not set up on a rectalinear grid. And the hints will point you in the right direction without charging you for the use of a hint; that only occurs when you need to find something within a scene (be it the detail you missed or something in a HOS). As usual, two modes for choice, regular and expert, and the tutorial is optional. Oh, and even the final credits are fun to read!
April 1, 2013
WOW.....................
What a great game.......loved it, loved it, loved it. the game jogged along smoothly and I never felt bored, despite it's extraordinary length !!! HOS where fun and easy to see, interactive too.Puzzles were good, some quite difficult, others not so much, but there were quite a few that were new to me. I played on the second of two difficulty levels and it was just right, hint was very helpful too. I have no difficulty recommending this really rather great game.So use your pounds, dollars, yen or credits and get this game without delay !!
March 19, 2013
VOYAGE TO ANOTHER WORLD
I thought the CE was a good game because you got to find butterflies and golden blimps as well as achievements, this SE doesn't have any of those features. There is still a lot to do in this game, with the same storyline as seen before, an artifact found, good vs. evil, both sides fighting for the artifact and you going around an ancient city crumbling apart trying to restore all the complicated mechanical secret enterances! There are many HO's the first time you visit it is a list of items to find, then you are given a riddle to figure out and choose the correct item. The second time you revisit the HO's are find 12 items of the same such as find 12 hammers. None of the mini games were to difficult such as jump frogs over each other until only one remains. There is a map that shows you where a task is available, but you must travel to that area on your own and towards the end of the game there are many rooms making it somewhat difficult to remember how to get to some areas. The hint button does take a little while to recharge and there are two modes casual and hard to play. This is worth a credit at the very least because it is a long game with a lot of activity. I also want to tell jquick that I hope all went well and a speedy recovery!
March 3, 2013
A different story with good mini-games
The story is cute. You will learn more by finding artifacts. There are 2 game modes. - The graphics are not of the kind I prefer, but clear. - The HOS sparkles even in the Expert mode. The objects are easy to find. - Some of the mini-games are really interesting, not too challenging. - You have a journal containing the clues you found and a list of your objectives. - You have a map showing active locations but you can't jump, which is annoying since there is a lot of back and forth. The length of the game is good; for me, a bit less than 3 hours.
May 25, 2013
Nice and Relaxing...Great Game
I found myself enjoying this game right from the start thou I did find the HO?s to be a little boring they were as normal HO?s should be. The length was good as it took me about maybe 5 or more hours (I think). The mechanisms throughout the game were amazing, well-crafted and thought out. I found myself wanting to keep going and not wanting to stop playing so I could see what happened next. There was not too much back tracking but there was some here and there. There is a map, a journal which is used often and your hint button recharges very quickly (about 15-20seconds in standard mode). The only thing I didn?t like was the ending but it wasn?t horrible I think maybe I just wanted or expected a little more. This shy?s away from some of the more spooky graphics and voice overs where great and I loved the outwork and storytelling. Also the puzzles were very fun to play and relaxing to play. Altogether I would say this is a pretty good game fun and relaxing with great graphics, voiceovers and a very good length. I liked it?..Enjoy!
May 17, 2013
Stunning.Visuals..lots.of.Extras
liked.the.riddles.at.end.of.HOS----good.storyl.line.and.fun.with.game.play---really.annoyed.by.real.people.for.characters----very.corny.acting.job--woulld.have.preferred.computer.generated.characters
March 7, 2013
Very clever game
I enjoyed playing this game very much. It's a nice long game, which definitely gives you your money's worth. Depending on how you play it, it really makes you think too. You can take the easy way out and use the hint button over and over and it tells you where to go and what to do. Or you can figure out most of it yourself and have a very satisfying experience. The art work is excellent. You really feel like you're in another world. You go through scene after scene after scene, all different, looking for objects that you need. There are tons of mini games, some fairly easy and some more difficult. There is a skip button if needed. It's easy to get lost while going around the different scenes, so there is a map that helps you see where you are. It's not the best map, but it does show you where some action is needed next. The only thing that kept me from giving this game a 5 (it was very close) was that toward the end of the game I felt like it was getting kind of repetitious, doing the same kinds of things over and over. But that's a fairly minor complaint. The game was very enjoyable to play and I definitely recommend it.
October 1, 2013
not great but good
has voice over but a lot of talking and video. The game is quite easy. the HOS are easy and the puzzles are not challenging at all. Has some flow but too much talking and the game is too easy to get into. Not bad. Good for a beginner.
May 4, 2013
Still a solid adventure! :)
... But I recommend to play the collector's edition as there are achievements and collectables (40 zeppelins, 14 butterflies) One thing, I didn't like was the acting of the real characters: It somehow annoyed me? But the scenes are beautiful drawn! Gameplay is fluently. Good mixture of interactive HOS and not very challenging minigames/ puzzles. Found items are used soon. We have a map (no transport-function) together with a tasklist. 2 modes to choose. Nice: There is a control panel attached to the inventory, which contains helpful tools you will find during the game, like bow and arrow, spear? Hint is direction indicating and refills quite fast. It took me about 4 hours to finish all 6 chapters. This game is not bad, but it's not my first choice..... :)
March 3, 2013
The Apple logo is a trademark of Apple Computer, Inc.
The Windows logo is a trademark of Microsoft, Inc.