Amaranthine Voyage: The Tree of Life
Exclusive
During your career as an archaeologist, you firmly believed that the Tree of Life was simply a myth. However, once you uncover a magical artifact, you open brand new worlds of possibility. You're whisked away to a lush world that is slowly being poisoned by a mysterious dark force. Your artifact is the key to restoring this beautiful world, but dark forces stand in your way. Protect the artifact and save this dying world in Amaranthine Voyage: The Tree of Life, a thrilling Hidden-Object Puzzle Adventure game.
Game System Requirements:
OS:

10.8/10.7/10.6/10.5

CPU:

1.4 GHz (INTEL ONLY)

RAM:

1024 MB

Hard Drive:

843 MB
Game Manager System Requirements:
Browser:

Safari 4.0 or later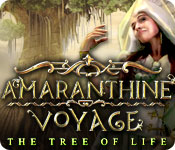 NEW299
The Big Fish Guarantee:
Quality tested and virus free.
No ads, no adware, no spyware.

Reviews at a Glance

Amaranthine Voyage: The Tree of Life
0
out of
5 (
0
Reviews
Review
)
Customer Reviews
Amaranthine Voyage: The Tree of Life
52
52
Pretty good.
The visuals and sound are very nice. The puzzles are a little too easy. The storyline was a little gloomy, because none of the characters were very nice.
February 4, 2014
Stunning.Visuals..lots.of.Extras
liked.the.riddles.at.end.of.HOS----good.storyl.line.and.fun.with.game.play---really.annoyed.by.real.people.for.characters----very.corny.acting.job--woulld.have.preferred.computer.generated.characters
March 7, 2013
Still a solid adventure! :)
... But I recommend to play the collector's edition as there are achievements and collectables (40 zeppelins, 14 butterflies) One thing, I didn't like was the acting of the real characters: It somehow annoyed me? But the scenes are beautiful drawn! Gameplay is fluently. Good mixture of interactive HOS and not very challenging minigames/ puzzles. Found items are used soon. We have a map (no transport-function) together with a tasklist. 2 modes to choose. Nice: There is a control panel attached to the inventory, which contains helpful tools you will find during the game, like bow and arrow, spear? Hint is direction indicating and refills quite fast. It took me about 4 hours to finish all 6 chapters. This game is not bad, but it's not my first choice..... :)
March 3, 2013
not great but good
has voice over but a lot of talking and video. The game is quite easy. the HOS are easy and the puzzles are not challenging at all. Has some flow but too much talking and the game is too easy to get into. Not bad. Good for a beginner.
May 4, 2013
I really WANTED to like this game
This review is of the SE, which I just finished. I really wanted to like this game, but it fell way short of what it should have been. The pluses: -great sound effects -beautiful settings -good story I particularly enjoyed the different toned chimes that sound as you collect each HO item. I also liked that almost every scene (and there are A LOT of them) had slightly different music and background sounds. I could have listened to the birds for a long time without playing at all. I also really liked how the back story unfolds step by step as items are found and placed in the landscape. But not enough to save the game. The negatives: -too much aimless back and forth -the puzzle instructions are often not helpful -the puzzles are too easy -the world is HUGE (this is also a good) The world is HUGE, with endless scenes, none of which are completed on the first shot. So if you only play an hour a day, when you go back, you can't remember where the incompleted tasks are. The map is not interactive, so a great deal of time is spent in aimless noodling around looking for a scene with something to do in it. Did I say there are A LOT of them? There are lots of easy HOS. I like 'em easy, but these are even a little too easy for me. So the very easy puzzles were a relief the few times they showed up to be played. The only puzzles that weren't too easy, had such obscure instructions that I couldn't figure out how to play them. One puzzle, I couldn't figure out, even after looking at the walkthrough! Some of the puzzles I probably wouldn't have figured out except that I had played them before - such as the sliding boxes one, which actually had incorrect instructions. I don't like skipping puzzles because I can't figure out the rules. The ending is satisfactory. And it might be worth playing for how pretty it is, but I'm not recommending.
March 12, 2013
Not stunning
Based on free trial 2 levels; regular and expert 2 types of HOS (as far as I played); list style and collect 12 of something. List style HOS are easy and only mildly interactive Non-interactive map Journal, which is redundant since objectives are flashed on screen during gameplay Story; after finding an ancient artifact, you set off in search of the Tree of Life. Of course there are 'bad guys'. In this case, they want your artifact. Nothing really new or exciting, but I did like the voiceovers. There are also 5 things to collect.that you use throughout the game. All in all, not a bad game; a bit choppy between scenes which I found disturbing considering the standards being set with today's games. I might get this game using a free coupon, but don't think I would purchase it.
March 3, 2013
Kitty's Thoughts: The Tree of Life with Plot Holes
Sigh... how can I touch this game without being soo mad at it. I got the full version of the game. I do like it, but the game itself is broken in a way from beginning to end. Storyline: You start out as an explorer with an artifact. However, these evil red spirits desire the artifact. Even worse, you have been transported on a place of runes to figure out why you're here, and the story behind the runes that is built around the tree of life. Yes, I know. It's not all that fascinating, but this is what you get. The story is dry and the more you get into the game, the more things tend to leave you asking more questions. Be warned. This game will make you mad in the end. Level of Challenge: The game itself is pretty easy once you get your ropes around everything that you had to do. Most of the time, it's trying to collect certain symbols that unlock hidden stories in the ruins or things to help you make an important item. Overall, the balance is there in the game especially with some hidden object scenes and puzzles that most people might enjoy. Sound Quality and Visuals: Okay! Recording people moving and putting them in the game seemed too digitalized. When I first saw the game image, I thought the characters will be like animated to fit the game cultural aspect. The story was done in drawings. However, if they would of cleaned it up, I believe they could of made it more impressive. You might get annoyed of the music though. The music is the same throughout the whole game. You might get a slight variation, but it's still the same bell like music. Fun Factor: With the mix of puzzles ahd hidden object games, It is pretty decent. I would suggest this game because it still an enjoyable game. You might still get mad at the ending though. I'm not going to say why either. Kitty Out!
September 9, 2013
Confusing
This is a pretty game, and I liked the mini-games. But the navigation was very sloppy in this game, it was really hard to ever know where to go next. The map offered no help in terms of where to go to find an objective, and almost all of the areas remained active for a lot of the game. I found myself using the hint function a lot just to know where to go go next (instead of wasting hours running around looking for the next objective). I liked the story and the general game play but the lack of help in navigating aside from using the hint, I found that frustrating.
March 17, 2013
A Great Game For Those Who Love HOS!
This game had its high points and its very low ones. The high points were: several locations; dreamy, ethereal graphics; great voice-overs, many, many interesting puzzles, and ease of use. Still, the low points outweighed the good: The real actors added a very corny element to the plot (especially the young male actor who constantly shifted his stance from side to side). What started out as a fantastic balloon journey--adventure, ended up on the ground. There were way, way too many hidden object scenes that were, in no way, tied to the weak storyline. If you really, really LUV HOS and puzzles, you will LUV this game! As for myself, I'll try, wherever possible, to play the large format games WITHOUT having to look for bananas, rings, or indistinct bugs!
March 15, 2013
Wasnt worth being made as CE and wont buy as SE either
I didnt not like the quality of this when It came out as a CE and was surprised that something of this low quality.. Graphics etc was even put out as a CE... Bad blurry, not crisp graphics, boring storyline.. well not really storyline but the scenes your in bored me to tears... Ship, woods.. than stopped demo, couldnt take it any more ... Story I just couldnt get thrilled about walking around the inside of a ship for awhile then in the jungles... Green,,, green green... Did not feel anything that said wow, this will probably be pretty good if I keep on playing.. Did play the demo again for this SE and just wasnt feeling the love for the atmosphere or graphics... etc.. Ive seen CEs that just werent quite CE quality but would be SE worthy paying or using free credit... I had figured I would use a free credit , but I dont even want to use that because I dont like the graphics or gameplay... Sorry on this one... too many spectacular ones out there to choose from.. this fall very short of them.... Deb
March 4, 2013
The Apple logo is a trademark of Apple Computer, Inc.
The Windows logo is a trademark of Microsoft, Inc.