Outta This Kingdom
Outta This Kingdom combines awesome time management fun with a kicking fantasy twist to create casual gameplay the whole family will love! When the beautiful Rachel and her wise-cracking cat unwittingly cross a dimensional rift and wind up in a colorful world teeming with magic, she joins forces with the handsome Jake to return home. To find the wizard who can send them back to their own dimension, they must complete an epic journey across many stunning environments, rebuilding a kingdom that's been torn apart. Collect resources, build and upgrade villages and hire workers to complete these and other tasks. Along the way, you'll defeat Land Elementals, outsmart an Ice Queen and go toe-to-toe with Gingerbread Barbarians! Will you join Rachel and Jake on their grand adventure?
45 Levels
19 Characters
Six stunning locations!
Game System Requirements:
OS:

Windows XP/Windows Vista/Windows 7/Windows 8

CPU:

1.6 GHz

RAM:

512 MB

DirectX:

9.0

Hard Drive:

292 MB
Game Manager System Requirements:
Browser:

Internet Explorer 7 or later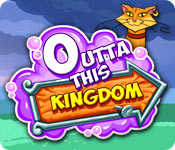 NEW299
The Big Fish Guarantee:
Quality tested and virus free.
No ads, no adware, no spyware.

Reviews at a Glance

Outta This Kingdom
0
out of
5 (
0
Reviews
Review
)
Customer Reviews
A Bit Confusing
normally i don't write a demo review but since this is a new game i'll give it a go. i reached level 8 or 9. it's similar to MKFP and ROR, etc. clear roads, build huts, saw mills, farms, information centers, and bridges, defeat enemies, etc. what i found confusing is the mechanics. some items go into inventory and when used you have to double click to make it work. other items go into your tent and need just one click to use. certain characters can only do certain actions, ie: only the cat picks up food. bubbles appear above the action telling you what you need. gold, wood, food and crystals are staples. the goals are tabbed with the buildings to buy so you need to switch tabs to see your goals which i did not like! the story moves along with different characters talking to you before and during each level. i'll let you find that out when you play the demo. demolish buildings, upgrade huts, buy more workers. also, the different huts earn rent gold and have citizens in them. some levels require a certain number of citizens. if the game mechanics were more uniform i'd give it a 4 star rating since it would be more fun instead of frustrating when i forget i need to double click! perhaps i would get used to it if i bought the game and continued playing. i do have a free game coming to me but i'm really on the fence with this one. please try the demo before you buy because you just might have the same trouble getting used to it.
March 6, 2013
Meant to be Humorous
This game brought back memories of the cartoons I watched as a kid. (Remember the Super Friends?) That was a long, long time ago in a day of simple dialogue and no explanations of weirdness needed, so I'm pretty sure the writers were aiming to make fun of that genre - which they have done effectively. The game is designed in the style of Roads to Rome and Kingdom Chronicles, though the gameplay itself is much less complicated. The artwork is bright and colorful and the music and sound effects are not bad. I left them on. This would be a good game for young children as it's very easy and they won't be put off by the silly dialogue.
March 6, 2013
I'LL PASS!
Not a challenging game, very basic game to play. If a girl driving down the road in a pink cadallic with her cat and singing horribly doesn't convience you to exit the game then you might be okay with the rest of the game which in my opinion was boring. All you have to do is click on an object such as, a neatly cut and stacked firewood pile, (which is highlighted and blinking) your character leaves a tent picks up the wood and goes back to the tent until you click on the next pile of rocks etc. and off he goes again. Sorry a no go for me!
March 8, 2013
Not Sure Why I Bothered
I played the demo version of this game, and found it mildly amusing. I purchased the game wirh a Club Credit. I kept trying to give the game an opportunity to entertain me. Sadly, that just never happened. I believe the instructions are confusing and the game play is silly. I agree with some of the reviewers that this game was made intentionally silly...but...I don't think it was meant to be so silly as to be insulting to a serious gamer. But, it was.
March 7, 2013
Just an okay game
After about two levels of this game, I became bored. This is game is great if you are looking for a mindless game, but don't look here for challenge.
April 13, 2013
Only for children
Strange setting, strange tasks, strange characters and enemies.
April 12, 2013
really annoying
I usually love this kind of game but really did'nt like this one.You can't skip the instructions and your told how to do each move, ok if your a newbie but really annoying if you know the basics. Can't comment on the sound as I don't have it on.Found the cartoonish drawing alright for young ones.I have all the Island tribe series & royal envoys but feel this game is a step backward.
March 6, 2013
Simplistic, ugly and weirdly insulting
I can't explain why I felt like my intelligence was insulted by this game. Actually, I can. I feel like this goofy and visually underwhelming game was trying way too hard to convince me that it was funny, graphically amazing and intellectually stimulating. It failed on every level. It truly is a lame, shoddily-put-together rip-off of infinitely better games like the "Roads to Rome" series and other superior games of that type. Spend your money better than on this embarrassing mess. Try Roads to Rome 1-3, My Kingdom for the Princess 1-3, Island Tribe 1-4, etc. This one is a waste of...everything.
March 6, 2013
Out of their minds?? Odd game.
Nothing about this game falls into place for me. It is unclear what type of a game the developers are trying to create or who their audience is. "My Kingdom for the Princess" for children? Wanted to like this one, because the "Candy Land" graphics and story are cute, but the game as whole just doesn't make sense. It isn't really challenging, the game play is overly simplistic, but is also complicated, bizarre, and confusing...the game either needs to be further simplified and clarified to appeal to children, or further developed to appeal to adults. Seems like the developers had a few drinks before throwing this gem together.
March 6, 2013
There's a difference between silly and stupid
Disclaimer: I only played the demo. But if companies want people to buy a game, they shouldn't make you waste an hour before it starts to get fun. Yes, the game is supposed to be silly. But it goes beyond that. The voices are really annoying except the cyclops. Also there is just too much talking. The tutorials are extremely irritating, as they don't just tell you what to do, they prevent you from doing anything else as you wait for each step to complete. Having two different ways tools work does not add to the fun. The story is scattered as you help someone in one level and then work against them in the next. The thing that keeps track of when you're running out of time is unnecessarily complicated. If the main character is supposed to be a "housewife" that means she is married. But there's no mention of missing her husband or anything. I think calling her a housewife should just have been left out. I want the hour of my life back.
July 8, 2013
The Apple logo is a trademark of Apple Computer, Inc.