Otherworld: Omens of Summer
Exclusive
Join Fiona, a young girl born with magic, as she stops dark creatures in this hidden-object puzzle adventure. There is a magical world hidden beneath our own -- and only you can see it! Can you stop the Shade and his minions from casting our world into darkness?

With the help of Ms. Thomas, Fiona's schoolteacher, find magical artifacts that will stop the Shade for good. Solve tricky puzzles and explore fantastic landscapes. Choose your own path and decide which location to visit first. Test your wits in a battle between good and evil in Otherworld: Omens of Summer.

WARNING: This game contains mature content which may not be suitable for all audiences.
Game System Requirements:
OS:

10.8/10.7/10.6/10.5

CPU:

1.0 GHz (INTEL ONLY)

RAM:

1024 MB

Hard Drive:

564 MB
Game Manager System Requirements:
Browser:

Safari 4.0 or later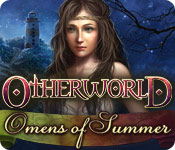 NEW299
The Big Fish Guarantee:
Quality tested and virus free.
No ads, no adware, no spyware.

Reviews at a Glance

Otherworld: Omens of Summer
0
out of
5 (
0
Reviews
Review
)
Customer Reviews
Otherworld: Omens of Summer
45
45
fun filled adventure
I loved this game, it kept me wanting to see what happened next. All the mini games were fun too.
March 15, 2013
Dark Dark Dark
Good storyline, but some of the too many minigames I had trouble working. Liked the little girl hint button dozing off when recharging, but the last couple of minigames made no sense. Liked the crow HOS. That was different.
March 11, 2013
Enjoyable sequel!
I was tempted to get the CE but held out to get the SE. I didn't notice that much of a difference other than the hidden fairies so the SE is good for me. Very nice graphics, not overly complicated puzzles and the hidden items are found pretty close to the time they are needed to advance in the game. I had the first 2 chapters complete in the 1hr trial and since there are 8 chapters there should be lots more to enjoy. I just purchased taking advantage of the double punch March Monday special. I recommend!
March 11, 2013
otherworld Omens of summer BORING!!!
I was so fed up playing this game, it seemed to be one puzzle after the other, I could not find it a relaxing game to play at all, not that I dislike puzzles but not the type in this game, they were a bit of nuisance, too many things to do in each puzzle for me at least, the graphics were very good, the voice over was a bit jumpy missing words, no I did not like it at all, I am just glad I did not get the CE. sorry guys, I have played hundreds of ho's and this is not to my taste I think it would be ok for the puzzle people who like lots and not much guidance, not for beginners I think it would be off putting.the only reason I reccomend this game is for the puzzlers
March 11, 2013
JUST ONE PUZZLE AFTER ANOTHER.
This game is nothing more than one puzzle after another, and I mean A LOT OF PUZZLES! The game was very good graphically and musically, and I don't understand the CAVEAT at the beginning of the game, stating that the game may be unsuitable to those under 14. There was nothing at all frightening or excessive in any way, and the evil creatures were run-of-the-mill. There was a minimal plot, which did nothing for me. I was not happy with this game except to say that it didn't bombard the player with HOS.
April 23, 2013
Great Game for 12 year olds
This has all what makes a good HOG, a villain, a quest, interesting puzzles, pixie-land and underwater scenes just lovely, a great story but I didnt give it more than three stars because it is clearly aimed at young teens. The initial deserted school scenes would be even younger - ten yr olds. Otherworld Summer was more cross-generational I thought, and though I liked this a great deal & enjoyed it enough to finish in two sessions (you get about 8hrs gameplay so good value) it is definitely aimed for child gamers. Very much recommend it for this age group though.
April 12, 2013
It was okay good
It was good like any other adventure game, there were some interesting locations & puzzles, but some were very obscure and aggrivating as opposed to just challenging as in the end they didn't make much sense. Good puzzles have the user catch on to what the author is trying to get you to understand. And the end part "final battle" was weak and meandering, it could have been much stronger. Overall, I enjoyed this adventure.
June 2, 2013
It was just ok
I don't know, there just seemed to be something missing from this game. The story was alright, but the gameplay was a bit tedious. One plus, the puzzles were a little bit different to the normal ones we get, so that was good. Overall, just not enough to entice me to play on.
March 20, 2013
Had me, but just for a while
This is one of those many games that hooks me in with the demo, but gets annoying and frustrating as it moves on. I liked the demo because it seemed to have some different things to do that were fun. There was that, but as the game progressed I got frustrated with unclear instructions for some puzzles. Most also have a hint button but in many cases it wasn't much, if any, help and I had to check the walkthrough just to get a clue. In some cases even the walkthrough gave only the same instruction with a picture of the result, but no actual directions as to how to get there. It was sometimes hard to use an inventory item because it took multiple clicks, and I mean multiple, for it to grab and work. Again I found myself checking the walkthrough, thinking I must have missed a step or was doing something wrong. I encountered what seemed to be a glitch and had to start over with a new profile. I won't go into that here but I did post about it in the forum. All in all, the game does have it's good points and it can be enjoyable. Maybe it's just me, but by halfway through it I just wanted to be done and move on to something else.
July 19, 2013
Otherworld 2: Omens of Disappointment
I was so looking forward to this sequel and snapped it up when it showed up on the $3.99 5 minute special before I had demoed it. Not sure I can put into words precisely what I found so disappointing. Maybe it was just that Spring of Shadows was such a fantastic game that it would be extremely difficult for this sequel to live up to that standard. ? The graphics are excellent but do not measure up to Spring of Shadows. Where Spring was beautiful and breathtaking creating an enchanting atmosphere that was a pleasure to explore, some of Summer is beautiful but most of it tends to be on the drab and dreary side. ? The story was very dark and disturbing and seemed to be almost lacking compared to Summer. It left a lot to be desired and it is easy to see the ?handwriting on the wall? not very far into the game. I like dark games but this one was just a bit much for me. ? Instructions for the puzzles were sadly lacking or confusing to say the least. Just one example that comes to mind was using the walkthrough just to find out that the confusing instructions were just for a simple slider puzzle. ? Although this is listed as a hidden object game, it is more like a puzzle adventure and the hidden object scenes are rare and confusing. Many times I would start searching in a scene for something useful only to realize after a bit that it was HOS. Not sure exactly why that was. Perhaps because of the list of items getting lost at the bottom of the large letterbox window? Perhaps because the HOS looked a lot like any other scene in the game? Maybe something else? ? Long wait time for puzzle skips. There were a few that I didn?t even try to finish solving and just waited for the SKIP to fill which was boring. And giving a ?time played? at the end? wonder how much of that was spent waiting on puzzle SKIPs? ? I also had an issue with the game flickering which was probably my computer and not the game since it seems it was not an issue for others. But the farther I got into the game, the worse the flickering became. First it was only in windowed mode but then it cropped up in full screen also. Made the game almost unplayable by the end. Spring I just hated to see end. Summer on the other hand toward the end of the game I just couldn?t wait for it to be over! I doubt that I will buy any more games in this series. So my suggestion is that you try this game before buying so that you are not disappointed like I was.
May 22, 2013