Design This Home
Become an interior designer - decorate and expand your house! Customize every element of your home: arrange furniture, put up cabinets, paint the walls, renovate the floors and more - anything is possible in Design This Home™!
Over 600 items
Customize every aspect of your home
Fourteen full-sized rooms to construct and decorate
Game System Requirements:
OS:

Windows XP/Windows Vista/Windows 7

CPU:

1.0 GHz

RAM:

1024 MB

DirectX:

9.0

Hard Drive:

83 MB
Game Manager System Requirements:
Browser:

Internet Explorer 7 or later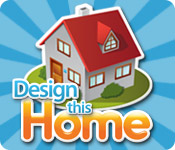 Top In-Game Purchases
1.

9,000 Cash

$ 0.99

2.

20,000 Cash

$ 1.99

3.

60,000 Cash

$ 4.99

4.

250,000 Cash

$ 9.99

5.

1,000,000 Cash

$ 19.99
Game Club members
SAVE 30% on
in-game items.
The Big Fish Guarantee:
Quality tested and virus free.
No ads, no adware, no spyware.

Reviews at a Glance

Design This Home
0
out of
5 (
0
Reviews
Review
)
Customer Reviews
Too Slow to Be Fun
This game started off as a lot of fun. But about 10 minutes into the game is when things started to get sloooow. You don't get new tasks until you complete old ones, and it can take hours (of real world time) to complete those old tasks; basically, you have nothing to do but watch your character roam aimlessly around the house, occasionally clean up messes, and click on the money bag that appears every 15 minutes or so. This was a great idea that was executed poorly. It looks pretty, though, and for the first few minutes it was a blast, which is why I'm giving it an "OK" rating.
December 5, 2013
HURRY UP AND WAIT
This game is ok. you start out with challenges (tasks) to do to get to next level but as the game progresses you have to wait to gain some funds since they run out quickly with each task. there is a constant hurry up and wait. it started out fun but got dull quickly.
December 7, 2013
Would be better if...
I love, love, love home decorating games and was very excited to see this one. I was soon disappointed as I began to level up. The more furniture you place and rooms you build, increases the time you have to wait to collect your money. As you build each room, the price and time to build the next room increases a lot! It was also disappointing that some of the quests require you to buy a 3-star item for a room, which you must use gold coins for; no 3-star items can be bought with the game cash. For the most part, it is a fun game if you enjoy these types of games. On the other hand, it's a big let down because you have to spend real money and wait FOREVER for quests to complete. I truly hope this isn't the future of gaming i.e., get the game free, but spend a fortune to continue playing. For now, I will stick with my old standby- "Home Sweet Home" to get my decorating kicks. Overall I would give this game 3 stars due to the high price of items and extremely long wait times. However, the furniture choices are very good, you can name your residents and buy different homes with new floor plans. If this game could be purchased with game credits, I would be all over it! P.S. I've been a big fish member for quite a while and this is my first review EVER.
December 13, 2013
Very basic & slow to start
This is a pleasant but very basic home building game. You can move stuff around after placing it by just going back in to the "design" mode, but as others pointed out, you don't get very far in the game before coming to a screeching halt. So either you like it enough to spend/purchase gold coins to instantly "build" items #I do not#, or you have become invested enough in the game to return to it after the minimum 10 minute wait #I am not#. That, I think, was the developer's mistake...not giving players enough time initially to play and become interested enough in the game before having to exit.
December 13, 2013
"OK" Game
I designed my first home and then I bought my new home. The furniture was all the same. That was extremely disappointing. And any of the 3 start furniture has to be bought with coins, at least so far. I will probably finish it, but now that I know its all the same for all the houses, no excitement in seeing the "new stuff"
December 12, 2013
Really fun design game but.......
This is a great design game. Really fun. The only problems are that things are too expensive and there is way too much waiting around for upgrades. I prefer a more active game. The game isn't really free, since in order to play without waiting, you have to purchase coins or cash. Still, I love design games and this one is more fun than most. It's worth downloading if you don't mind playing games that make you wait for upgrades.
January 14, 2014
Design a house
Very slow, could have potential doesn't keep me interested.
December 17, 2013
Slow!
I have to agree with others - it takes forever to get anywhere with this, lots of waiting for items to be delivered and for money to accumulate. Moving furniture is frustrating: some of it has to be put in storage then placed in the new location. Trouble is you can't see exactly where the item is going to be until you click and then have to repeat the process if it's not where you want it. I probably won't do much with this. I prefer a game that I can enjoy for an hour or two at a time - not just a few seconds!
February 13, 2014
Like Watching Paint Dry!
I think this game could be good if you were free to modify houses as you wish when you wish without having to buy so many gold coins! It is so slow, if you buy a tv in the game you may need to wait 14 hours until it is delivered oh unless you purchase gold coins. All in all I would say it is a blatant money sucker. At least games like farm up can be played without buying to much and still being able to play it and enjoy it. This one is disappointing and boring unless you wantto blow a weeks wages on building an online house you'll never own. Oh and the game will tell you what to buy,so you'll buy a $3000 bench only to be told to replace it with another bench later except when you sell your $3000 bench you'll only get $100 back. The game sucks.
February 5, 2014
Design This House
I liked the general game, wanted to play with my granddaughter, but the real time delivery made the game drag out way too long. And did not like the email aspect of the game or the fact the only way to speed it up was to buy coins.
February 1, 2014