Design This Home
Become an interior designer - decorate and expand your house! Customize every element of your home: arrange furniture, put up cabinets, paint the walls, renovate the floors and more - anything is possible in Design This Home™!
Over 600 items
Customize every aspect of your home
Fourteen full-sized rooms to construct and decorate
Game System Requirements:
OS:

Windows XP/Windows Vista/Windows 7

CPU:

1.0 GHz

RAM:

1024 MB

DirectX:

9.0

Hard Drive:

83 MB
Game Manager System Requirements:
Browser:

Internet Explorer 7 or later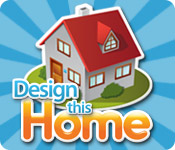 Top In-Game Purchases
1.

9,000 Cash

$ 0.99

2.

20,000 Cash

$ 1.99

3.

60,000 Cash

$ 4.99

4.

250,000 Cash

$ 9.99

5.

1,000,000 Cash

$ 19.99
Game Club members
SAVE 30% on
in-game items.
The Big Fish Guarantee:
Quality tested and virus free.
No ads, no adware, no spyware.

Reviews at a Glance

Design This Home
0
out of
5 (
0
Reviews
Review
)
Customer Reviews
Forget it
dull as dishwater. Graphics are dull and boring. First couple of minutes, all is good. Then you sit there for ages waiting for stuff to "build" and there is nothing else to do. Also can't figure out how to move stuff once it is built - you can move it around when you are purchasing it, but once it's built....nothing. Building games are my favourite, but this one....meh. Forget it.
December 8, 2013
Don't waste any of your hard earned cash on this
This is a so-called Free 2 Play, but gameplay is so incredibly slow, with items taking hours to be delivered and in the later levels cash delivery from the value of your house can take the best part of a day (which is probably why this game is designed to keep running even when you are not playing it). You'll need coins; lots and lots of coins if you want something delivered right away instead of hanging around. You'll run out of those coins quite quickly and you can't buy more with the cash you make playing the game - you have to buy them with your own real money - up to a staggering $49.99 for 600 coins. You do the math! Besides all of this, the game is so childlike and basic even the first Sims game from the 90s had far better design. The music is the same awful jazz tune over and over again. There are lots of good games around in this genre for outright purchase. I'd keep a hold of your hard earned real money. Frankly, you'd have to pay me to keep on with this one. Put in the trashcan. Good riddance!
December 13, 2013
Boring
You place furniture in a house. Then you wait. Start with a couch (you have 3 choices); click where you want it to go. Then wait *** 5 minutes of real time *** for it to be delivered. Or you can spend coins--which you have to buy with real money--to speed it up. Next is a chair: 2 choices; neither which matches your couch. Again, wait five minutes of real time or pay real money to have it appear quickly. And so on. What a bore.
December 13, 2013
Forget it
This one could have been much better. Some of my favourite games are design related so thought I would give this a try. I was completely bored after about 15 minutes of trying to figure things out, but bottom line is I will NOT pay to purchase to keep the game playing. This is just a cash grab and detest those other games that do the same thing. You are much better off to go for regular games than to keep sinking money into one game.
December 13, 2013
Design This Home "Free Download"
Yes, it is a free download and cute, but, nope... not free actually. Design This Home could be very expensive in the long run and it is not worth it IMO to venture into this game and not know how much it really costs. For all I know, it could pay for a designer consultation for my own home in real time, lol Buying ongoing cash packages, tokens, whatever, to play a free download is a no go for this gamer; it was not 'that!' cute, sorry.
December 13, 2013
What storyline?
There seems to be no storyline to this game which is essential for the entertainment of most thinking humans. It is extremely s l o w and the fun factor is nearly zero. In this game, you design and build rooms buying furniture and decor which you pay for - literally. The money you start the game with runs out very quickly. More in-game cash and coins will cost you real money. When you place an item in a room you then have to wait, sometimes hours, for the item to appear. After it has appeared you click on "accept" to get your reward, which is experience and a very small amount of "cash". The graphics, sound and music are minimal, at best. I think this is possibly the worst game that Big Fish has put out to date. "Free to play" is a misnomer.
February 4, 2014
Junk
This game is the most boring cash cow game ever. Don't waste your time, it takes lots of time. Don't waste your money, it takes a lot of real money. Free down load, no thanks!!!
January 23, 2014
Another boring, wait for it game
I am so tired of all the "hurry up and wait to have fun" games. Who wants to pay to have to wait for something like this. You can't even turn the house for a 360 view, what's up with that?!
December 26, 2013
Prepare to paid extra money to play
To design on this game you must wait an hour at a time to add a few items. The game immediately ask you to spend extra money to build a room. I don't get it. Your free hour lets you add 8 items to the room ( this happens in the first 5 minutes then you are out of money and Big Fish asks for more money to let you play???? I wish Big Fish would tell you what game are going to ask you for money to continue to play.
January 6, 2014
Boring Game
The pics looked interesting until I got it open and started playing. Even my six year old was bored.
January 2, 2014