PuppetShow: Destiny Undone Collector's Edition
Exclusive
In the calm and peaceful town of Joyville the evil revisits the same family – Master and Felicia's. Little Felicia should now live happily, but she needs help again. Her father, Master of Puppets, has gone missing and Cricks is there too! Cricks is in town for revenge! Felicia begs to help save her father from the death of his old friend but is it possible to change destiny? What has to be done will be done and you will believe in miracles!

This is a special Collector's Edition release full of exclusive extras you won't find in the standard version. As a bonus, Collector's Edition purchases count toward three stamps on your Monthly Game Club Punch Card!

The Collector's Edition includes:
Bonus gameplay chapter
Screensavers
Wallpapers
Concept art
Game System Requirements:
OS:

Windows XP/Windows Vista/Windows 7/Windows 8

CPU:

1.4 GHz

RAM:

1024 MB

DirectX:

9.0

Hard Drive:

916 MB
Game Manager System Requirements:
Browser:

Internet Explorer 7 or later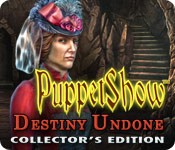 The Big Fish Guarantee:
Quality tested and virus free.
No ads, no adware, no spyware.

Reviews at a Glance

PuppetShow: Destiny Undone Collector's Edition
0
out of
5 (
0
Reviews
Review
)
Customer Reviews
PuppetShow: Destiny Undone Collector's Edition
75
75
Surprisingly disappointing.
(Review of the whole game) The graphics in this game are stunning as in all games from this developer. I'm pretty much in love with this oldfashioned, hand-drawn look that resembles a children's book. Plus, the game contains several collectibles, 10 puppets and multiple hats for your little puppet helper. However, I was a little disappointed. Here's why: 1.) I encountered a bug in one minigame (the one with the grey capsules in Chapter 6) which made it impossible to do anything. All I could do to continue the game was skipping the minigame. That was really a let-down. 2.) The strategy guide is not very userfriendly. I hadn't found all the collectible puppets and wanted to check where I missed one. Since there's no chapter in the guide for collectibles and no special "collectible color" in the screenshots, I had to look for the word "puppet" through all the guide, page by page, which was a bit annoying. 3.) The voices have been mentioned often enough and I agree: they didn't fit the children and were rather unpleasant. 4.) Some ways are very long. Although there's a map which allows you to travel, there are locations that can only be reached by train, elevator or ropeway. The map wouldn't help with these so it's really tedious to visit them. Since the minigame bug seems to occur only rarely (according to the forums) and the graphics are really beautiful, I would recommend the game. I just expected a little more from a "Puppet Show" game.
March 30, 2013
Needs to freashen up
I loved all the PS games except for the last one that I felt spoiled the story but I put my feelings aside and tried this new chapter. Even though it does an okay job of explaining certain parts of the past game plots I can't help but feel a bit cheated. SPOILER ALERT : After all we went through Felicia still ends up disfigured but this time by choice so she doesn't go insane and she wasn't really the bad girl the first game made her out to be before the disfigurement. END OF SPOILERS. I hope that if they do another game it has to do with another story cause it's time to leave Felicia and her father out of this and move on. Also the game stopped on me and only performed better once I turned off the music. There wasn't much point to the bonus game story and every now and again the voices and sounds went out of sync. The visuals are wonderful and the puzzles aren't bad. I just think it's time to give us a new plot with more characters.
April 14, 2013
Of all new things..
Among all the games in PS series, this game is probably the most creative, but I found that the new 'creativeness' are borrowed or adapted maybe from other games, like Elephant Games (EG), an example would be game helpers, in which in this game is the spider like puppet. EG has game helpers in almost all of their games, so I find this a bit irritating, like why do they also have the same thing instead of coming out with better one? There are also puppet collectibles, same like in EG. You just collect a few throughout the entire game instead of every scene. The graphic in this game is well, like all ERS games so don't expect too much, although for a PS game, this one is quite bright, not so dark and creepy. There are voice overs but they are SO not suited for the characters. I mean, they are good, but they are adults and they voice for children. Somewhat it is not appropriate and you can tell instantly. Coming back to puppet helper, the designing of hats for the puppet seems to distract us and make the game longer. I couldn't care less about this however if I am stuck in the game, I decided to play the mini hat games. The map is not very useful. Why keep asking us whether we want to go there? of course we want to go there! Jeez!! Background music and game interface are the same throughout the entire series. I don't mind them, but the 'tools' menu take lots of space and it is no longer fresh. I appreciate ERS's effort to improve the game everytime, but the story of PS gets old, it's time to close the curtain and make a new series!
April 28, 2013
Enough already !
Could we please move on from the puppets to something else ? I own all of them and I think with this one, it has been proven there is nothing to squeeze from that title anymore !
April 7, 2013
Not too challenging
Wasn't much of a challenge for players of Hidden Object Games. The head puppets gave me the creeps...even the good ones!
March 30, 2013
Just So So
I wasn't really impressed. Some of the HOS were very grainy and you had to be close to the screen to see some items. It was very slow paced and sometimes boring. The mini games were okay except for one thing, if you had an item or items to place before you could start you have to put it in the EXACT place they wanted you to put it. It was not obvious on some puzzles so it was kinda frustrating. And then one of my pet peeves.....some items in HOS were misnamed....listed a stud, actually a button..listed a scar, actually a hand print, listed tassels, actually curtains, listed a trumpet, actually a trombone. That meant I had to use a hint on some of these, a hand print is a scar...really!!?? Oh and FYI in the bonus game when they ask for a mirror in one of the HOS its a dental mirror :)
May 30, 2013
Prototype remodeled?
I hoped that the final game of this series would be better. I have enjoyed all the Puppet Show games but was disappointed with this one. I think they pulled an older, unused version out of the closet and reworked it. The graphics quality and the story was not up to that of the last game.
May 11, 2013
Same Old, Same Old
I have tired of ERS games. I used to be their biggest fan when they first started out. They were 'quality' versus 'quantity'. Anymore however, they release cookie cutter games as fast as possible, at the expense of fun and fresh games. This game is no exception. I loved the first two PuppetShow games, but after that, they began the downhill slide that all of these developer's games are suffering from. To be more specific: Same music. They use the same music in all their games, only slightly tweaked for each new release. Don't expect any new music in this game. Same art-style-absolutely nothing fresh about the artwork in this game. It has the same washed-out style that ERS is known for. Nothing new in this game to report. Same game mechanics. How the game is played is nothing new. Don't bother with the tutorial. Once you've played a few of their games, you know exactly how everything works. It would be nice if they added some new game mechanics to at least try and update their games. Same HOG style-again, nothing new. I get deja-vu during every HOG scene anymore. They all look the same, and you are looking for the same objects they've used in dozens of games before this one. The EXACT same objects. Same puzzles. Nothing new, imaginative or unique. The same type of puzzles we've come to expect from this developer. Same unoriginal, unimaginative storyline. The PuppetShow series hasn't advanced much in terms of story. Because of that, I think it's time they either liven things up or put the PuppetShow series to rest. I have a tough time telling any of these last few apart. Bottom line-expect nothing new, nothing exciting, nothing innovative or fresh in this game. Expect the same tired game that they have been releasing for quite some time now. I couldn't even finish the demo. I was, in one word, BORED. What once was a fantastic series is no more. I cannot recommend spending your money on this, and certainly cannot recommend purchasing the CE version! The SG is not needed-the game is too easy for it to be of any use. Their 'extras' included in the CE are (you guessed it) the same old, same old.
March 28, 2013
Not Much to Jump Up & Down About
I played for 40 minutes and really wanted to like the game. I thought the previous games in the series were much more of a challenge, but now we've got so many it just too repetitious. Really been there, done that! There are a few different puzzles, but nothing that is very taxing. The interactive HOS are nothing special and you revisit them at least a couple times. The music is dreary, to say the least, and the voices for the children were ridiculous as was their behavior. I thought the graphics were fine with nice colors, but my rating has more to do with the sound/voices. The interactive map was extremely annoying, asking each time if I was sure I wanted to navigate there. It's not like you click things by accident and are transported to a different story... I wasn't excited at all about the storyline. This was just not very appealing to me and I couldn't see that it would get any better. Newcomers to Puppetville may feel differently, so be sure to try the demo first.
March 28, 2013
Formulaic, predictable, and boring...a disappointment
TITLE?PuppetShow: Destiny Undone VERSION?Collector's Edition (demo) DEVELOPER?ERS GENRE?Hidden Object Puzzle Adventure STORYLINE?The puppet master has disappeared under mysterious circumstances and little Felicia has asked for your help to find him. OVERVIEW?I'm afraid I must diverge from the majority opinion. I found nothing to rave about in this game. It was the typically formulaic offering from this developer. GAMEPLAY?Point 'n' click adventure with HO scenes and puzzles. Gameplay is linear and quite simple; items needed are found relatively near to the place they're used. INTERFACE?Journal: Yes. Map: Yes. Hints: Point out object in HO scene; guide in adventure mode. Specials: Find 10 dolls/puppets, plus there's a "good" version of the spider puppet who helps you. And you can collect hat patterns to dress him up, a trend I detest. Strategy Guide: I didn't use it. Other: The inventory is the same as in the other games in this series, and it's an annoying fan-shaped pop-up in the corner. You can't lock it open because it obscures part of the screen, but it's slow to open, which really interferes with player immersion. TECHNICAL?I found the game rather slow to respond, and it seemed to take forever to move the cursor across the screen. GRAPHICS?Typical pastel impressionist style of this developer. Objects are difficult to recognize. CUTSCENES?Choppy animation, totally unlike the beautiful intro animation. MUSIC?That same music this developer always uses. Just turn it off. SOUND?Ambient and game sounds appropriate, but nothing special. VOICEOVER?Adults voicing children. Enough said. SUMMARY?I'll probably pick up the SE when it becomes a DD, just to complete my PuppetShow collection, but I can't recommend it.
March 29, 2013
The Apple logo is a trademark of Apple Computer, Inc.