PuppetShow: Destiny Undone Collector's Edition
Exclusive
In the calm and peaceful town of Joyville the evil revisits the same family – Master and Felicia's. Little Felicia should now live happily, but she needs help again. Her father, Master of Puppets, has gone missing and Cricks is there too! Cricks is in town for revenge! Felicia begs to help save her father from the death of his old friend but is it possible to change destiny? What has to be done will be done and you will believe in miracles!

This is a special Collector's Edition release full of exclusive extras you won't find in the standard version. As a bonus, Collector's Edition purchases count toward three stamps on your Monthly Game Club Punch Card!

The Collector's Edition includes:
Bonus gameplay chapter
Screensavers
Wallpapers
Concept art
Game System Requirements:
OS:

10.8/10.7/10.6/10.5

CPU:

1.4 GHz (INTEL ONLY)

RAM:

1024 MB

Hard Drive:

859 MB
Game Manager System Requirements:
Browser:

Safari 4.0 or later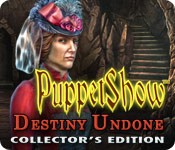 The Big Fish Guarantee:
Quality tested and virus free.
No ads, no adware, no spyware.

Reviews at a Glance

PuppetShow: Destiny Undone Collector's Edition
0
out of
5 (
0
Reviews
Review
)
Customer Reviews
PuppetShow: Destiny Undone Collector's Edition
75
75
One of my very favourite games!
This is a terrific game, the best of the Puppet Show series. The collectors edition gives you all the puppet dolls to collect, an interesting extra chapter plus extra hidden object scenes and mini games. This series has a look and feel all its own, and has been my favourite series at Big Fish. Weird, fun, and challenging, this is the game (and series) to beat!
September 17, 2013
i liked it !
I really loved this game. My only bad point: i got disappointed with the end... it didn't last long enough...
September 14, 2013
Colorful and Fun!
Review is based on completing both the main game and the bonus play. This game is really 4.5 stars--it's not without its flaws. But overall it is a great gaming experience so I rounded up. Overall, the game is rather easy. The puzzles are easy in the beginning and middle, but towards the end they turn harder. You have a cute spider-puppet to help you reach things; he has a human head with mechanical legs. I named mine Opie--that will give you a clue to what he looks like. The HOS are of two types: standard list with some interaction and the silhouette style where you find one item and use it to find another. The latter are well-done and imaginative--I thoroughly enjoyed them. The list-style were okay, but often used the wrong word to describe something. This was the only challenge in most of them. At least they were eye candy. You also get hat patterns for "Opie" (see above). These are mini-puzzles that would be challenging if you were 4 years old, but otherwise almost silly. Still, they're kind of fun. I don't know if they're only in the CE. Another bonus is finding 10 dolls or puppets (7 in the main game, 3 in the bonus). One of the things I like most about CEs are searching for extra collectibles, however, these were not hidden. You could not miss these, so that was a bit of a disappointment to me. The bonus game itself was fun, and even though the main game finished nicely (leaving an opening for a sequel), the bonus just further wrapped up the story. I recommend this game, but you could go either CE or standard with this. I'm not sorry I got the CE, but it's borderline whether it's really worth the extra cost. I did use the SG, but mostly only so I wouldn't have to skip the harder puzzles near the end (I was getting a bit impatient by then).
August 3, 2013
PuppetShow
I really enjoyed this particular series edition because it got away from the really intense dark themes of the previous game in the series, which made me regret that purchase. Nothing has come close to the exciting first Puppetshow game but this one comes in second. The storyline in this game still follows the original game.
May 3, 2013
5 Stars!
Fun, puzzles, nice graphics and a wonderful storyline sum up this game. You can choose your skill level and then you embark on a journey that is both challenging and fun. The graphics, music and sound are excellent and a feast for the senses. Don't miss this game!
April 30, 2013
Better than the previous ones
This was actually better than the previous Puppetshow games. This game has so much more to offer in the main game as well as the bonus content. The game was not boring. The story was very good. It had a good "moral" to it: things happen for a reason and you cant avoid it no matter how hard you try. There was an interactive map that you could use to jump from one place to another (big plus considering previous ones did not have one). There was a good amount of HOS; not too many but not too few. The HOS were actually pretty easy; the HOS were not cluttered as much as previous games. Puzzles were not very hard, but a pretty good challenge in some. They were actually different that other games and more fun. The dialogue scenes werent too bad. The hint and skip buttons fill pretty quickly. The hint button does direct you where to go which was another plus for those who dont like using a map. I really liked the characters, especially the little red head boy spider puppet who helps you get objects you cant reach. There are hats you can collect (you collect the blueprints and then follow instructions to make them). After you make the hat you have the option of your spider puppet wearing whichever one you choose; I believe there was 12 in main game and 4 in bonus game, cant remember. The graphics it self (scenes, bulidings, etc), could have been a little better, but they were good. There was actually a lot of bonus content besides the bonus play. There was music that you can save to computer, minigames, wallpapers, screensavers, calenders made for this game and others in the series, etc. The main game on casual took me approx 4.5-5 hours. The bonus play was about 1.5-2 hours for me. Very good length. Very good game. Definately worth the money.
April 28, 2013
not a lot of running around
Since there are a lot of complaints about having to go hither and thither in games, this game is rather simple partly because one does not have to remember a lot since what one needs comes up fairly quickly and logically as one progresses. So this will make the foot weary happy. Hidden Obj games are varied. finding things and then matching shadows and hidden things in those scenarios sometimes are simply a matter of moving the cursor to become a hand and the door or lid opens and the thing pops out, so those are quite easy. Some things have to be used to find other things, so there is a lot of variety but not much difficulty for the most part. I only had to use the hint once to find something that even when circled, I could not tell where it was, but the circle was small enough that a click revealed the thing and got me on my way. I had to waste a lot of time with one puzzle that required putting parts of hats together. I knew where I wanted the pieces but I could not figure out the means of moving them; they seemed not to respond to any logic. If I had a choice to skip that game, I would have, and that is the most serious negative I had about the game was that particular nasty spot. I hope that there are not too many more like that further in. The game takes one through a number of levels, and as one completes, green checks let one know that part is done. There seem to be a large number of levels, so I imagine the game will be long for those who like long games. However, the ease of solving things may enable those of you who are wizards at these, to get through with a speed that would have you call the game lacking. I have only played the hour, the visual aspects of the game are good nothing too ugly. Those of you very sensitive to spiders, might not like the robots that have heads but have legs like spiders, but, well I can not imagine being that grossed out by these silly robot puppets. Look for yourselves. This is a CE and I would consider buying in the SE for the fun and good visuals. I liked the easy variety. I would like to hear from those who are enchanted and buy the CE if it is important to have the bonus and what goodies extras the CE has that might make it worth getting. I do recommend this game for beginner and intermediate, those who are wizards will have to decide if it is too easy. I am marking it down as a definite buy for SE and awaiting more reviews from those who complete the game.
March 28, 2013
Another excellent PuppetShow game! Except...
I love the PuppetShow series, and I fully expected to give this one a 5-star rating. The gameplay is good, and while you spend a little more time than I would expect revisiting scenes, the map function cuts down on the boring movement between scenes. I also found the 'assistant' and the hats amusing (you'll see what I'm talking about when you play). If only they hadn't messed up some of the Hidden Object Scenes. Not just once, but several times in the game, I had to resort to the hint button to find objects, only to discover that the object listed was not what I needed to find. Having this happen once is bad enough. Having it happen over and over again is inexcusable. A dedicated player should never have to resort to the hint button or clicking every object in the scene in order to complete it. (In addition, there were scenes where there were more than one of the item as described - two "fan"s, two "bird"s, etc., an annoying but unfortunately common flaw in HOGs.) Puzzles: I found most of puzzles easy to solve. Depending on your preference, this could be good or bad. If you do buy it, be aware of the following (not a complete list): "scar" means "palm print", "curtains" means "curtain tie", and in the bonus content "lamp" means "light bulb"
April 7, 2013
Poor old joyville
While I have enjoyed all the previous games I was surprised to see number 5 the story is getting a bit tired . But I did enjoy the demo and the arrival of a little helper you name did help and the story moved along at a pace and there was less moving back and forth as in previous games . If you havn't played these games before it doesn't matter In this one Master Puppeteer has disapeared his daughter needs our help!! and of course there are loads of maniac puppets that get in the way and of course Trix As other reviewers have said this game is easier than others and I have decides to wait and get the SE I love ERS but sometimes its better to do a new story than more and more of the same
March 29, 2013
A Wonderful New Addition To The Series!
Alright, I?ll admit it: I?m not the biggest fan of ERS or the Puppetshow series, but I was really impressed with this one! First and foremost, kudos to the developers on such a great storyline! I spent most of the demo trying to figure out if Felicia was good or evil, and the cutscenes kept me hanging on. I?m really keen to see what the woman?s involvement is in the case! On the subject of HOS and puzzles, it?s a little bit of a mixed bag. The HOS were great (save for one, which was a silhouette scene) and included extra step objects, and I appreciated the challenge that it gave me. On the other hand, the puzzles were? A bit below standard. I think there was about one in the whole demo that I did not have to skip. Graphic-wise, this game is good, but could use a little improvement. Nothing was hazy, and I could see clearly, but I think the way they were animated made the game seem older than it actually is. Sound-wise, I believe the voice-overs were well done. I can find nothing to fault about this. FEATURES - Hint and skip buttons, as always, are featured. In this particular game, they were quite helpful to me, and recharged fast. - A diary is giiven to keep track of the events in the game. - Map is interactive, so you can save time backtracking. - At some point during the game you acquire a little helper in the form of a mechanical puppet (which you get to name as well.) This was a great addition to the game, and a very cute one too! The puppet is very useful to you and requires many uses throughout the game. - As a Collector?s Edition exclusive, you are given a Strategy Guide, which you can use if you are finding the hint to be of no use. The strategy guide is very useful for finding solutions to puzzles, which is the main thing I used it for. Having played every Puppetshow to date, and knowing the best and worst this developer can offer, I?d have to say I?m pretty pleased with this game. Based on my experiences, I would personally recommend waiting for the Standard Edition to come out, as the only extra I could find was a Strategy Guide.
April 25, 2013
The Apple logo is a trademark of Apple Computer, Inc.
The Windows logo is a trademark of Microsoft, Inc.