Phenomenon: Meteorite Collector's Edition
Exclusive
Discover the extraordinary truth about your family's past in Phenomenon: Meteorite! Twenty years ago, your parents left you on the doorstep of a kind family and fled for their lives into the pouring rain. Now you've been given a clue to their whereabouts – an uncharted island, where a strange meteorite landed centuries ago. What secrets does the island hold about you and your family? Find out in this stunning Hidden Object Adventure game!

This is a special Collector's Edition release full of exclusive extras you won't find in the standard version. As a bonus, Collector's Edition purchases count toward three stamps on your Monthly Game Club Punch Card!

The Collector's Edition includes:
Bonus adventure on gorgeous Meteorite Island!
Beautiful wallpapers and concept art
Replayable word-association mini-game
Integrated Strategy Guide
Game System Requirements:
OS:

Windows XP/Windows Vista/Windows 7/Windows 8

CPU:

600 Mhz

RAM:

512 MB

DirectX:

9.0

Hard Drive:

664 MB
Game Manager System Requirements:
Browser:

Internet Explorer 7 or later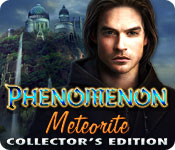 The Big Fish Guarantee:
Quality tested and virus free.
No ads, no adware, no spyware.

Reviews at a Glance

Phenomenon: Meteorite Collector's Edition
0
out of
5 (
0
Reviews
Review
)
Customer Reviews
Phenomenon: Meteorite Collector's Edition
93
93
I was hoping better.
colorful scenes, lunar landscapes. pretty unusual plot. hidden object scenes are always the same, even if well done. then find many objects and put them in their place there much to do and not boring, nice music but always the same. the puzzles demo was hope instead of the few minigame found were little imaginative. I was hoping better. length game 5/6 hours, the map helps. after a while I got bored, those who expect SE is good
April 4, 2013
REVIEW OF COMPLETED GAME
This game has beautiful cut scenes with perfect voice-over synchronizations which are fast and clickable, excellent navigation and a great story. It has wide screen and the hint button is directional and quick charging. I am really glad so many people are delighted with it and enjoying it. I am not and I did not. There are no collectibles or achievements. The graphics are ok but certainly not anything special. The iHOS are awful - dark, with blurry graphics and a lot of indistinguishable objects, and you have to play them twice, once in present day and once in the past, and there are way too many of them. I came to dread them. There are a lot of repeat puzzles, none of them very inspiring and few new. Fortunately the skip button is super quick. The jump map is a two click affair which is of poor design. The first click takes you to the areas which are all comprised of a series of locations. You click on an area and then on a location marked in green. I found several times that I had to click on a number of areas before I found one that had a green location. The three note music never varies or ceases and I had to switch it off. The Amulet of Special Abilities is just a thing that sits next to your inventory and all it does is open doors. Every time you find a stone for it you get the same message telling you the exact same thing it has told you umpteen times already. The little girl, while utterly gorgeous, has a very loud and annoying voice and speaks in a way that is far too advanced for her years. I played in both easy and expert modes and could detect no difference between them. The diary has a series of pictures of paintings by various artists. I googled a couple of them but came up empty, so it looks like the devs created these. While I appreciate the time and effort that went into them, they are of no relevance to the game and I quickly stopped bothering with them. The real downer with this game is that it has no atmosphere nor ambience. It is very clinical and it left me cold. It's not just dull and uninteresting, it's downright boring. There is a great deal of backwards and forwards and the BC is even worse. No particular connection to the main game, just finding one parent, but not the other. On that note it becomes clear there will be a sequel. This game is nowhere near as good as City of Cyan, which I loved. The best part about this was when it was over. The main game took me 4 hrs and the BC 1 hr. I could better have spent my Sunday afternoon replaying one of my old and excellent games than this dreary one. There is no fun factor to it. Sorry to the devs, but as I said, many players adore it and there are bound to be some people who will not, with every game.
March 24, 2013
Not for the faint of sight
I started to play the demo and I really liked the game. Good storyline, good voice-overs, nice scenery. I was really getting into it until I came to the first HOS. There I lost my patience. Poorly designed, extremely blurred, not inline with the rest of the game. For the first time in ages I had to use the hint button... I just couldn't see most of the objects. Well, maybe my eyes are not that sharp anymore and I certainly don't feel like getting a headache. It's a pity, even with the discount this is not a game for me. I'll skip the recommend, since my problem with this game is personal. I just advise you to try it and see for yourselves.
March 24, 2013
Utterly Disappointed
DISCLAIMER: Based on DEMO Having played the first game in the series (and loved it) I was disappointed with this latest offering. The storyline is the same old, same old; we?ve seen it time and time again. A 25 year old man is looking for his parents after they?ve been ?missing? for 20 years. The storyline took no twists or turns while I was playing the demo, and I am doubtful that it would if I purchased the full version. That being said, I thought that the HOS were very good. There were 2 separate scenes which you could access through a time portal, and one object from the first scene could not be found until you had found all the objects from the second scene. There were two interactive objects per scene. The HOS also included an alternative to finding the objects, where you could place letters to form a word relating to the object. Though simple, I rather enjoyed this. The puzzles though, were average. I skipped as many as I played, and I didn?t really enjoy the ones I played. Graphically, this game is superb. The artwork and animations are top-notch, and I could not find fault with it in any way. Voice-overs were different though: I found the voice of Gloria to be very annoying. FEATURES OF THE GAME - Hint and skip- The hint button took way too long to recharge, but the skip recharged faster. - There is a diary to keep track of the events, as well as a separate section which tells you about the islands? history (which you have to collect scrolls for) - There is a map, which is interactive, and saves you a lot of time backtracking, but I preferred not to use it. - The game features an amulet which you don?t get to explore much of in the demo. The only use I had for it was to unlock the door to the water tower. COLLECTOR?S EDITION EXCLUSIVES While I don?t speak highly of the game, what impressed me was how many bonus features you got, which were: - A strategy guide, which proves to be very useful - Bonus chapter (unlocked at the end of the game) - Word game (unlocked at the end of the game) - Hidden Gallery (the whole point of this is to find artifacts throughout the game) Although packed with Collector?s Edition extras, the game itself is rather disappointing, and is way below what I expected given the success of the first. I wouldn't recommend it.
April 25, 2013
Hmm
Bought the game as I thought it had the potential to be good after playing demo. Played in advanced mode with music and atmospheric sounds on mute. The usual hunt for items to use elsewhere to reveal another hidden item to use (youve guessed it) elsewhere along your journey. The hidden object scenes seem bearable until you realise every one is a double HOS. For every item you cant find within the HOS, you can opt to play a zero challenge word game. I cant remember if ive played a puzzle yet but then I think my mind has gone numb with the banality and total lack of challenge in this game. Ive lost the will to complete it. One positive is the map gives you the option to change location. This game will be someones cup of tea, shame it took another dip in my pocket to discover it wasnt mine.
March 24, 2013
Another Tedious back and forth and Around & Around
Not worth Collectors, probably not even worth Standard when it comes out....It had you wander all over the place, and worse yet, flipping between ??Dimesions?? I don't get that at all....one more tedious step...And I can't keep track of where I saw the stuff...which dimension....Try it for yourself...everyone likes different things...However, another game NOT for ME!!!! I like to have fun and relax from the rest of my daily chores, and this just ads ONE MORE CHORE TO my Day....
March 25, 2013
It Looked Good from the Outside
I tried to like this Game but I just couldn't get into it. It wasn't interesting enough and I stopped playing about 1 hour through. Sorry I bought it ... that will teach me not to buy just based on the Reviews without trying it first for myself.
April 8, 2013
Oh Dear
I found this game confusing & disjointed. It tries to combine ancient & modern themes & it just doesn't work. Rather boring. Nice graphics. I don't use sound so can't comment on that. Oh for a traditional HOG/Adventure..........................
March 24, 2013
Graphic is very poor!
Graphic is very poor! First CutScenes have dirty elements(Corner of mouth). Very simples trees. Some inventory elements with minimal art detalizations. So no longer do! Art is cutting from photo!!!. There are backgrounds are low art level. BUT heroes have a very good quality! Good-looking girl.
March 26, 2013
Like the storyline
The storyline in this game, well, I like the story, But the game-play is very bad and slow. the drawings is "grumset" You better try before you buy, I save my money, and hope, there soon will come a better game
March 24, 2013
The Apple logo is a trademark of Apple Computer, Inc.