Dreamscapes: The Sandman
Young Laura didn't have bad dreams after her father gave her the Dreamcatcher. But one day Laura loses the Dreamcatcher and she gets trapped in a nightmare that might never end. Be the one to save her! Travel to Laura's dreamworlds, fight her deepest fears and solve numerous puzzles to find hints to Laura's salvation in this breathtaking adventure game!
Incredible dream worlds to visit
Astonishing cutscenes in 3D
Dozens of achievements to earn
Game System Requirements:
OS:

Windows XP/Windows Vista/Windows 7/Windows 8

CPU:

2.0 GHz

RAM:

1024 MB

DirectX:

9.0

Hard Drive:

1486 MB
Game Manager System Requirements:
Browser:

Internet Explorer 7 or later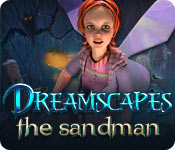 NEW299
The Big Fish Guarantee:
Quality tested and virus free.
No ads, no adware, no spyware.

Reviews at a Glance

Dreamscapes: The Sandman
0
out of
5 (
0
Reviews
Review
)
Customer Reviews
Dreamscapes: The Sandman
157
157
Enjoy with the sound OFF
Some pretty scenery, and an interesting premise, but the villain was so desperately cliched and overdone... and the voice acting was AWFUL. Painful. So bad I gave up and played the game muted. Plenty of scenes had areas that were very difficult to find/navigate to, and required a hint to locate. Also a bummer that one can't return to a "completed" area to find any "beholders" that one missed the first time around. Overall OK, but not my favorite.
April 21, 2013
I Couldn't Wait for this to End
I complained about the reviewers of Theater of the Absurd because I thought they "drank the Kool-aid" and jumped on a negative bandwagon and went waaay too far in their criticism. I'm afraid I feel the same way about the critiques of this game by reviewers who, once again, "drank the Kool-aid." I have seldom anticipated a game so much....I couldn't wait to get started. This was gonna be a NEW TYPE OF HOG: NO HOGs, a perfect blending of adventure with HOG I believe one reviewer called it. So I did not walk, I RAN to get this game installed on my computer. It IS LAME. I gave the storyline a 4 (good) because it was faithful to the storyline and everything about the progression of the game was geared toward the storyline. I will say this, there were no wasted actions (after the biggest waste of all, just buying the game). The fun factor was poor: it was so simple and so uneventful I can't imagine a 10 year old finding it fun. The designers tried to manufacture excitement: "Gee this is scary, I hope someone doesn't attack me," was one of the lines. Well, if it's scary, you don't need to put the words in my mouth, I'll figure it out. They had to do this though, to create a mystique of excitement and creepiness and scariness that wasn't there. The visual quality was great, I will give it that. The colors were vivid and jumped. I appreciate that. But there was nothing else to go along with it. The SAME thing happened over and over again...the description of the game is "Be the one to save Laura from her nightmares." As you can imagine, what you got was a series of nightmares which you had to intervene to stop and release Laura from. Once this task was completed several times, the game was over. BUT WAIT....it WARNED us that this is only part one....there's a part two to come. Oh Boy. As for challenge...well there is absolutely zero challenge. This is an instance where it would have been good to have HOGs. At least that might have presented a challenge. The only thing you had to FIND were what are referred to as "beholders." This is like identifying morphing objects, or any other "collectible." It had absolutely nothing to do with the story line, it was not a challenge and was a contrived addition to this game in a failed attempt to give it some meat. Additionally, there is an achievements section...get this: one of the achievements is to use the hint button 10 times. I don't know about you but I consider it an achievement to get through a whole game without using a hint button. There were times when you'd return to a particular spot and miraculously an item would be there upon your return. It wasn't there when you left. How did it get there? Did the bad guy put it there so you could catch him? I'm sorry....this is just not a good game and as a consequence of the rave reviews I feel really cheated because I was so looking forward to it. You have been warned. Now, crazily, I'm going to recommend the game but with the caveat that you must be really into scenic excellence without caring about the plot or execution. Again, visually, this is a beautiful game...without the slightest hint of excitement. If there was anything compelling about it, it was only to finish it as quickly as possible because it was such a bore and I just won't let myself quit on a game without finishing it. Trust me, I have not revealed anything that will spoil the games plot...the description of the game already tells you what the plot is. Sorry to be so negative but, according to BFG, a helpful review is one that shares one's real opinion; that I have done. Caveat Emptor.
April 10, 2013
Not for me
I'm afraid I'm going against most of the reviews on this game. I did not like it at all. The graphics were pretty good, although a little glitchy, I saw my regular cursor arrow next to the interactive one, and when moving around the screen, the graphics bent, but apart from that...the graphics were alright. The story was good, a little disturbing, but a bit different to what we're usually handed. With all that, I just couldn't settle into this game. Half the time I was wondering what to do next, the game just didn't seem to flow, or make much sense as to what I was supposed to do. I don't know, just something missing with this..it felt a bit disjointed. Try the demo, you may just enjoy it...but for me, it's a no-buy
March 21, 2013
Way too short, waste of money :(
The demo was great, so I bought the full game... only to discover it took me just one hour to complete the full game! Very disappointing. Not very challenging to anyone above 16 years old (which I am). I wouldn't waste your money on this one! It was a great story and could have been so good but was just over too quick.
March 14, 2013
Dreamscapes: the Sandman FAILS
Decent game. A bit cartoonish on the graphics, but some decent puzzles. No HOS stuff, just straight-up puzzle solving. That's all great until... About 2/3 of the way through, one of the 'puzzles' you have to solve is to play a level of a retro-style side-scrolling adventure game. You know, jumping over stuff or it kills you, three deaths and you're out, 8-bit kinda thing. I HATE THOSE FREAKING GAMES. Why would you do that? the joy of puzzle solving is that there aren't any "you die, game over" moments in them. It's a completely different kind of game. Anyway, that ruined the whole experience for me. I skipped that 'puzzle' - something I usually do not do - and continued with the rest of the game for a while, but eventually I just quit 'cause it bugged me so much. If any game developers ever read these things: I don't want to play a level of Halo in the middle of my solitaire game, I don't want one of the mines in minesweeper to suddenly start shooting back at me, and I don't want to have to jump barrels in the middle of my puzzle game. Quit being lazy and come up with an actual puzzle. thanks, thwartme
March 28, 2013
Terrible
Blurry graphics, storyline disrupted. I don't like it.
February 6, 2014
Awful Game
I was unable to complete this game after spending hours on trying to complete a video game half way through. This game involves hopping a character across obstacles - which I am poor at. I was unable to complete this puzzle. I thought this game was a hidden object game but it was not. Extremely disappointing.
March 29, 2013
The Apple logo is a trademark of Apple Computer, Inc.