Secrets of the Dark: Mystery of the Ancestral Estate Collector's Edition
Exclusive
You will have to challenge yourself as a professional who specializes in most tangled cases and defeat the darkness to rescue an innocent soul. Earlier you've already had a chance to investigate strange cases in ancient Thai and Mexico. Now it's time visit the Mediterranean coast and reveal the secret of an ancient family estate which was inherited by a young woman who is now begging you for help. Her life hangs in the balance and her fate is up to your strength and courage.

This is a special Collector's Edition release full of exclusive extras you won't find in the standard version. As a bonus, Collector's Edition purchases count toward three stamps on your Monthly Game Club Punch Card!

The Collector's Edition includes:
An integrated strategy guide
Replayable mini-games and puzzles
Bonus gameplay
Game System Requirements:
OS:

Windows XP/Windows Vista/Windows 7/Windows 8

CPU:

1.0 GHz

RAM:

1024 MB

DirectX:

9.0

Hard Drive:

681 MB
Game Manager System Requirements:
Browser:

Internet Explorer 7 or later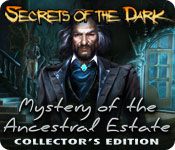 The Big Fish Guarantee:
Quality tested and virus free.
No ads, no adware, no spyware.

Reviews at a Glance

Secrets of the Dark: Mystery of the Ancestral Estate Collector's Edition
0
out of
5 (
0
Reviews
Review
)
Customer Reviews
Secrets of the Dark: Mystery of the Ancestral Estate Collector's Edition
79
79
Wonderful Hidden Object Scenes
Secrets of the Dark is back with its third nstallment and this time we are a seasoned detective who is sought out by a young heiress who finds her estate haunted by one of the Rossolimo Brothers. Upon opening the crypt, we let loose the spirit who has plans th unleash a darkness into the world. Another very entertaining HOPA game with sharp graphics, voice-overs,and a journal that records our adventure. What really makes this game entertaining is the change from the present to the past and the Hidden object scenes. With a click of a light switch, your scene is transformed from light to dark and puzzles must be solved on both sides. The Hidden Object scenes are the highlight of this game, some that are straight forward and some that require you to place items back into the scene. I actually find those much more enjoyable. Mini-games are well composed and some offer a certain degree of challenge to solve. Overalll the game is adventurous, entertaining and at times midly challenging. With no map, there is some backtracking but not too much that you lose track of where to go. Had there been some extras like morphing objects and collectables which are favorites of mine, I would have definitely given this game 5 stars. The story does hold interest but I personally think the first game was far better. Still, an entertaining game with great Hidden Object scenes that are beautifully done. Wether to purchase the CE version or wait is really up to you and your budget. I find that as the month is nearly up, I would rather hold on to my cash for something a little more complex. I personally will wait for the Standard Edition on this one. However, a very good game, and had there been some extras, it would have been a buy for me. On the other hand, I do wish that other developers take this game as an example and jump on board with creating more interesting HO scenes. I loved the one where you have to assemble items within the scene. Very well done.
March 21, 2013
Another excellent game in a brilliant series!
TITLE?Secrets of the Dark: Mystery of the Ancestral Estate VERSION?Collector's Edition (full game) DEVELOPER?Orneon GENRE?Hidden Object Puzzle Adventure (supernatural) STORYLINE?For the third time, you'll have to use all your skills to defeat the evil that threatens to engulf the world. This time, you've been called to Greece to investigate the estate of a young woman named Dayona. The family crypt is the focus of the darkness, and it soon captures Dayona. Her fate, and the fate of the world, rests in your capable hands. OVERVIEW?Orneon doesn't disappoint in the third installment of Secrets of the Dark. From the lush graphics to the unique light/dark morphing scenes, this game pulls you in and doesn't let go. GAMEPLAY?Point 'n' click adventure with inventory, HO scenes, puzzles, and mini-games. The HOs are of three types: standard list, misplaced item, and combination. In the combination scenes, you're presented with an incomplete Rube Goldberg device and 4 misplaced items. For each one you replace, you get a list of 3 related items to find in the scene. Each list completes part of the mechanism. Once you've found them all, the device is set into motion and you're rewarded with a necessary item. These scenes were beautifully done and a lot of fun to play. The puzzles and mini-games range from quite simple ones we've seen before to complex ones that take a lot of time (rotate pipes to make all connect, match pairs, arrange books from clues, etc.). There are a lot of puzzles! INTERFACE?Journal: Narrates the story and keeps track of clues. Map: None, but the backtracking isn't onerous. Hints: I only used a few, so I'm unsure about the recharge rate. Specials: None that I saw as far as collectibles or morphing objects. Strategy Guide: Searchable by chapter, but not within each chapter. Other: The Bonus Play has you rescuing Dayona's ancestors. Additionally, you can replay mini-games. TECHNICAL?There were some truly bad translations in the black bar text. Orneon should get itself a new translator. GRAPHICS?Rendered 3D with lush colors and lifelike textures. The characters were more cartoonish. CUTSCENES?Fell short of the rest of the game, but the in-game animation was excellent. MUSIC?Fit the mood of the game (when I noticed it). SOUND?Ambient and game sounds appropriate and not annoying. VOICEOVER?Decently done. SUMMARY?Overall, a thoroughly enjoyable game to play. It made me want to marathon play all three games in the series, and I not only recommend this game, but also recommend that you get all three.
March 23, 2013
Polished and Beautifully fun game play - Highly Recommend
This review is based on game play in ADVANCED the second of the three modes. I really enjoyed the first two games in this series. Both were fun and well executed with beautiful scenes and interesting mini-games. This newest game is even better than the first two. It is very polished with a strong storyline that holds until end of the bonus chapter. This game grabs the player, remaining fun and interesting with something new to offer in every scene. The bonus chapter fit very well into the story introducing new HOS and mini-games, although some will probably say was too short as I finished in less than an hour. The plot of this game familiar but with a nice change of pace that the player is a man. The player travels to a Grecian Island where an ancient Evil guy is released when the mechanism confining him fails. The goal is to reconstruct the mechanism which takes the player to many a beautiful scene. These games have a feature where certain rooms will change from it's corrupted evil state back to normal. This results in a lot of back and forth collecting items to complete puzzles in both contexts. No map for this game which became very annoying because there is a lot of back and forth that includes hopping on a tram and crossing a lack with cut scenes. In a Collectors Edition it makes no sense not to offer a jump map.There is also a journal used only occasionally for reference allowing replay of cut scenes. The characters and scenes are are original and beautifully done with cool characters such as Gargoyles, Pegasus, Harpie, Shrew, and some fancy mechanical elements. I love this series. For those who like unique HOS and mini-games of varying levels of difficulty with a dash of sinister in the air will appreciate this game.
March 30, 2013
Wow
I really like this game, it's very different from the norm because you flip to and fro into different dimensions. It's so different than any other games, it's great. I scratch my head a lot with Secrets of the Dark games, but I love it...
March 21, 2013
Another secret of the dark worth sharing.....
Really a 4 1/2 stars games. The thing i love most about this games is the graphics. The way it transitions a room from modern to spooky so smoothly. Cut scenes and voice-overs were also very well done. You had standard basic hidden object games, without any interaction, and also reverse of hidden object games, where you have to replace items. All were very easy. Puzzles varied in challenge, but none were particularly hard. The biggest problem i had with this game was on my computer it ran very slow and sluggish, especially with the puzzles. There were no bonus items or achievements to earn. You had a journal but no map, so there was no jumping scenes. At times this was a little tedious. I never used the hint button, but did on occasion have to resort to the Strategy Guide, which i found very easy to use. Game length was reasonable. The storyline was a little weak. At times I wasn't even sure what was really happening, but this in no way diminished the fun. Bonus chapter followed on from main story but wasn't essential to it. It wasn't particularly long, but was of the same calibre as the main game. Definitely recommend this game, and would probably lean towards the CE version.
April 1, 2013
Like It ALot BUT....
I agree with all the reviews that this is a wonderful game. Great cut-scenes, great gameplay, so much to do. Turned the music off can't remember why maybe it was repetitive. Like the concept of going between the present and past. Good variety of hidden object scenes. Outstanding puzzles and a lot of them. But...I got really upset with all the back and forth. This game would get a five star from me if it had a jump map. It was hard to keep track of where everything was. I lost interest and just used the hint button and strategy guide. I don't like to do this but when a game annoys me, I want to finish and move on. Outside of that the devs did a fantastic job of creating this world. I may not go back and play the game but I will go back to the extras and play the puzzles. I really enjoyed them.
March 26, 2013
Secrets of the Dark: An Excellent Series
The Secrets of the Dark Series is one of my favorites. I loved the previous 2 installments and was so looking forward to this one. I found the HOS and the mini games in "Mystery of the Ancestral Estate" very challenging and therefore didn't get very far in the demo version. The feature that I like most about this series that I have not found in other games is the changing of the scene (from dark to light for example) by clicking on an object. It's like getting double the action and it was present in Ancestral Estate as well. For instance: the scene is a "dark" room with a roaring fire in the fireplace and you can make out a statue, a desk, a chest, a doorway and then you see a flashing area by the fireplace and when you click on it, the scene changes to a "light" scene with things to do there as well. Some of the action is also related to the "dark" scene. They are related to one another. It's like getting 2 games in 1. The few HOS that I played during the demo were reverse HOS where you have to put an item back to where it belongs but the developers took it one step further. After placing the item back, you have to find other parts of the item which are hidden in the scene somewhere. For example: you had to return the top part of a hot air balloon (that had a hole in it) to the wicker basket and then find the balloon material that was missing (which was hidden somewhere in the HOS) and fix the hole. After you had to find a gas canister that was missing and place it in the wicker basket next to the other gas canister. And finally, you had to find the balloon rope minus the sand bags and return it to complete the scene. Very unique and challenging!!! I enjoyed this special feature immensely. I wish the demo version was longer but alas it isn't. I gave the other 2 installments of Secrets of the Dark 5 stars. This one, I am giving only 4 stars simply because I didn't get very far. I will wait for the SE and hopefully advance further. Then I will review again and upgrade, hopefully!!! I enjoyed what I played and recommend not only this game but the whole series. Keep the installments coming.
March 23, 2013
TRUST THE DEMO??
Have the other two Secrets of the Dark and like them so watched the video and played the 45 minute demo of this game and am purchasing now. The artwork got me. Imaginative, colorful, clear. The HOs are different and interesting rather than the "get through it" usual fare. The puzzles are challenging rather than the same old same old. IF THE DEMO HOLDS TRUE.
March 21, 2013
Not 100 percent enjoyable
Music was enjoyable, not a bunch of loud clatter. Graphics were good. Storyline was good. What was very irritating to me was constantly going back and forth from one place to the other. Would rather have had a map to just click on a location and automatically go there. The Hint charged quickly enough and was sort of helpful in refreshing my memory about a location, but the Hint does not tell you much. If you don't mind flitting about so much, you will enjoy this game. I did enjoy it even with all the aggravation.
July 23, 2013
UNIQUE INTERACTIVE HOS
The Demo was really short ? I don?t know if that means the game is quite short and they don?t want people to buy it and then complain to everyone that they finished it 20 minutes later. The CE demo doesn?t even give you a clue of what extras it has. The description doesn?t sound like it has much, so I opted for the SE and am completely satisfied with it. 3 modes of difficulty. You also get to change locations from dreary and dark to bright and modern. Changes in one environment will affect the other. The animation is really good ? when you mouse over a statute, for instance, it changes drastically before your eyes. Really cool! The HOS include putting objects back and finding objects on a list. And what?s really, really cool is when they combine the two types. It?s hard to describe ? you?ve got to see it to believe it. After you put objects back and find additional pieces per a list, it?s like a little mechanical theatrical production. Hope this type of HOS becomes much more common in future games. YEAH! The crisp HOS themselves are relatively few. No map, but you shouldn?t need one to navigate. A thoughtfully-designed production.
July 19, 2013
The Apple logo is a trademark of Apple Computer, Inc.