Farm Fables
Exclusive
Join Leia on a two year adventure as you harvest through the seasons and help her keep her farm in Farm Fables. Grow your plants, look after animals and use tools to develop your farm. Upgrade your farm to create ice-cream, milkshakes, cake and lots of other tasty treats. Keep your farm running through sun, rain and snow to make a new life in this beautiful Time Management game!
Exciting gameplay
Beautiful graphics
77 different levels
Game System Requirements:
OS:

10.8/10.7/10.6

CPU:

1.0 GHz (INTEL ONLY)

RAM:

512 MB

Hard Drive:

422 MB
Game Manager System Requirements:
Browser:

Safari 4.0 or later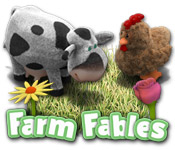 NEW299
The Big Fish Guarantee:
Quality tested and virus free.
No ads, no adware, no spyware.

Reviews at a Glance

Farm Fables
0
out of
5 (
0
Reviews
Review
)
Customer Reviews
Not as easy as it looks
I really liked this game. At first, you look at the graphics and think it's going to be an elementary game....but it's not that easy. I had to restart a couple of levels because halfway through I realized I wouldn't finish playing the route I was.... I say give it a try! I wasn't going to, but then did, and now I'm buying it :) :) :)
July 17, 2012
Nice game
This is a gentle game and is fine to play. You don't have to click as much as the farm frenzy type (which I like but sometimes get cramp from). I really like the visuals, the animals are cute and you have to work out what to grow and sell in order to meet the time deadline. More soothing than exciting but that's fine by me.
July 17, 2012
Better than some of the reviews let on
I would say this game is comparable to the Farm Frenzy series but requires more strategy to complete. I also thought that the time limits to collect product and water the crops went by really fast making completing the goal a little harder than they would have been otherwise. Also I wasn't thrilled with the graphics they weren't horrible but I thought they could have been better. I played through the whole trial and I think I will probably end up buying this game but it most definitely is not for everyone even if you like TM games.
July 17, 2012
In this game the chicken came before the egg!
I have only recently got into farming sim games (with TV farm 2), and thought I would explore others in the genre, this game had good reviews and thought I would download the free trial. This is a good game, and significantly different to TV farm that I think I will add both to my collection (ever growing), this game is a mixture of arable and livestock. The game has two modes either casual (for a 'relaxed' game) or strategy for those amongst us who like a challenge to our 'casual' gaming. As I like a challenge I chose the 'strategy' option, obviously as is normal with these types of games the first few levels were relatively 'light' on time and could be completed fairly easily within the 'gold' time limit. From about level 5 onwards though when several things had to be achieved strategy kicked in and you really had to think about whether you needed extra storage or livestock in order to complete the goals. The game is as such that even in the first few levels you are needing to not only feed the livestock (chickens) but grow wheat and make flour, this means that have to make sure you are growing enough food for the chickens to lay the hens as well as producing enough food to make the wheat. This therefore kicks the challenge in early on in the game. The only downside to this is (and where it loses its star), is that if you are selling goods (such as eggs) and one of the stages goal is to have a certain amount of eggs (say 5), then if you need to sell them to make money, this number is 'lost' thus you have to overproduce as it were in order to meet the criteria for the stage. I think the times of the level compensated in a way for this but it did slightly annoy me that 'you couldn't borrow from Peter to pay Paul' as it were (in that you had to have the exact number of both (or three etc), criteria together in order to meet the goal criteria. This though was the only negative in an otherwise excellent game. As usual graphics, sound and story were on par for this genre and I had no problems with any of it. If you can get over the slight niggle in having to 'overproduce' in order to meet the criteria of the game, then I would highly recommend the game. For those that are confused by the title, download the game (even if only for a trial) and you will see what I mean :)
April 29, 2013
Cute
The graphics were really cute in this time management farm, and it can get pretty challenging. Overall I liked it, but the music made me crazy! A 10 second loop that I liken to a child repeatedly poking you in the arm. Other than that it's pretty good for a farm game and has plenty of levels to keep you busy.
October 14, 2012
Cute and Fuzzy
This game reminds me of the Farm Frenzy games. Feed the animals, collect the eggs (or whatever) they produce, buy buildings, make products. But it is different enough from the Farm Frenzy line of games to still be interesting and challenging. I LOVED the graphics! Adorable and unique. Worth buying.
July 26, 2012
It's a different kind of TM, but fun....
I'm still adjusting to the differences in this one, but am having fun with it. I find myself getting easily frustrated with it, which I'm not used to...TM and strategy games are "my thing"....but I play 2 or 3 levels and have to take a break. This one isn't easy...which is why I keep going back to it... do NOT like to make less than gold on all levels. I highly recommend it for all of you "expert" TM players....betcha this one will kick your backside, too, lol!!!!!
August 6, 2012
Hmmm
I do like time management games now and again but this one is not for me. Found it monotomous to sit there and click eggs chickens laid or to grow the crops to feed them. Kids might enjoy this but I didn't.
July 16, 2012
This one made it half the way to a real good game
This one is a really cute game. The animals are so fluffy that you want to drag them out of the computer to cuddle them. Cute graphics, nice sound, gameplay ok. It's only half the way to a _good_ game, though, because in my opinion there are several things missing which would add fun, challenge, and pace to this game. Let me just list some of the things I am missing here: 1. There's no shop to buy upgrades, for example to expand your soil patches or to make the machines work faster. The lack of upgrades makes earning money appear rather useless - you can't buy stuff anyway. 2. There's no score whatsoever. When you finish a level faster than the given time there's no time bonus. No bonus for earned money, either. 3. With the aforementioned there's no reason to endeavour to finish the levels as good as possible. There's no reward for being good in this game. Neither points nor money nor upgrades. Nothing. 4. There's no storyline. Up to now (I played several hours), I encountered two or three comic panels, but nothing gripping. Usually, I don't pay much attention to the story, but I don't want NO story. I liked "Farm Craft 2" where you really get drawn into the story of Ginger and her farm. 5. And last not least the sound and details. Yeah, the singing nightingale was pleasant, but not all the time, not spring, summer, autumn, and winter. There were butterflies flying around even in the winter levels. That was too much repitition for me. A little more variation in sound an visual details would have added amusement. This was a nice break filler and that's why I recommend it, but I guess expert players will get bored at some point.
July 18, 2012
Way too hard!
I am not even half way through this game, as the level of difficulty has now become boring! Maybe it's just me, but obtaining a perfect score and achieving a gold star was far too difficult. On the plus side the graphics are great and the animals are cute. If you want a challenge this one is for you! Would recommend for someone who likes TM/Strategy games.
October 28, 2012
The Apple logo is a trademark of Apple Computer, Inc.
The Windows logo is a trademark of Microsoft, Inc.