Sacra Terra: Kiss of Death
Set out to rescue your fiance from a supernatural force that feeds on human suffering in Sacra Terra: Kiss of Death! As you explore visually stunning mystical dimensions in a bid to reunite other lovers and weaken the grip of the entity, you'll find useful items, solve puzzles and enjoy a richly layered and compelling hidden object experience! Can you save your fiance before the maw of wickedness consumes him?
Game System Requirements:
OS:

Windows XP/Windows Vista/Windows 7/Windows 8

CPU:

1.6 GHz

RAM:

512 MB

DirectX:

9.0

Hard Drive:

576 MB
Game Manager System Requirements:
Browser:

Internet Explorer 7 or later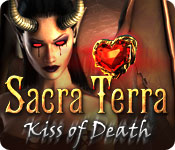 NEW299
The Big Fish Guarantee:
Quality tested and virus free.
No ads, no adware, no spyware.

Reviews at a Glance

Sacra Terra: Kiss of Death
0
out of
5 (
0
Reviews
Review
)
Customer Reviews
Sacra Terra: Kiss of Death
46
46
good fun game
Not a bad game. Has voice over but the graphics could have been better. Seems pretty easy and not too much running around to do. I have free games to use so will do so. Has hint button I did not need it and has a map which is always good.
April 8, 2013
GREAT GAME!!
Wonderful game.Hint was very helful..and so was the map...Hoping to see a part 2??...Beautiful scenes very clear to see items...For an SE game the lenght was great!..Took me about 4 hours to play straight thru...Well done devs!!.
March 16, 2013
Love triumphs!
Very interesting game, with an original and touching storyline...i liked the idea to travel through time to help unhappy souls to restore their love and give them the peace...Good graphics, pleasant sounds, many different locations to visit and a lot of things to do..Gameplay is fluid and engaging, there is a very helpful travelling map, showing you areas of interest (sometimes you feel stuck and you have to get back somewhere to play a HOS but not so easy to figure out where without it!), a lot of interactives HOS and puzzles, easy but funny...more then 4 hours of gameplay in expert mode (you have hint and skip button) for a really good game i recommend to everybody!
March 16, 2013
Great Game - Too Many HO's
I have to agree with some of the other reviewers that this is a basic search for the next Hidden Object to continue on with the story. If it wasn't for the interactive jump map, I don't know if I would have the patience to complete the game because the game play had you jumping all over the map. I prefer a more linear game play. I really did feel the storyline was addicting. Nice voice overs, loved the artwork in the various scenes. Ok so we have seen it before but this was a new twist. I had to laugh at some of the comments. In the jungle a corpse falls out of a tree and the comment was "this jungle is dense". Funny. The storyline and artwork fantastic. Hidden Objects-- too many to proceed through the game. Nice characters, however were flatly animated.
April 25, 2013
HOG
The level of challenge wasn't that high. Was disappointed by how short game was.
April 8, 2013
Not the best but very good
I loved this game. Interesting story.
March 31, 2013
Fun game
Enjoyed playing the game but wish the she-demon would have been in more scenes - she was creepy! The game had good scenery and enjoyed playing in the different settings. The characters (other than the demon) were a little corny with their voiceovers. Worth playing!
August 23, 2013
Beautifully done
This game was very well put together. Great graphics, lots of color and plenty of locations to explore. Really nice music that I actually didn't feel the need to turn way down. You land on an island, explore the house and open 4 portals to different lands. A jungle, a pyramid etc. All good. There were plenty of cut scenes that were excellent and I loved the skeleton hand that came up out of the hole in the ground to give you the portal keys. The game was a good length with morphing objects and a decent extra chapter. My only critique here is that the my boyfriend/girlfriend/sister/brother being kidnapped by the witch/devil/whatever and needing rescue is really getting old as a plot. Like really old. Are there no other plots to these games?? The detective doing an investigation or someone being kidnapped. sigh okay let's thing outside the very worn box shall we?
April 3, 2013
Run-Of-The Mill HO Game.
Despite its brilliant graphics, marvelous locations, and great voices and music, this game was just another typical HOG. Too bad, too, because, if handled by HERINTERACTIVE or by Benoit Sokal, it would have been a masterpiece. Just when you were getting into the plot, a hidden object bin would pop up! And, let's face it, the entire game -- even if the hidden object scenes were removed -- was hunting for hidden objects by way of story. If only these developers would learn, but they won't, since most of the games in the BIG FISH "selectorium" are HOS! "Sacra Terra: Angelic Night" was superior to this installment. I recommend this game only for those who like HOS.
March 19, 2013
So close, but not quite
My review is based on a complete playthrough of the game (and CE content). First off, differences for the CE: The only real bonus you get is the bonus chapter, which answers some questions you'll still have after this game ends. Personally, I hate that - a SE should end conclusively. There are objects you can collect but you don't get anything for them. The Good - the graphics are top notch. I was able to kick the resolution up to 1900x1220 and the game looked crystal clear. I've read review about audio not 'syncing' in the cutscenes. Could be a GPU issue - they worked fine for me. The game was a good five or six hours. You've got an intro, four scenes, and then the game ends. I can't even call it a proper outro, the game just wraps up and ends as fast as possible. Each of the four 'ghost stories' was a nice vignette on its own. Sound was good, if a bit monotonous after a while. It did fit the atmosphere of the game well, for the most part. The map is interactive: it teleports you (and there's a lot of backtracking) and shows you where you still have Stuff To Do(tm). Personally, that was all the help I needed to finish the main game. I played on the highest difficulty: there were no sparklies anywere, but the cursor changed when you moused over something 'interactive'. The Bad: HOS are repeated. They all follow the same formula: each one has a container with 'little things' in it. There are few things you have to move around and one thing you have to put together. The minigames were forgettable. One I ended up skipping - and I still have no idea what I was supposed to do to finish it that I didn't already try several times. Nothing new here. The Ugly: The story leaves too many unanswered questions. These get answered in the Bonus Chapter of the CE. Personally, I hate this: I think it's a bad road for developers to take and one we, as players, shouldn't accept. A SE should end conclusively. If you didn't already play the first game, and don't figure out what the 'theme' to a Sacra Terra game is, a few things won't make sense (this is more of an issue in the CE bonus chapter). Bottom line: Maybe it's because I'm comparing it to the first game (Angelic Nights), but this one just didn't do it for me. It came so close though. If you don't mind some lingering questions, then it may be a good buy for you as a SE - especially if you can ever get it on sale. I can't recommend the CE at all.
November 22, 2013